Everything You Need To Know About The Nita Mukesh Ambani Cultural Centre (NMACC) In Mumbai
11

Apr

'23

9:28 am

by

Nuriyah Johar
In the very heart of Mumbai's swishest business district, amidst the lofty glass facades and manicured greens lies an exciting new institution that celebrates culture above all else. The Nita Mukesh Ambani Culture Centre, or NMACC for short, is the city's newest and grandest multi-disciplinary cultural space located in Bandra Kurla Complex. Its three-day launch made waves across the globe – attended by the biggest Indian and international superstars (all decked out in Indian couture), fashion stalwarts, and acclaimed artists.
"We envision this centre to become home not only to the finest talent from Indian cities but also from our small towns and remotest villages," says Nita Ambani.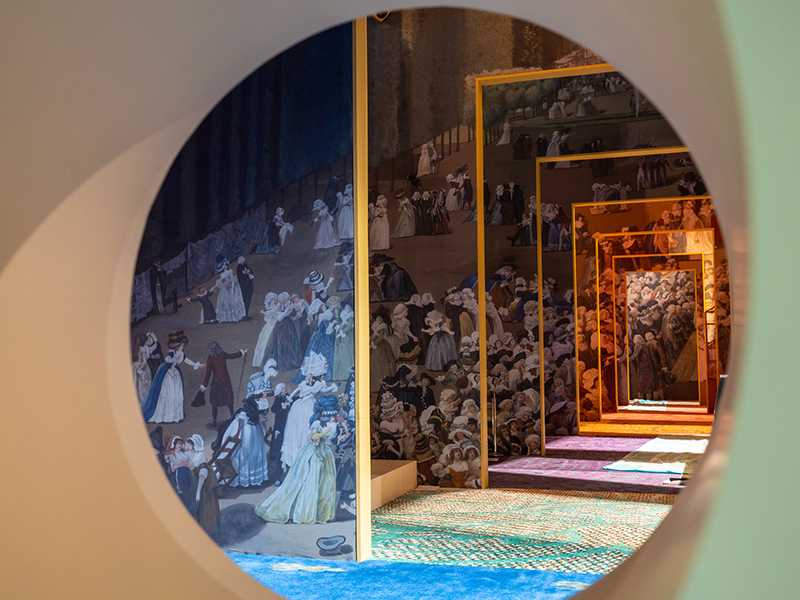 NMACC is home to three performing arts spaces – a sprawling 2000-seater Grand Theatre, the technologically advanced 250-seater Studio Theatre, and the dynamic 125-seater Cube. In addition, the centre features an Art House; a four-storey dedicated visual arts space built in line with global museum standards with the aim of housing an array of exhibits and installations from India and across the world. "We envision this centre to become home not only to the finest talent from Indian cities but also from our small towns and remotest villages," says Nita Ambani.
The inspiration for NMACC's design stems directly from India's rich heritage. From recurring motifs of lotus flowers to the largest commissioned Pichwai painting – elements of the Indian tradition shine through the centre's modern exterior and interior. Atlanta-based firm TVS Design was instrumental in designing NMACC, along with Richard Gluckman, who facilitated the Art House.
Also Read : New In Mumbai: A Groundbreaking Dior Showcase, Five Abstractionists At DAG, And More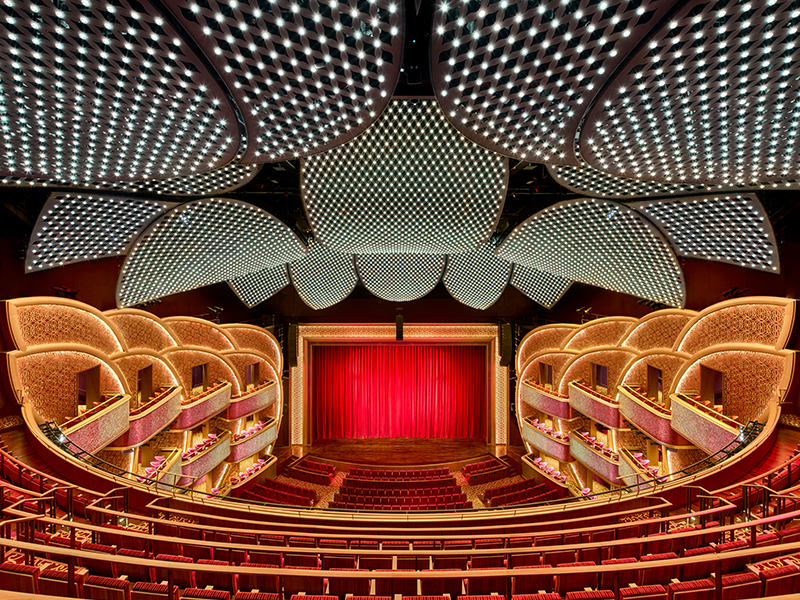 Meticulously conceptualized for immersive experiences of the highest order, The Grand Theatre features world-class integrated Dolby Atmos systems, and a programmable lighting system enhanced by over 8400 Swarovski crystals. The theare's 2000 seats (designed by Poltrona Frau) are spread across three levels, including 18 exclusive Diamond Boxes that offer spectacular views of the stage.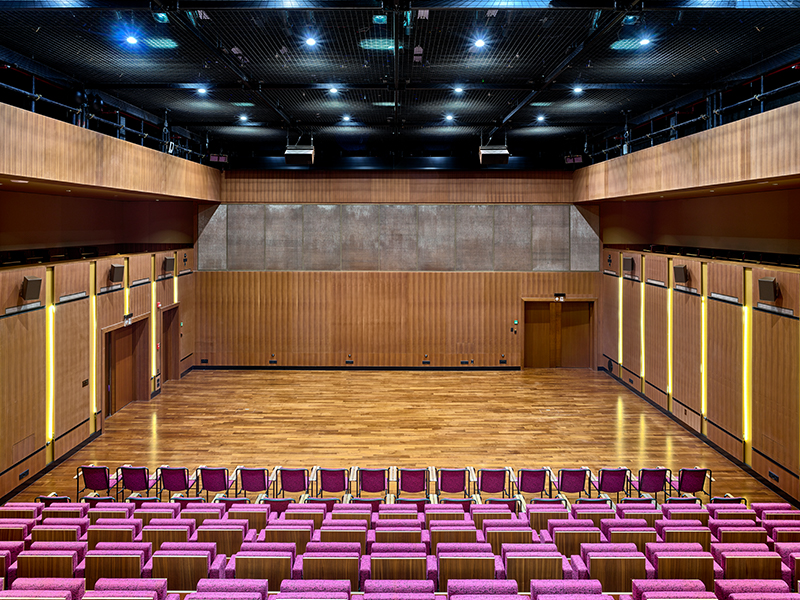 The Studio Theatre features a telescopic seating system that allows for flexible transformations depending on the need of the event. One of the more interesting highlights of this space is a tension wire grid – the first-of-its-kind in India which makes lighting and rigging during production easier than ever. Lastly, The Cube is an intimate space for innovation and surreal theatricality, promoting emerging talent with new and experimental practices. The space also features cutting-edge laser projection systems, lighting systems with infrared emitters, and fully integrated recording setups.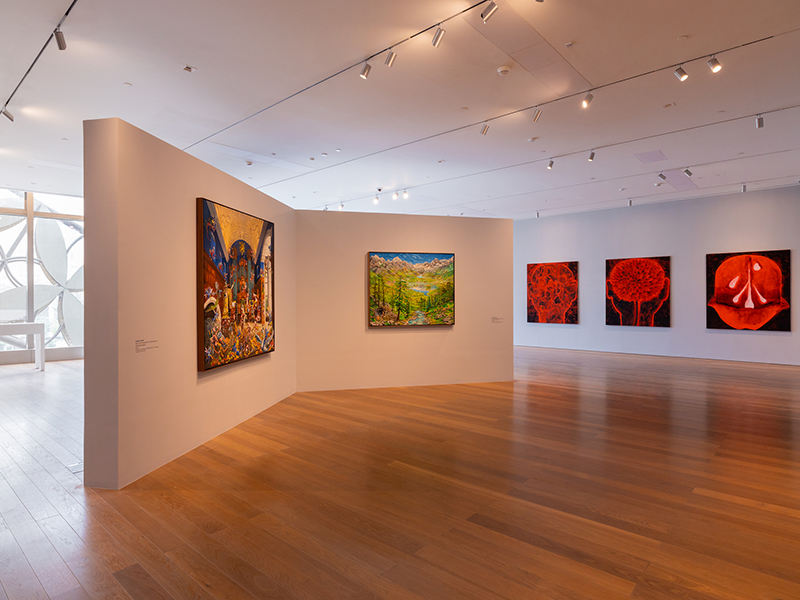 The monumental 16,000 sq. ft. Art House at NMACC has been envisioned to showcase a shifting array of installations and exhibits that brings the treasures of Indian and global art to the audience. Currently on display is a group show titled 'Sangam/Confluence', co-curated by Jeffrey Deitch and Ranjit Hoskote. Celebrating India's diverse culture and traditions through the works of contemporary Indian and global artists, the show explores how artists do not confine themselves to a singular art-making language, medium, or style – but, rather, range across a spectrum of possibilities. Indian artists Bharti Kher, Bhupen Khakhar, Ranjani Shettar, Ratheesh T and Shanti Bai exhibit various facets of a diverse art scene, alongside their global counterparts – Anselm Kiefer, Cecily Brown, Francesco Clemente, Lynda Benglis, and Raqib Shaw, all of whom have all been deeply inspired by India.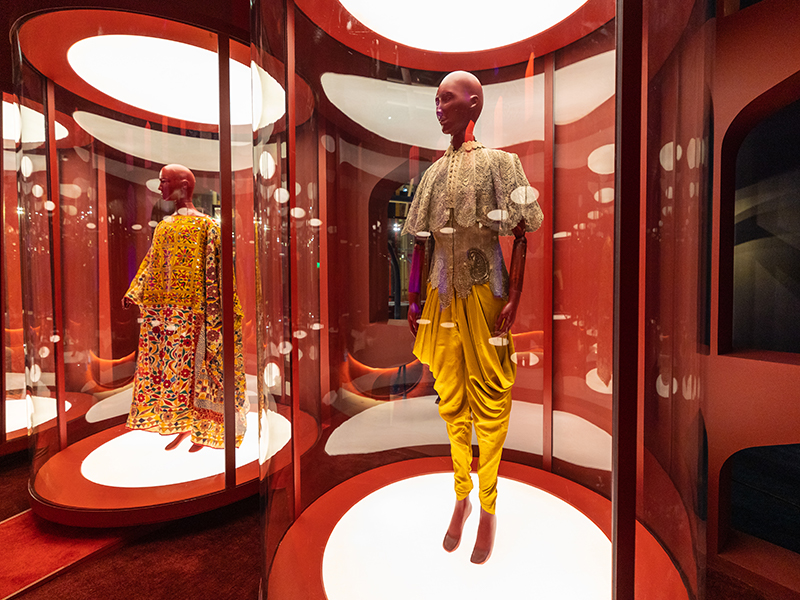 The occasion of the NMACC launch also marked the opening of a truly spectacular fashion exhibition curated by industry icon Hamish Bowles. Titled 'India in Fashion', the show explores the layered impact that traditional Indian dress, textiles and craft have had on the international fashion sensibility since the 18th century. From iconic Bollywood outfits that shaped the sartorial narratives of the time to historical chintz garments worn by British upper classes – the show puts forth a comprehensive timeline of the birth and development of the contemporary Indian fashion community. The elaborate, theatrical scenography that takes inspiration from spaces like Indian step wells and Jaipur's Jantar Mantar has been designed by Patrick Kinmonth with Rooshad Shroff.
Also Read : Gaurav Gupta's Flagship Store In Mumbai Champions Minimalist Futurism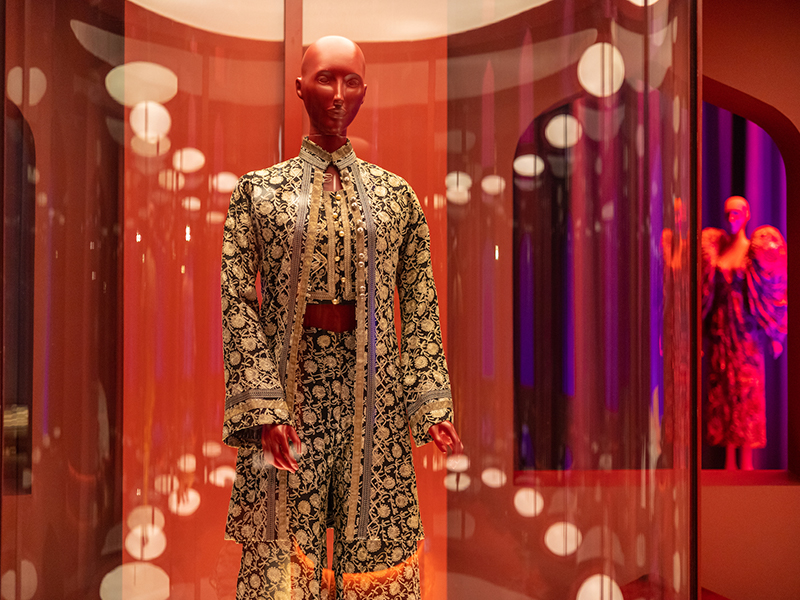 'India in Fashion' highlights the works of pioneering Indian designers like Abu Jani Sandeep Khosla, Anamika Khanna, Anita Dongre, Anuradha Vakil, Manish Arora, Manish Malhotra, Rahul Jain, Rahul Mishra, Ritu Kumar, Sabyasachi Mukherjee, Sanjay Garg, and Tarun Tahiliani. In addition, global giants like Christian Dior, Cristóbal Balenciaga, Elsa Schiaparelli, Gabrielle 'Coco' Chanel, Jean-Philippe Worth, Mainbocher, and Yves Saint Laurent find their way into this one-of-a-kind homage to India's sartorial history.
Beyond the ticketed events and shows, NMACC's public art installations include 'Kamal Kunj', the largest ever commissioned Pichwai painting, 'Clouds' by Yayoi Kusama, a 90-piece stainless steel structure that mirrors the sky, and many more.