An Apartment In Surat That Perfects The Art Of Monochromatic Minimalism
1

Sep

'23

7:32 pm

by

Beverly Pereira
In the heart of Surat an apartment on the sixth floor of a 19-storey tower is gently infused with a palette of taupe, greys, and other neutral tones. Designed by Caroline Braganza Designs for a young family of four, the 3150-sq-ft home consciously blends a timeless aesthetic with functionality and conspicuous minimalism. 
Assigned with the unique task of crafting a chic interior style that would require minimal upkeep and foster a clutter-free environment in a generously sized space, Braganza and her team took to the brief, exercising restraint at every step of the way. It was, as Braganza describes it, a true challenge to achieve more with less.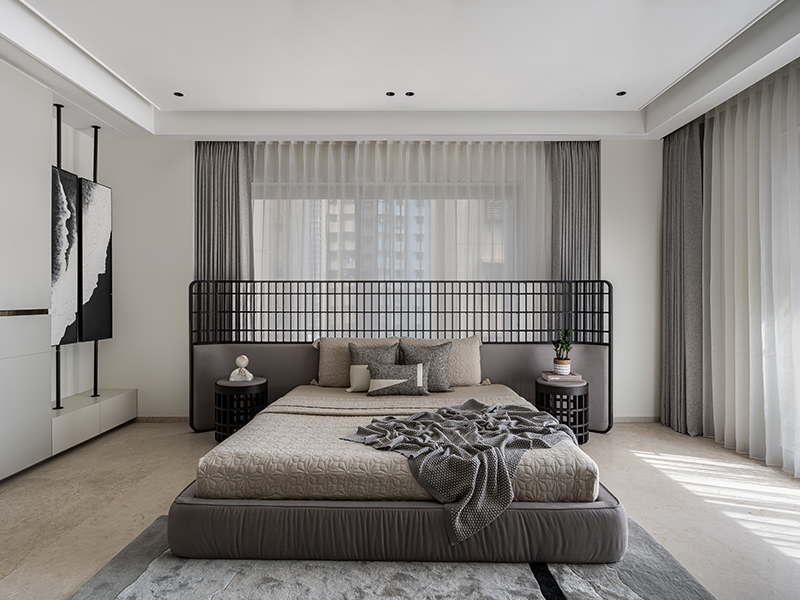 Despite the decidedly muted use of monochromatic tones—and, thanks to the application of rich materiality—a dialogue of contrast and harmony runs effortlessly across the three-bedroom apartment dubbed 'The Hued Home.' Ingeniously envisioned from the generously sized living room right up to the private spaces, Braganza's design approach transcends trends to champion innate luxury, style, and modernity. "Meeting the client's needs without going overboard—it required a delicate balance of restraint and creativity, knowing precisely where to draw the design to a close and to ensure their satisfaction without excessive embellishment," says the designer. 
Also read: Rust-Hued Pools, Shapeless Architecture, And Dramatic Skylights In This Gujarat Home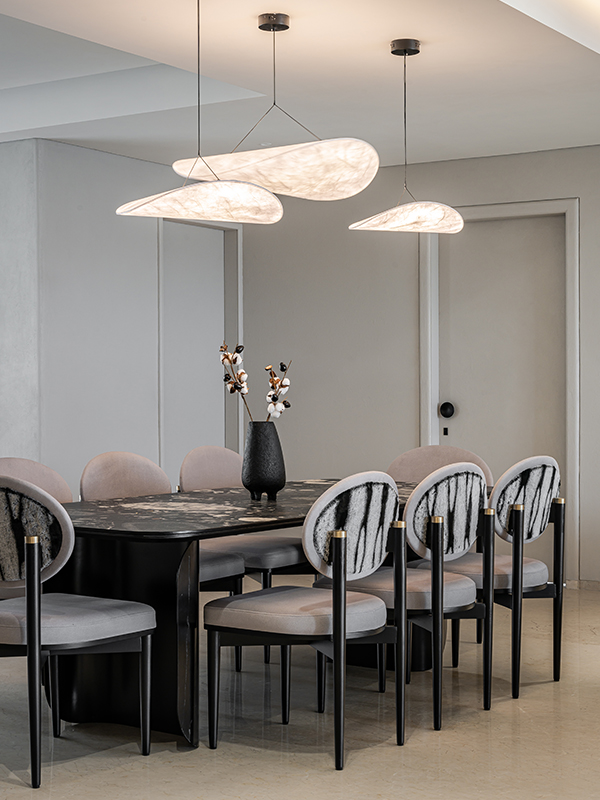 The Art Of Minimalism
Segregated into three distinct but visually connected zones, the expansive living room is a space that encourages both socialising and repose. Aside from the main living area, it holds an elegant dining area for eight as well as a cosy lounging area intended for a relaxing television viewing experience. 
The main living area underpins a sense of richness and minimalism; it comes as a first brush with Braganza's elegantly mapped design for this apartment. "The standout feature of the residence undoubtedly resides here," she says. A bespoke amber-tone glass chandelier fashioned as a chain fixture by Antalya Homes inspired by the NYC-based Trueing's iconic glass chain link lamp matches a painting with ombré hues evocative of a fiery sunset. Both make every bit of the statement they were intended to. 
"The captivating colour palette harmoniously complements the interplay of lighting, rugs, and furnishings, creating an enchanting visual symphony," says Braganza.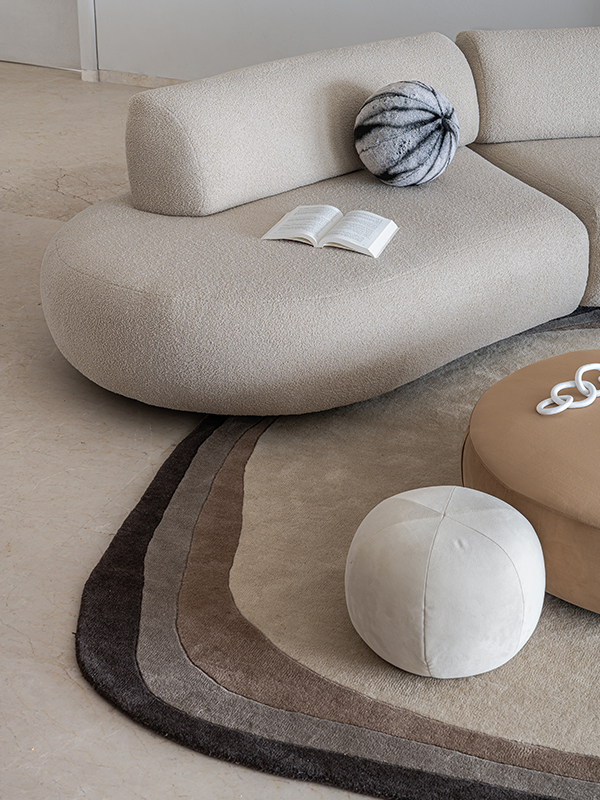 Then, there are the many fluid pieces of furniture draped in lightly textured taupe fabric imported from Italy that play a vital role in shaping the living room's chic aesthetic. Paired with a wooden centre table and seating customised by a local vendor in Surat, the malleable furniture lends a sense of playfulness to the otherwise sober space. 
Also read: This Sleek 10,000 Sq Ft Home In Surat, Gujarat Aligns With The Principles Of Vastu Shastra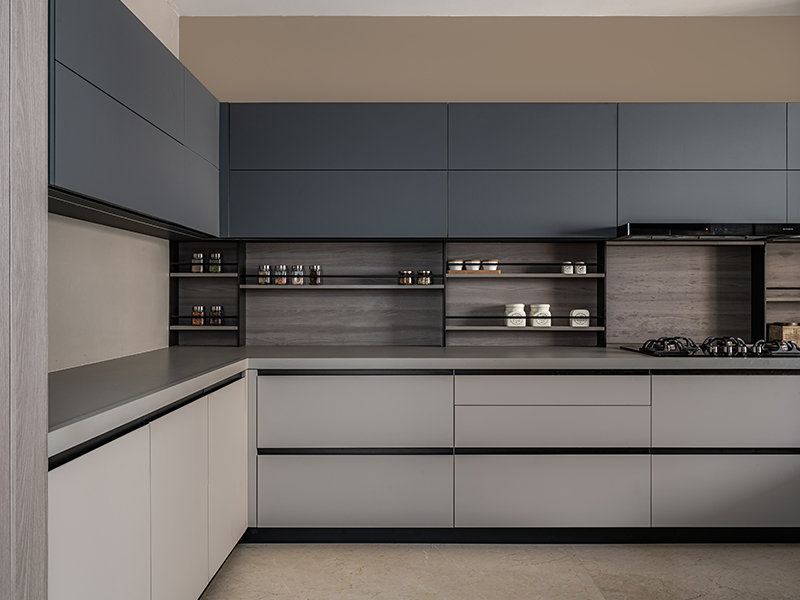 Purposeful With A Side Of Serenity
With functionality at its core, the apartment offers ease of access and simplicity at every turn. In the ultra-sleek kitchen, clean and sharp lines stand out as intentional inclusions in an uncluttered space. A mix of open shelves and glass storage units offer accessibility and ample storage solutions, ensuring that every kitchen item enjoys its own space. 
Then, to further the idea of rest and relaxation, a deck in the living room proves to be the ideal spot to unwind amid tropical foliage. Here, a dedicated space for prayer and contemplation awaits those who wish to be embraced by calm. Hand painted artwork adds soul to this sunlight-soaked sacred space.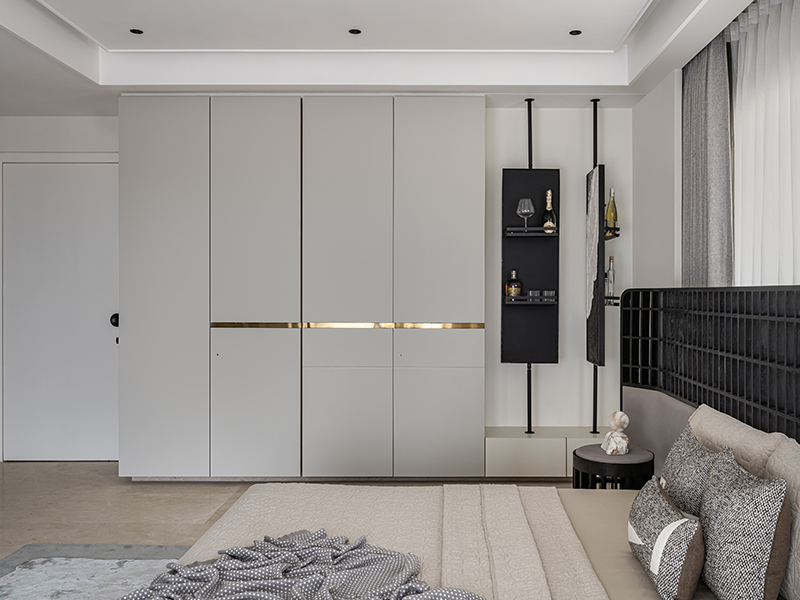 A Study In Restraint
The master bedroom is a cleanly designed contemporary space peppered with art and thoughtfully considered textures introduced by way of furniture and furnishings. A teakwood bed makes for a statement piece with its classic headboard crafted from fabric and wood. Subtle swatches of taupe provide the perfect backdrop for layered graphite-hued textiles and wood furniture painted to a darker shade of grey. 
Welcoming to natural light that pours in through large windows, this private space is kitted out with a cutting-edge projector and can quite effortlessly transform into a haven for the ultimate cinematic experience. A crisply designed wardrobe with metal accents stands adjacent to a bar that cleverly reveals itself when rotated. On any other day, one would never guess that a well-stocked bar lies behind the stunning monochrome artwork sourced from Artifest.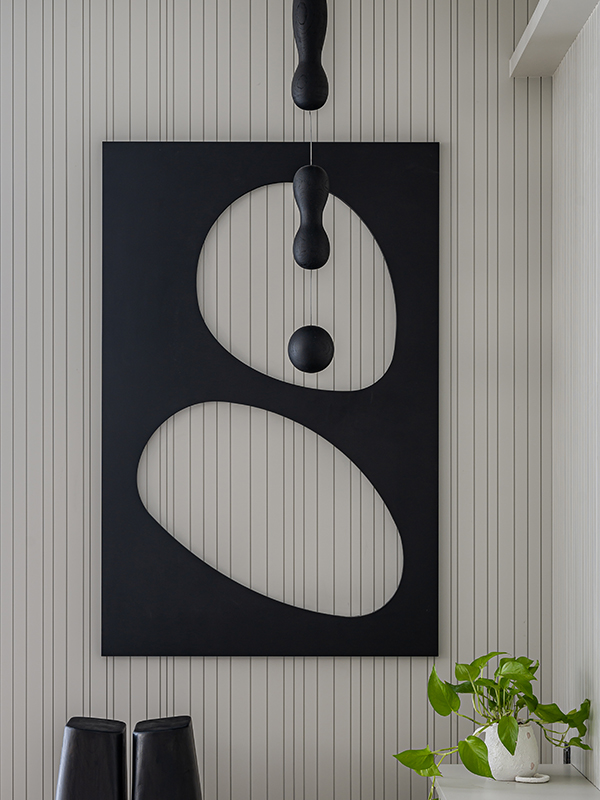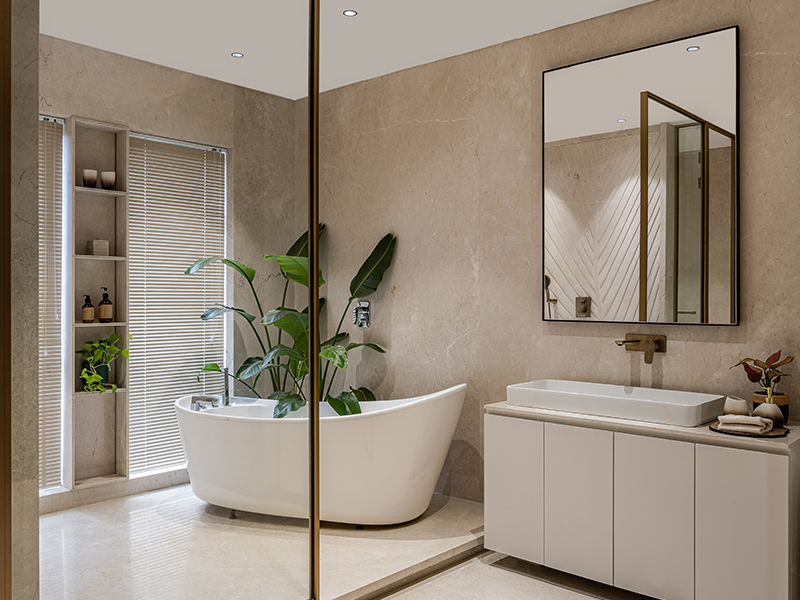 The master bath is yet another sun-speckled space that beautifully embraces the blend of functionality and aesthetics. Well ventilated and decked in local marble, this luxurious sanctuary features a free-standing angled tub and a wardrobe most would vie for. Indoor plants refresh this neutral-toned space, and a partition marble wall etched with palm leaves completes the tropical ambience. 
Also read: This Family Home In Ahmedabad Transforms Into A Sunlit Oasis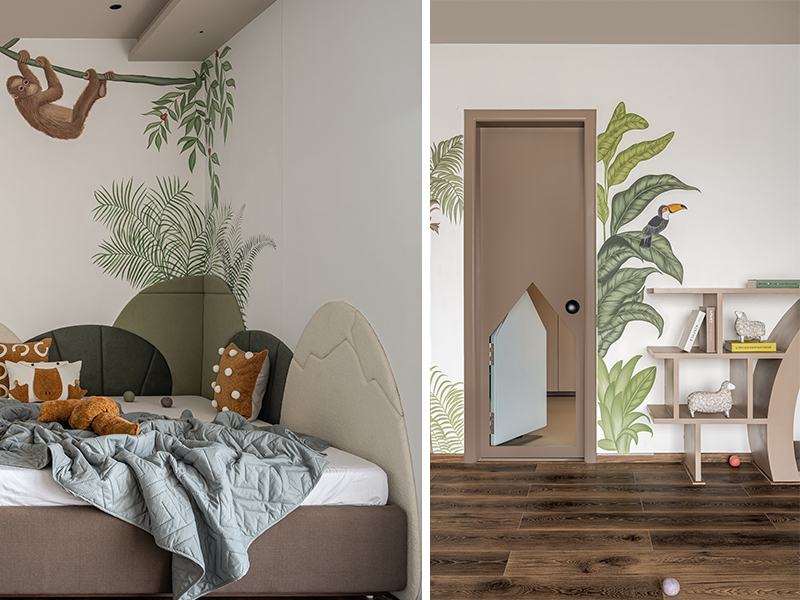 Playfulness And Functionality 
The children's bedroom oozes playfulness and functionality all at the same time. Bragranza infused this space with exceptionally well-considered design details––from the warm wooden flooring to the little door seamlessly incorporated within the larger toilet door, providing the twin siblings with their own entrance! A hand painted jungle-themed mural, the vibrant result of eight days of dedicated artistry, runs across the room. Elsewhere, a study table houses rotating box shelves that cleverly hold learning material for a clutter-free space. 
In the twins' bath, a soothing palette of powder blue and light grey brings in a tinge of freshness. Elegantly finished in a powder blue tile, the platform adjacent to the basin, becomes a safe and accessible spot to take on the day. The beauty about this bathroom is that it exudes a perceptible volume of style that will endure as the children grow. 
Ultimately, this abode in Surat was intended to transcend the passage of time. Abundant in classic accents and details, the home wears a distinctive identity with a design maturity suited to the clients. 
Also read: Monochrome Goals: Design Pataki's Top Picks For The Month