Bijoy Jain Marries Sustainable Architecture With Thoughtful Luxury At This Hillside Retreat In Kasauli
8

Dec

'22

5:00 pm

by

Nuriyah Johar
Perched atop a lofty hillside in Kasauli with remarkable views of the Himalayas lies Amaya – a private retreat designed by one of India's most celebrated architects, Bijoy Jain of Studio Mumbai. It is by no means the first (nor the last) mountainous retreat in a country and yet, there's something implicitly unique about it. The ethos of simplicity is almost palpable here, woven into the larger the idea of conscious luxury travel. Amaya, with its minimal footprint and an undertaking to restore and preserve its 25 acre private forest is revolutionary for India, and the resort's minimalist elegance is at the heart of every thoughtfully designed structure.
    "What it comes down to is pretty simply input vs output." – Bijoy Jain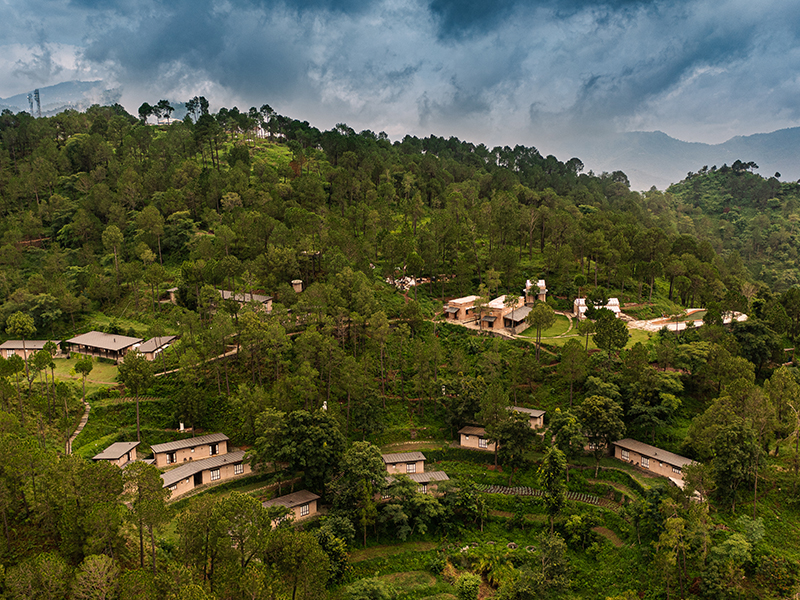 Bijoy Jain's reputation precedes him; his singular ability to synthesize Western and Indian aesthetic principles has earned him consistent architectural acclaim, and amongst all the renowned architects in the country, he was the perfect fit for this project. As Deepak Gupta, Founder of Amaya says, "My search for an architect started in 2013. We wanted to create a self-sustaining ecosystem of villas, terrace farming, horticulture, water management, and reforestation that would work seamlessly together. In essence, our need was to create a mountain habitat that didn't displace nature but could enrich and rejuvenate parts of the mountain ecology that was being disrupted by constant growth and development in the region."
Also Read : The Postcard Hideaway Celebrates The Goan Holiday Less Taken – DP Reviews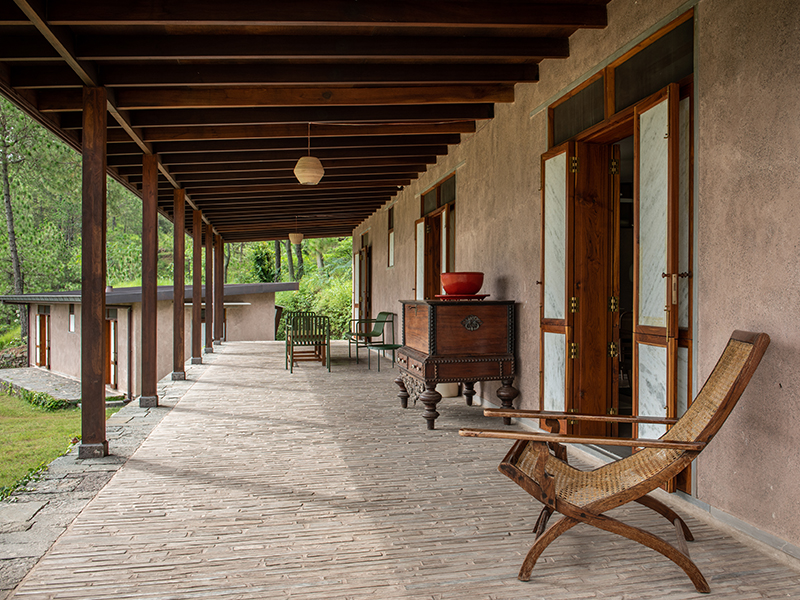 He goes on to add, "This to us was a tall order and frankly there wasn't a long list of architects who would work with this sensibility. Bijoy's past work on a project in the Himalayas and his work on homes in Alibaug were good examples of someone who embodied that spirit and sensibility. His ideas on sustainability were deeply respectful of the environment, his work reflected that deep respect." Gupta and Jain began exploring the idea in 2013, and after a visit to the site, decided that it had to be Jain's studio that would shape and build Amaya.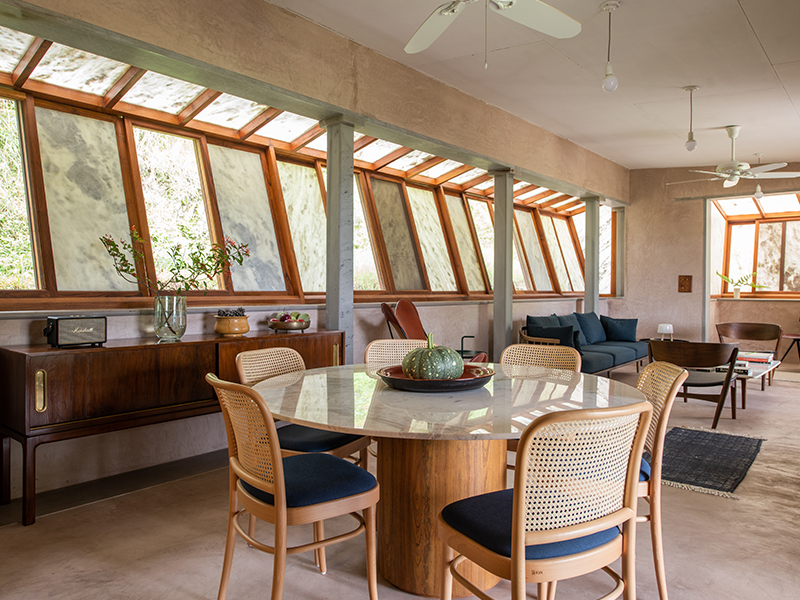 Amaya took seven years to build. Each structure was painstakingly built by hand, using local materials – wood, lime, and stone. Working with the ecology of the site, the development was kept to a minimum, with the ultimate vision of allowing Amaya to harmoniously blend with the pine forest around it. "The project aims to recuperate an existing agricultural land cultivated over generations by the local inhabitants of the region, says Bijoy Jain. "The terrain consists of a complex network of walking paths, water channels and terraces that connect to the paddy fields. Our intent is to integrate and optimize this inherent cultivated structure to be used as the foundation for the development."
Also Read : This Elevated Weekend Retreat in Bamboo Encapsulates Kolkata's Rural Charm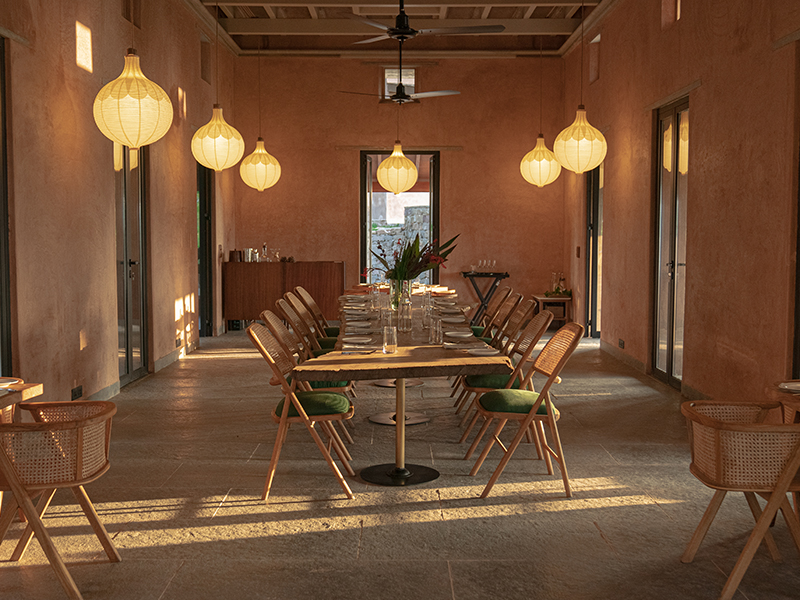 Amaya comprises a selection of chalets, suites, and villas. Each of the five villas comes with a study or an artist studio, along with dining and living spaces, a fully equipped kitchen, and three independent ensuite bedrooms with wrap-around porches that hug each structure and the angled terraces. In addition, the property has nine one-bedroom chalets and six suites comprising a bedroom and a study. In addition to the private spaces, at the top of the private ridge lie the restaurant, the Finnish saunas, the library and a stunning teardrop shaped heated swimming pool. Amaya's interiors have been envisioned by Viewport Studio, London and celebrate the idea of sustainable minimalism and Nordic design.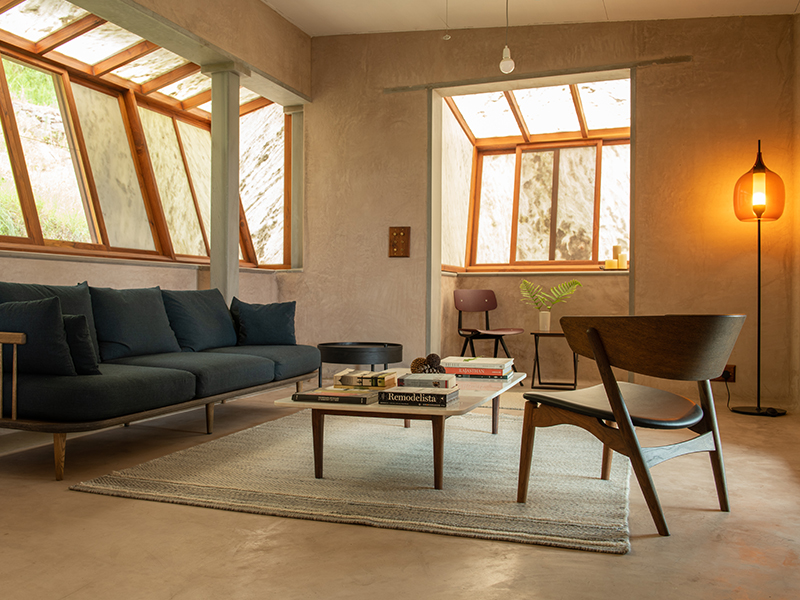 The idea of sustainability lies at the very heart of Amaya. As Bijoy Jain puts it, "What do you want to sustain? Power? Water? Yeah, sure, you have to be thoughtful about it, but that's not sustainability for me. What it comes down to is pretty simply input vs output. When we are using more than what we are receiving in return, an imbalance is caused. For me sustainability is about containing energy, emotional energy." Ultimately, Amaya is an agent of symbiosis, enriching the lives of all that inhabit it, but also the land upon which it is built.