Coachella Witnesses A Blend Of Robotic And Mythic With Sri-Lankan Born Artist Kumkum Fernando's Sculptures
22

Jun

'23

2:17 pm

by

Urvi Kothari
Imagine a combination of sci-fi robots and South Asian mythic gods and demons! Familiar visuals certainly flashback at the very mention of these characters. This imaginary morphosis comes to life as – Vietnam-based Sri Lankan-born – Kumkum Fernando presents together a never imagined before entourage of characters – some familiar and some fantastical. Fernando, an antiquarian's son and a curiosities collector himself, has enchanted audiences of all ages. This time, breaking away from defined canons of scale and scope, Fernando presents three retro-futuristic-mythic sculptures at Coachella 2023. So, over a chatty conversation with Kumkum Fernando, we delve deep into his art, inspiration, practice, and much more.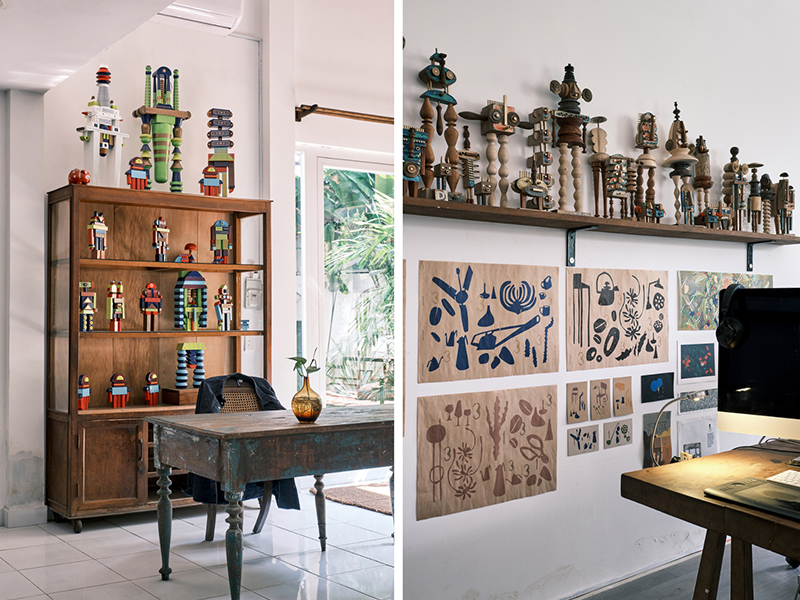 Design Pataki: Being a son of a collector of antiquities and an avid collector yourself, can you take us through your journey as a collector? Has the art of collecting inspired your artistic creativity?
Kumkum Fernando: Having grown up in a family of collectors, I started collecting at a very young age. However, since I move a lot now, I have stopped collecting. That being said, I'm quite sure I still have a lot more stuff than the average person!
I wouldn't know how to describe this journey since they are random objects and don't fit any order – ranging from old spoons to old motorcycle parts, bugs, butterflies, feathers, pressed flowers, a two-ton turbine of an old mill, old masks, strange statues, sign boards, crystals, jewellery, old tools, and gold teeth, to name a few. Even though I have stopped collecting, I still find myself buying things at flea markets across my travels. My latest acquisition was a Bruce Lee statue with red nipples made by a local Vietnamese artisan from a village market.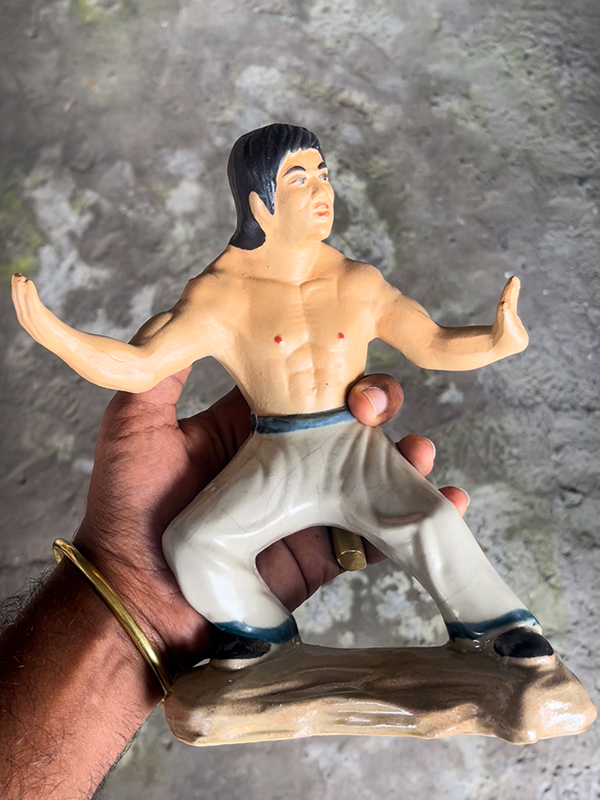 In the past, I used to physically collect objects and create things with them. But now, my practice has evolved with time while keeping the same principles. I still combine elements to create new stories. In general, my practice is about giving new life to old motifs, stories, and designs. I repurpose them into futuristic and surreal forms, breathing new life into them.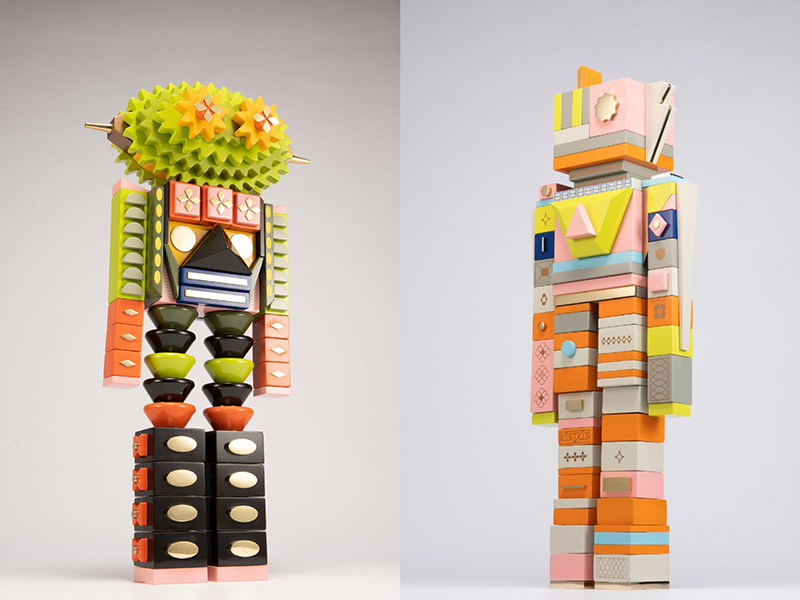 Design Pataki: Your robot-like sculptures have a sense of fantasy that strikingly emerges. There is a whimsical element as you personify your characters with names such as 'Jackfruit Jenny' or 'Rossy Anne'. Are there any personal anecdotes that stir these creations?
Kumkum Fernando: My artwork is very personal to me, and the end results are inspired by experiences I have encountered, stories I have heard, people dear to me, or a mere encounter with an individual. Consequently, my artwork titles revolve around these personal events.
For instance, 'Rosy Anne' is a nickname my late grandmother gave to my mother. Since I consider my mother to be a superhero, I transformed her into a flower-shooting space glider. 'Jackfruit Jenny' is an imaginary superhero name that my son and I came up with while playing in a garden filled with jackfruit trees in Sri Lanka.

Also read: Ai Weiwei Recreates Monet Masterpiece With 650,000 Lego Bricks For London Show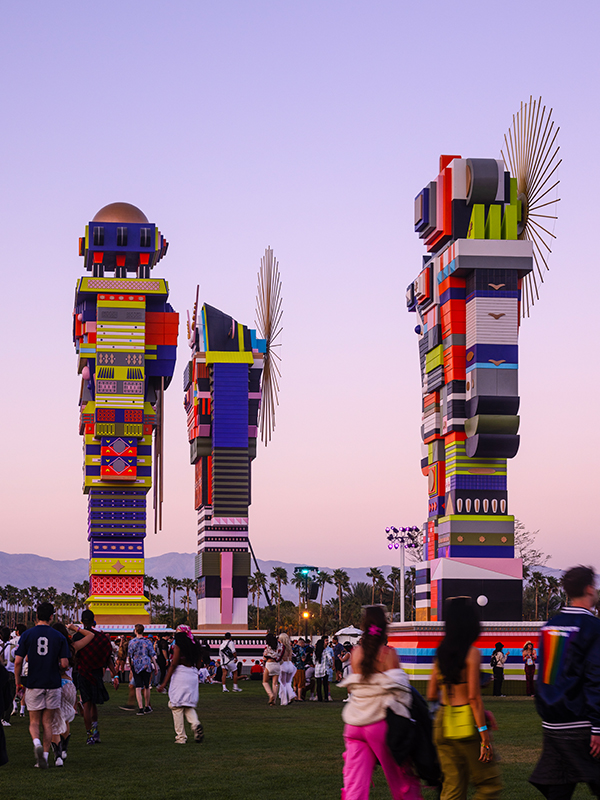 Design Pataki: In addition to intriguing names, you often give the viewers a sneak peek into your characters' fictional lives by composing poetry. 'Ilo' is a character often personified in your compositions including your recent installation at Coachella Valley Music & Arts Festival 2023. Who is Ilo?
Kumkum Fernando: 'Ilo' is a shortened form of 'Kai-ilo', my seven-year-old son. I frequently find inspiration from him and have created several characters based on moments we have shared together. However, this character, Ilo, serves as a direct symbol for him. The Ilo character has been a project of mine for quite some time, with various editions and versions. The centrepiece artwork at Coachella was titled 'The Flying Ilo', accompanied by the following text:
This artwork is named after my son Kai-ilo.
Ilo lives thousands of miles away from me.
The first artwork I made named after Kai- ilo was called ilo the dreamer
But it never had wings and ilo couldn't fly.

This time it's different.
I gave ilo a jet pack, faster than a billion comets.
The next time you see a shooting star,
A streak of light going across the sky.
That's ilo
Coming to see me.

This is dedicated to all the missing parts of our hearts
that cannot be with us right in this moment.

May they all get jets packs powered by a billion comets
So they can fly to you from where ever they are,

Long live love. This is the flying ilo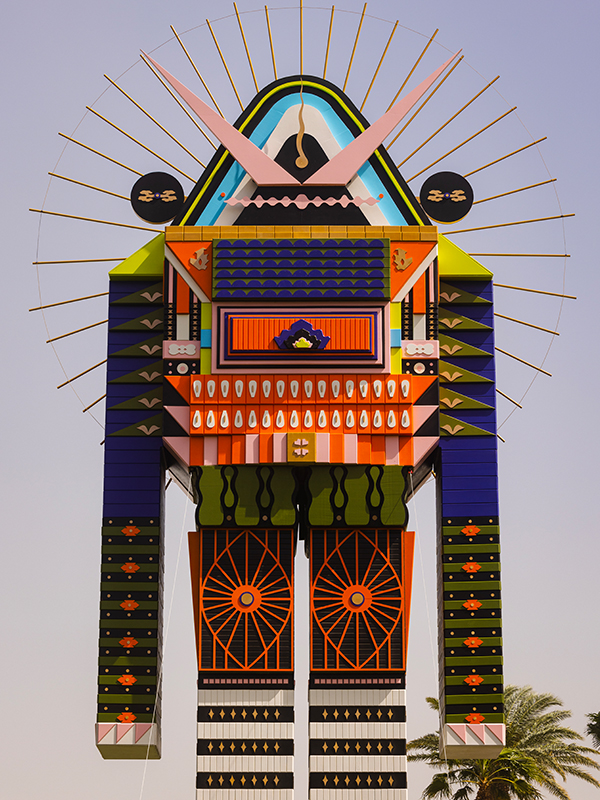 Design Pataki: Your Coachella installation also had a sense of playfulness – almost like a childlike muse towards a ranger built with Lego blocks. What was the intent behind these three monolithic figures presented at the California Festival?
Kumkum Fernando: My sculptural work is made from basic shapes. If you observe closely, you will see that they are mainly composed of squares, rectangles, triangles, and circles, almost like children's building blocks. This is how I have been making my sculptures since long before Coachella. I don't believe things need to be complicated. I like to make characters that sometimes have the most basic shapes yet tell a compelling story.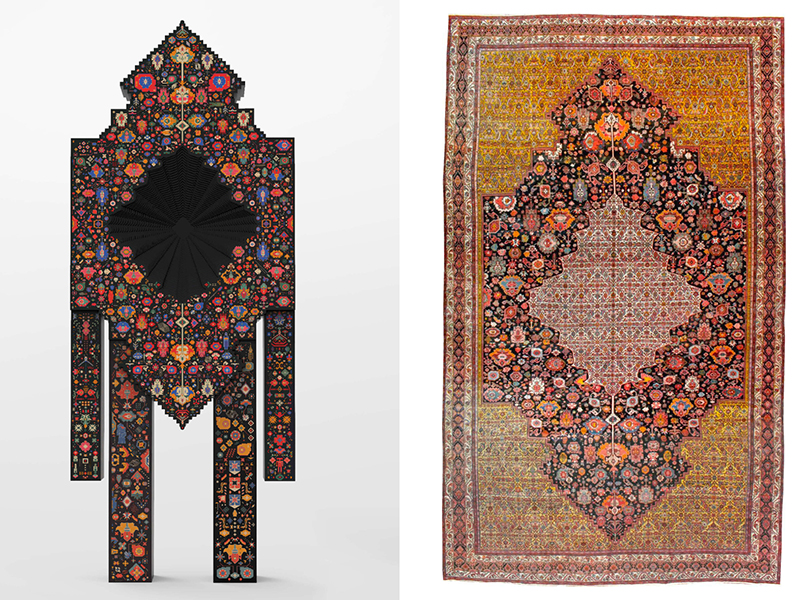 Design Pataki: Some of your fictional characters also draw an interesting take on South Asian mythic characters such as Shiva or Ravana. Is this a conscious attempt to bring the long-standing but slowly fading mythological stories to the forefront on a rather global scale?
Kumkum Fernando: My characters' names do directly reference many South Asian myths but are narrated in a story in my very own way. There is no intent of forcing this nor a mission to take this to a global scale, for me it is simply narrating a story in an organic process. 'Rocket Shiva' and 'Ravana the Misunderstood' are examples of my work that try to illustrate this.
Also read: The 20+ Crore Club – Highest Auctioned Indian Artists Of All Time
Design Pataki: Being Sri Lankan born, how do you see your art within the emerging South Asian pop culture? Do your Sri Lankan roots contribute to your visual lexicon?
Kumkum Fernando: While growing up in Sri Lanka, I was surrounded by stories of ancient flying machines, portals to other dimensions, gods, ghosts, drunk giants, misunderstood demon kings, etc. As a child, I was immersed in the realm of the supernatural. Even now, I find these tales deeply captivating, and they continue to influence me when I create backstories, select colour themes, and so on for my artsy characters. These stories serve as a reminder of my cultural roots and the vibrant storytelling tradition that moulded my imagination.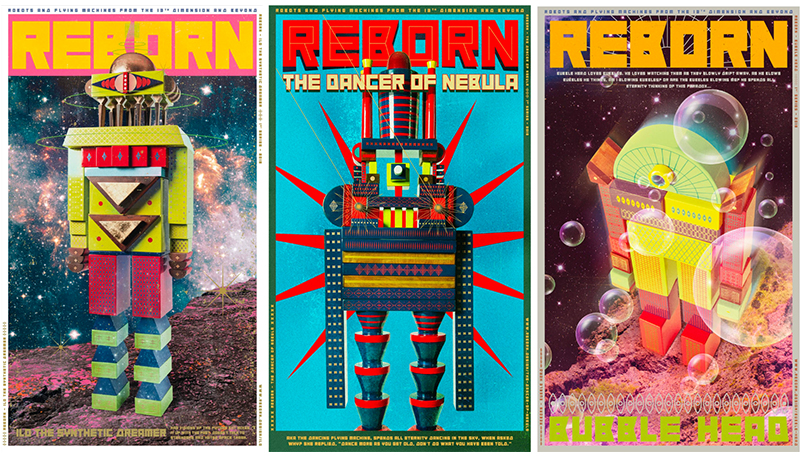 Design Pataki: Your characters also connect the idea of the milky way, outer space, galaxy, and so on. Just wondering if Star Trek has ever been a point of departure behind your creations.
Kumkum Fernando: I am not a huge fan of Star Trek, but as a child, I was always fascinated by the cosmos and what lies beyond what we can see. The characters associated with space represent the child in me, imagining travels to the depths of the universe and just having fun.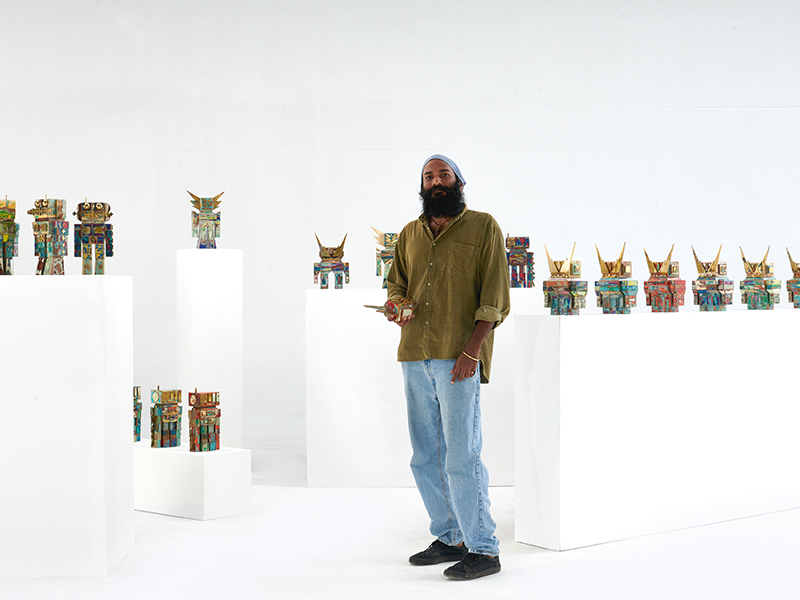 Design Pataki: Post the success of your recent Coachella presentation, I am certain that audiences are keen to experience your works within as well as beyond the white cube. Do you want to give away anything exciting about your exhibitions up in the pipeline?

Kumkum Fernando: I am currently about to launch a series of intergalactic travellers looking for a lost princess – titled 'Post-Colonial Rainbow Punks'. The intergalactic swashbucklers – part gangsters, part mythical beings – have travelled through space and time to find their missing Princess: Izah 281. The four Punks – Softboss, Koha, Lomba, and Manike the Maniac – have arrived on earth ready to meet their greatest challenge. This series is entirely handmade using reclaimed wood found in Saigon. It will be launched in collaboration with Jonathan Levine Projects.