Ai Weiwei Recreates Monet Masterpiece With 650,000 Lego Bricks For London Show
9

Jun

'23

3:23 pm

by

Tanvee Abhyankar
In partnership with the world-renowned artist Ai Weiwei, the Design Museum in London presents 'Making Sense,' an exhibition that explores the designer's distinct viewpoint on artistry and reflects the progression of our changing principles. This show features Ai Weiwei's latest works, displayed for the first time, as well as several specially commissioned pieces, all centered around themes of value, humanity, art, and activism. Regarded as a key figure in Chinese modernism, Ai Weiwei employs his political and activist ideologies to advocate for freedom of expression through the medium of art. Aptly titled 'Ai Weiwei: Making Sense,' this exhibition marks the artist's debut focus on design and architecture and represents his most significant show in the UK in the past eight years.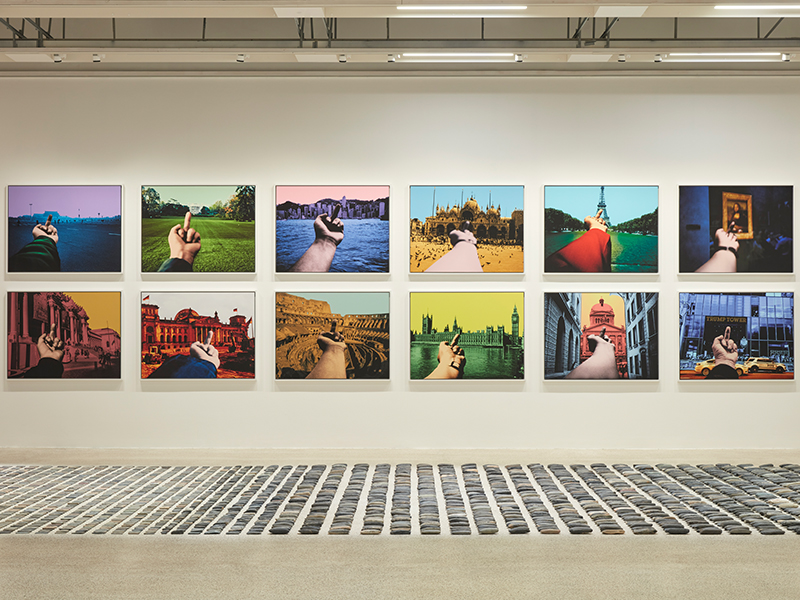 Within the captivating exhibition is the inclusion of large-scale artworks positioned outside the main gallery space. Inside, the gallery floor is adorned with hundreds of thousands of objects, forming an integral part of the exhibition experience. Ai Weiwei presents five distinct and significant areas of his work, namely Still Life, Left Right Studio Material, Spouts, Untitled (Lego Incident), and Untitled (Porcelain Balls). Central to the exhibition is a series of site-specific installations that showcase an array of objects, ranging from ancient Stone Age tools to contemporary Lego bricks. These objects have been meticulously collected by Ai Weiwei since the 1990s and exemplify his enduring fascination with artifacts and traditional craftsmanship.
The exhibition brings together these remarkable collections for the first time, offering a unique perspective on design and the historical process of creation, and inviting visitors to reflect on their own values. With these expansive fields of artistic expression, both Chief Curator Justin McGuirk and Ai Weiwei aim to provide visitors with an opportunity to make sense of the exhibition, offering an immersive encounter with thousands of years of human ingenuity as they navigate through the space.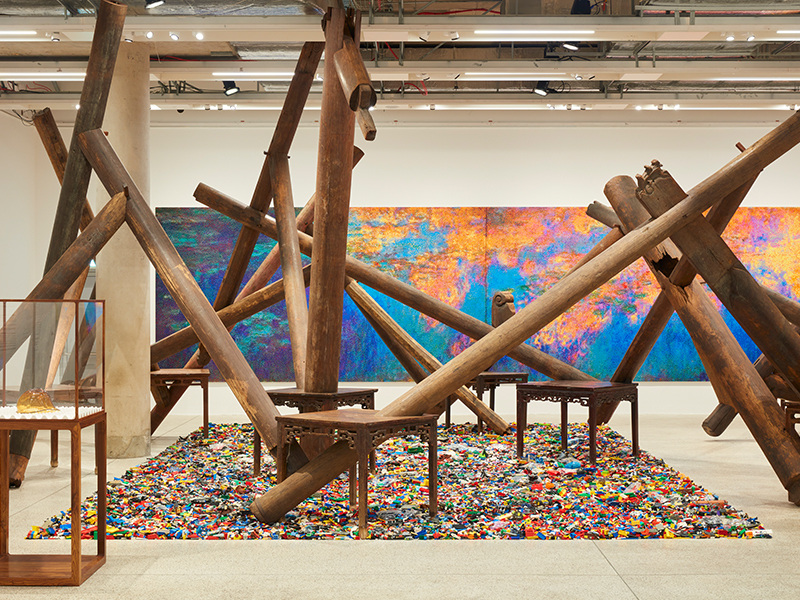 The Still Life segment of the exhibition conveys a compelling message by presenting ax-heads, chisels, knives, and spinning wheels as a landscape of forgotten expertise. It serves as a poignant reminder that the foundations of design are deeply rooted in the instinct for survival. On the other hand, Left Right Studio Material is a politically charged artwork that bears a personal significance for Ai Weiwei. It showcases the remains of his porcelain sculptures, which were destroyed when his studio in Beijing, known as 'Left Right,' was demolished by the Chinese state in 2018. This installation stands as a testament to the artist's ability to transform destruction into art.
The installations titled Spouts and Untitled (Porcelain Balls) draw inspiration from the activities practiced during China's Song dynasty. They pay homage to historical traditions while infusing them with Ai Weiwei's distinct artistic vision. Another thought-provoking creation, Untitled (Lego Incident), reflects Ai's personal and political expression. This unique installation was made possible with contributions from his followers worldwide, showcasing the power of collective creativity. Additionally, Water Lilies #1, a remarkable Lego artwork made up of 650,000 Lego pieces, spans an entire wall of the Design Museum in 22 colors. It meticulously recreates one of the renowned paintings by French Impressionist Claude Monet, demonstrating the versatility and artistic potential of Lego blocks.
Lastly, the intriguing Middle Finger series introduces an interactive online artwork produced in collaboration with Avant Arte. This participatory project features photographs submitted by Ai's global followers, showcasing a simple yet impactful idea—raising the middle finger as a form of protest against locations of power. Visitors to the exhibition will have the opportunity to engage with this innovative display that reflects the collective voice of individuals worldwide.
Also Read: The Offbeat Sari Is London's First Large-Scale Exhibition That Examines The Contemporary Indian Sari