Barbie's All-Pink Life-Size Malibu Dollhouse Is Up For Rent
6

Jul

'23

2:26 pm

by

Nirtika Pandita
With Margot Robbie and Ryan Gosling's upcoming movie Barbie soon to hit theatres, her Malibu, California dream house is back on Airbnb to rent. The dollhouse is a stunning and smooth transition from reel to real life. The all-pink toy-inspired Barbie house has a breathtaking, uninterrupted panoramic view of the Pacific Ocean. In recent news, American singer-songwriter John Legend, along with his wife, Chrissy Teigen, and children, took a trip to the pink mansion.
Right from the bedrooms to the terrace to the disco dance floor, the house is furnished with unmissable details of the picture-plastic paradise. The bedroom is aesthetically crafted in pink walls, cowhide rugs, cowboy hats, and horse-printed throws—it effervesces Barbie's true spirit out and out.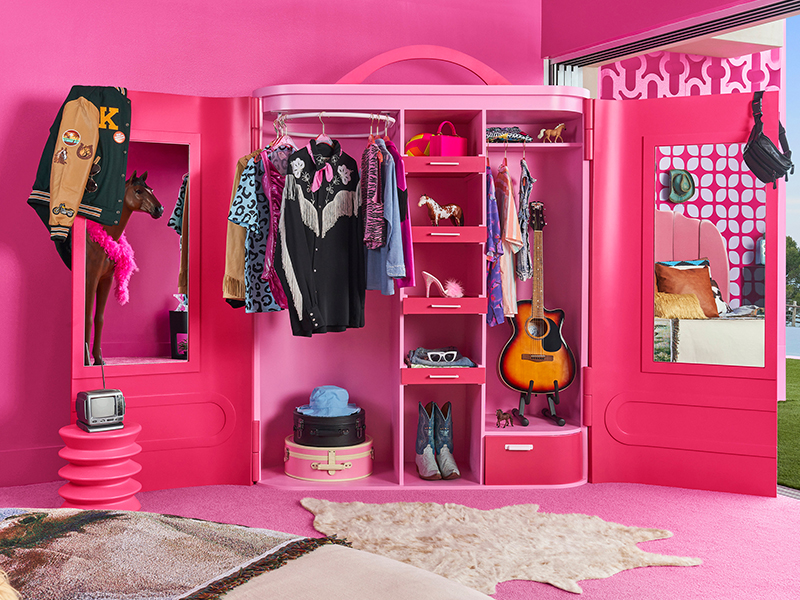 And although the entire house is paradisiacal, the hardest thing to miss in the bedroom besides the oceanic view is the closet stacked with Ken's cowboy shoes, cowboy fringed shirts, and guitar. The closet also has some of Barbie's iconic possessions, such as her iconic high-heeled pink shoe with fluffy feather decoration. The bedroom, however, is just the beginning of the technicolour life at the dream house! The guests have for themselves an outdoor disco dance floor beaming with bright pink, purple, and yellow colours.
Also read: Chic Chromatics – 7 Glamorous Bathrooms With A Burst Of Colour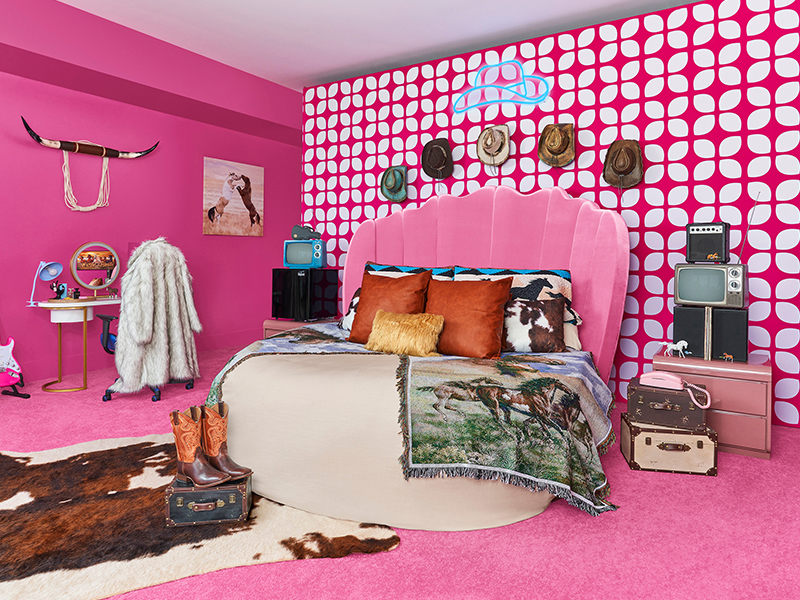 They can also head out to surf or to try rollerblading on the boardwalk – where one will find yellow rollerblades on the dance floor for the same. In fact, they can take home their own set of yellow-and-pink Impala skates and surfboards—the house just doesn't stop with the surprises.
When guests are done channelling their inner cowboy on the dance floor and rollerblading, they can relax in the bright-pink outdoor lounge area and by the infinity pool. However, there is much more to the lounging area than just lounging. It comes equipped with an outdoor gym, a pink outdoor kitchen with a barbecue grill, and plastic food. The house also has a reflection of Ken's style—the Western-style swing door with Kendom Saloon written across it.

Also read: Your Guide To India's 10 Most Unique Hotel Pools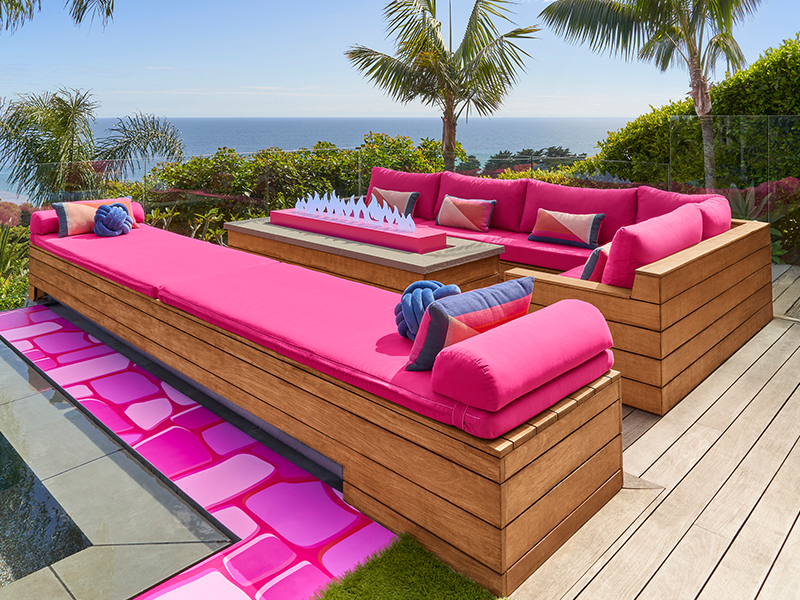 The house was earlier listed by Airbnb in 2019, celebrating the 60th anniversary of the fashion doll – Barbie, and is now back in trend with the release of Barbie, the movie.