Chic Chromatics – 7 Glamorous Bathrooms With A Burst Of Colour
21

May

'23

7:39 pm

by

Crew
In a world where neutral sensibilities and muted tones have reigned supreme, these bold bathrooms defy convention, ushering in an era of unabashed self-expression. From captivating jewel-toned tiles that evoke a sense of luxurious opulence to delightful pastel hues that infuse whimsy and charm, these spaces radiate with an infectious energy.
The growing trend of embracing vibrant colours in bathroom design does not merely point to a fleeting fad, but rather, it serves as a reflection of our collective desire to infuse joy into every corner of our lives. It is a testament to the increasing recognition that our surroundings profoundly impact our well-being; and what better place to start than the very space where we begin and end each day? Here are our top picks of bathrooms that double up as vibrant havens of colour –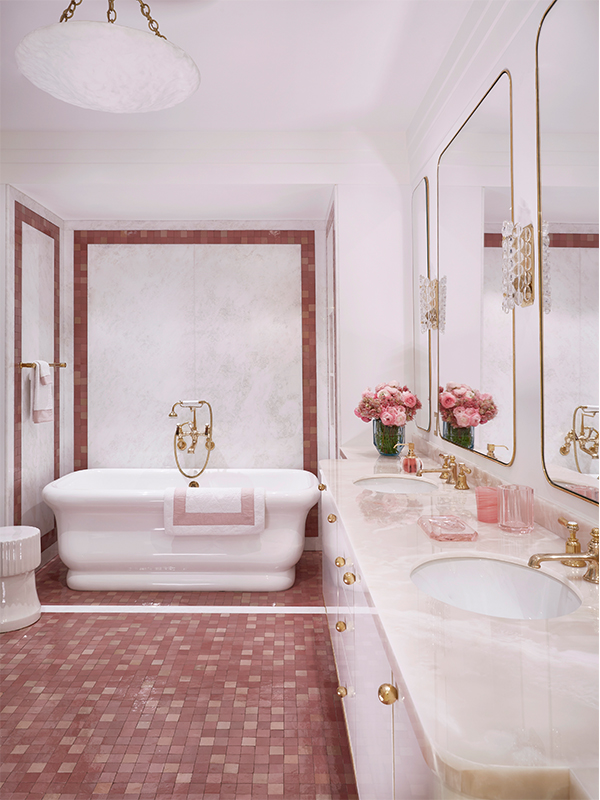 #1 Pretty In Pink
When Aamir Khandwala was enlisted with the design of an apartment in Manhattan for a longstanding client and well-travelled collector, the New York-based designer crafted a space predisposed to highlight an extensive collection comprising both vintage and contemporary furniture, lighting, objects and art. One of our favourite bathrooms from the project is a striking personification of soft femininity; layered with a Parisian chic ethos. The freestanding Empire bathtub from Waterworks is a beautiful addition to the sumptuous bathroom with pink-tinged handmade Zellige tiles from Fez.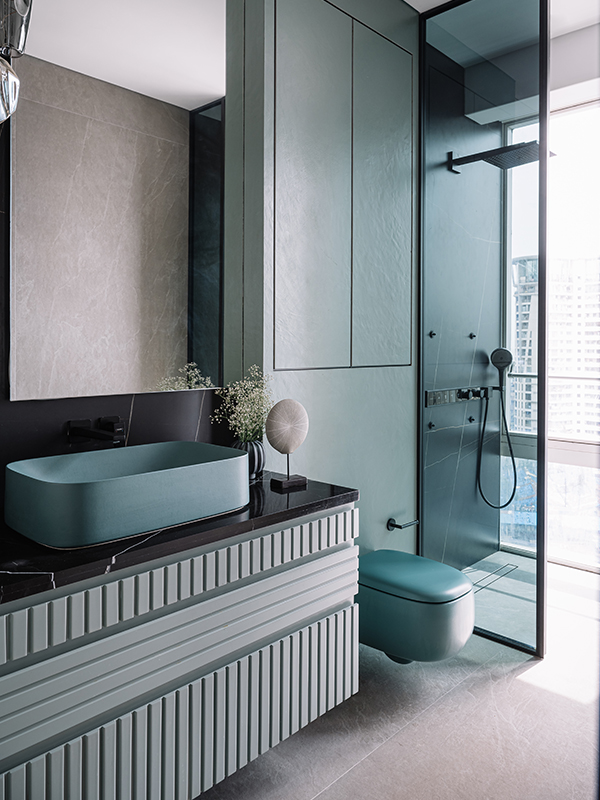 #2 Cool Blue Monotones
Sitting high above the bustle of 'the city that never sleeps', this sprawling apartment is the absolute antidote to banal urbanity. An entirely different realm, this 6,000-sq-ft space located in a residential tower in Worli, designed by architecture and design firm MorphLab. Every facet of the bathrooms = from counter-tops to accent walls – was custom designed to pack a punch just like the rest of this very stylish Mumbai apartment. Cool shades of teal take over every surface in this bathroom, right from the sanitaryware and the counter to the shower glass; exuding a contemporary monotone sensibility.
#3 Fiery Mustard
This sprawling, architecturally striking home located in Gujarat's quaint town of Himmatnagar comes with rust-hued pools, an inward-looking 'enclosure' and a single-level elevation, envisioned by Design Ni Dukkan. Much of the house is expressed in a muted material palette of concrete, discoloured kota stone, and wood occasionally punctuated by a warm terracotta tone. However, the bathrooms (like the one pictured above) come alive with colour. The guest bathroom features a fiery mustard colour palette that is both vibrant yet calming, finished with tile work from Surface Plus and bath fittings from Toto. A micro concrete finish is used across the upper half, trying into the raw material palette characterizing the rest of the home.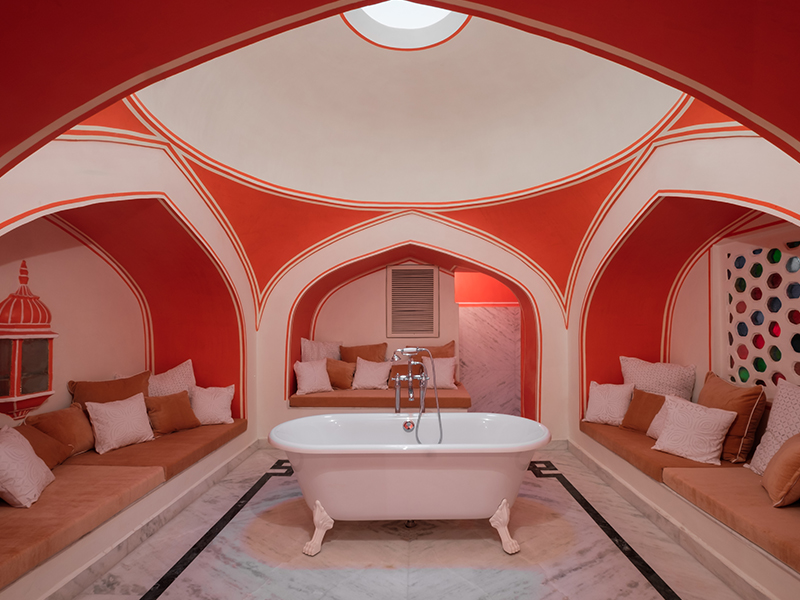 # 4 Stately Scarlet
There's luxury hospitality. Then there's living like royals. The titular Maharajah of Jaipur, Padmanabh Singh has collaborated with Airbnb and opened his family home, the City Palace of Jaipur to tourists. Pictured above, the bathroom at the breathtaking Gudliya Suite is undeniably opulent. A standalone tub in a flaming red-orange domed room epitomizes luxury in true royal fashion, complete with low seating and a skylight! Details like stained glass and marble floors add to the palatial ethos.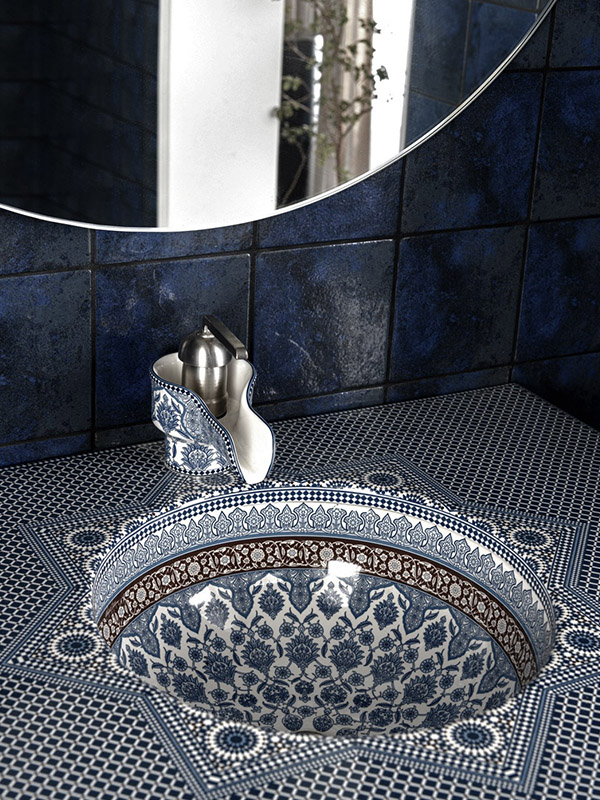 #5 Marrakesh Maximalism
Brimming with artefacts, curios, and collector-worthy furnishings, this 11,000 sq ft home in Kasaragod, Kerala by Humming Tree is every art lover's dream! Even the bathrooms, like the one pictured above, reflect a dreamy maximalist sensibility. The pièce de résistance in this inky blue bathroom is an exquisite sink, 'The Marrakesh' by Kohler which brings glimpses of Morocco to the space. Dark tiles with a metallic, oxidized finish add visual and textural nuance to the space.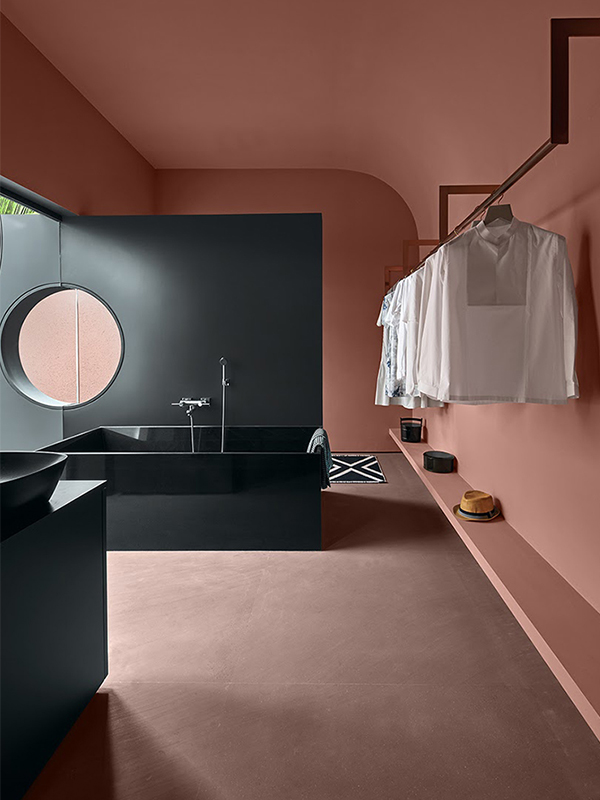 #6 Colourblock Goals
This villa in Alibaug by Pinakin Patel is a testament to authenticity. It is a reflection of unrestrained creativity backed by a fundamental awareness of and respect for the process of designing. An earthy palette of pinks is contrasted by matte black elements and brass detailing – varying proportions of which make up different areas in the interior. The two-tone bathroom combines the raw with the refined, while playfully experimenting with form, material, and visual contrast. Decidedly spacious, it has been designed in a manner that does not trap in humidity – a key factor in areas by the sea.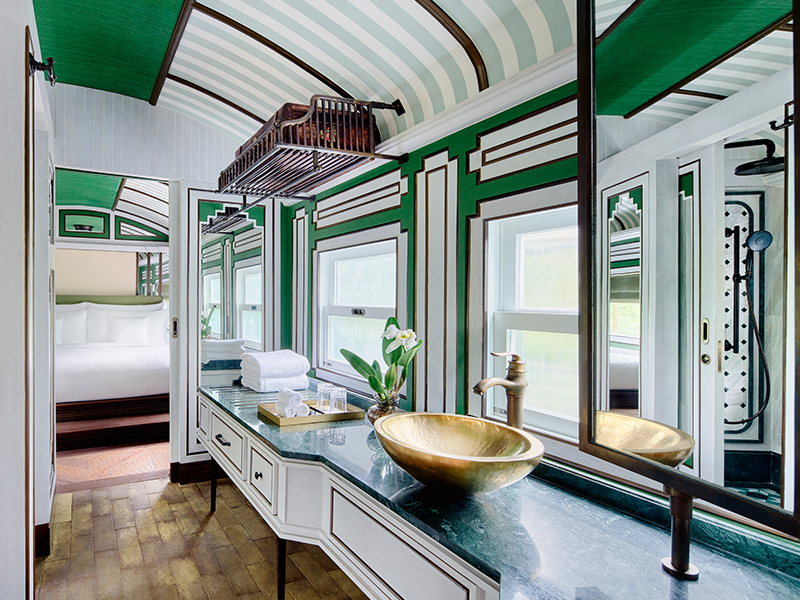 #7 Candy Green
Starchitect Bill Bensley's new hospitality venture, the InterContinental Khao Yai Resort in Thailand takes inspiration from the the golden age of train travel, and the resort's pièce de résistance is a set of 19 repurposed heritage railcar suites and villas that offer travellers an unforgettable experience. The bathrooms, like the one above, take inspiration from the undeniable romance of trains. Hues of green take over the bathroom, in the form of bold interjections of colour, jade countertops, and whimsical candy-striped ceilings. Brass details and antique elements and to the thematic narrative in subtle ways.