The Offbeat Sari Is London's First Large-Scale Exhibition That Examines The Contemporary Indian Sari
31

May

'23

1:44 pm

by

Nuriyah Johar
The Design Museum in London is paying homage to one of the world's most recognisable items of clothing – the sari. Shedding a spotlight on contemporary Indian fashion for UK audiences through an exciting new exhibition titled The Offbeat Sari, the museum aims to present this ubiquitous garment as a tool for design innovation and an expression of identity. The show is curated by the Design Museum's Head of Curatorial, Priya Khanchandani. It brings together over 90 examples of trailblazing saris made over the past decade, nearly all of which will be on loan from designers and studios across India and have never been seen in Britain before.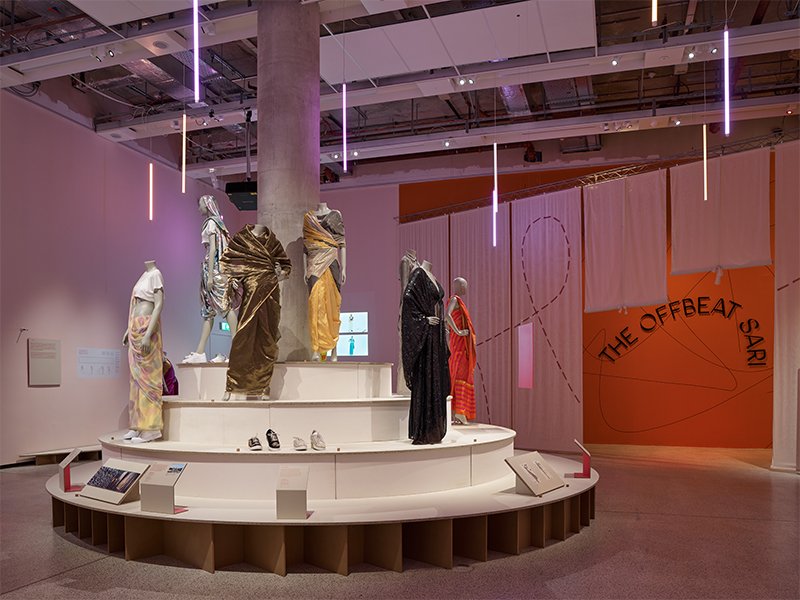 "The sari is experiencing what is conceivably its most rapid reinvention in its 5,000 year history" – Priya Khanchandani
The sartorial curation includes saris by leading Indian designers as well as emerging counterparts. Pieces by designers such as Abraham & Thakore, Raw Mango, Akaaro, and NorBlackNorWhite, who have been at the cutting edge of the sari's dynamic shift and renewed relevance will be showcased. Viewers can witness experimental pieces by designers such as Amit Aggarwal, HUEMN, Diksha Khanna, and Bodice. The exhibition also showcases a range of couture statement saris, like Tarun Tahiliani's foil jersey sari famously worn by Lady Gaga in 2010, as well as Abu Jani Sandeep Khosla's ruffled sari adorned by Deepika Padukone at the Cannes Film Festival in 2022.
Also Read : New In London : Prada's Charming New Caffè, Housed In Harrods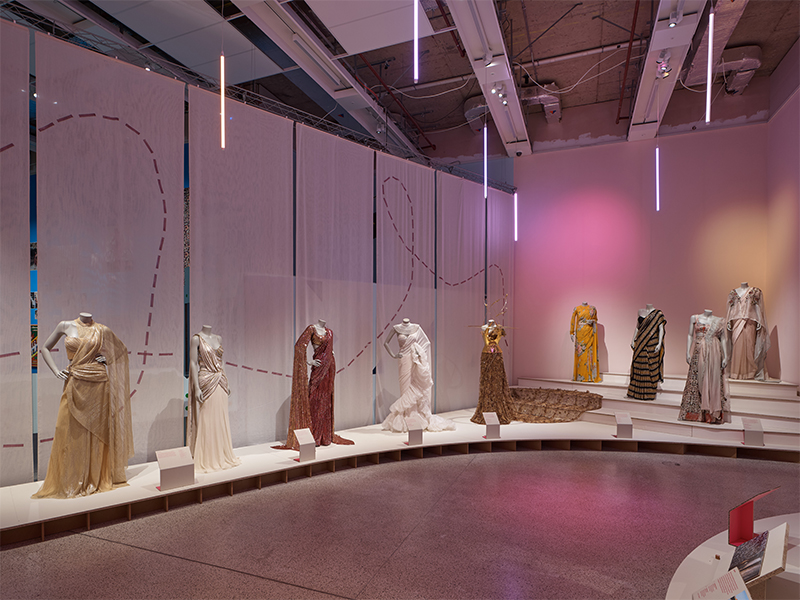 A compelling highlight will be the first ever sari worn at the famed Met Gala at the Metropolitan Museum of Art in New York. Designed by Sabyasachi, and styled with a gold Schiaparelli bodice, the stunning ensemble was worn by Indian businesswoman Natasha Poornawalla, and made headlines around the world in May 2022 for its striking mix of Indian and Western couture.
The exhibition features three sections; the first, 'Transformation' highlights the work of the designers in India who have pushed the boundaries of experimentation. Highlights include a distressed denim sari by Diksha Khanna and a lacquered sari drape wrapped around a plinth in a form of conceptual play on the sari by contemporary artist Bharti Kher. 'Identity and Resistance' examines the role of the wearer in reforming the sari today and will exhibit how the sari can become a vessel for conveying individual identities. Lastly, 'New Materialities' takes a meticulous look at the sari as a textile. It explores how the sari's weave, texture, colour and surface forms a rich canvas for the creativity of Indian artisans.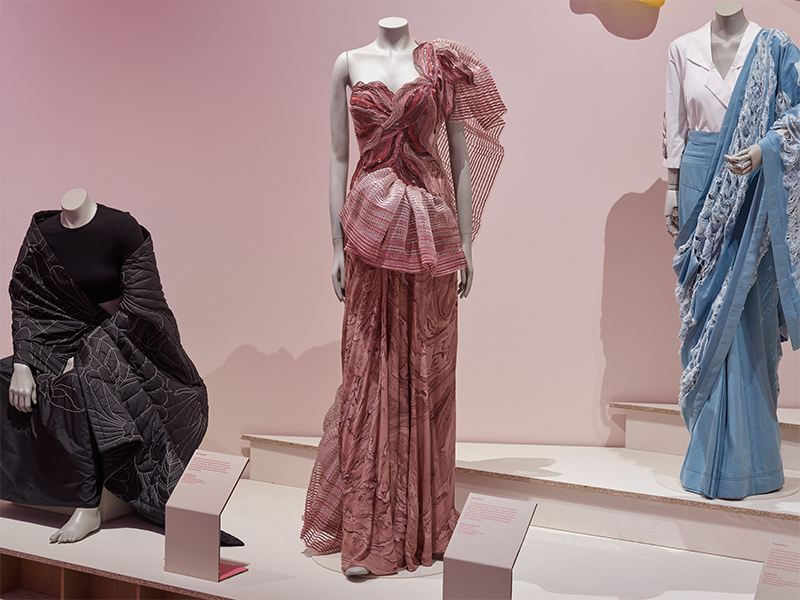 Priya Khanchandani says, "The sari is experiencing what is conceivably its most rapid reinvention in its 5,000 year history. It makes the sari movement one of today's most important global fashion stories, yet little is known of its true nature beyond South Asia. She adds, "For me and for so many others, the sari is of personal and cultural significance, but it is also a rich, dynamic canvas for innovation, encapsulating the vitality and eclecticism of Indian culture. With a population of 1.4 billion people, India's significance within contemporary culture is vast, and the sari foregrounds the country's undeniable global stage."
The Offbeat Sari will run until 17 September 2023.
Also Read : MAP Museum Of Art & Photography Signals A New Era For Museums In Bangalore