Vakr – A Statement Furniture Brand Where Computational Design Meets Indian Artisanship
6

Feb

'23

7:18 am

by

Nuriyah
Think statement Indian furniture; oftentimes, the mind conjures up images of intricately carved wooden almirahs and chairs with rich upholstery. Delhi-based furniture studio Vakr turns this idea on its head. Their furniture pieces are modern and fluid; they employ technological innovation with explorations in physics, creating remarkable contemporary pieces. At the core of their practice, however, lies a commitment to championing age-old Indian crafts. From rattan weaves to Madhubani art, Vakr incorporates traditional artisanship into their designs to create unique products that help craft find a place in the modern world.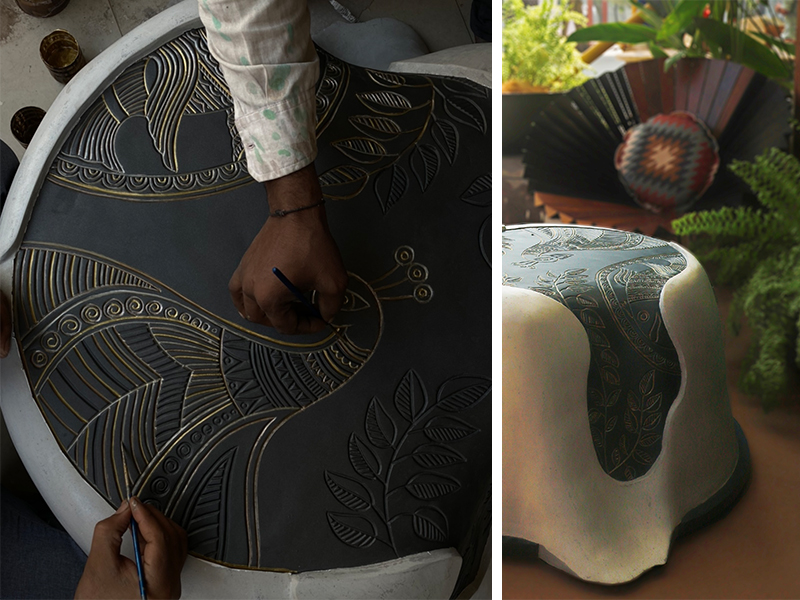 And yet, the founders Devyani Gupta and Nehit Vij say, "Vakr doesn't modernize craft. It incorporates traditional crafts to create products which have a contemporary look. Yes, technological advances have made it possible to bring precision and efficient alternatives to some of the tedious work, but there are still several techniques which exhibit grace and skill through handwork. These are the techniques Vakr would like to explore."
Design Pataki gets an insight into the brand's distinct collections –
Madhubani Minimalism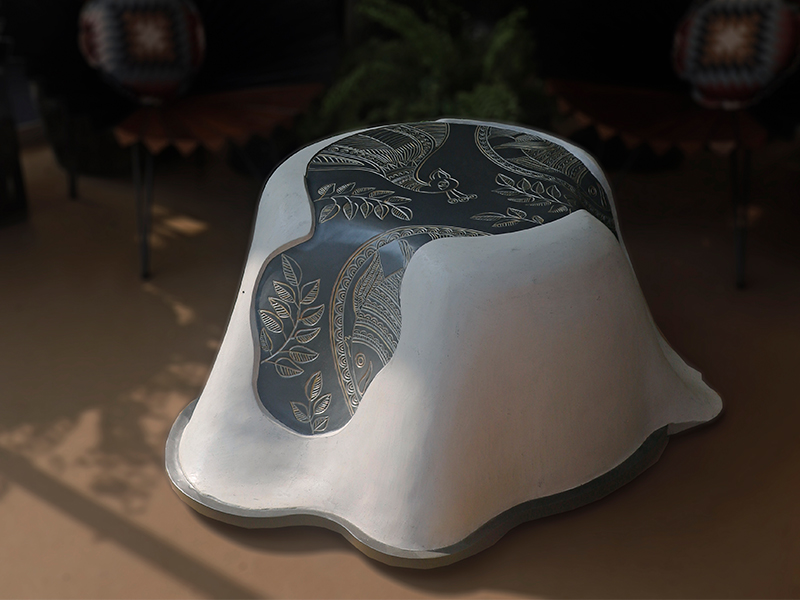 Vakr's latest limited-edition series, Dravam blends computational design with Madhubani art. Dravam is a Sanskrit word which translates to 'Liquid Substance' – a fitting name for a series that explores the fluidity of material. An intricate Madhubani pattern is hand carved on top of the table, and runs down the organic curve. Gupta and Vij say, "The whole idea was to narrate the story of a Circle, a geometric form, melting away to reveal art." Addressing the irreplaceable nature of craftsmanship by hand, they say, "The Dravam Series has Madhubani art carved on all sides of it." Every piece in the Dravam collection is one of a kind, offering exclusivity. The new launch comprises coffee tables, consoles, benches, and chairs.
Sculptural Rattan Weaves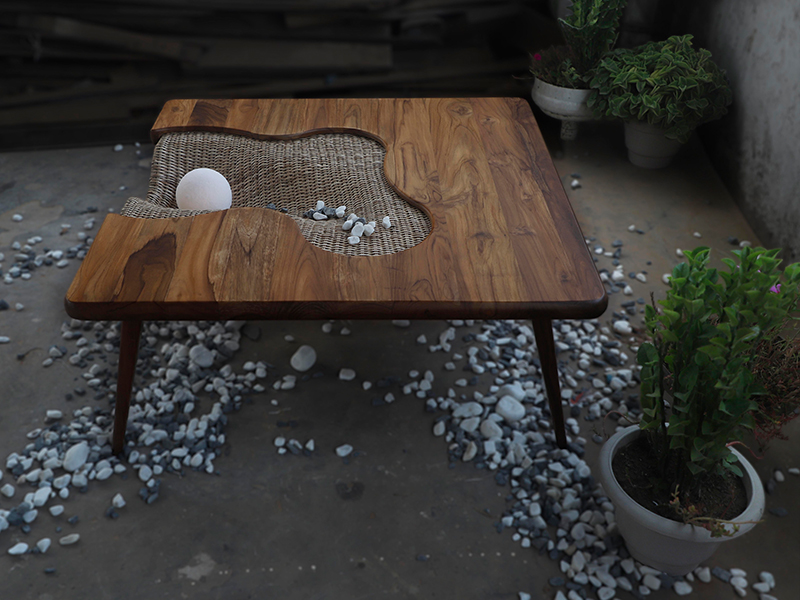 Vakr's Lehar product range makes use of concrete, rattan, and wood to create pieces that take inspiration from the shape of flexible membranes and structures, when weight is applied to them. "The Lehar Series showcases a sculptural character, a mix of aesthetics, and functionality," say Gupta and Vij. " Its success is based on the design philosophies, endless prototypes and physics experiments to derive the carefully calculated organic curves in each product."
From soft waves touching shores and streams of water to undulating shapes on a plane, influences from nature take the form of coffee tables, consoles, and end tables in this collection. The Lehar Series features exquisite rattan work which can only be achieved by a skilled artisan, given that the undulating surface requires adept craftsmanship to perceive the shape and weave, according to the organic curve.
Bespoke Work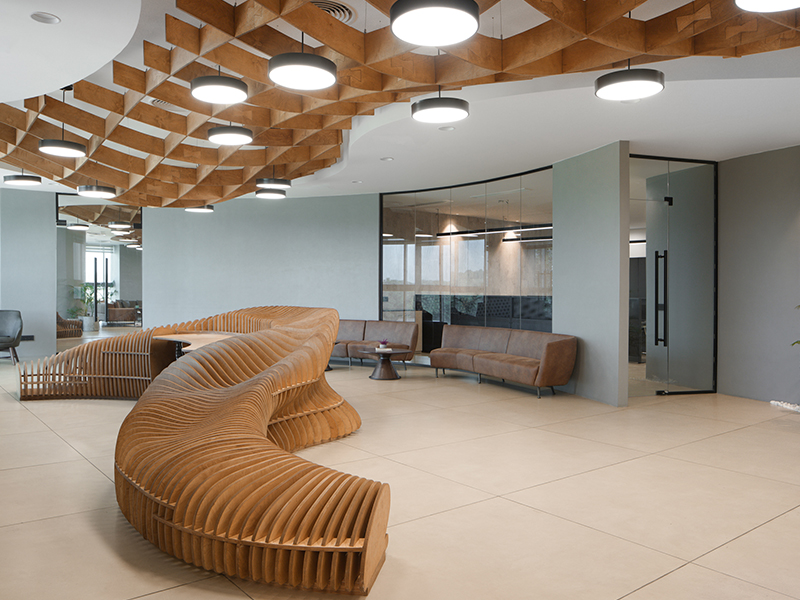 Apart from their product ranges, Vakr's bespoke projects serve as yet another testament to their creative potential. For a commercial site in Dehradun, the studio was commissioned to create a 30-foot reception table and an undulating ceiling. "The space that was provided demanded fluidity and movement. The reception table is an art piece in itself, offering a very different and organic feel to the office space," Gupta and Vij explain. "The ceiling was designed to visually balance out the mellifluous table and flow throughout the space. It took us 3 months to bring the table together and transport it to Dehradun where the space was." Interestingly, the founders tell us, the table took only 3 hours to install on site!
Studios like Vakr are slowly but steadily ushering in a new era for Indian crafts – adapting them to contemporary sensibilities and global aesthetics, ultimately ensuring their preservation.