Holi 2023 – 5 Luxury Hotels In Rajasthan Hosting Grand Celebrations This March
24

Feb

'23

12:17 pm

by

Sneha Shah
Holi, the ultimate carnival of colour, is almost upon us! During this two-day festival, the streets are bathed in different colours and celebrations suffused with enthusiasm, music, love and the joy of Spring. Holi festivities in Rajasthan come with a regal touch that is graced with ceremonial bonfires and followed by royal processions, folk dances, well-curated cuisines from top-notch chefs and explosions of colour. We've rounded up on the top five getaways for Holi this year, that combine the festive spirit with traditions, culture and splendour –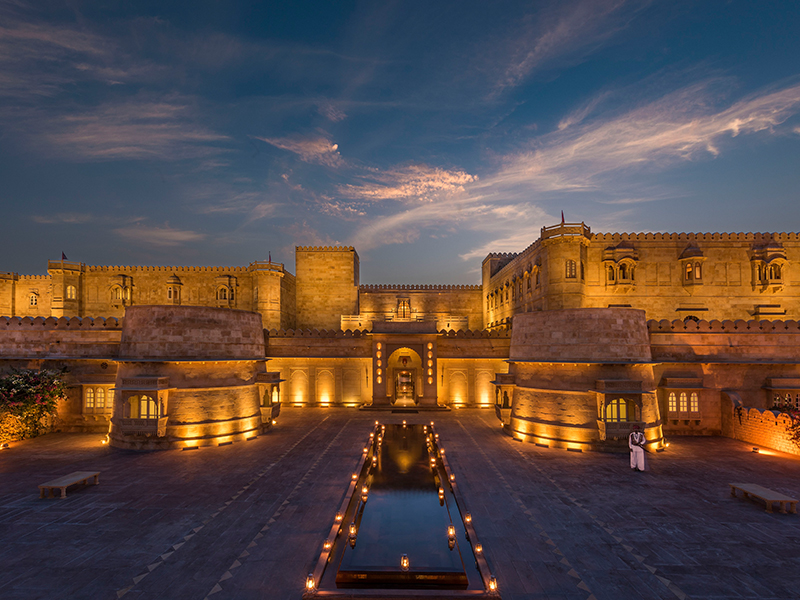 #1 Suryagarh, Jaisalmer
Situated near the Sam sand dunes in Rajasthan's famous Thar desert, Suryagarh is a royal retreat designed as a sun fortress. The palace rooms recreate an 18th-century feel of a royal residence with all modern amenities; the eight categories of rooms, suites and havelis are a blend of contemporary and traditional architecture. Adding on to the explorations at the boutique hotel, Suryagarh Jaisalmer has thoughtfully curated some special F&B experiences such as Thar dinner at Celebration Garden, dinner on the dunes, breakfast with Peacocks, and sundowners.
Holi experience to look forward to –
7th March 2023:
Sundowner at Kuldhara with cocktails and canapés.
8th March 2023:
Buffet breakfast, followed by Holi celebrations over a well-curated brunch by the poolside.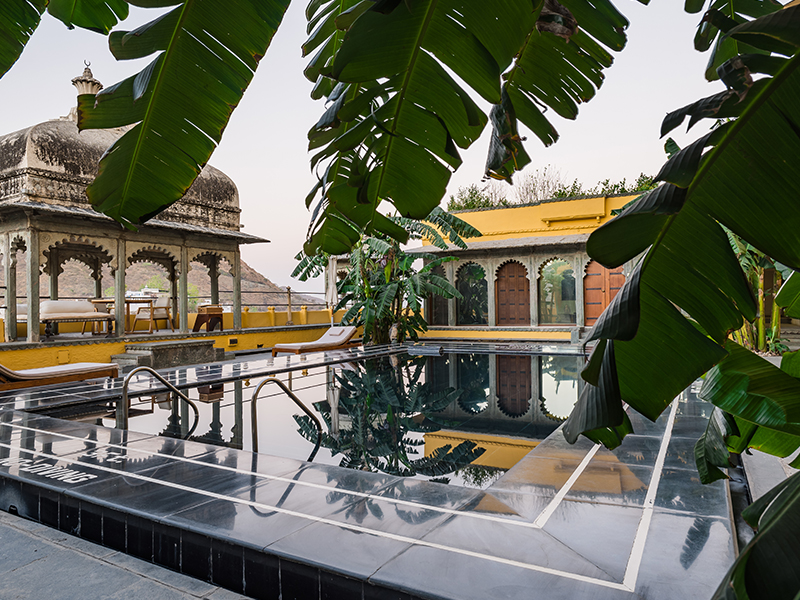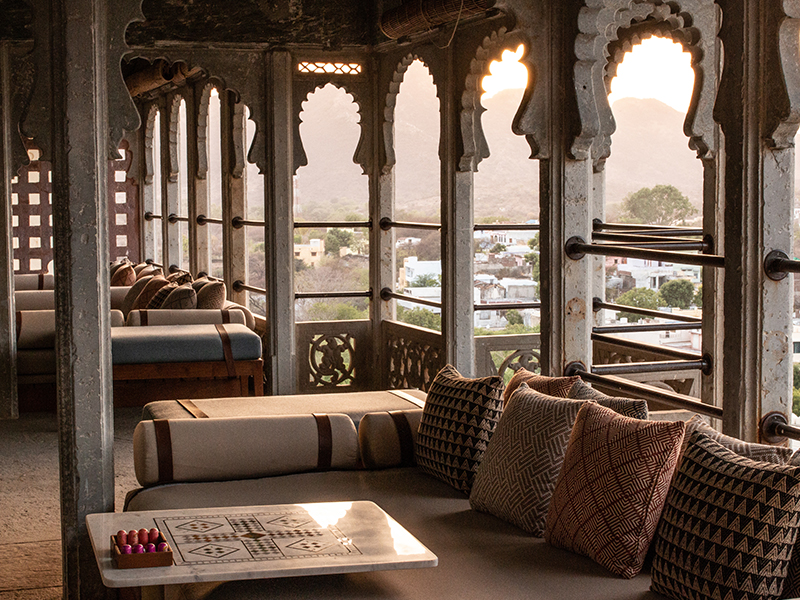 #2 RAAS Devigarh, Udaipur
Situated atop Aravalli hills, RAAS Devigarh overlooks the village of Delwara, just 45 minutes away from Udaipur. This 18th-century palace is a heritage property that meets the needs of the modern traveller, while remaining a testament to the beauty and charm of old-world Rajputana. Minimalist interiors are polished and comfortable, beautifully juxtaposing the ancient, ornate backdrop with mirrored ante-chambers, courtyards, and arches and additionally, well-designed landscaped gardens for tranquility.
Holi experience to look forward to –
7th March 2023:
Kickstart the Holi weekend with a sundowner just before the Holika is set ablaze. Follow it up with a specially curated sit-down dinner with Rajasthani cultural performances.
8th March 2023:
Play Holi Devigarh style with flower petals, herbal colours and music followed by a special brunch with unlimited soft beverages.
Also Read: An Unforgettable Royal Experience At Jaipur's Iconic City Palace In Collaboration With Airbnb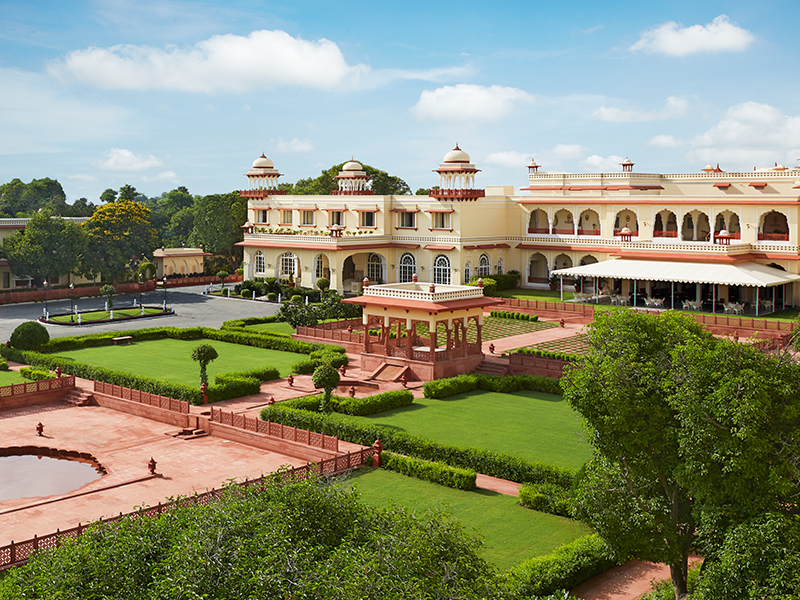 #3 Jai Mahal Palace, Jaipur
Jai Mahal Palace, the former residence of the Prime Minister of Jaipur, is steeped in history. The majestic palace, a vast complex of regal rooms and suites, pavilions and colonnades set amidst 18 acres of landscaped gardens, traces its origins to 1745. The heritage palace takes inspiration from Indo-Saracenic architectural characteristics, and has been restored and refurbished to offer guests the exclusive experience of a royal lifestyle complemented by unparalleled hospitality.
Holi experience to look forward to –
6th March 2023:
The Holika Dahan will be followed by traditional music and light refreshments. A Holi special dinner at Marble Arch with a thematic set-up.
7th March 2023:
Breakfast with a thematic set-up at Hawa Mahal (outdoor seating area of Marble Arch restaurant). A Holi-special lunch at the Celebration Lawns which is open for non-resident guests also.
The thematic set-up for breakfast will be followed by canopies at the Celebration Lawns for a floral holi along with a buffet. The festive processions will be accompanied by dhol/nagada/bakya and cultural dances to engage guests and take them to the Celebration lawns to indulge in festivities.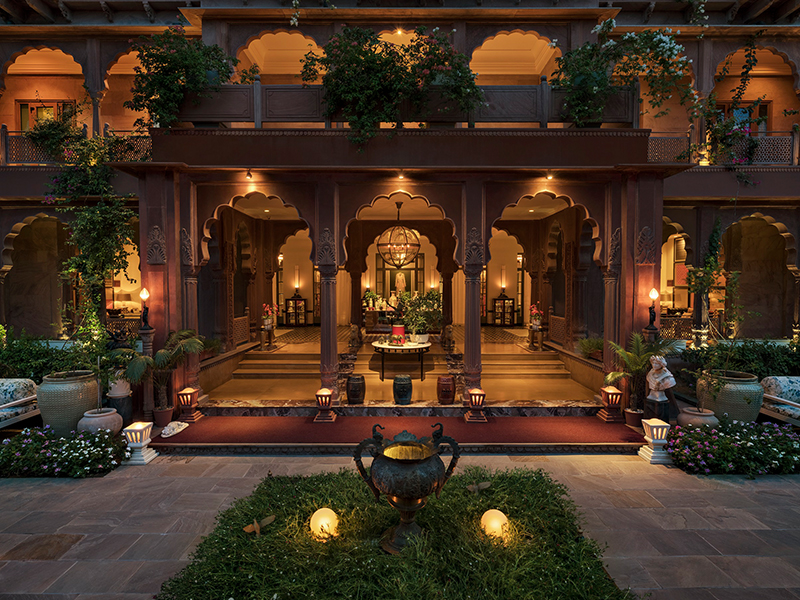 #4 Narendra Bhawan, Bikaner
Set in the heart of the city, Narendra Bhawan is modest in size but monumental in appeal. The style, material palette, and colour scheme of the interiors take inspiration from the historic Junagarh Fort in Bikaner while the architecture has a distinct Marwari sensibility. However, the interiors take inspiration from the pulse of Bombay during the Art Deco Movement and the glamour of Broadway. Rich velveteen fabrics, glittering mirrors, and pearl string curtains lie behind this red sandstone facade.
Holi experience to look forward to –
7th March 2023:
Sundowners at Darbari with cocktails and canapés.
8th March 2023:
Buffet breakfast, brunch with Holi celebrations followed by cocktails and dinner at Gaushala.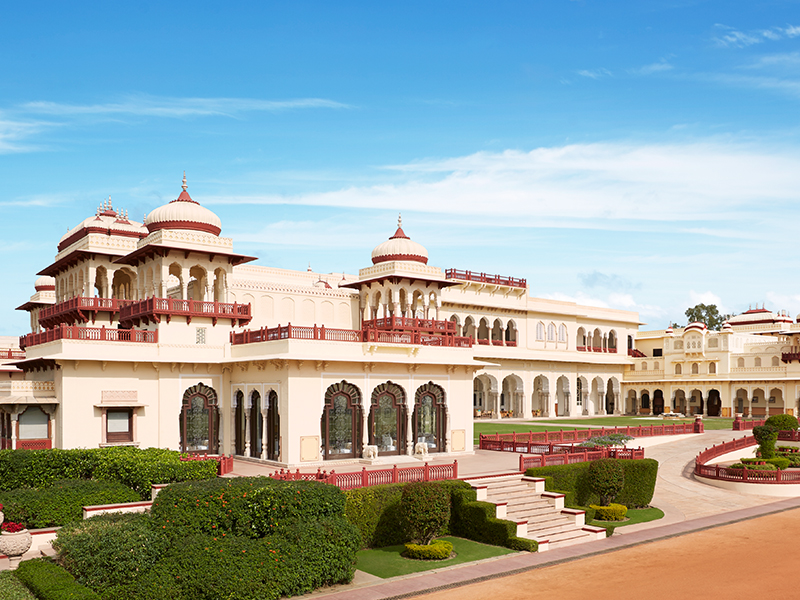 #5 Rambagh Palace, Jaipur
The architecture of Rambagh Palace, one of Jaipur's most famous luxury hotels, embodies grandeur, spread across 47 acres of land. The palace is intricately designed with hand-carved marble jalis or latticework, sandstone balustrades, cupolas and chattris or cenotaphs, and Mughal gardens. The 33 grand suites and 45 rooms are exquisitely furnished with antiques, rich silks and carpets – a reflection of Indian royalty, complete with modern conveniences. Complemented by the craft of master chefs and impeccable service, the palace also boasts the best fine-dining restaurants with multi-cuisine options.
Holi experience to look forward to –
6th March 2023:
Holika Dahan followed by cultural performances and dinner with a medley of cocktails and delicacies.
7th March 2023:
Buffet breakfast with Holi celebrations followed by lunch.
Also Read: Jaipur's Newest Boutique Hotel, Villa Palladio Is A Maximalist Crimson Dreamscape – DP Reviews