Jaipur's Newest Boutique Hotel, Villa Palladio Is A Maximalist Crimson Dreamscape – DP Reviews
17

Feb

'23

1:14 pm

by

Nuriyah Johar
The city of Jaipur has its fair share of luxury hotels – of all shapes and sizes. Grand palace hotels and opulent boutique properties dot the glittering Pink City in equal measure. Jaipur is electric and exciting, both bursting with creative potential and a magnet to people from all over the world that further feed into this energy. In this hospitality-saturated landscape, the city's newest boutique hotel, Villa Palladio stands out with a certain effortless flamboyance.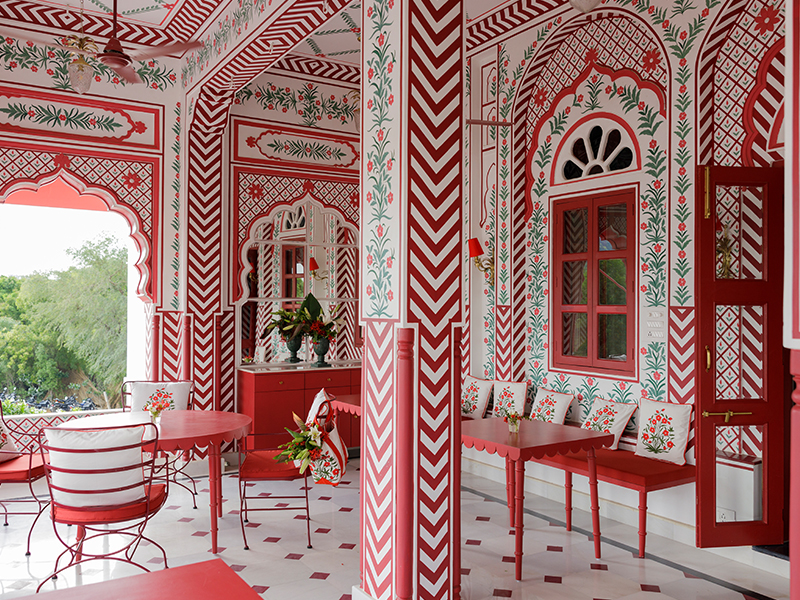 Colour is the pièce de résistance here. Bold hues of crimson, ruby, and scarlet dominate the hotel's visual narrative, taking the form of elaborate frescoes, vivid furnishings, and expansive  backdrops. Despite its uniqueness, however, if Villa Palladio gives you a sense of déjà vu, you're not wrong. The boutique hotel marks the second act of Italian-Swiss expat Barbara Miolini. Her first – the mesmerizing blue Bar Palladio has a cult status as the stomping ground of Jaipur's high society and creative class. With an unchanged design team – Dutch designer Marie Anne Oudejans and Rajasthani painter Vikas Soni, Miolini brings the very same magic to Villa Palladio as she did to her iconic bar ten years ago. 
Getting There 
The property was a comfortable 30-minute drive from Jaipur's city center, with the grand Aravali Hills lining my path for most of the journey. Villa Palladio arranges for airport transfers as needed.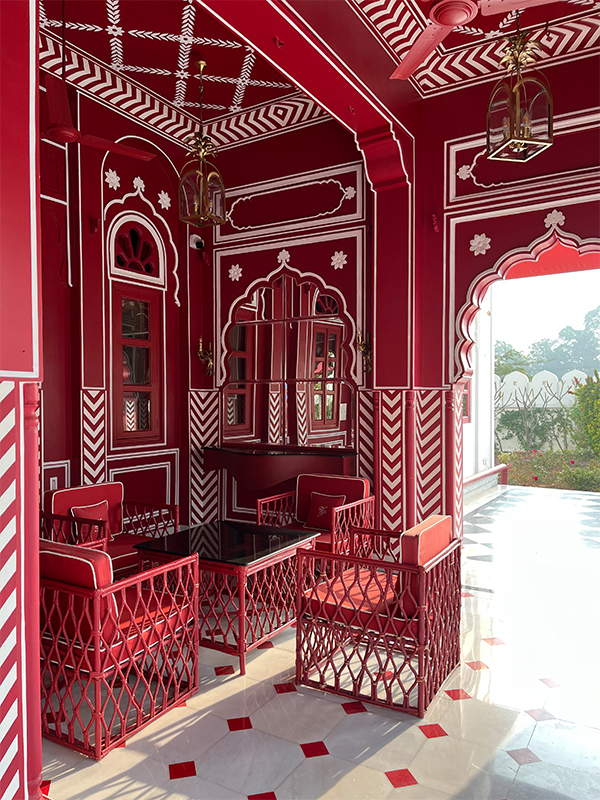 Design & Architecture 
When I stepped into Villa Palladio it felt like setting foot inside an exquisitely Indian, Wes Anderson-esque dreamscape. The interiors of the hotel are, without a doubt, what set it apart from the grander, more luxurious hospitality offerings in Jaipur. The design is whimsical yet sophisticated, maximalist yet capacious, decidedly Rajasthani yet contemporary. This is the combined effort of Miolini and Oudejans, along with the remarkably skilled Soni. "With Marie Anne (Oudejans), we wanted to replicate what we achieved with the bar," says Miolini. "We kept the colour top secret, though. It's a strong statement." The interior is saturated entirely with vivid shades of red, interspersed with occasional pinks and greens. Bold vertical stripes that wrap around entire spaces, intricate frescoes of roosters and palms, and gorgeous stained glass details serve as compelling visual highlights. 
Also Read: 5 Palatial Getaways That Are Wrapped In Timeless Traditions And Gracious Indian Hospitality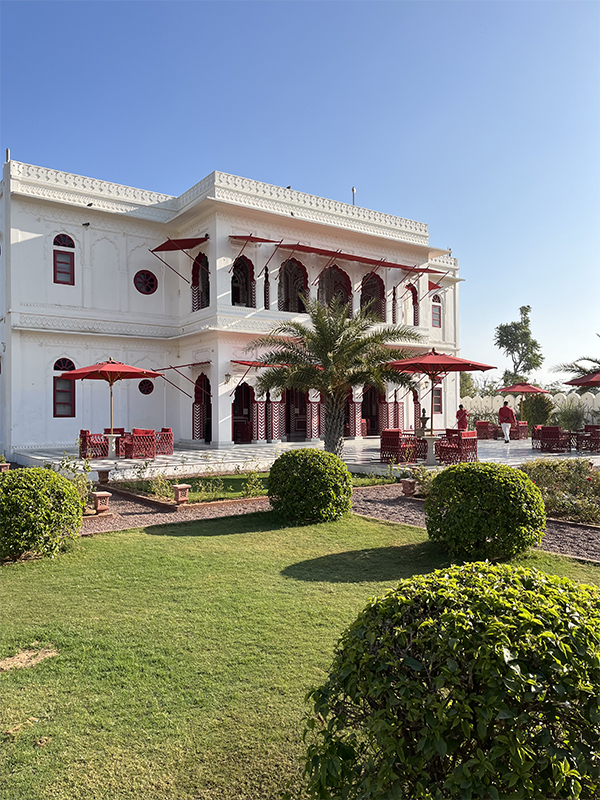 The property itself sits on a 3-acre plot of land, built originally in the 1980s as a typical Rajasthani haveli. Apart from a few fresh structural additions like the reception, pool, and the spa, most of the hotel is a painstaking redesign of the original home.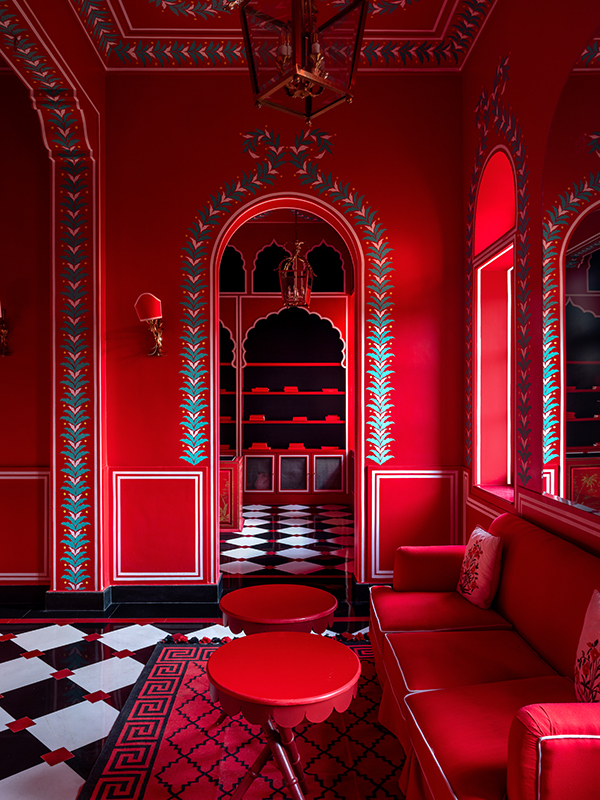 Almost all of the furniture and decor at the Villa Palladio has been locally sourced, save a few elements like linens from Lake Como and patio umbrellas from Venice. Jaipur's design favourites like decor brand Ecru and block print studio Gitto find their way into the hotel. For Miolini, no detail is too small. Every visual element is accounted for, right from the patterned robes in the bathrooms to the bright red cushions embroidered with the VP monogram.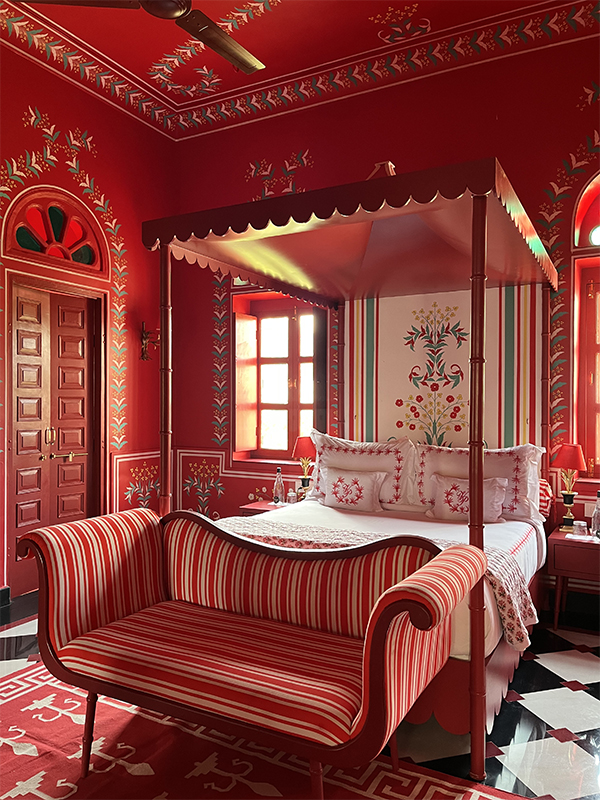 Rooms & Suites
Villa Palladio is a nine-key property, and every one of the rooms and suites exhibits an almost carnival-like theatricality. In the hotel's only suite, elegant twin archways open into both a mirrored private sitting room and an exquisitely patterned bedroom, complete with a grand, four-poster bed. The Superior Rooms are hand-painted visions of enchantment, with canopied beds, embroidered sheets, and inlaid marble floors. I stayed at the Torre Belvedere, which was unlike any other hotel room I've been in. The octagonal-shaped room came with a soaring ceiling and an interior that felt like living inside a painting. It was a compelling cross between palace quarters and an elaborate circus tent.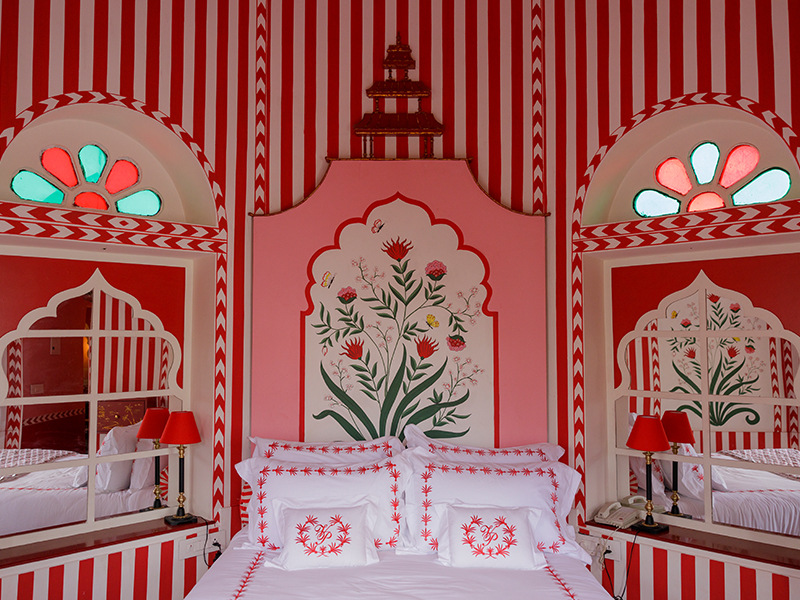 Dining 
The culinary offerings at Villa Palladio are primarily Italian – an homage to Miolini's roots. Breakfast is a decadent affair. A gorgeous spread of tea cakes, croissants, and jams is supplemented with a well rounded à la carte menu. The lunch and dinner menus feature classic dishes inspired by the alchemy of Italian cooking. My personal favourites included the pumpkin ravioli, the spaghetti puttanesca, and the lemon drizzle cake.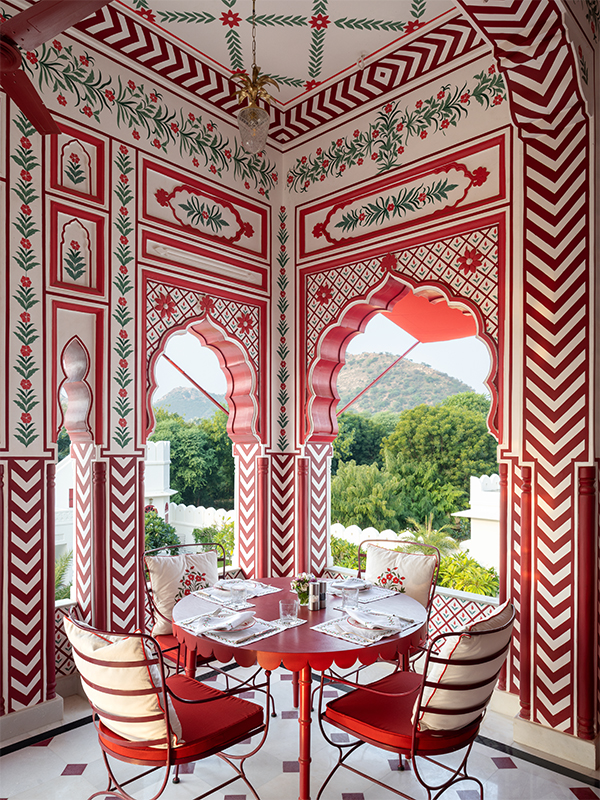 Beyond the food, it is in fact, the dining areas that make the meals at Villa Palladio so memorable. Choose from an indoor hall decorated with intricate red and pink murals, a gorgeous al fresco area that opens onto a verdant garden, and a serene red and white breakfast balcony that commands views of the property grounds and the hills beyond.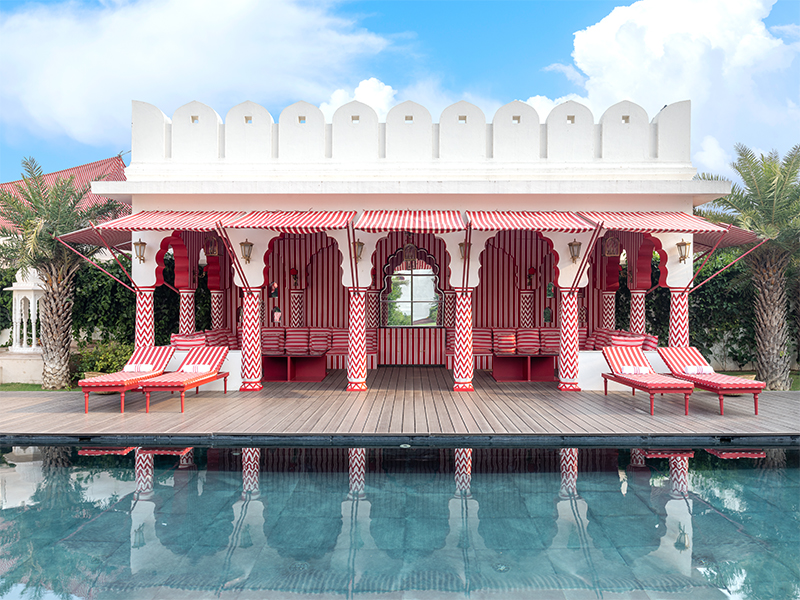 Things To Do
There are plenty of ways to spend your time at Villa Palladio. The pool lies in a grove of red flowers and blooming jasmine, complete with a stunning arched pool house, tented canopies, and a charming pavilion bar. Stripes and chevrons are the stars here! Yoga and meditation enthusiasts can take solace in the Eremo, a mirrored room designed to inspire focus, supplemented with meditation cushions, yoga mats, and free-weights. The property boasts a beautiful spa too, but if you'd like a session, make sure to let them know well in advance. Lastly, you can wind down in the deeply saturated red library. Every book in here is covered in red – a testament to Miolini's commitment to the theme!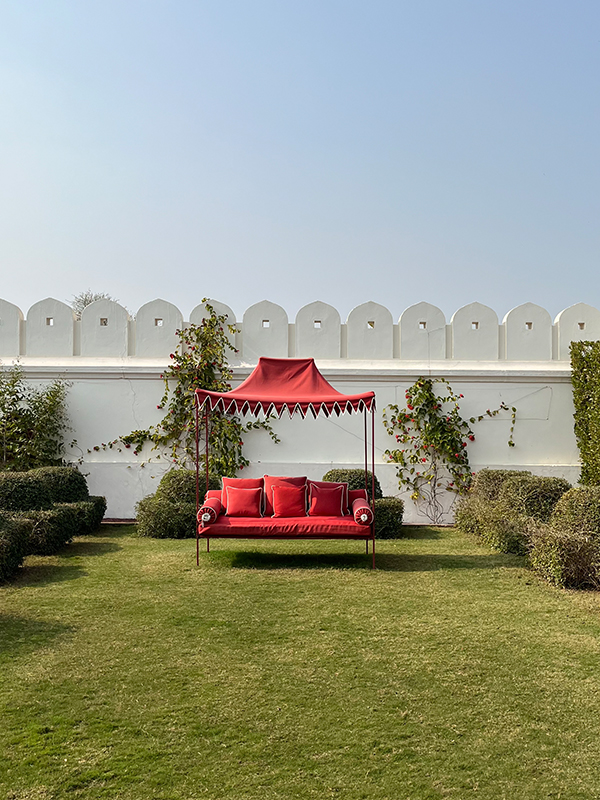 The Verdict
What sets this boutique hotel apart is a visual language so undeniably unique, even the most well-travelled guests will be assured of an experience like never before. Villa Palladio will overwhelm you in the best way possible. 
#DPLoves – 
The undeniably chic hotel car – a vintage red ambassador upholstered with custom block-printed fabric

The picturesque pool area, complete with an arched pool house, tented canopies, and a charming pavilion bar

The turndown service on chilly winter nights which includes hot water bottles, decorative tealights, and traditional rajasthani sweets
Also Read: Your Definitive Guide To Design And Decor In Jaipur