New In Bangalore: A Gorgeous Villa-Restaurant, A Sleek All-Day Bar, And A Tranquil Cafe
11

Apr

'23

11:52 am

by

Manisha AR
Slowly but steadily like the leaves changing color, Bangalore is opening up its nooks and crannies to delightful new F&B experiences. Easy-going, relaxed, and often loyal patrons, Bangaloreans tend to enjoy comfortable and well-lit spaces; with delectable culinary offerings, of course. While there are several new places in Bangalore to explore, we have shortlisted three that break new ground for dining experiences in the city. Whether you want to indulge in a pan-European villa, drink at an all-day bar, or settle in for some specialty coffee, we've got you covered.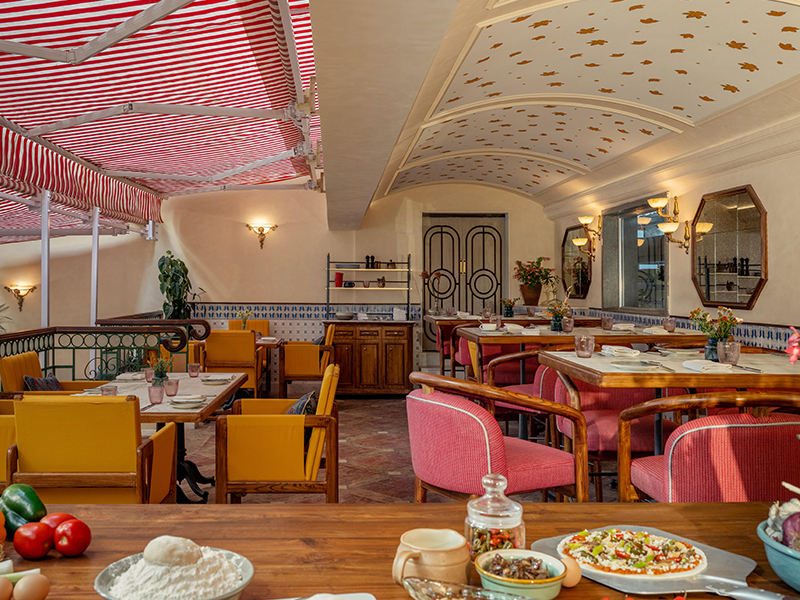 LUPA, MG Road
A sensory and interactive experience, Manu Chandra's LUPA is full of surprises. Inspired by pan-European tastes, Bangalore's temperate weather, and Art Deco aesthetics, LUPA's charm is timeless. Chef Chandra has gone from commandeering Single Thread Caterers, a bespoke catering company that traveled to Cannes and back, to bringing home international cuisine. With this new restaurant, the chef takes diners with him on his journey.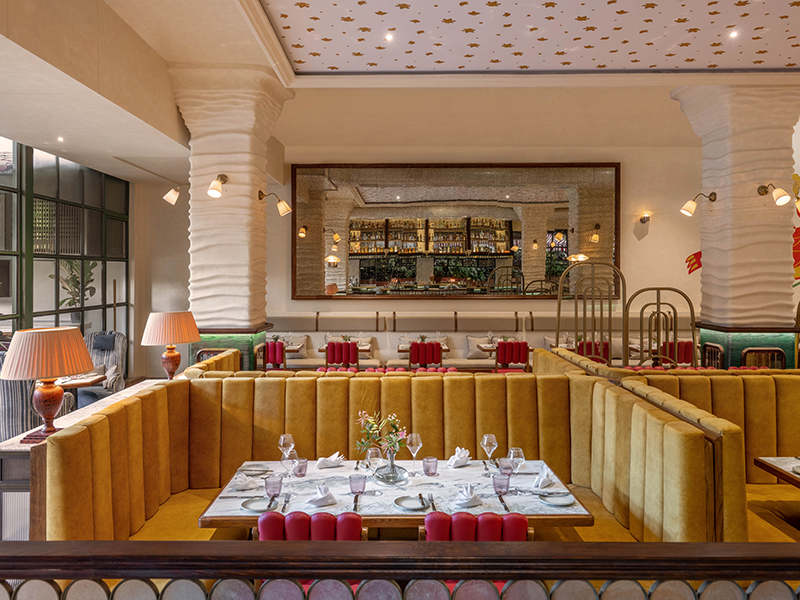 From the 6,000-square-foot kitchen space to the azure blue tiles in the ladies' room, each aspect of LUPA has been custom-made with care. Whether you are seated by the water fountains, in a quiet corner by the plants in the courtyard, by the pizza oven on the back patio, or in the indoor dining area, the space will constantly surprise you. Designed by the team at WDA Spaces and led by Jatin Hukkeri, the guiding principles of LUPA are elegance, wonder and Southern Europe meets old-world charm. With tiled floors, rustic chairs, plants, and water fountains – it's nothing short of enchanting.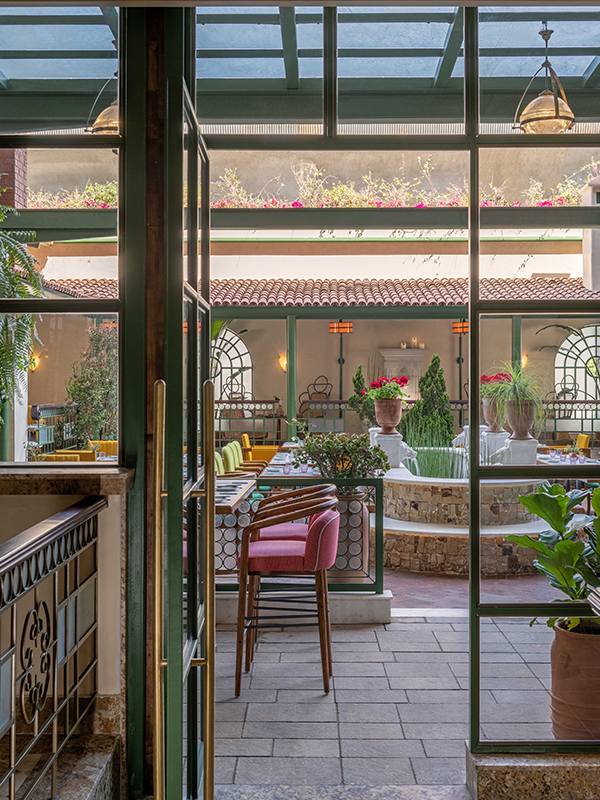 Apart from indulging in the pan-European menu, patrons can also request a tour of their wine cellar or consider reserving a private table on the mezzanine floor above the gelato and cold cuts station that overlooks the floor below. At the moment LUPA is only open for dinner service. However, they intend to open for lunch service shortly.
Also Read : MAP Museum Of Art & Photography Signals A New Era For Museums In Bangalore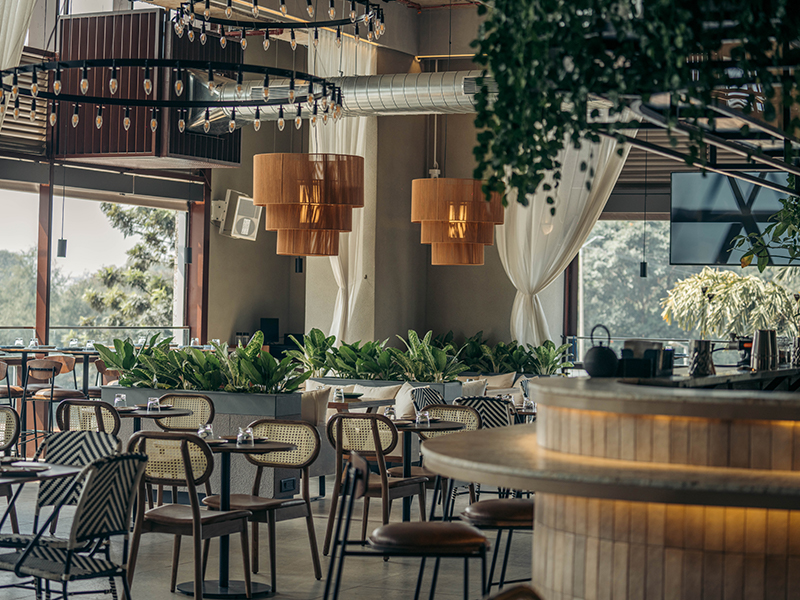 Prequel, Hebbal
An all-day casual dining bar, Prequel, is here to stay. Located in North Bangalore, Hebbal, this new joint is a blend of comfort meets business casual. With a blend of textures like rattan, greenery, and natural light the space emanates a contemporary and relaxed ambiance. A part of AA Hospitality or the same team behind Brassa, Misu, and Lucky Chan, Prequel is for that quick business meeting during the day or an office after-party night. Their food menu includes both Indian and international flavors. Named after cult classics in every genre like The Godfather, Annabelle, Secrets of Dumbledore, and House of Dragons, the drinks at Prequel are a visual treat!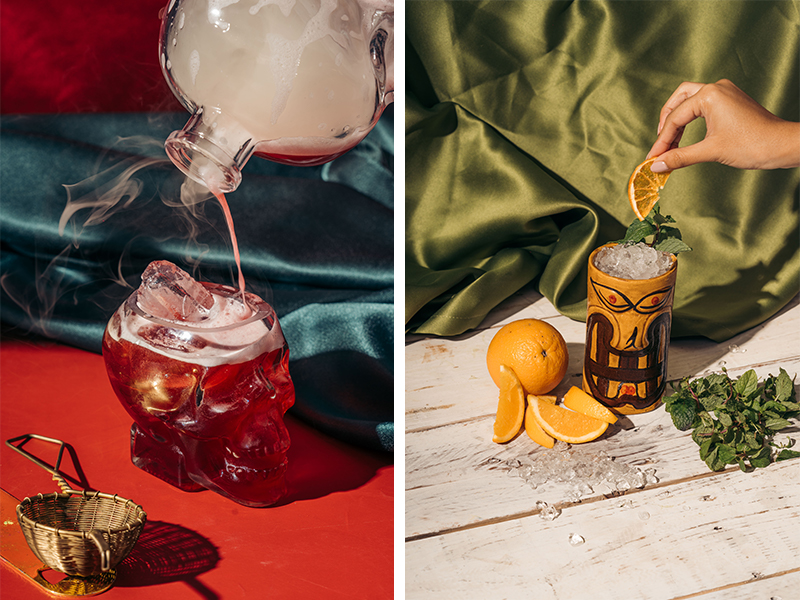 Designed by Studio Taan, the design concept was largely drawn to complement the generous natural light and high ceiling. The walkway is an intentionally narrow passage to create intrigue. The main area is largely centered around the bar. A sign above the bar reads, 'What's your Story?' inviting its patrons to begin an adventure on its premises.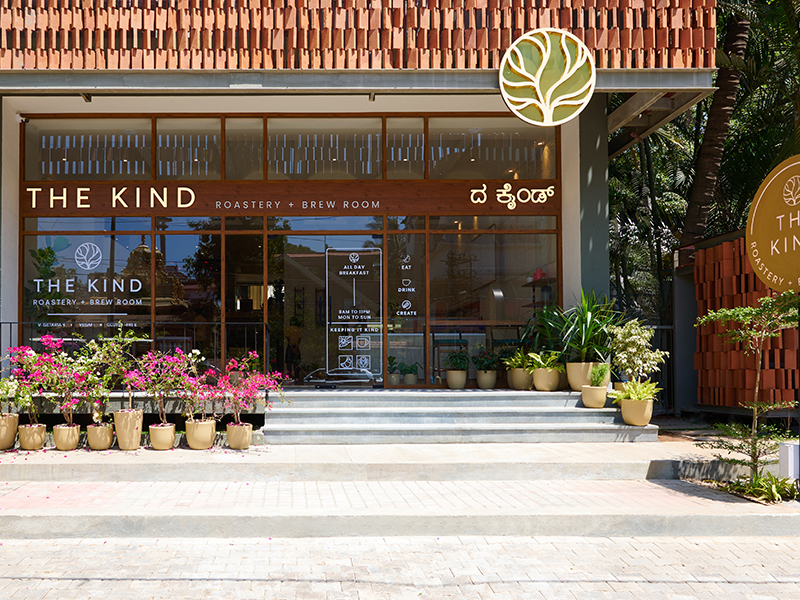 The Kind Roastery and Brew Room, JP Nagar
The brainchild of restaurateurs, Pallavii Gupta, and Arjun Shhetty, the Kind Roastery in J.P Nagar embodies the philosophy of thoughtfulness through both their food and cafe space. A roastery and brew room, they serve a wide selection of loose-leaf teas, specialty coffees, and vegetarian/vegan food. "We want to make vegetarian food more cafe friendly and approachable," say the founders.
The cafe space has three distinct zones spread across two floors. Up on the mezzanine floor is a co-working or co-creating space and on the lower floor is a coffee lounge and family seating area. Keeping in mind sustainability and the principle of 'less is more,' architect Veda Siddamsetty used materials like neem, rubber, and birch wood in place of teak.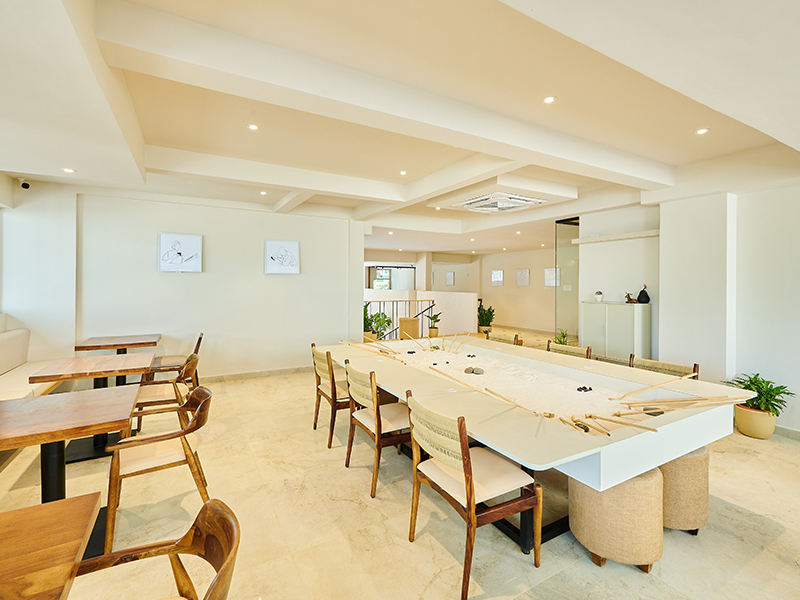 Inspired by Zen Buddhist monks in Japan, a zen table made of gravel and sand is located in the co-create space. A minimalist dry landscape of 'karesansui' has been created using sand, gravel, and rocks. Wooden rakes are provided so patrons can interact with the table. A traditional zen garden that is life-size is usually developed to create a visual space of harmony and tranquility for meditation. The one at the Kind Roastery is designed with the goal of interaction between the patrons and the garden. The act of raking sand to facilitate drawing patterns, rearranging the various elements of the garden, or simply enjoying the visual texture, it's a great way to take a break from work or a busy day in the city.