Our Top 5 Picks From FIND 2022, One Of Asia's Foremost Design Fairs In Singapore
19

Oct

'22

1:20 pm

by

Crew
South East Asia is undoubtedly, a veritable powerhouse of talent. Centuries of tradition and generational skill are layered with a contemporary understanding of global aesthetics, striking the perfect balance between individuality and mass appeal. From Thailand to the Philippines, India to Malaysia, design brands from all across the subcontinent and the globe converged at FIND – Design Fair Asia in September of 2022. At the iconic Marina Bay Sands in Singapore, the fair showcased innovative and inspiring products to the lucrative Asian market. FIND aims to strengthen Singapore as a veritable design hub in Asia, a city-state that's currently giving a substantial boost to culture and creativity. Here are our top discoveries from the fair –
1. Aureole Design, Malaysia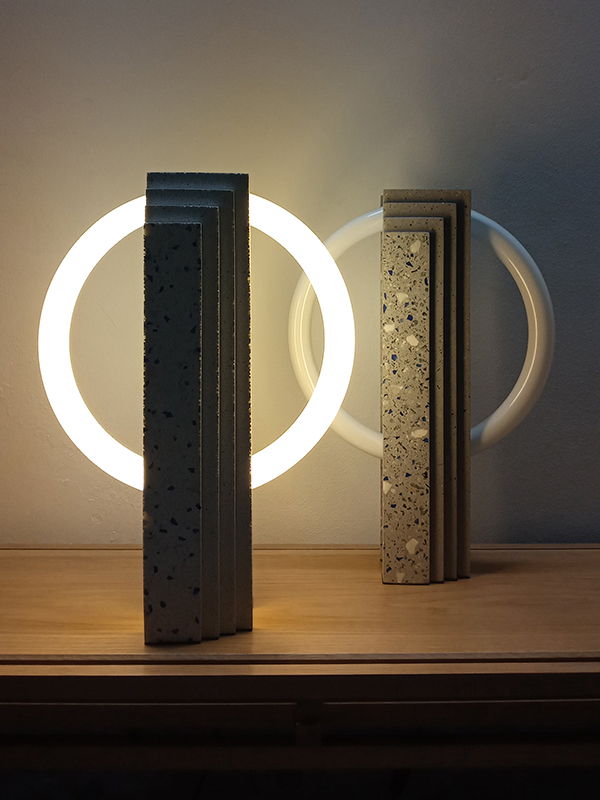 Malaysian designer Tan Wei Ming established Aureole Design in 2013 in an endeavor to design within the context of simplicity – be it in the inherent lucidity of lines or the unadorned elegance of a raw material. Creating home objects, furniture, and lighting, including bespoke pieces, the design studio takes influence from geometry, forms, proportions and balance.
Pictured at FIND, Aureole's Column Light is an exploration of the spirit of Art Deco-influenced geometric lines in the form of polished terrazzo stones. Simple repetitive steps form a column that extends as a sculptural pedestal, elevating the light source. For the special edition series, Ming incorporated used coloured glass bottles by hand crushing them into glass aggregates. An homage to Malaysian Art Deco architecture, the piece taps into Ming's cultural roots and presents them in a contemporary context.
2. Rastrullo, Philippines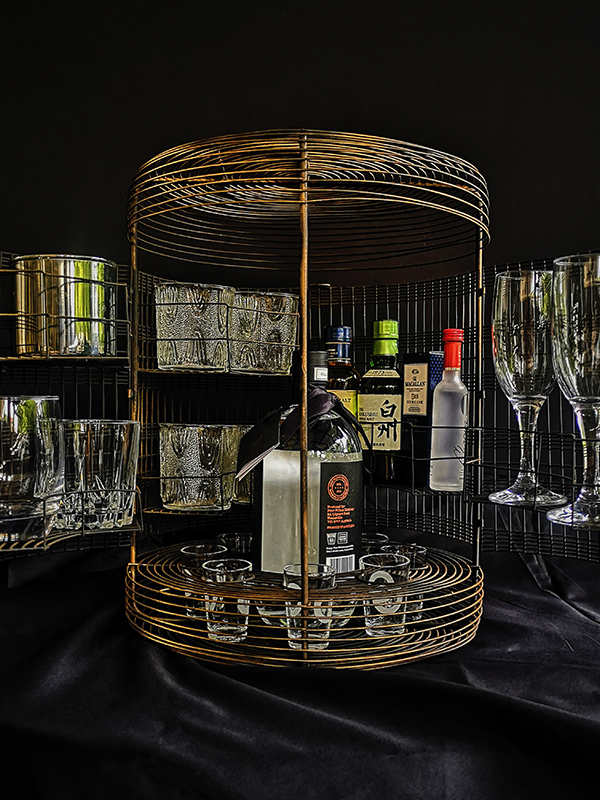 Born in the United States and raised in the Philippines, Joseph Rastrullo established his eponymous studio after an extensive design education in Milan. Given his geographically diverse background, the third-culture designer brings a multicultural vision to his work. This studio's versatility shines through the various materials they work with such as acrylic, rattan, mahogany, wicker, iron and metallic wires. Identifying the beauty in the simplicity of each material, they transform them into pieces of art. Marrying beauty with function, minimalist lines and an exaggeration of edges characterizes several of their designs. Ultimately, their pieces resemble the simplicity of nature combined with the spontaneity of geometry, where there is order and chaos, lucidity and flamboyancy in every piece.
What caught our attention at FIND was their sleek wireframe mini bar that displayed an almost bird cage-like structure. Statement-making yet wholly utilitarian, the piece perfectly embodies Rastrullo's ethos of finding beauty in simplicity.
3. Vito Selma, Philippines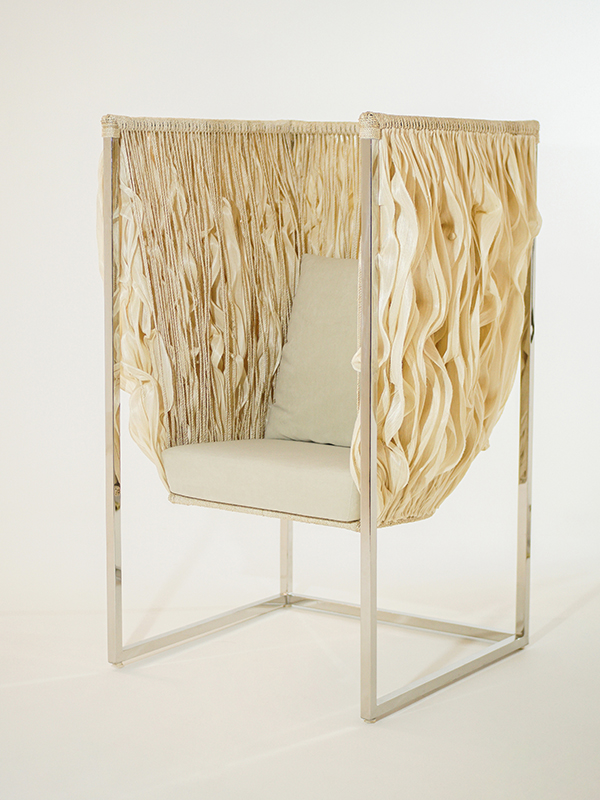 Since 2006, Vito Selma has dabbled in different aspects of furniture design. Though the brand's specific stimuli may change from time to time, Vito Selma's focus on the natural remains constant. Taking inspiration from shapes and textures that are often repeated in the earth, the sky and the sea, the brand is on a quest to look for design components that satisfy its inclinations, while relying on wood as a primary medium. Though the brand is distinctly Filipino, the collections can be subtly likened to having faint Japanese or even Scandinavian influences. However, instead of subscribing to any particular design aesthetic, the focus of the brand lies on keen attention to detail and excellent craftsmanship.
At FIND, Vito Selma displayed a custom version of their Alegra Chair, a textural piece with soft, ripple-like features. The brand incorporated handwoven abaca fabric to mimic the oceans that surround Cebu City. The woven beads symbolize the pearls of the sea, as the Philippines is known as the Pearl of the Orient Seas.
Also Read : The Top Things To Do In Singapore If You Are An Art and Design Enthusiast
4. Kitt Ta Khon, Thailand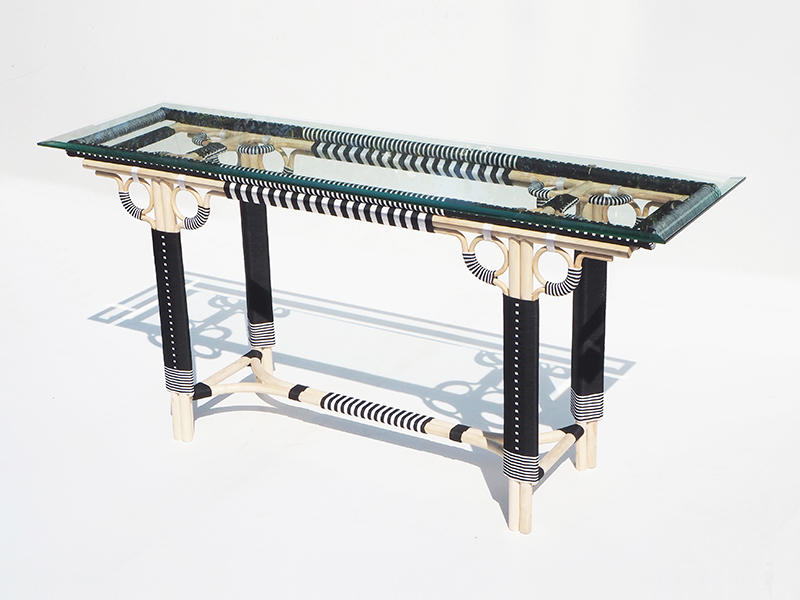 Established by designer Teerapoj Teeropas, Thai studio Kitt Ta Khon explores craft techniques from across the globe. Operating with a mission to create new values for handicraft and to transfer crafting knowledge and skills to the new generation through contemporary products, the studio creates remarkable handwoven furniture pieces. The studio's pieces bring forth a bold, almost naive expression of combined forms, colours and textures that intend to evoke cultural memories as well as celebrate the universality of crafts and craftsmanship. Visual elements from a variety of sources are selectively picked and mixed with the intention to universalise them with global aesthetics. From macramé and nautical rope crafts to South East Asian wickerwork, the studio employs a diverse range of crafts to actualize their products.
What stood out to us at FIND was Chino, a natural rattan structure finished with black and white nylon and topped with clear tempered glass. By grounding the modern monochrome aesthetic in a traditional rattan frame, the studio creates an interesting blend of the old and the new.
5. Ease Studio, Thailand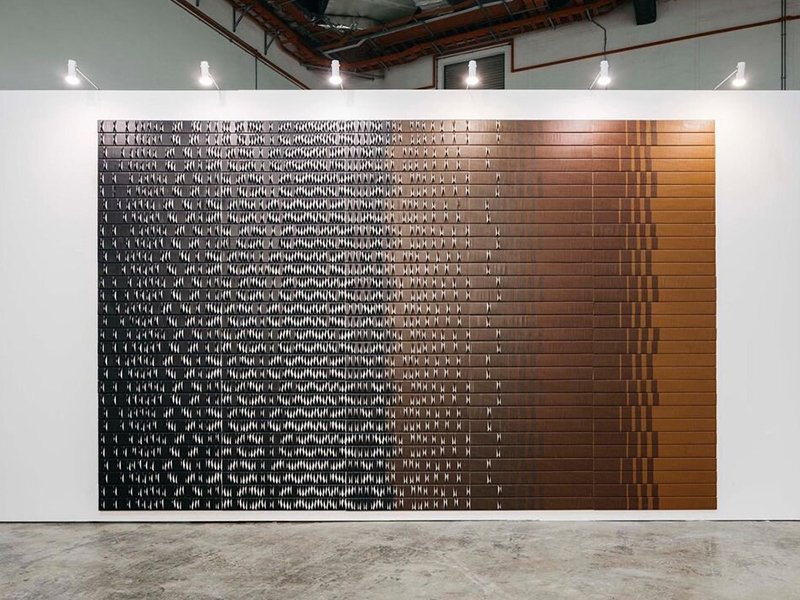 A Bangkok-based multidisciplinary design studio founded in 2014 by Nichepak Torsutkanok and Wanus Choketaweesak, Ease Studio is a subsidiary of a 30 year-old family-owned embroidery business that blends together craft, technology, and design. The brand investigates the nature of traditional hand embroidery and craft techniques and further experiments with machines; down to its coding system. The studio creates a wide range of interior products that range from furniture to site-specific art installations! Ease Studio is known for its use of colour, textures, and materials to create new experiences for its tactile art and living products.
Their site-specific installation at FIND, Tex-Tile featured a new surface material created from scrap synthetic leather. This was a part of FIND's "Emerge" Exhibition, a dedicated Southeast Asian showcase that put the spotlight on design talent from the region.
Design Pataki was part of a press trip to Singapore, organized by the Singapore Tourism Board.