Luxury Meets Old-World Aesthetics At This Haveli Turned Boutique Hotel, RAAS Jodhpur
16

May

'15

9:00 am

by

Sneha Shah
Capturing the sublime beauty and legendary traditional craftsmanship that weave into the context of the old city quarter is RAAS Jodhpur. Set at the base of the Mehrangarh Fort, this 1.5-acre property has been painstakingly restored into a luxury boutique hotel by Delhi-based Studio Lotus in collaboration with Bangalore-based Praxis Inc.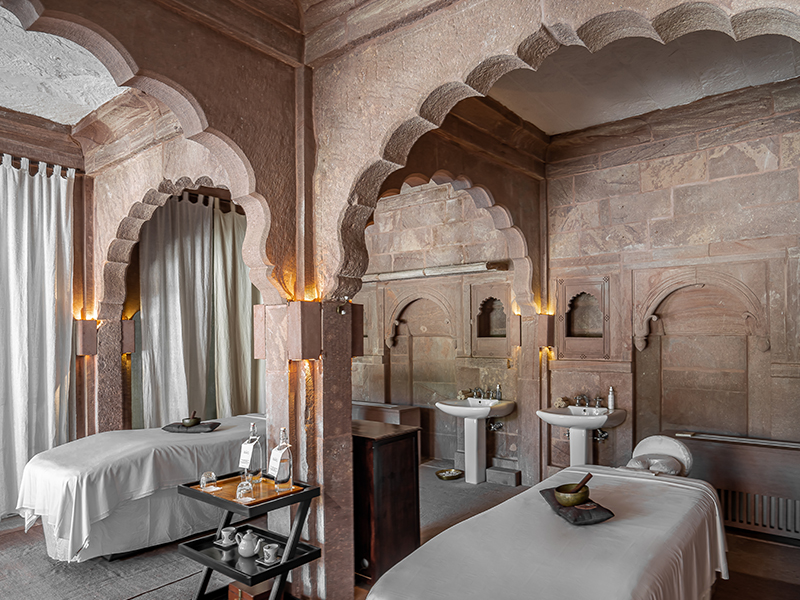 The central idea was to make the old building and the expanse of the courtyard anchors of the RAAS experience. The 39-room property was inherited with three beautiful period structures which have been restored in original materials such as lime mortar and Jodhpur sandstone. The new buildings are placed into the site to serve as framing elements and as contemporary counterpoints to the site and the fort; accomplishing a spatial synergy between the old and the new.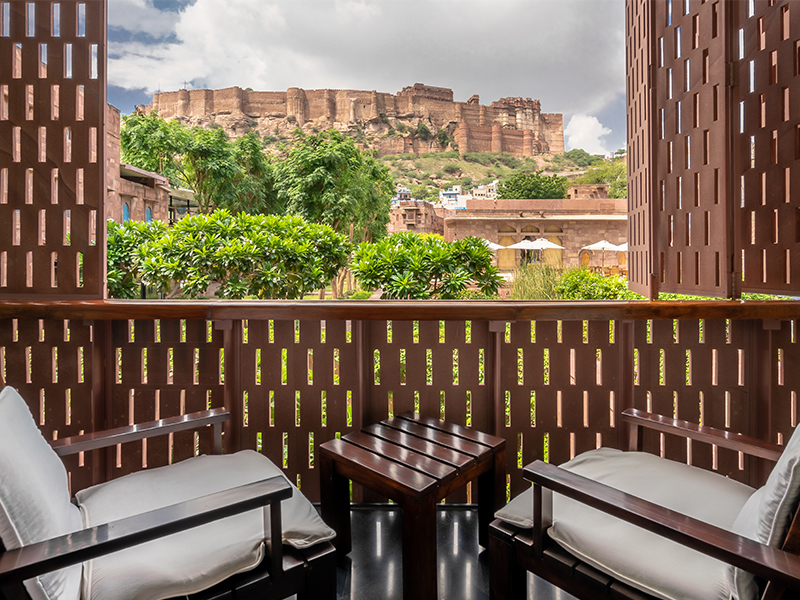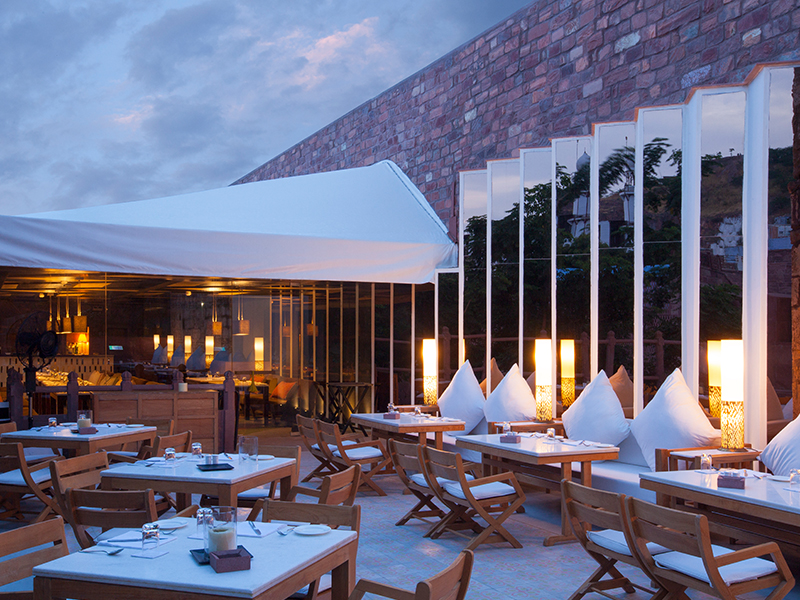 Also Read: An Intimate Look At The Rohet House, Jodhpur's Chic But Truly Authentic Luxury Boutique Stay
The footprint of each building is very small, allowing the large central courtyard to become nodes for the pool, dining area, spa and open lounge to be used as shared spaces by all the guests. Inspired by the age-old double-skinned structures of the region, (the traditional stone lattice jharokha form of Rajasthani architecture – which perform multiple functions of passive cooling and offering privacy to the user), these buildings act as lanterns framing the site. The drama of the stone jaali (lattice) is heightened by the fact that these panels can be folded away to reveal uninterrupted views of the fort, or can be closed for privacy and to keep the harsh sun out.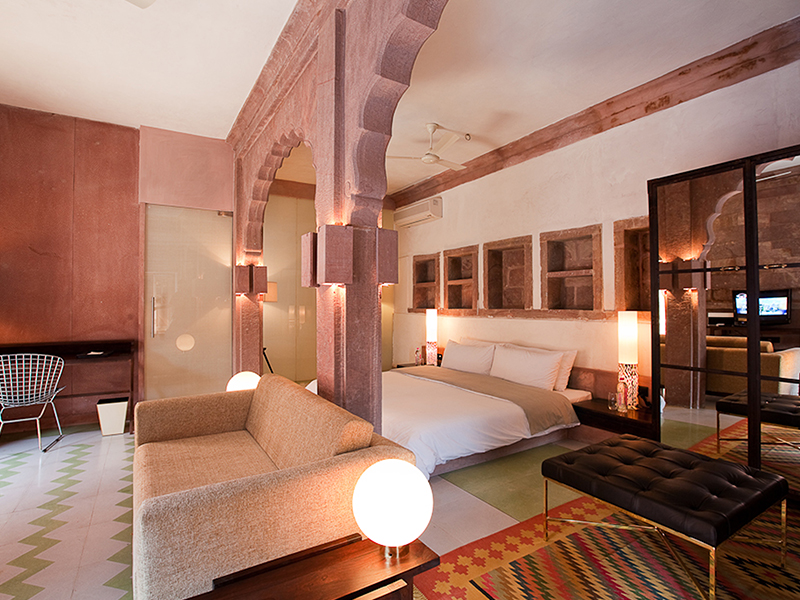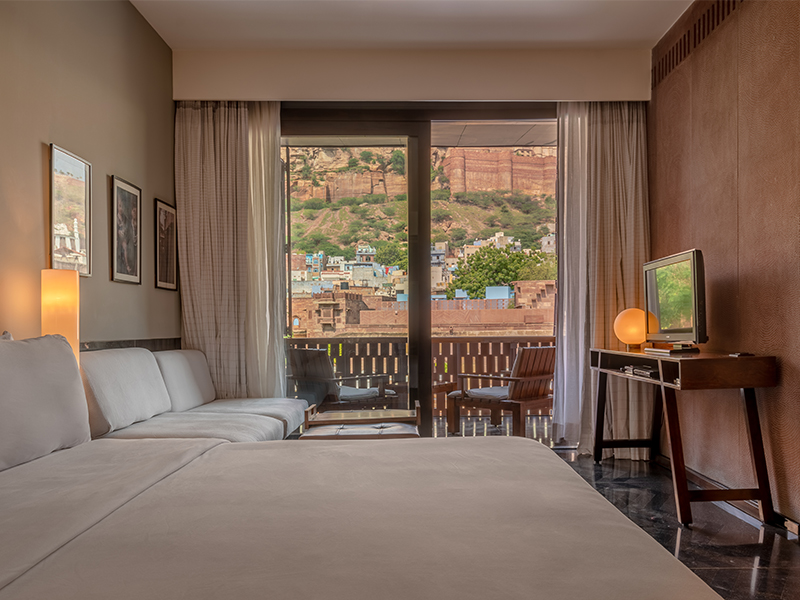 Three heritage suites have been housed in the period buildings wherein traditional elements are juxtaposed with contemporary styles. The guest rooms are laid out in a linear fashion to maximise the number of rooms and bathrooms that have a panoramic view. Luxury is infused into the project through authenticity both in terms of materials and workmanship. The floors, walls, bed and seating are cast in pigmented cement terrazzo while the bathrooms are swathed in ivory in situ. All furniture and cabinets are handcrafted in locally available Sheesham wood. White muslin fabric forms a large part of the soft furnishings, adding a drop of cool to the scorching desert.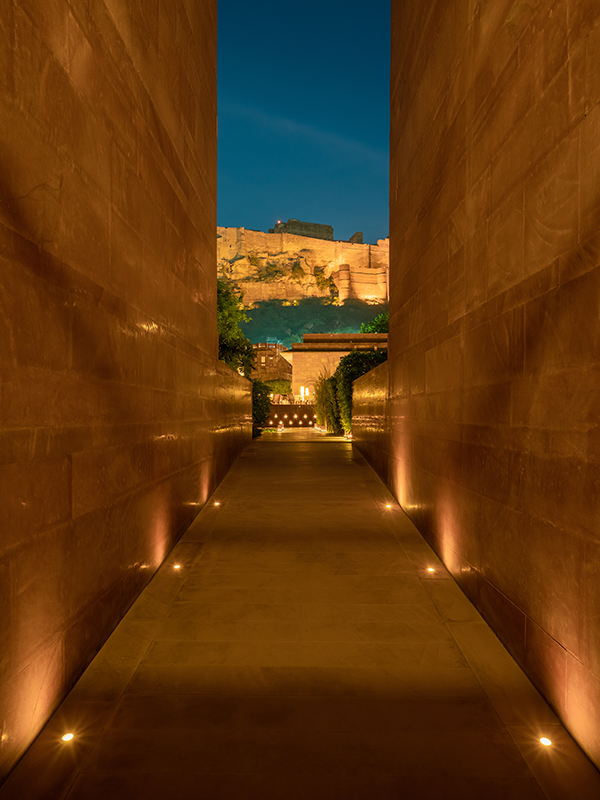 Crafted by over a hundred regional artisans and master craftsmen, the development of the building and its interiors has been conceived and executed using the fundamentals of sustainable architecture. The rainwater runoff from the buildings and the rest of the site is harvested through pits that form an integral part of the landscape. The air-conditioning system is amongst the greenest technologies available and enjoys a Platinum LEED rating. The overall transformation imbibes a feeling of splendour, providing visitors with a tactile and sensual experience within the historical context of the old city of Jodhpur without aping the old.
Also Read: RAAS Chhatrasagar In Rajasthan Redefines What It Means To Be A Sustainable Luxury Hotel