Paradise Found At The Newly Opened JW Marriott Goa – DP Reviews
25

Apr

'23

10:10 am

by

Beverly Pereira
JW Marriott in Vagator takes vacationing in Goa to spectacular heights. It's the array of exceptional dining spots and sublime spa days that erase all signs of urban stressors, right up to the beautifully designed rooms and serene social spaces that make it perfectly natural to never feel the urge to leave the immaculate grounds of this newly opened hotel. Spread over five storeys, the 151-key low-rise hotel in North Goa brings to the coastal state a chic resort experience perfect for a summer holiday or weekend escape. Part of Marriott Bonvoy's global portfolio of 30 hotel brands, JW Marriott's Goa debut marks the opening of Marriott International's 150th property in South Asia.
Getting There
With the opening of Goa's new Mopa Airport, the journey to the property is no more than 45 minutes. Coming in from the Goa International Airport in Dabolim, the drive is a little over an hour. Either way, upon arriving in Goa, the drive is always a pleasurable one.
Also Read : Delhi's Indian Accent Launches HOSA In Goa, An Experimental South Indian Restaurant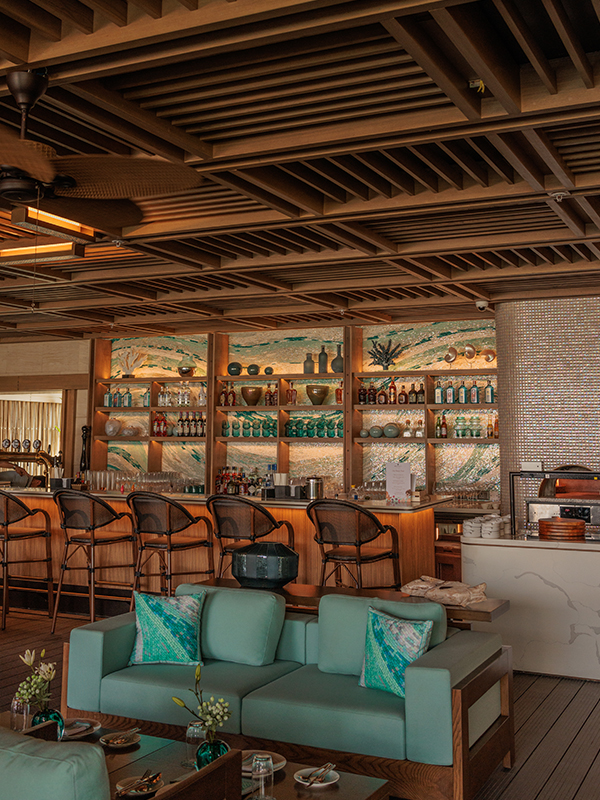 Design
To set foot in JW Marriott Goa is to arrive in a lush paradise resplendent in beautifully landscaped tropical foliage and trees as old as time. The hotel's interiors convey a modern aesthetic, reflective of the brand's luxuriant style gently fused with design details characteristic of Goa. A first brush with the hotel's engaging design comes by way of a showstopping glass chandelier slung above a black stone waterbody at the reception.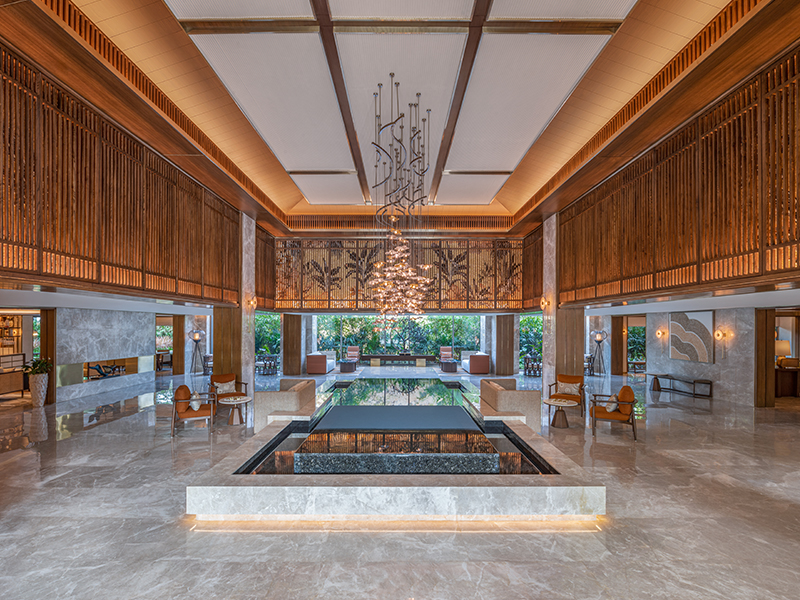 Metal and ceramic ocean-themed objects dot the softly lit reception, while handcrafted mosaic murals peak through wooden slats. Glistening mother-of-pearl detailing sets off the application of natural stone, marble, and wood; the materials thoughtfully contribute to a larger neutral palette of greys and sandy tones. Indoor greenery and the well-considered positioning of the hotel that frames the paradisiacal outdoors add to the idyllic, tropical setting of this hotel.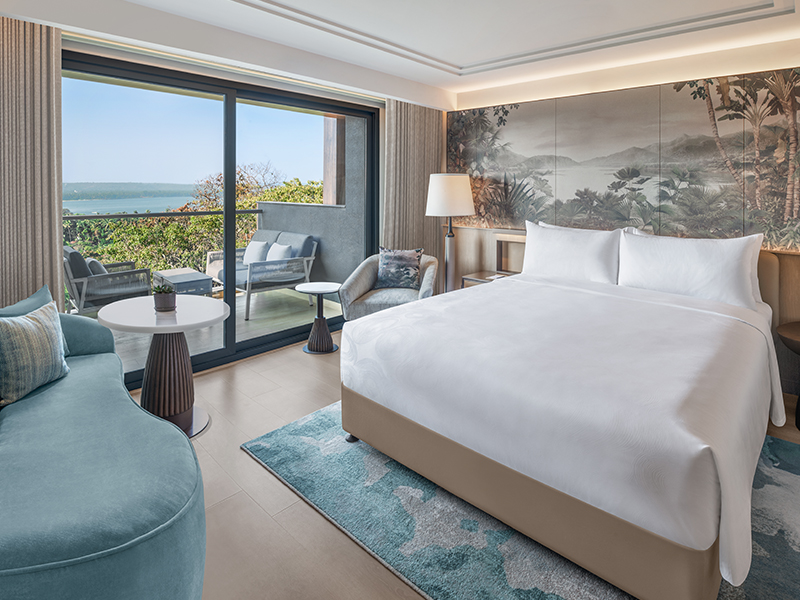 Rooms & Suites
Optimal for unwinding, the rooms at JW Marriott Goa frame the surrounding green vistas and come with balconies that bring in garden and courtyard views. Besides, a few rooms also offer bay views. Five sumptuously designed suites with outdoor plunge pools also bring in spectacular views of the bay and historic Chapora Fort beyond.
The rooms are infused with a palette of greys and shades of blue that invigorate, while bleached wood floorings, statement lighting fixtures and hand painted wallpapers depicting a coastal setting make for artful inclusions. Bathrooms are fitted with standalone tubs and sleek black shower fittings. All rooms are equipped with a host of modern amenities including a 65-inch TV, Villeroy & Boch Rock Blanc cups and saucers, and capsule coffee machines.
Also Read : The New St. Regis Resort In Goa Embraces Luxury Amidst The South Goan Landscape – DP Reviews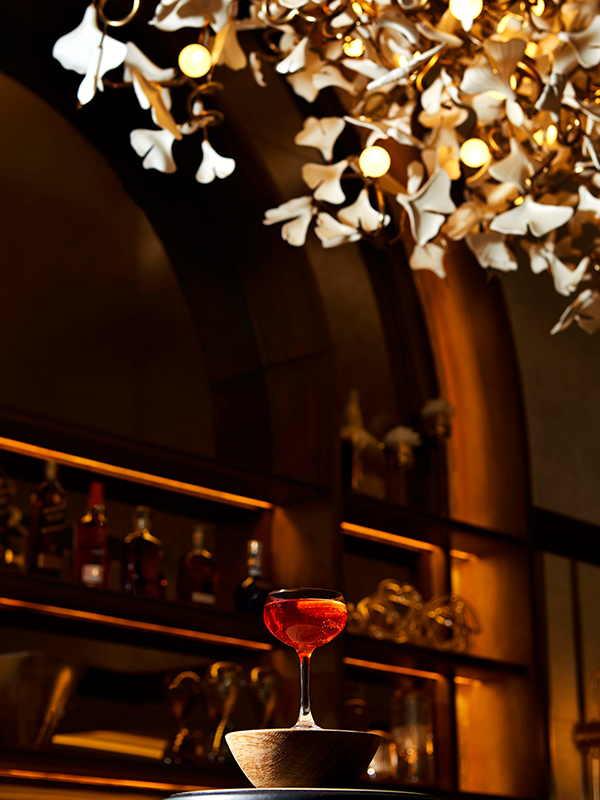 Dining
In the hospitality industry, there are a few brands that can equal the culinary offerings and experiences of JW Marriott. At Pérola, a French style lobby bar that dishes up high tea, baked goods, coffees and cocktails adjacent to the reception, a statement chandelier the length of the marble bar below is classic and trendy all at the same time. But ahead of embarking on a splendid evening, days are beautifully kicked off at the expansive all-day restaurant JW Kitchen where it all really begins with a lavish breakfast spread in true JW Marriott style. With an open kitchen and extensive menu that offers globally-inspired cuisine, seafood specialties and local dishes, it's the place to spend a few good hours at their fun brunch, too.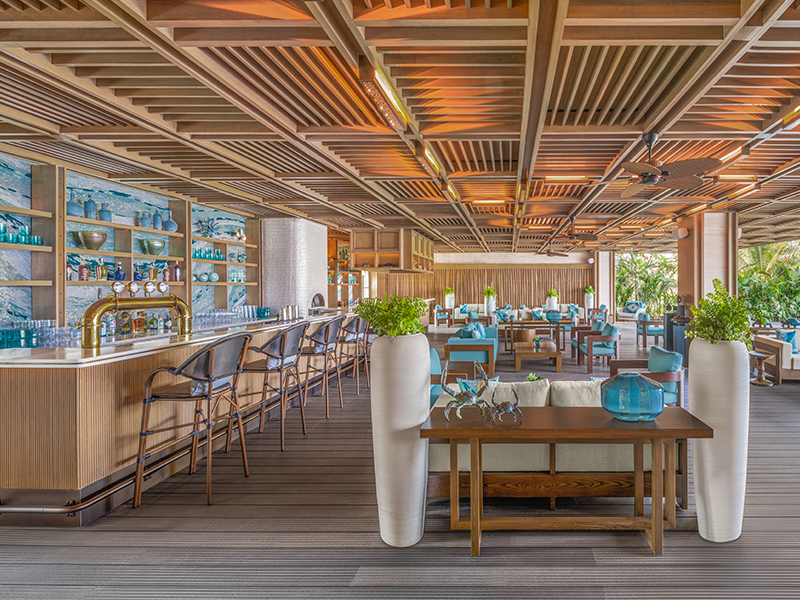 Later, to fuel high spirits, Água Bar and Café is the ideal venue to enjoy sundowners paired with finger foods and an array of Mediterranean meals. This poolside café with its bay-facing infinity pool is 'resort chic' at its best with aqua-toned fabric swings woven with sea shells, pristine white cabanas, a jacuzzi and live music. In line with the property's focus on revitalisation of the body, mind and spirit, much of the menus feature dishes prepared using seasonal vegetables and fresh herbs grown in the hotel's JW Garden. Guests can spend time in these calming gardens and even harvest their own produce.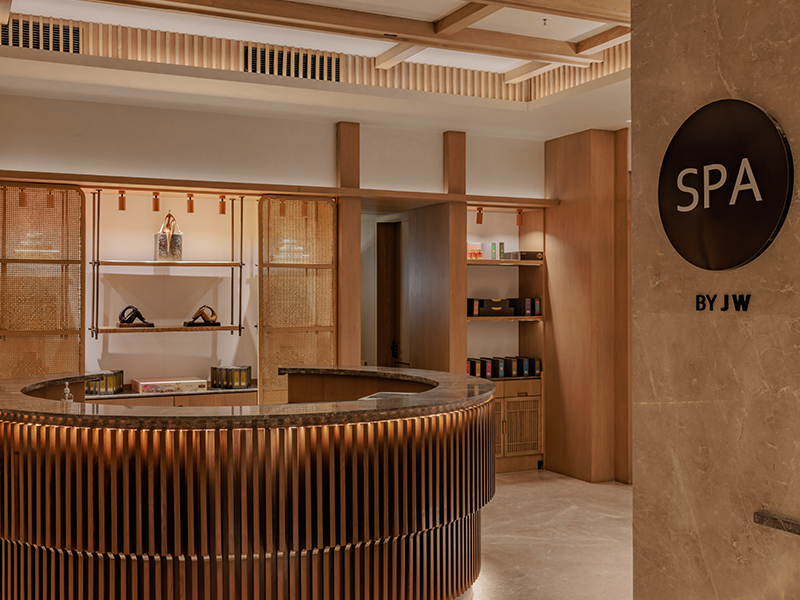 Things To Do
To pack in a day by the sea, it's helpful to know that Vagator beach lies just a few minutes away. But really, it's the beautiful design of this property and its sprawling, serene spaces that make it hard to leave. There's the infinity pool to cool off and take in stunning views of the landscape. Then, a few good hours at JW Spa is all that's needed to enter a state of repose. The highly trained team of therapists knows just what's needed to unwind. And, when the curtain is drawn open post-massage, it quite literally opens up to an outdoor courtyard beautified by fabric hangings. The atmospheric Turkish and Moroccan hammam is ideal when the Goan sun is at its peak.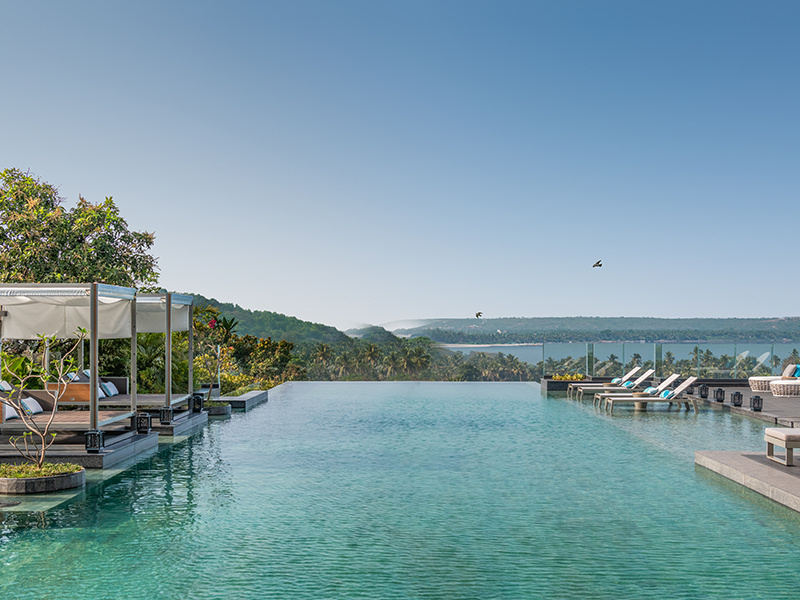 To stay on top of things while holidaying in Goa, there's always JW Fitness, equipped with state-of-the-art machines and all manner of equipment. Whether travelling with the family in tow or a group of friends, there are chakra healing sessions to be attended and a fun entertainment space equipped with VR games, too.
The Verdict
One cannot expect any more or any less with a brand as trusted as JW Marriott. The launch of JW Marriott Goa takes the hospitality scene in the coastal state up to the very highest notch. A weekender here feels so much more than just a quick getaway—it is, in fact, a real escape into a chic paradise that feeds the soul.
#DPLoves
The turndown service which includes an array of delicacies including cookies and the delectable Portuguese custard tart called pasteis de nata
The expansive, atmospheric Turkish and Moroccan hammam that transports you to the heart of Istanbul
The infinity pool at Água Bar and Café that looks out onto a bay and the historic Chapora fort beyond
The thoughtful placement of decorative 'noughts and crosses' crafted from marble and metal that keep guests engaged during the check-in process
Also Read : 7 New Restaurants In Goa: A Sussanne Khan-Designed Space, An Experimental South-Indian Outpost, And More