Sabyasachi's Flagship Store In New York Is A Maximalist Celebration Of Heritage
15

Oct

'22

11:34 am

by

Nuriyah Johar
Sabyasachi has done it again. One of India's most influential luxury designers and a true champion of heritage, craft, and culture, Sabyasachi Mukerjee has launched his first international flagship store at 160 Christopher Street in New York. The designer's trademark maximalist sensibility translates across all 5,800 square feet of the interior, creating the classic Sabyasachi retail experience in the West Village. Talking about his decision to launch internationally, he simply says, "I have spent the last two decades creating a brand rooted in heritage, craftsmanship, and a point of view that is authentically Indian. It's time for me to share this with the world."
The store is housed within the Romanesque Revival architecture of The Archive Building. Grand, stained oak archways lead into a meandering, transportational space that blends a cultural savoir faire with Indian decadence. The ethos of a sort of new silk route, a non-linear sensorial journey from Calcutta to New York, clings heavy in the air. Drawing from old-world Calcutta mansions, the interiors (designed by Sabyasachi himself, with architect Luay Bahoora) embody a magpie-styled decadence layered with compelling narratives of culture and legacy.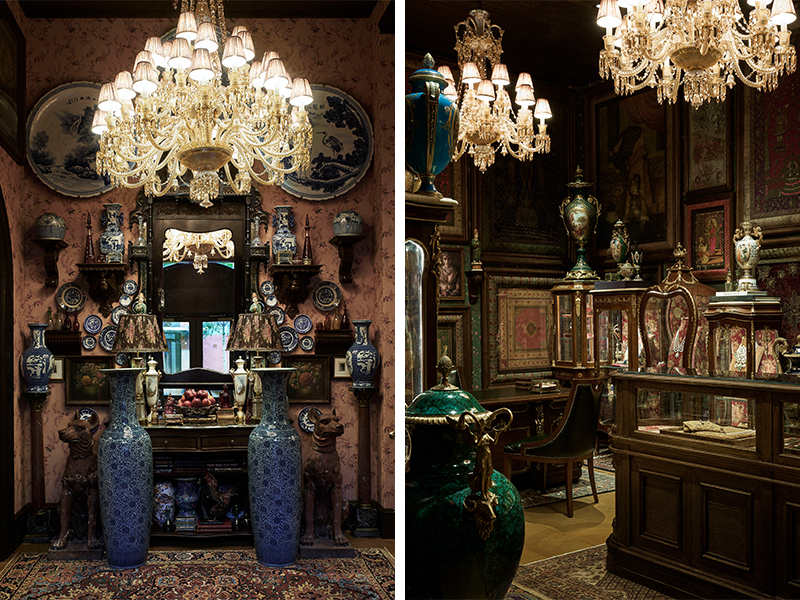 At first glance, the store's opulent interiors look decidedly Indian. A closer inspection, however, reveals elements of the West thoughtfully incorporated into the maximal language of the space. Antique Dutch pottery, hand-fired tiles from Utah, and inscribed aged mirrors are framed between cabinets of curiosities procured from souks and brass sculptures made in Calcutta. Adding to this are the leather-bound books and unique collectibles that lie on retrofitted vintage furniture finished with fine inlay work.
Another hallmark of every Sabyasachi interior, the walls of the New York store are lined with an unrestricted number of artworks. These pieces made by the Sabyasachi Art Foundation take inspiration from Qajar paintings from the Persian Dynasty, 16th to 18th Century Mughal miniatures, and 19th century Company Paintings. The Modernist interpretations are contrasted with old Indian Pichhwais, vintage photographs, and rare lithographs. India's rich legacy of craftsmanship is showcased proudly across the store – from Rajasthan to Bengal, vintage handwoven textiles and fabrics serve as works of art alongside the paintings and photographics.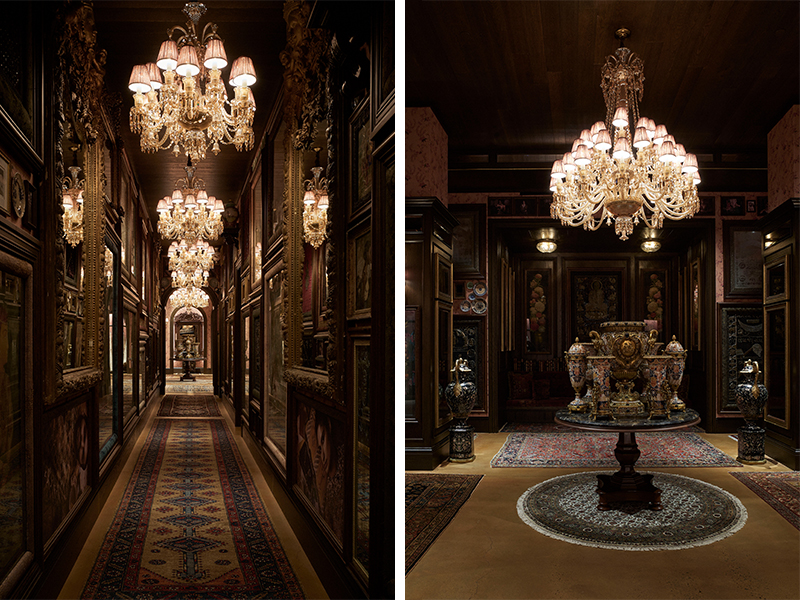 Also Read : An Unforgettable Royal Experience At Jaipur's Iconic City Palace In Collaboration With Airbnb
The precise attention to detail is evinced in even the busts, vitrines, and lampshades, all of which are lined with signature block printed silk velvets. A score of glass chandeliers hang from the 16' high ceiling, whereas the floors are covered with exquisite hand knotted and woven carpets, kilims and rugs. The house motifs are carried forward in the wallpaper and upholstery that are part of the Sabyasachi for Nilaya collection.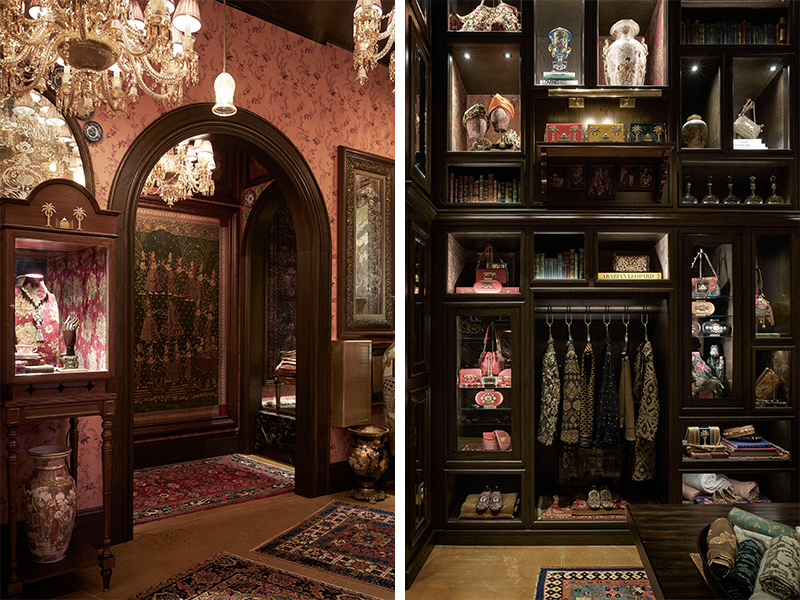 The theme of cultural fusion characterizes the store's sartorial narrative as well. Termed "The New York Edit", Sabyasachi's debut international collection is described as seasonless – fluid in its celebration of beauty, heritage, and value that can cut across generations, geographies and time. The Bengal Tiger insignia has been deconstructed across prints in a reinterpretive line that maps the journey from Calcutta to New York and revels in the spirit of a new renaissance. "The New York edit shamelessly interlaces the east and west, the traditional and rebellious, the precious and profane, and the sensorial with the intellectual."
A remarkable manifestation of age-old heritage and slow luxury, Sabyasachi's New York store brings forth the veteran designer's single-minded vision to create modern heirlooms.
Also Read : New In Delhi: AMPM, Ensemble, And KoAi Mark The City's Latest Retail Openings