The Show Must Go On! – 10 Must Visit Shows At The Kochi Muziris Biennale
29

Dec

'22

12:42 pm

by

Urvi Kothari
It's officially that time of the year as the nation's art aficionados reconvene for the 5th edition of Kochi Muziris Biennale (KMB). Finally, opening after much adieu to the public on December 23, KMB started off with an Open Letter from the artist to all art amateurs reconvening the root cause of the "organisational challenges" that caused the delay. However, the show must go on! KMB promises to leave the viewers on introspective tangents and an aesthetic experience of a lifetime. The biennale spreads across 200 projects showcased across Fort Kochi, Mattancherry, and Ernakulam. Marking 10 years of KMB, here is a curated guide of 10 must visit exhibitions within the heart of this melting pot of culture!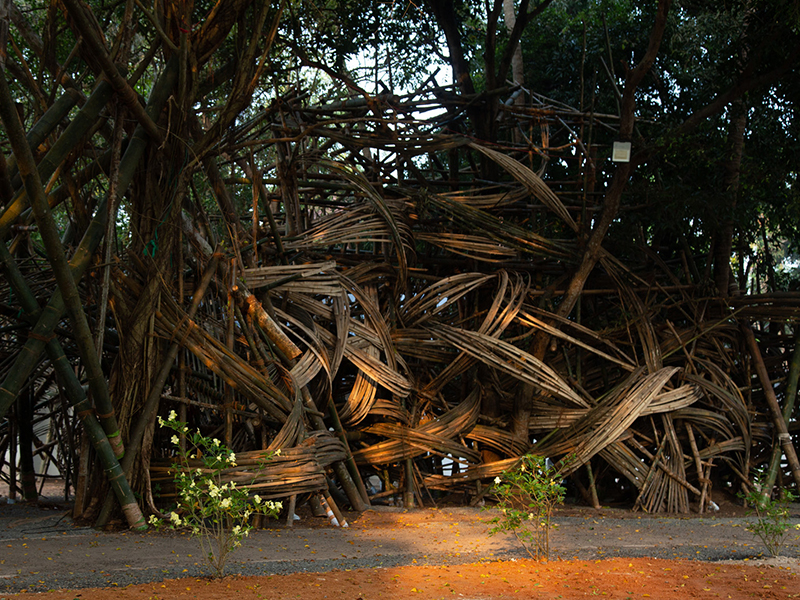 In Our Veins Flow Ink & Fire at DLF Aspinwall House
Curated by the Singaporean artist, Shubigi Rao, this exhibition marks KMB's showstopper curation encapsulating 80 visual voices across the globe. The idea of this curation is to celebrate a wave of optimism in the face of fear, trauma, disillusionment and despair. The curation examines how we survive, through song, materiality, joy, humour, and through language, whether written, verbal, and oral. Finally, in the face of capriciousness and volatility, against all odds, this Biennale thrums with the power of storytelling as strategy, of the transgressive potency of ink, and transformative fire of satire and song. Rao leaves the viewers on an introspective note and asks: "Where is this optimism?"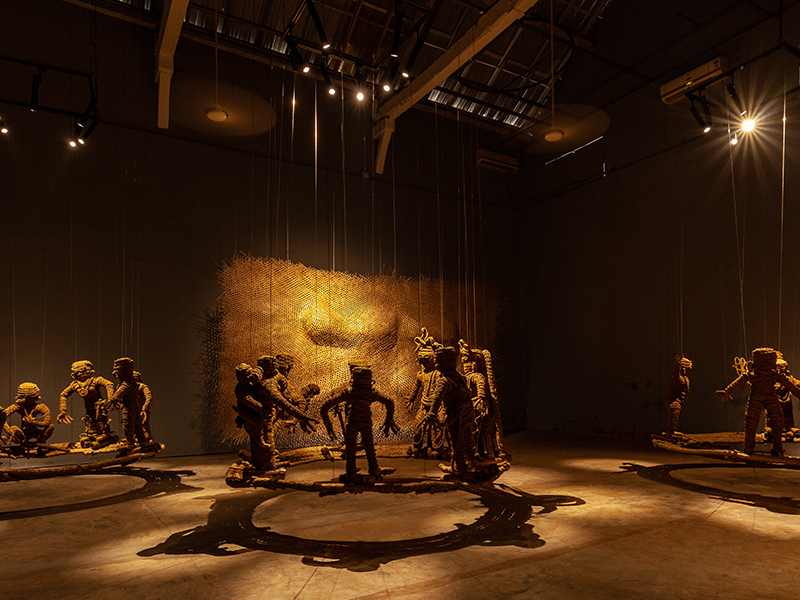 BHUMI at TKM Warehouse
BHUMI is an art project that was initiated during the pandemic year 2020. In an attempt to promote and support local craftsmen of Bangladesh, the Gidree Bawlee Foundation of Arts joined hands with Durjoy Bangladesh Foundation (DBF) under the artistic direction of Kamruzzaman Shadhin. Bringing together artisans from four Bangla villages, the community project has transpired into a larger-than-life art installation for KMB that re-enacts the complex connection between community, land and the environment. Reframing its scope far away from its homeland, the dramatic installation pays homage to the history of traditional crafts, indigenous practices, and agricultural methods in Thakurgaon, a district in the north-western Bangladesh.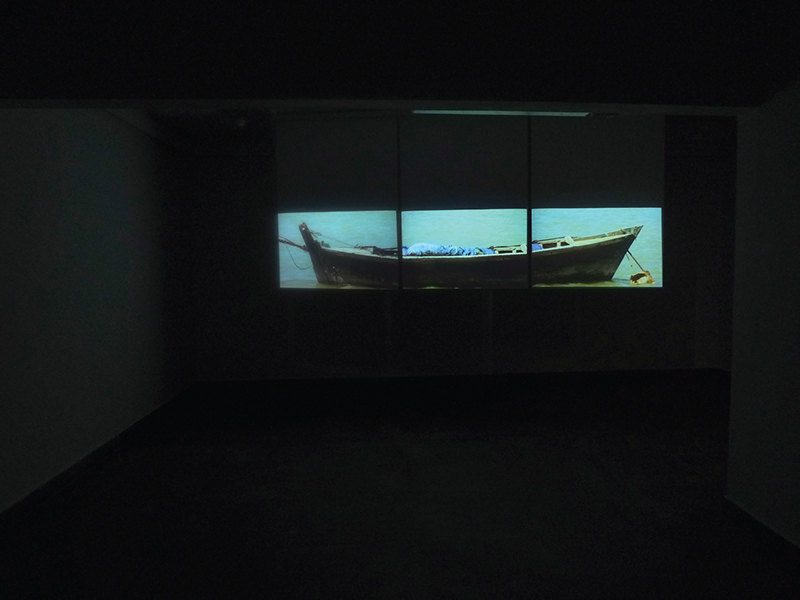 Geographies of imagination: My Language is a Bedouin Thief at Dutch Warehouse
The five man show manifests itself as a cartographic timeline, a performative process of un-mapping the geographies of power and a space of discourse. Spanning the 7th century European colonialism to mid-19th century partition of India, the exhibition revisits histories of labour, enslavement, internal displacements of communities, and political prisoners and refugees embedded around the littoral zones of the Malabar Coast and intersecting geographies from across the ocean and beyond. Finally, this timeline continues to be dotted to the mid-20th century with state surveillance and enforced disappearances, resulting in an increase in the marginalisation of communities with the excuse of identitarian politics that incriminates caste, religion, ethnicity, language, and geography.
Also Read : Paresh Maity's Monumental New Show Spans Four Decades Of His Artistic Oeuvre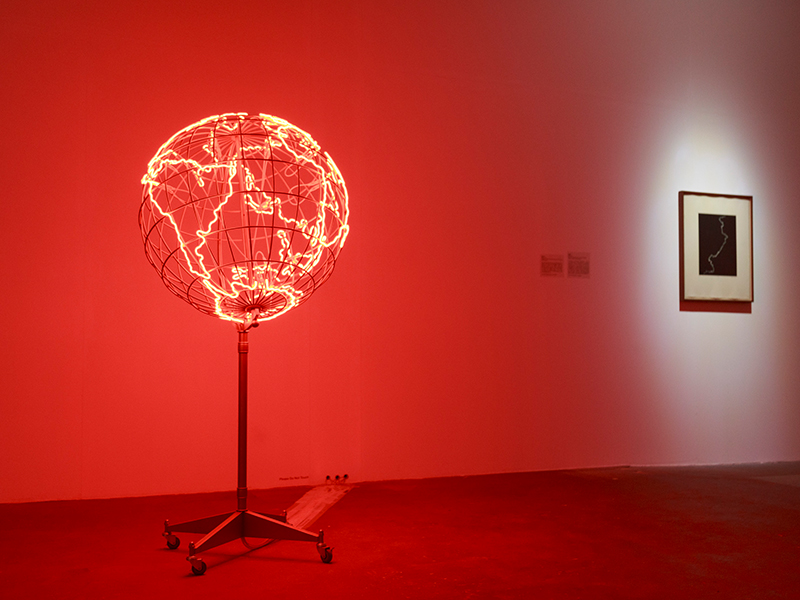 Tangled Hierarchy II at TKM Warehouse
Curated by Jitish Kallat, Tangled Hierarchy II is a speculative thought-provoking exhibition based on an iconic event that is etched within the history of the Indian subcontinent. The show marks the 75th anniversary to the day when Lord Mountbatten met Mahatma Gandhi to discuss the imminent partition of India, a proposition strongly opposed by Gandhi. Consequently, leading to a vow of silence on Mondays. This resulted in communication exchanges on the back of used envelopes, the only surviving record of this exchange. Delving deep into these archives, Kallat blurs the lines between speech and silence and reinterprets it with contemporary art by Zarina Hashmi, Henri Cartier-Bresson, Mykola Ridnyi, Roger Shepard, Homai Vyarawalla, Alexa Wright, to name a few.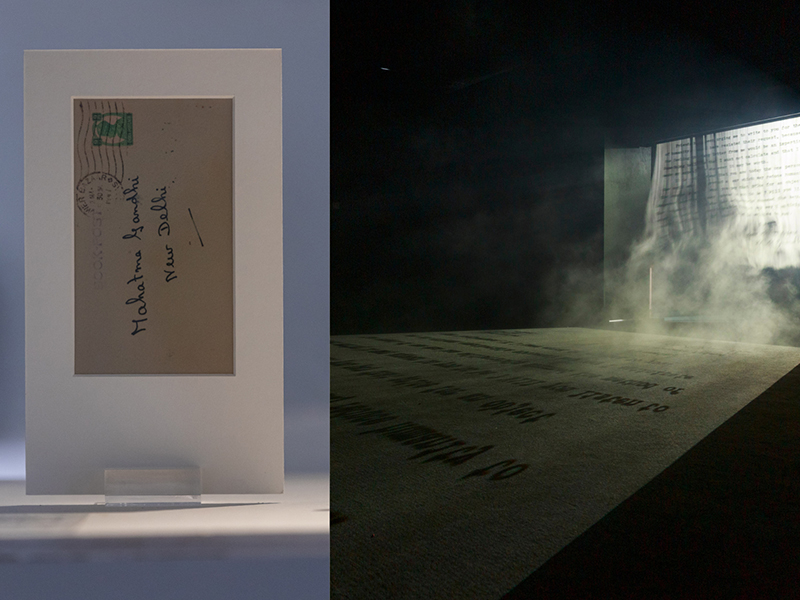 In juxtaposition to these archival letters, Kallat presents his very own installation 'Covering Letter'- a plea from a great advocate of peace, Gandhi to one of the most violent individuals who ever lived, Hitler.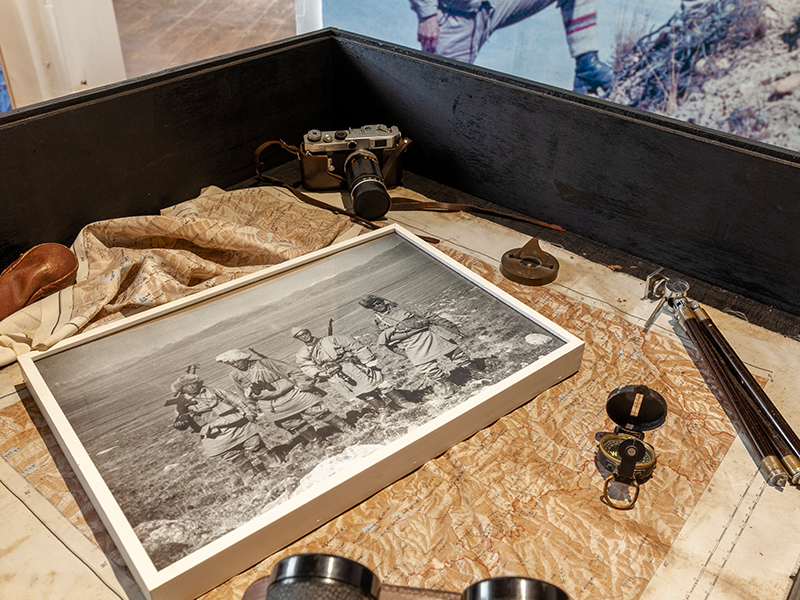 Shadow Circus- A Personal Archive of Tibetan Resistance at Kashi Townhouse
"The history of liberty is the history of resistance"- Woodrow Wilson. Curated by the dynamic filmmaker duo Ritu Sarin and Tenzing Sonam in collaboration with Natasha Ginwala, this exhibition delves deep into Tibet's armed struggle post 1950s – a movement that became entangled in global geopolitics when the CIA got involved. Little is still known about the guerrilla war – the Communist Chinese invasion that shook the Tibetans. Inspired by Tenzing's father, the late Lhamo Tsering – the then serving Chief of Operations at the CIA – the exhibition forms a crisp documentary consisting of an incredibly detailed archive of photographs, documents, letters and maps. The show attempts to unshackle and shed light on what anthropologist Carole McGranahan calls, "arrested histories of the Tibetan resistance army".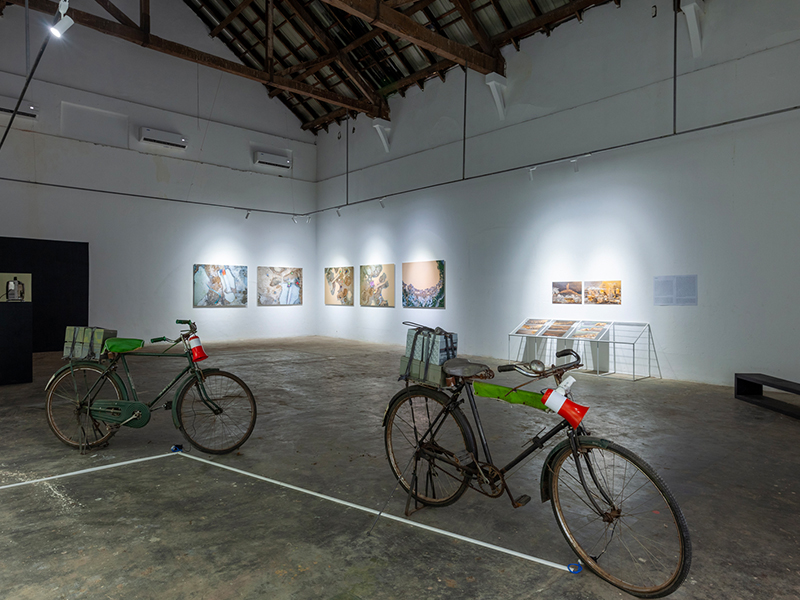 Toxicity at TKM Warehouse
The term 'Toxicity' becomes extremely relevant in uncertain times like now. The relevance of this term has churned critical discourses – one that also happens to be a part of the KMB. Curated by the Lubumbashi Biennale, the show interrogates the idea of toxicity as a condition of existence within a social world. Composed of two simple everyday terms, toxic and city, the curation envisages the interconnectedness of oneself with that of one's natural, social and cultural environment and the infinite traces we leave behind.
Also Read : The 20+ Crore Club – Highest Auctioned Indian Artists Of All Time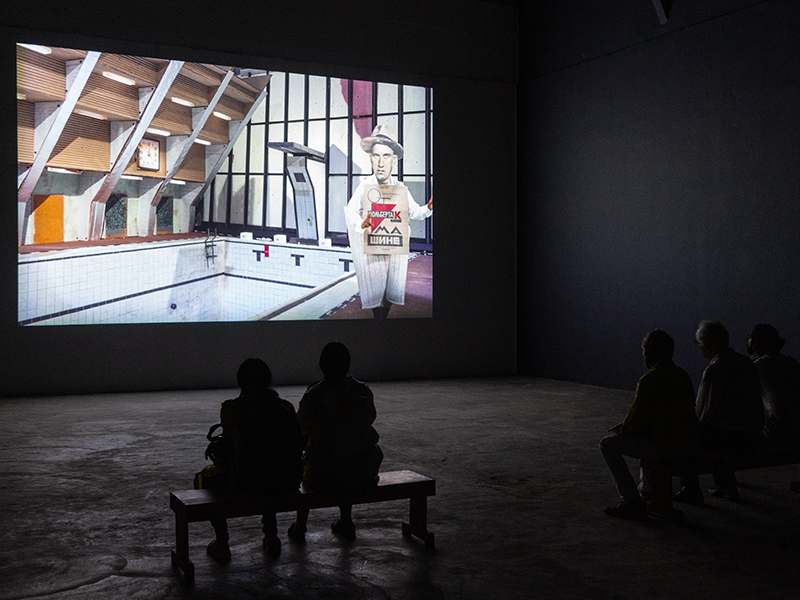 William Kentridge: Oh, To Believe In a Better World at TKM Warehouse
As the installation title suggests, the South African artist Kentridge leaves audiences at critical conversations on life and culture in countries with colonial histories. The artist explores the concept of utopia – the wish for the idealist and the struggles for its realisation. As a part of KMB, he presents an immersive film projection set in an abandoned Soviet museum. A mélange of divisive theatre, puppetry, music, stop-frame animation, collage, and tapestry, the installation urges viewers to reflect bearing a critical hat, considering the current political situation around. Kentridge says, "As an artist, I've my own perspective and stance. The audience can agree with them or reject them. But there is always scope for creative debates."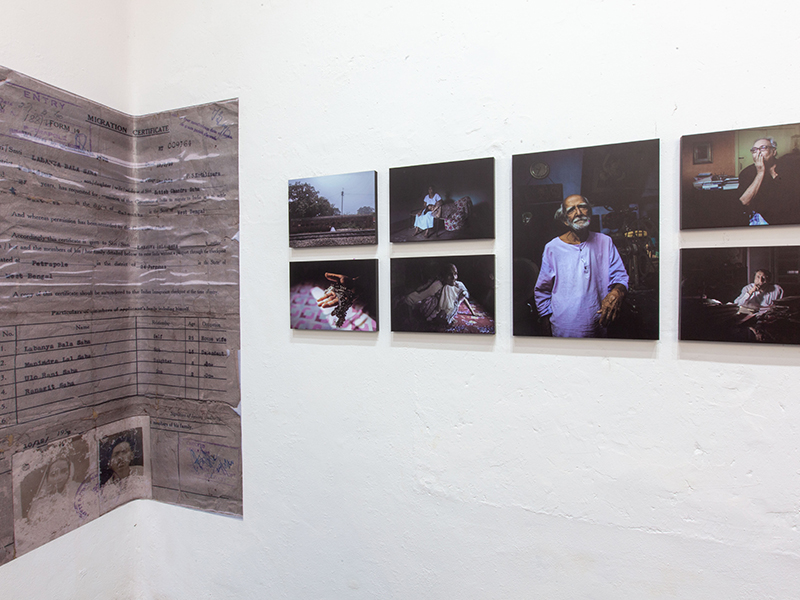 Communities of Choice at TKM Warehouse
We often question our identity and positioning within a paradoxical global community, that we inevitably, willingly or unfortunately belong to. A cross cultural collaboration with Wales marking India's 75th anniversary, Chennai Photo Biennale (CPB) shook hands with Ffoto Gallery to churn creative discourses to interrogate and introspect on one's very inherent existence. Exploring multiple broad themes such as gender, disability, politics, identity, and sustainable communities. Thus, the visuals become a part of an interwoven web of communities. Some are privileged to choose while others are merely assigned by predominated societal norms. An extension of the curation goes out to the beholder's mind as it narrows down to one rather pressing question- "Where do we belong?"
Students Biennale at Mattancherry Arman Building
Brewing the next artistic talent of our country, 70 students from the Edathala KMEA College of Architecture captured the ethereal beauty of Kashmir and its people. Explored over diverse mediums, these creations capture the pahadi culture in its truest sense including its surroundings, lifestyle, music, traditions and much more. Reflecting on their travels to the heavenly state, these students have transpired the Jannat-E-Kashmir on a scale that is experienced like never before.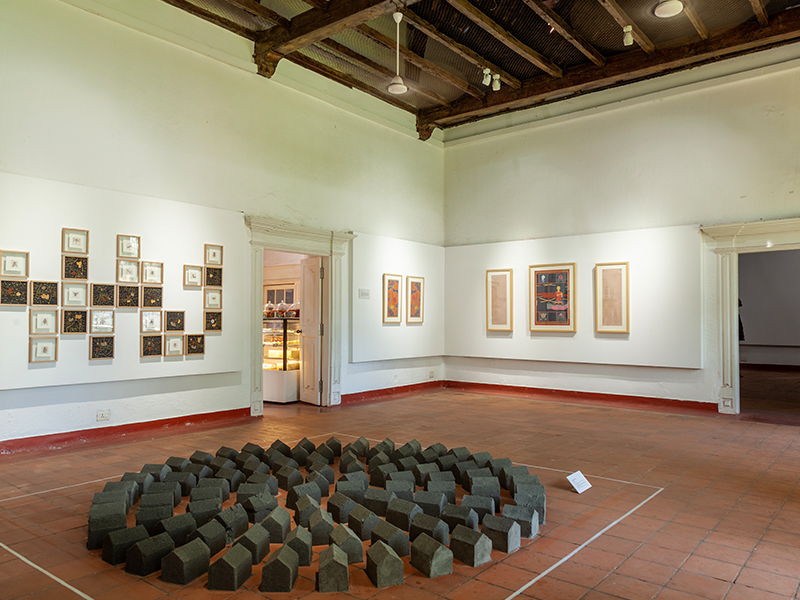 Memories of Home at David Hall
Curated by Sujan Chitrakar, this curation sings odes of strong ties and historical relationships between Kerala and Nepal. While these historic ties date back to antiquity, this contemporary diaspora centric show reflects back on the shared narratives of the plight of the South Asians. 'Memories of Home' reflects on the emotions, feelings and experiences of many migrant labourers from Kerala and Nepal who were forced to flee from their ancestral homeland in search of better prospects. The show creatively introspects on this unprecedented exodus of people due to war, poor economic situations, political instability, climate change and perhaps many other reasons still unknown.
The return of the KMB instils a ray of hope, positivity and fragments of introspective discourses. Showcasing a variety of indigenous craftsmanship as well as some international renowns, the biennale promises to offer a memorable experience for the beholders. Surpassing multiple hiccups and organisational challenges, the end result is nothing less than remarkable.