This Kozhikode Office Exemplifies The Rustic Minimalist Aesthetic
10

Mar

'23

4:53 pm

by

Nuriyah Johar
Rustic earth tones, raw textures, and timeless furniture; this minimalist office for the IIA (Indian Institute of Architects) Calicut Centre is unlike a typical workspace. Architects Mohammed Afnan and Arun Shekar, co-founders of Humming Tree Design Studio took it upon themselves to create a space that would resonate with architects and creative professionals in the city; feeding into their inventive sensibilities as opposed to limiting them.
"We drew inspiration from art galleries to create an ethos that encourages one to relax and enjoy work," explain Afnan and Shekar.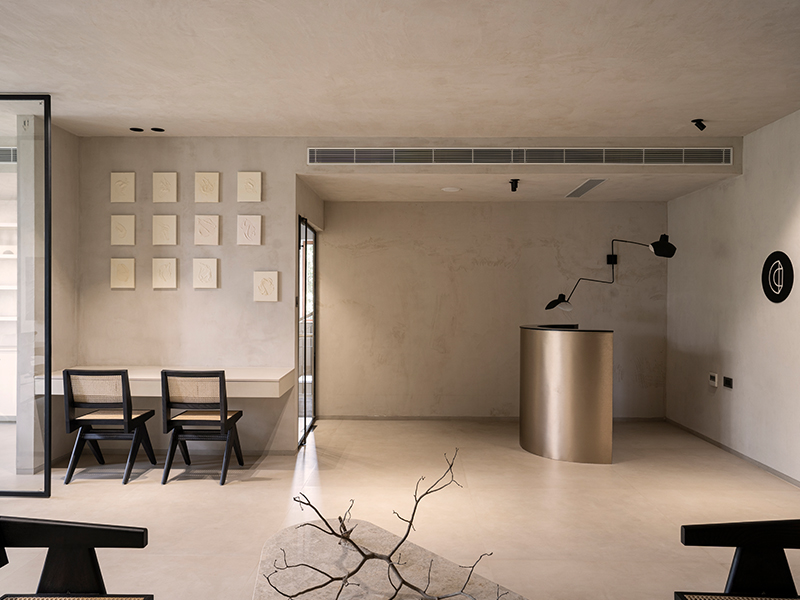 Spread across 4500 square feet, the office layout is expansive and uplifting, free from unnecessary clutter yet enhanced by statement decorative art pieces. At its core, it is refreshingly minimal and warm.
The IIA Calicut Centre office is spread across three levels. The first is Dyuthi – an open plan art gallery-like space that doubles as a multipurpose hall intended to showcase a range of art pieces and exhibits by architects, artists, designers. This level has walls finished in a warm white paint, paired with a light wooden floor; the perfect canvas for versatile art pieces to take center stage. Interestingly, this area also doubles as a rehearsal space for other forms of expression such as dance and music.
Also Read : 'Tropical Brutalism' Comes To Life In This Architect's Studio in Kochi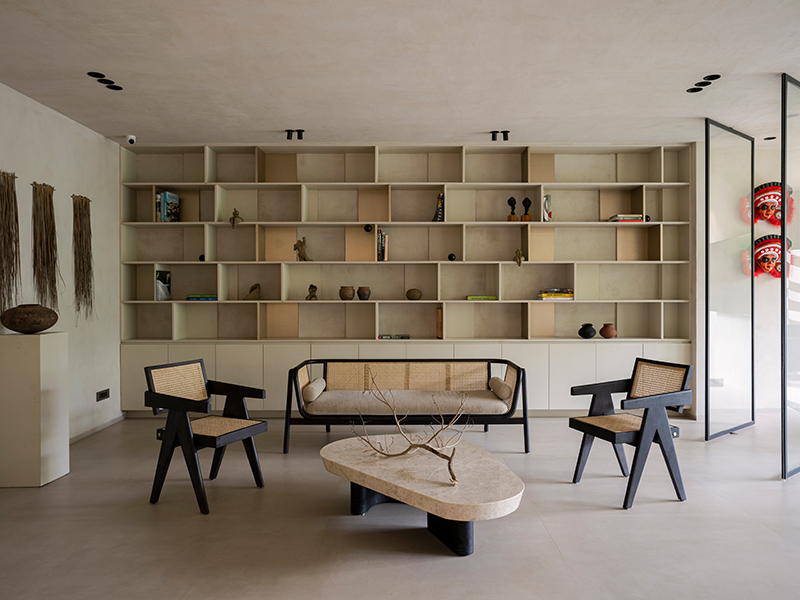 The next level, a striking wabi sabi inspired interior, houses the main IIA Calicut Centre Workspace. On entering the space, you are greeted with a sleek brass-finished curved reception table. Suspended over it is a black statement light from Aura Electric Studio. Beyond this lies the lofty common area lounge, complete with a harmonious juxtaposition of light and dark earth tones, classic furniture pieces, and artistic decor elements. Tinted Chandigarh Chairs and a mid-century modern sofa from DETALE Modern are arranged around a curved stone table, framed by a large wooden bookshelf that spans the length of the wall. This is minimally accented with art pieces from KALA Art Objects, sculptures, and coffee table books that fit into the larger visual narrative. On the wall alongside, three dried canes serve as an interesting highlight, along with an earthen vintage pot from the 1980s.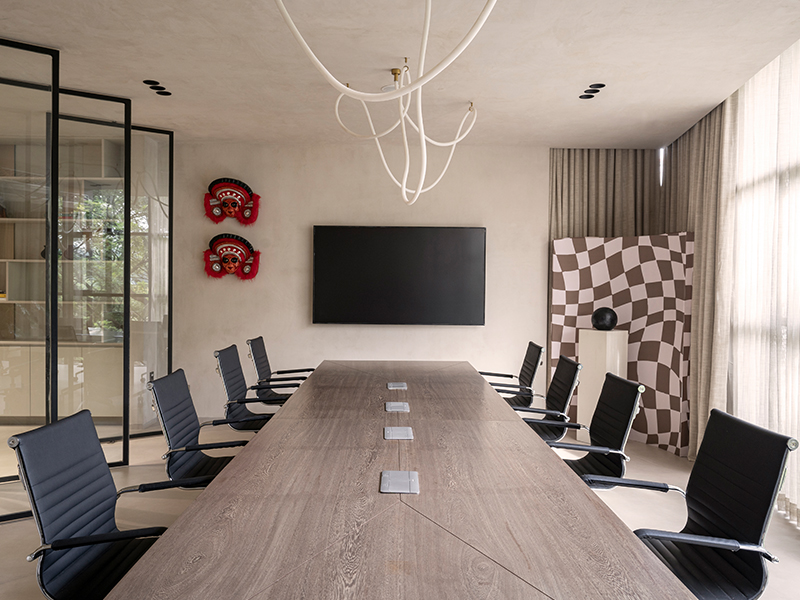 The lounge flows seamlessly into the conference room, through elegant sliding doors. Receiving copious amounts of sunshine, the conference room is voluminous and light. An ashy brown wooden table is paired with chairs from BOSQ, and a free slowing statement light designed by Humming Tree in collaboration with Aura Electric Studio hangs from the ceiling. Even here, art is given the importance it deserves. A unique chess board-patterned arched structure serves as a backdrop for a spherical art piece. Alongside it, two deep red Theyyam Masks custom made by Kala Art Objects serve as an homage to the regional dance form. Large floor tiles flow continuously from one room to the next to achieve a calm cohesion.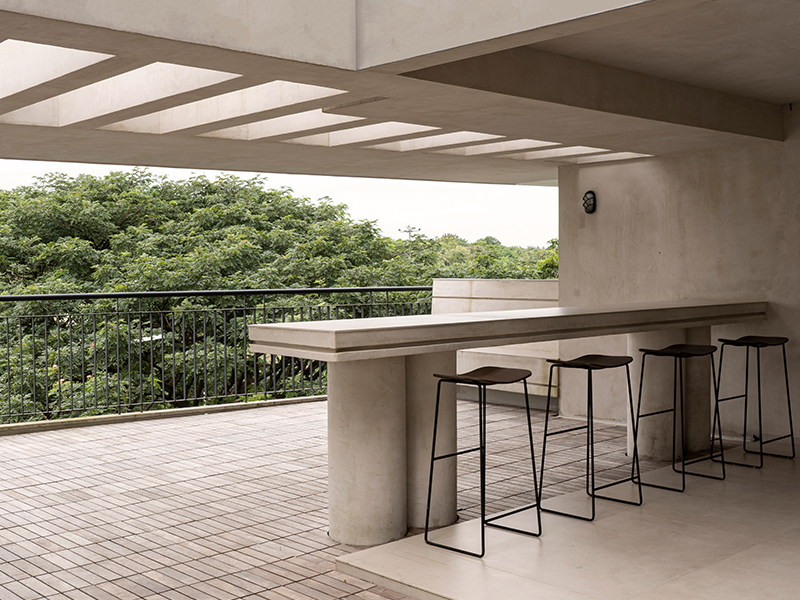 The terrace floor, dubbed Ekta, is envisioned as having a space to wind down. Displaying the raw, neutral aesthetics of its interior counterparts, the terrace is lined with brown wooden deck flooring from Euro Terrain. A circular legged bar table that seemingly protrudes from the wall is paired with stools from DETALE Modern, overlooking a lush canopy of green that lies beyond.
Also Read : A Striking Confluence of Wabi-Sabi and Mid-Century Modern Styles in This Contemporary Office