Your Guide To A More Conscious Diwali 2022
10

Oct

'22

5:04 pm

by

Nuriyah Johar
A 'conscious celebration' seems almost like a paradox – given the pomp and extravagance of Indian festivals, the idea of being green can be undoubtedly daunting. However, it is far from impossible! For this piece, we spoke to Aishwarya Lonial and Indraja Khare of Nose To Tail, India's first eco-friendly event design company. Rejecting the notion that sustainability and luxury can't exist within the same narrative, they say, "Luxury lifestyle as a concept shares a few qualities with the core ideology of sustainability which is longevity, good quality, and classic designs. In short – evergreen. If care is taken to ethically source earth-friendly materials and treat the people and planet with utmost respect, sustainability and luxury can go hand-in-hand." In addition to this, we've curated a list of some of our favourite brands that champion sustainability.
Though change doesn't happen overnight, here are a few substantial steps you can take towards a more conscious Diwali –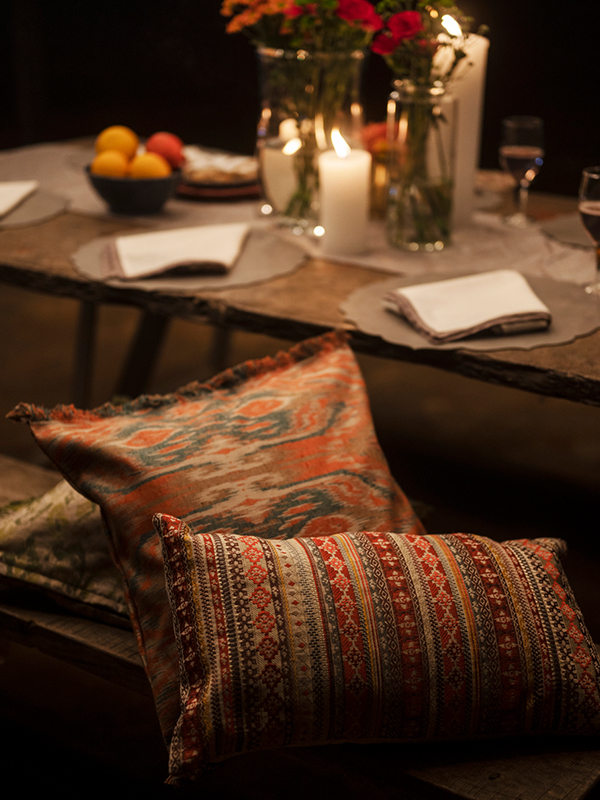 Mindful Gifting
Gift-giving is easily one of the most joyous parts of Diwali. However, it can be a significant contributor to waste generated during the festive season. "This not only includes the actual gift, but also its packaging," Lonial and Khare tell us. "Whether it's a box of sweets or a pack of diyas, the packaging usually consists of plastic-coated cardboard boxes or shiny wrappers. Avoid excessive packaging material wherever possible, and gift wrap with newspaper or fabric instead," they say.
Beyond the packaging, be mindful while choosing the gift itself. Some of our current favourite decor brands that combine the essence of the festive season with the ethos of slow living include Eris Home and Ikai Asai. In the spirit of giving, you can opt for a striking art plate from The Plated Project; for every piece purchased, the brand donates meals to the hungry.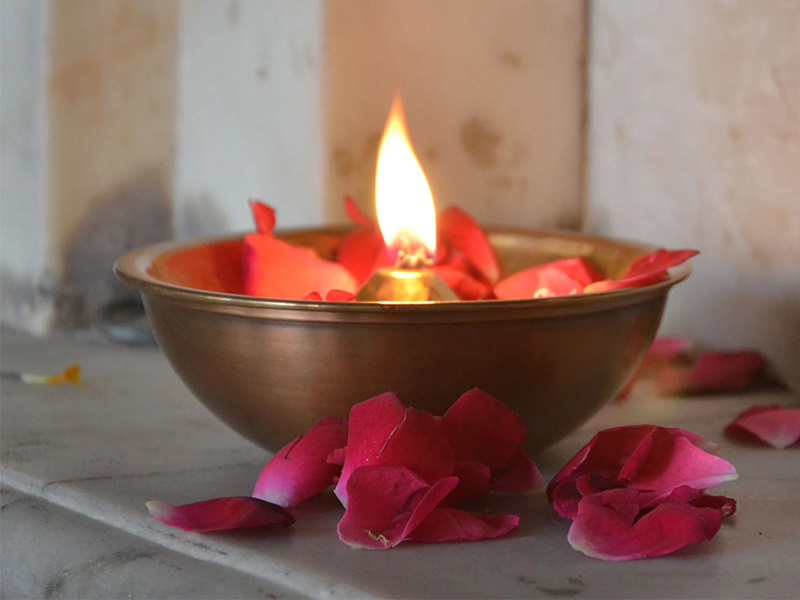 Festival Essentials
Diyas and rangolis are almost synonymous with the festive season. "Everyone loves a beautiful rangoli, but try to abstain from the regular toxic rangoli powder, and instead make an organic one with more earth-friendly materials like rice flour, fresh flower petals or grains & pulses. These can later be composted," say Lonial and Khare. A natural rangoli isn't just better for the environment; it also aligns with modern aesthetics that favour natural hues to overly artificial colours.
They add, "Instead of buying mass produced China-made diyas, you can choose to use biodegradable ones made from cow dung, or opt for handmade clay diyas. Remember, even clay diyas can be cleaned and reused the next year, so don't throw them away." If you're looking to splurge, opt for a statement brass piece, like this Lau Diya Gold Oil Lamp from Anantaya. Lastly, brands like Phool, Esscent by Arpan, and Already Blessed make their incense sticks from upcycled waste flowers, making them perfect alternatives to traditional incense sticks for your Diwali pujas.
Read More : Your Definitive Guide To Design And Decor In Jaipur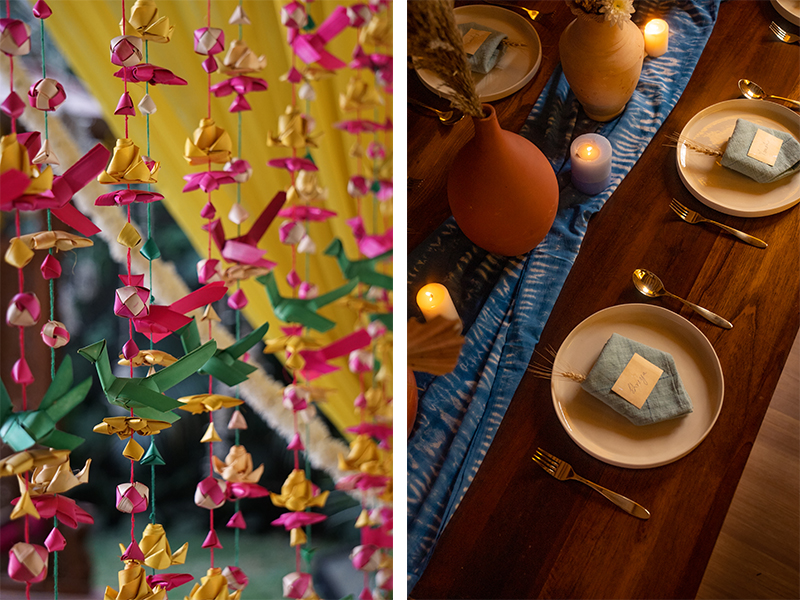 Seasonal Decor
Festive decor often gets relegated into the single-use category; taking the form of mass produced items made from plastic and thermocol. "Opt instead for handcrafted, reusable decor items like fabric torans and buntings, or dried woven palm leaf decor," says the duo. "While this obviously helps reduce waste, it also supports local craft communities." Brands like Okhai and Diaries of Nomad have a number of options in fabric. Making a statement in this category, metal buntings from brands like Studio Coppre and Nicobar are perfect for those looking to shake things up!
Lonial and Khare go on to add, "Great food is an integral part of Indian festivities, so we'd say focus on styling your table well. Add a rustic charm to your tablescape by using a dupatta with an Indian print as a runner, along with earthen pots and a few candles or diyas."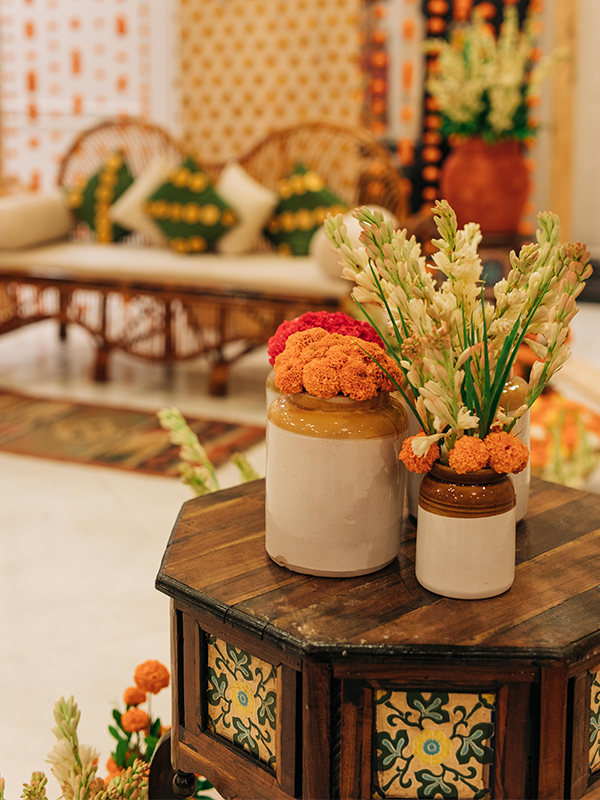 Flower Fixes
Given that they're inherently natural, most people don't realize how high the carbon footprint of the flower industry is, especially with regards to international blooms. The best way to use flowers sustainably is to patronize your local florists, and buy in-season vs what's grown in a hothouse. "Choose local flowers like marigold, chrysanthemum, or jasmine," say Lonial and Khare. "Once used, make sure you collect it all together and then either compost or donate it to an organization in your city that converts them into incense sticks, fragrance oils or holi powder."