3 Rental Villas In Goa That Embrace Heritage, Luxury And Sustainability
12

May

'23

2:06 pm

by

Sneha Shah
Sandy shores, sumptuous food, and the susegad life – the bustling yet relaxed state of Goa is everyone's beloved escape! Conjuring a multitude of emotions and above all, a reassuring feeling of quietude, there are a few things as gratifying as exceptional hospitality and sustainable luxury in sprawling abodes. Whether you're looking for upscale retreats or under-the-radar heritage homestays, we've put together our top picks of gorgeous villas in Goa that promise bespoke experiences and effortless splendour –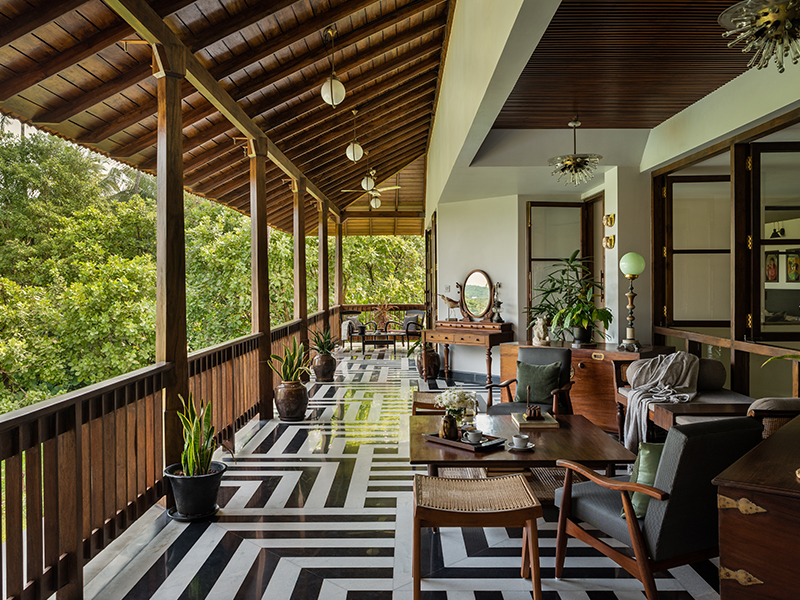 #1 The Orchard Manor, Anjuna
Regarded as an oasis of quiet, this 12,000-square foot, six-bedroom mansion holds within it an eclectic mix of Art Deco furniture, mid-century modern light fixtures, auction house pieces, curated art and the promise of an unparalleled experience. With its vast expanse, the Orchard Manor beautifully embraces openness with natural light pouring in from all sides. There are two rooms on the ground floor, three rooms on the upper floor and a flight of stairs leading to a penthouse with its own outdoor balcony. Every room is uniquely characterful in design, décor and art.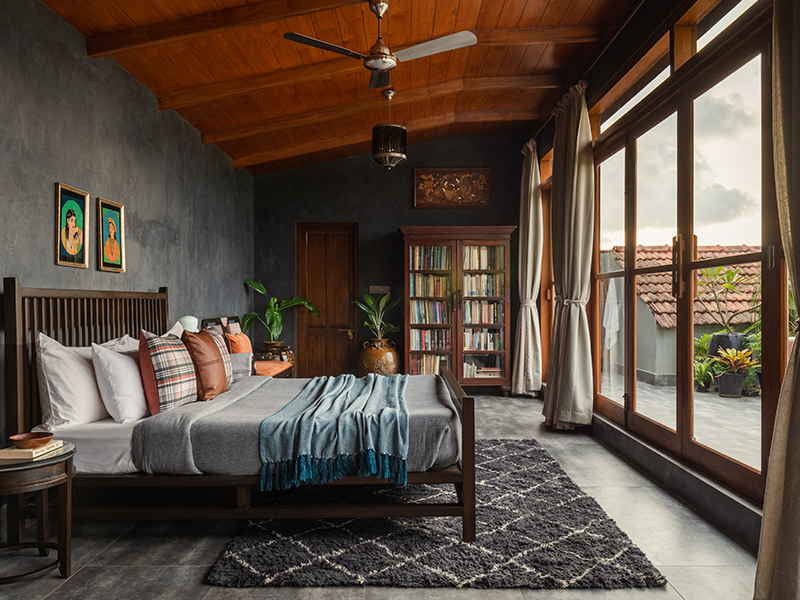 The villa is owned by Ozzy Serrao, an ex-merchant navy captain. The interior is filled with unique curios and artefacts sourced from both local vendors and from around the world. One sees an abundance of Burma teak, mahogany and rosewood in the material palette, with pops of colour either through art, planters or soft furnishings. The villa comes with two chefs and food is as fresh as it gets with a farm-to-table concept, offering a slice of Goa's burgeoning gourmet trend.
Amenities and experiences to look forward to:
– A 50 ft. stretch of a temperature-controlled private pool
– Large alfresco gazebo
– 3 large in-house libraries with a large collection of the finest books
*Tariff @ ₹1,65,000/- to ₹3,50,000/- per night
Also Read: 7 New Restaurants In Goa: A Sussanne Khan-Designed Space, An Experimental South-Indian Outpost, And More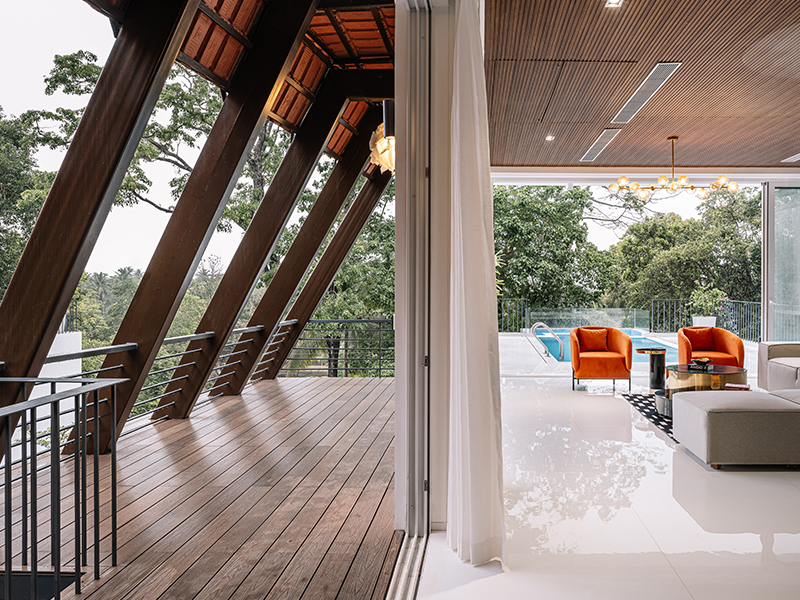 #2 Tellado Villas, Siolim
Designed by Jugal Mistry of Jugal Mistry Architecture (JMA), the elegantly crafted Tellado Villas boast white-washed walls, exposed wood beams, and carefully integrated lighting fixtures, that exude refined aesthetics. The curved Parabolic roof pays homage to Portugal's rich cultural heritage, while the kitchen and dining extension inspire slow living. The indulgent infinity pool offers the perfect opportunity for relaxation.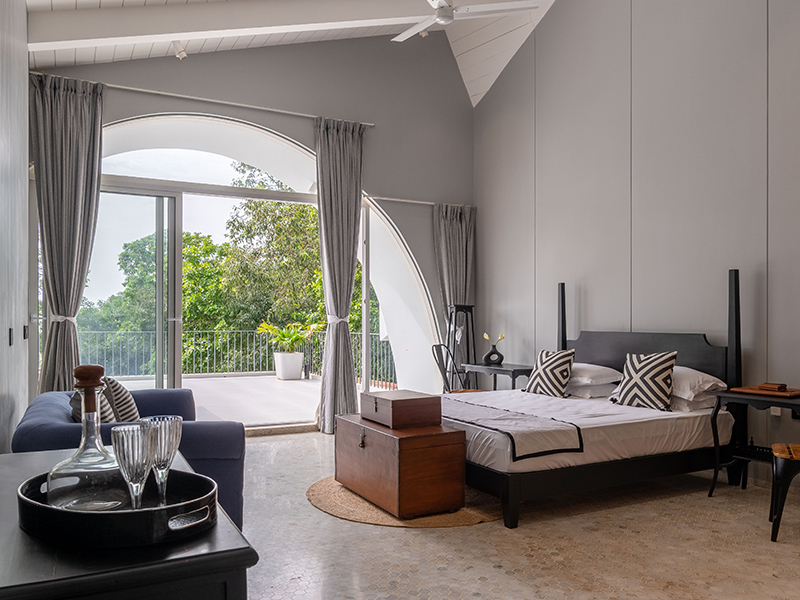 With natural and airy tones, each villa covers three floors over 5,000 square feet with designated spaces and additionally, a forest garden and a secluded deck. The highlight is the living area with an infinity pool and 180-degree view adjacent deck. The master bedrooms have an impressive large arched window that adorns the span of the exterior, leading to a master bathroom that has its own private terrace. The multiple sliding doors that are skillfully scattered throughout the property, seamlessly merge the indoor and outdoor spaces, creating a harmonious flow and enhancing the overall living experience.
Amenities and experiences to look forward to:
– A curated menu with an in-house personal chef
– An exceptional butler service
– An infinity pool overlooking lush greenery
*Tariff @ ₹65,000/- to ₹1,25,000/- per night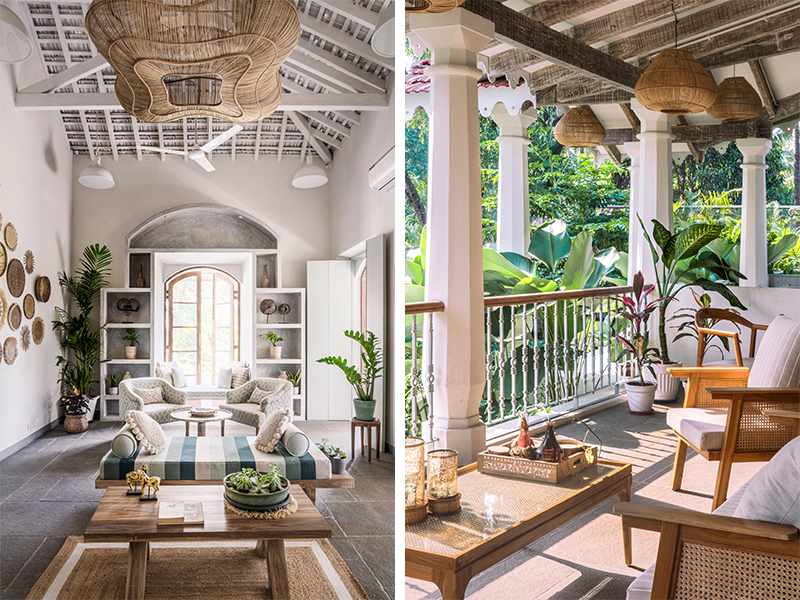 #3 Amger Villa, Parra
The 5,500 square feet luxurious villa stands on a half-an-acre of land amidst a sprawling lush, tropical landscape and overlooking the paddy fields. With its' dynamic arched windows and doors, Juliet balconies, a grand Balcao and verandah, and the original Mangalore tile-and-wood roof; Amger maintains the old world charm the space exudes, while still being in sync with a modern lifestyle. The villa has been restored and redesigned with a team consisting of restoration expert Nachinolkar Ketak, Architect Supriya Gandhi from The Workshop, and designers Arun Lalwani and Alok Lalwani.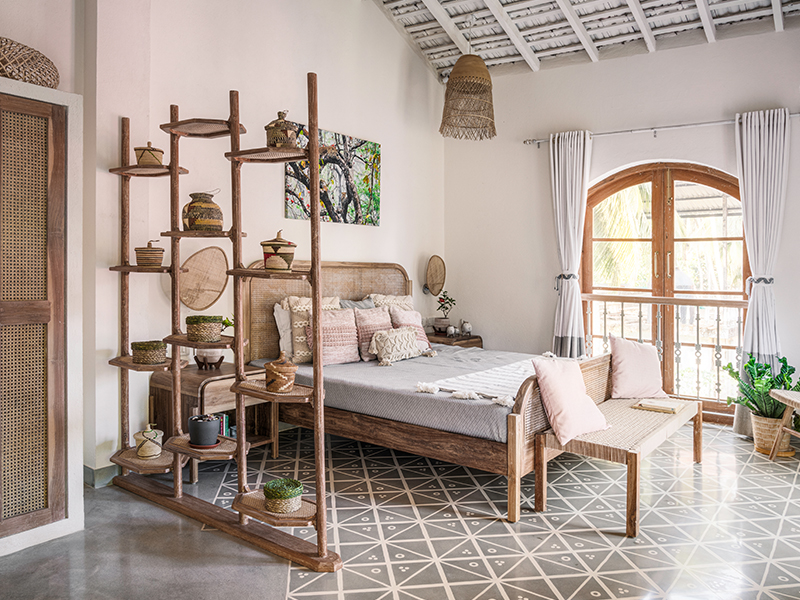 The four bedrooms with en-suite bathrooms each display their unique personalities, and yet maintain a cohesive vibe. Custom-made furniture embraces the vintage, curated artefacts that have been sourced from different parts of the country. The tumbled stone flooring lends an irreplaceable earthy vibe to the space. One of the special features of the villa is that each bedroom enjoys a balcony or a private sit-out. The place also comes with a fully-equipped kitchen; and the luxury of a chef-on-call who makes sure the guests can enjoy a traditional Goan meal from the comfort of the villa.
Amenities and experiences to look forward to:
– Each bedroom enjoys a balcony or a private sit-out
– The luxury of a chef-on-call for guests to enjoy traditional Goan cuisine
– A private pool and gazebo at your disposal
*Tariff @ ₹60,000/- per night
Also Read: Paradise Found At The Newly Opened JW Marriott Goa – DP Reviews