5-Luxe Floating Restaurants Explore Stylish Tropical And Bohemian Dining On Water
8

Sep

'23

11:41 am

by

Satarupa Datta
New-age travel today is constantly innovating, particularly with immersive culinary voyages that include a dinner at a lake-facing chateau in Belgium or an afternoon high tea with champagne on a majestic glass boat on the Thames. That is to say, dining in the middle of water is akin to venturing on a multi-sensorial journey through cuisines and stunning sights.
From savouring the French Haute cuisine inside a floating glass pavilion in the views of the Eiffel Tower or signing up for a drifting pizzeria off the coast of Fiji followed by rounds of snorkelling is deemed no less a travel adventure. Gear up for a gourmet escape to some of the world's best-floating restaurants that look like an epicurean adventure on the water.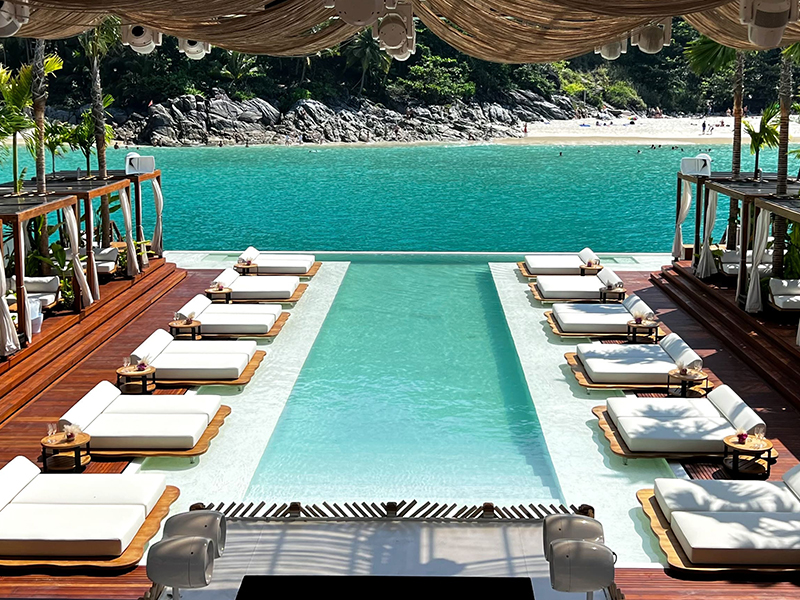 #1 Yona Beach Club & Restaurant — A Multi-Level Floating Beach Club On A Boat To Phuket
Phuket always boasts of lively beach parties, drinking dens, and rowdy nightclubs. With the opening of Yona Beach Club this year on the beautiful and remote shores of Phuket visitors can have a great time partying on this off grid destination. Spread across 1,200 sqm on three floors, this luxury boat comes equipped with a 22-meter-long infinity pool. The platform is flanked by private cabanas, a restaurant, an upper side sunset terrace and a rooftop lounge with stunning views of the bay. With an eye on what the world is eating, the menu runs the gamut from mezze platter, red snapper ceviche, the best selection of Japanese sushi to ribeye steak.
The Yona Beach Club comprising both dining and lounge elements in a mix of teak, textiles, bamboo, and woven fibre, gives luxe boho vibes on a boat. The DJ station and a fully stocked bar with a vast choice of boozy cocktails is located at the back of the pool — offering an unparalleled vantage point of the picturesque coastline.
Also read: 3 Private Jet Expeditions: The Ultimate Luxe Travel To Cities, Islands And The Wilderness
#2. Ducasse Sur Seine — A Gastronomic Cruise Across Paris
Plush, luxurious, and docked in front of the Eiffel Tower, this gourmet cruise founded by celebrity chef  Alain Ducasse refined, seasonal, and contemporary Parisian haute cuisine. This boat is Paris's only electric, soundless, floating barge that glides across Paris' iconic monuments along the Seine river. Helmed by chef Jean-Philippe Berens and his team of 36 cooks who take pride in serving three to four-course lunches and five to six-course gala dinners with wines and champagnes to compliment the dishes.
Besides the trappings of fine dining, the very design of the oval glass façade looks avant-garde. This sleek 40-meter-long, electrically powered boat was designed by naval architect Gerard Ronzatti and the interior creations are conceptualized by couturiers and designerscouturiers and designers conceptualize the interior creations—Maurizio Galante and Tal Lancman. The designer duo styled the interiors, sculptural and opulent, and mimic the movement, reflection, and fluidity of the Seine. This design theme recurs in multiple facets like the furniture, lighting and tableware.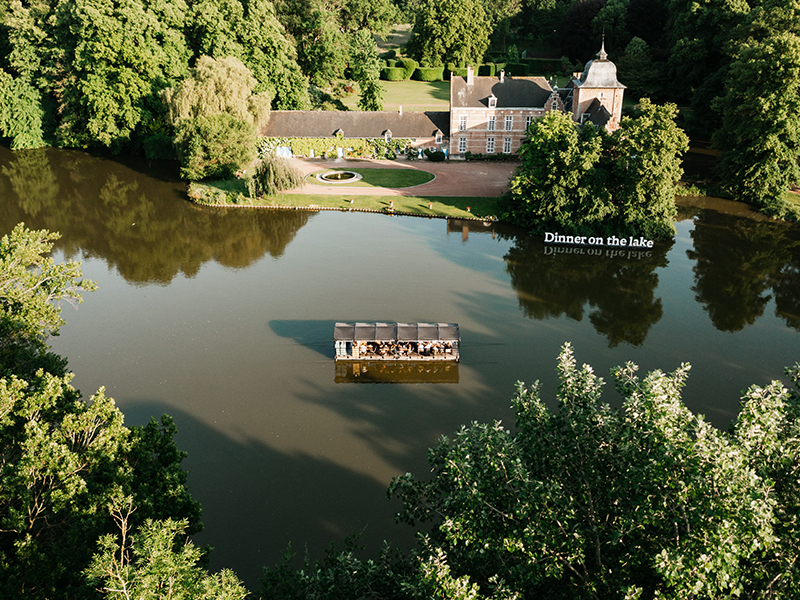 #3 Dinner On The Lake – Belgium's Exclusive Private Lake Dinner
A unique concept of lake dining on a floating table set against the bucolic backdrop of Belgium, Dinner on the Lake is a stunning experience. It comprises of three floating table boats that can be found mooring in private lake districts of Antwerp, Laarne, Dilbeek and Liège. The space doubles up to be an unrivalled al-fresco dining experience bound by river gardens, beautiful castle grounds, and the Château farms. The design theme is urban-chic-jungle which is why the boats always select the untamed wilderness of the lakeside as a prime setting. The prefabricated floating table look ultra modern with their stylish seating arrangements and green creepers swirling down from the roof. The wine fuelled, chef-led six-course dinner with aperitifs is a gastronomic delight for those favouring clean flavours that emphasize fresh ingredients. The novelty of enjoying culinary savior faire on a stylish floating table in the middle of a lake makes for an unforgettable experience.
Also read: This Floating Restaurant In Norway Is A Culmination Of Sustainability And Fine Dining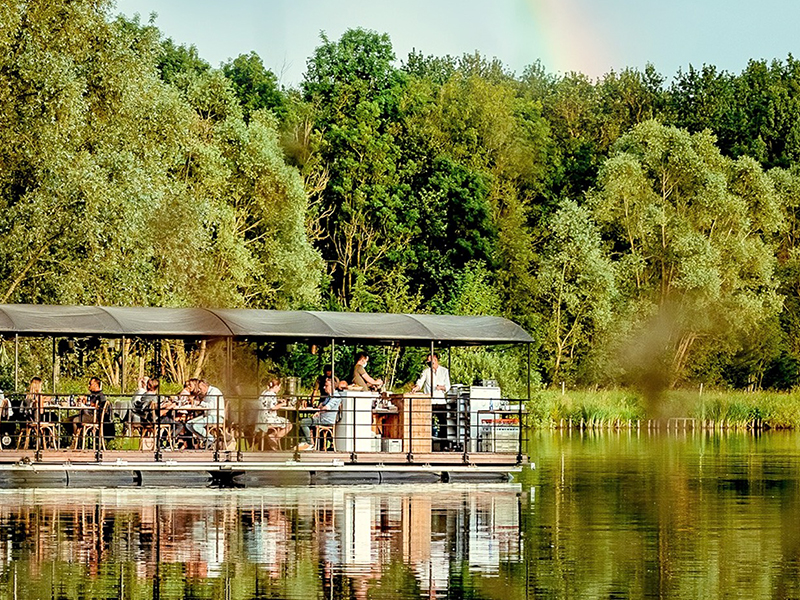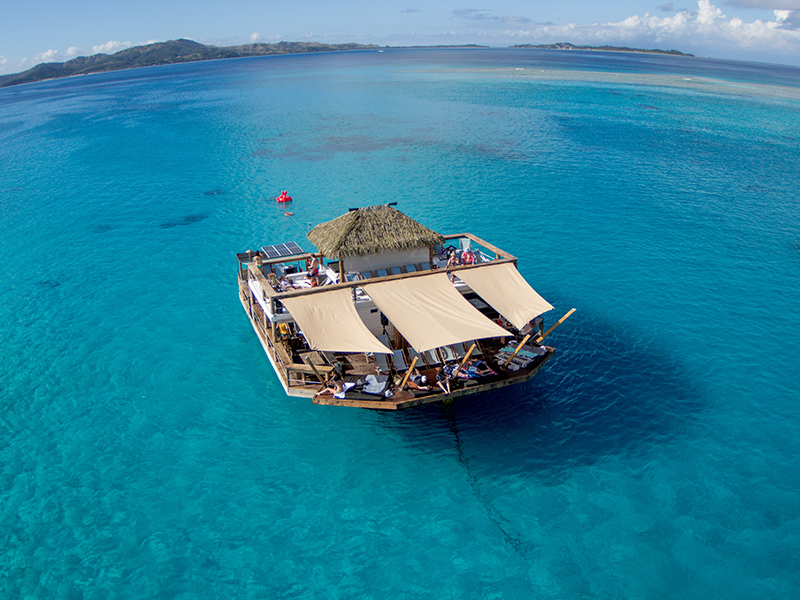 #4 Cloud 9—A Party Far Out On Fijian Water
If all beach bars have started to feel strangely familiar know that in the South Pacific lies the Mamanuca group of islands in Fiji, where a floating bar and Pizzeria awaits —Cloud9. Alexander Poenaru, a poly-creative based in the French Riviera collaborated with her husband to create this first-of-a-kind floating bar and pizzeria while they were living in Fiji. While it is set under the minimalistic awnings of a thatched roof and felucca drapes, it is a private commune of artisans, underground musicians, lovers, dreamers, and pleasure seekers from across the globe who gather to have fun and indulge in some good music, food and drinks.
With an internationally stocked cocktail bar and Italian wood-fired pizzeria, world-class DJ's, and mixologists churning out inventive cocktails, the mood of the place is decidedly unpretentious. Better still Cloud 9 floats off from the touristy spots and into the cerulean marine clusters of Mamanuca where you can explore the incredible Fijian marine life snorkelling and indulge in parasailing too. Cloud 9 feels like a summer playground for party lovers that has become pepped up and perkier than ever.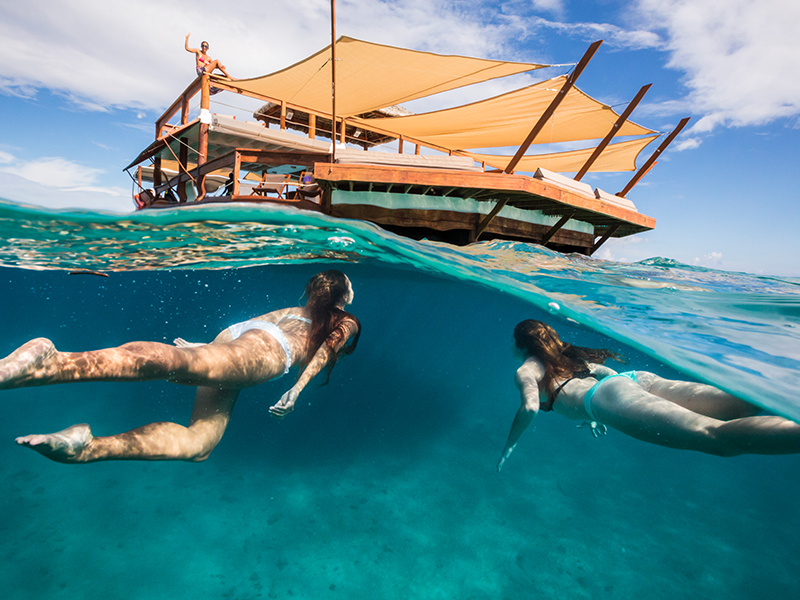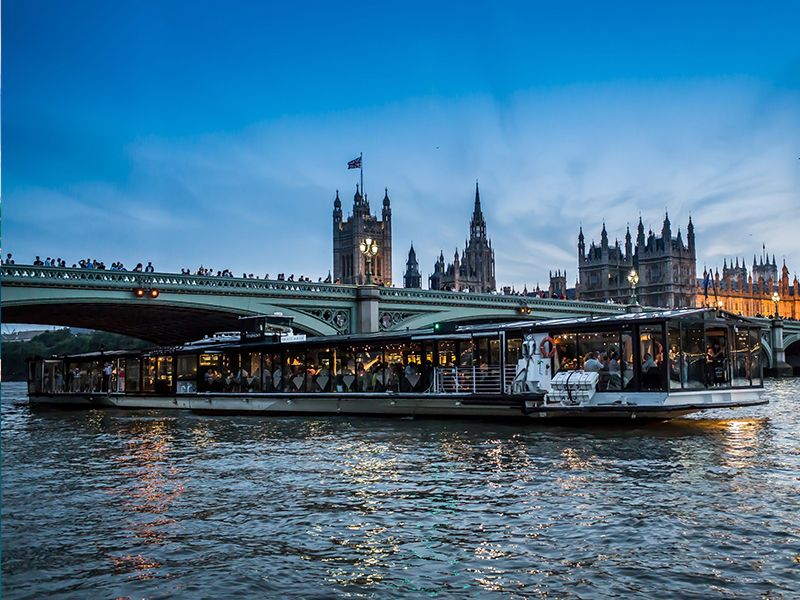 #5 Bateaux London — The Best Of British Food On The Thames River
Consider this one if you are looking for a romantic dinner cruise or a scenic afternoon tea on the Thames river, cruising along the iconic landmarks of London. Bateaux London's fleet includes two boats: the River Room and the Glass Room. They are both designed for fine dining and available for exclusive private events. It can hold 220 guests for gala dinners, standing receptions, wedding parties, BBQ-inspired buffets, and more. Both the river cruises boast of an exclusive menu spread wherein guests can luxuriate with either a Gold, Silver, or Platinum dinners, with Platinum at the top promising the elite experience of the voyage, as it serves up dishes from the seasonal five-course à la carte menu complemented by free-flowing selected wines selected by the team.
The Bateaux London Glass Room comes with a floating elongated that has been lauded as one of the most beautiful glass-roofed boats designed by the UK-based research design studio, Tom Dixon. This design studio has been a pioneer in quality design and futuristic design thinking. The interior of the glass room strike a perfect balance between classic and modern interior decor. The menu is a modern take on British classics. Along with a wide choice of cocktails and selected wines, live jazz flows through the atmosphere.
Also read: 3 Uber Luxe Cruises To Explore South Asia's Most Captivating Diving Spots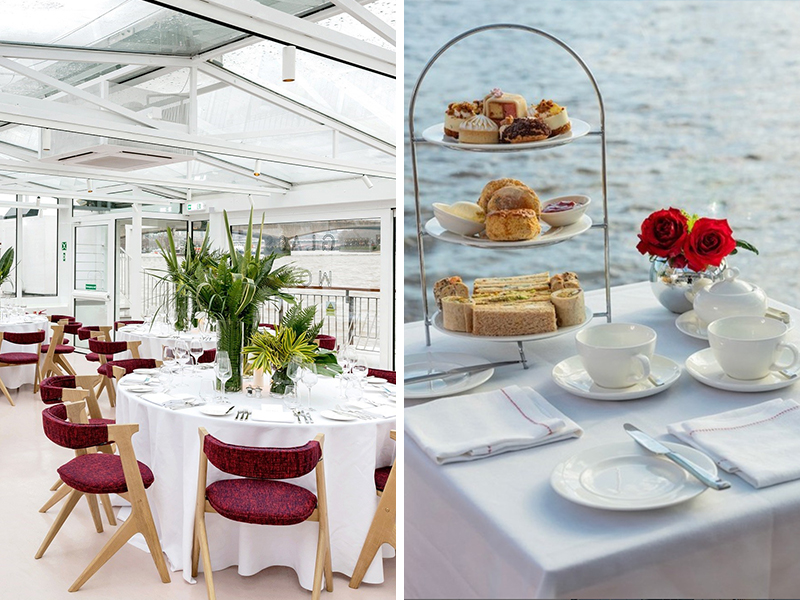 Food is half the reason we travel to gastronomic destinations. We find the best restaurants and culinary experiences not only bring out the regional specialties but they're inextricably tied to a place's history and customs, providing fascinating cultural insights. Food also unveils the story of a rich terroir. Hence we take it as a gospel when Anthony Bourdain says "I think food, culture, people and landscape are all absolutely inseparable."