5 Must-See Installations Celebrating Big Ideas In Small Buildings At The Dubai Design Week 2023
16

Nov

'23

10:04 am

by

Vruti Desai
Marking a milestone – the 10th Edition of the Downtown Design Fair showcased Dubai's commitment to creativity and innovation. Art and design came alive in the Middle East's most significant design event from November 7 – 12 to witness an array of creative disciplines featuring both emerging talents and stalwart brands. This year, Dubai Design Week at the Dubai Design District (d3), focused on regional designers showcasing their work to an international audience while providing a platform for critical discourse and encouraging a responsible design approach to shape the environment.
The design centre came to life with enchanting and immersive life-size installations and interactive experiences. Each initiative at the festival emphasised the use of new and more environmentally responsible materials and sustainable design practices. Design Pataki compiled a list of some of the most captivating installations at Dubai Design Week.
Derived from the indigenous palm tree, the 2023 commission of the 'Abwab: Of Palm' translated as 'doors' in Arabic by the Emirati architect Abdalla Almulla, serves as a platform to emphasise creative and methodological visual exploration, which is thematically remodelled each year to reflect the regional context.
Also read: 5-Middle East Museums That Are Redefining The Cultural Scene In The Gulf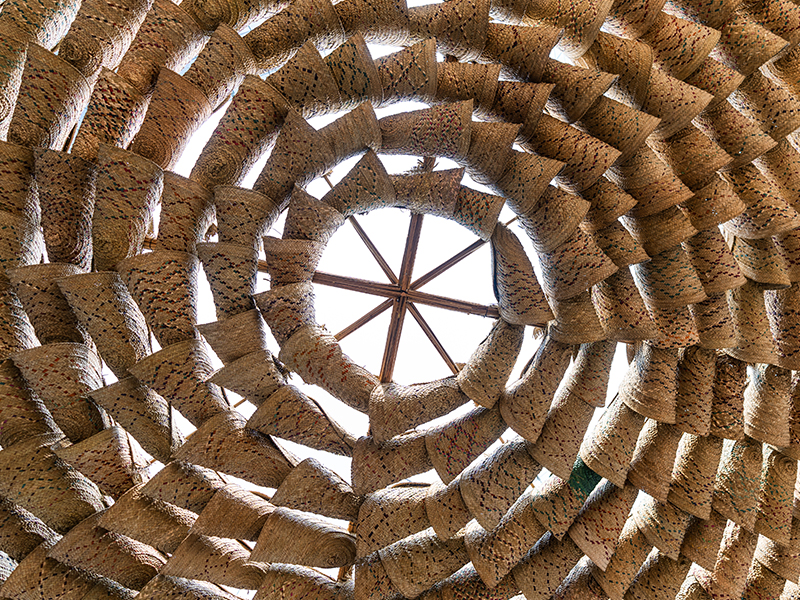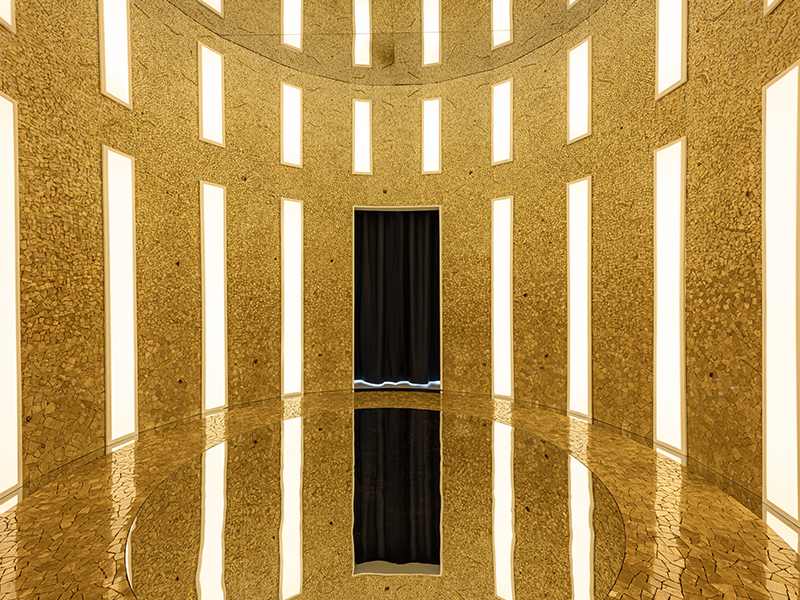 1. 'Carved In The Now' By AB+AC Architects
This handcrafted multi-sensorial and-crafted walk-through installation by Lisbon-based Arianna Bavuso and Andre Chedid marks the visitors' entry at the fair. Built as a large-scale kaleidoscopic room, it creates the illusion of a tower with multi-faceted perspective mirrors featuring a section scooped from the cave. Demonstrating a reflecting chamber and a muted colour palette of tiles, the installation emanates an almost spiritual experience of joy and serenity from the floor to the ceiling. Re-imagining the ancient craft of mosaic art and transforming the space into a contemporary and ingenious work of art, the architects made their debut at the design festival with a fresh and innovative approach to mosaic artistry.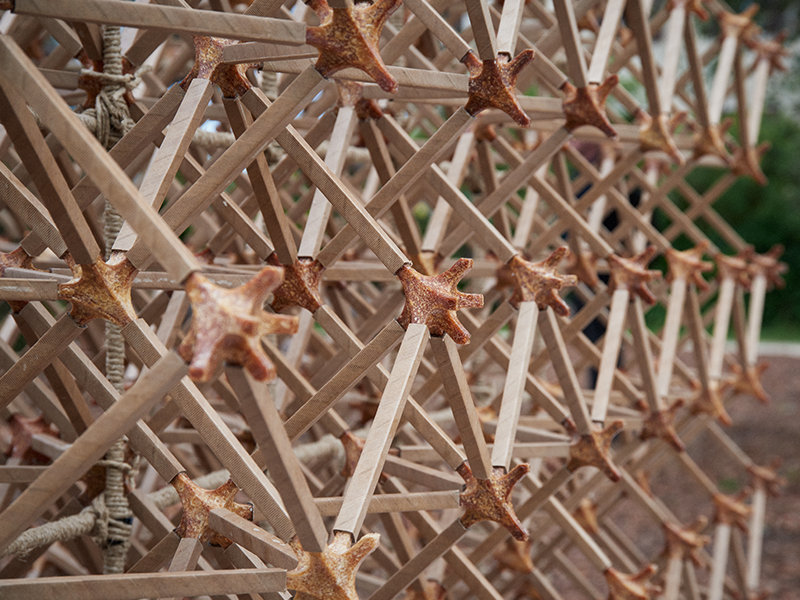 2. 'Arabi-An' By Mitsubishi Jisho Design Inc.'
A unique approach to attributing warm gatherings, 'Arabi-An' is a remarkable work of architecture animating a Japanese Tea house – made entirely from food waste. As a part of the universal series of 'teahouse', Mitsubishi Jisho Design depicts mastery of innovation, engineering and craftsmanship. With its distinctive concept, the installation is adaptive, resource-efficient and sustainable. The tea bags and raw materials, like grapes, peas, and pasta, form the structural joints, while the components can be disassembled and reused to create new furniture. In addition to sustainability, the layering of these structural members using the Origami method enhances the quality of space, light, and circulation within the installation. 'Arabi-An' authenticates socio-economic originality by promoting intercultural dialogues with renewed definitions of warmth and human connections by hosting tea ceremonies for visitors.
Also read: The Global Indian Edit : 3 Sought-After Designers In Dubai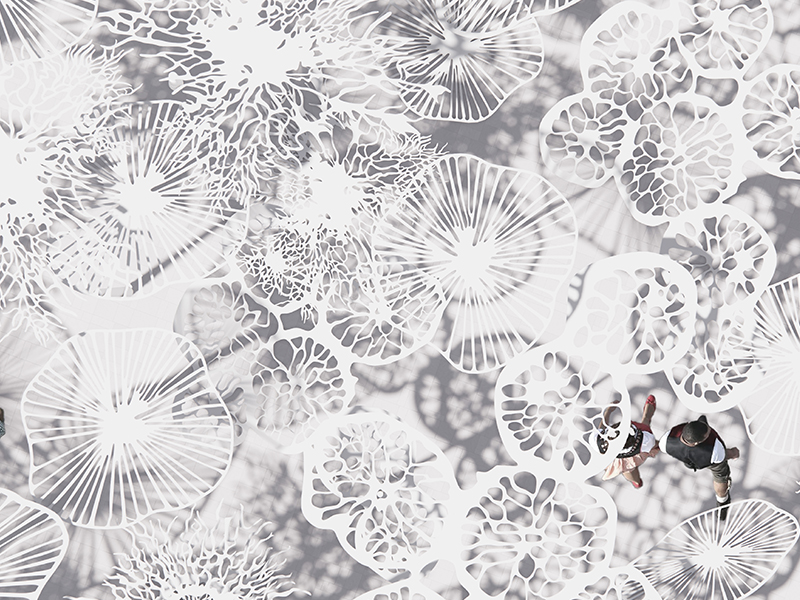 3. 'Shaking Sanctuary: Urban Shade' By Nngg Studio
Shaking Sanctuary is an immersive experience honouring the resilient species of the Middle East desert by nngg Studio. Reminiscent of a forest, the installation creates a tranquil urban shelter which integrates flexible pods that influence, respond to, and engage with the visitor's movement. Beyond just creating a responsive environment, 'Shaking Sanctuary' draws inspiration from UAE's local vegetation, using them as canopies that cast beautiful and intricate shadows. The pavilion intends to promote more sustainable and green spaces in an urban context, celebrating the coexistence between nature and man while offering an authentic and natural trail in the hustle of the city.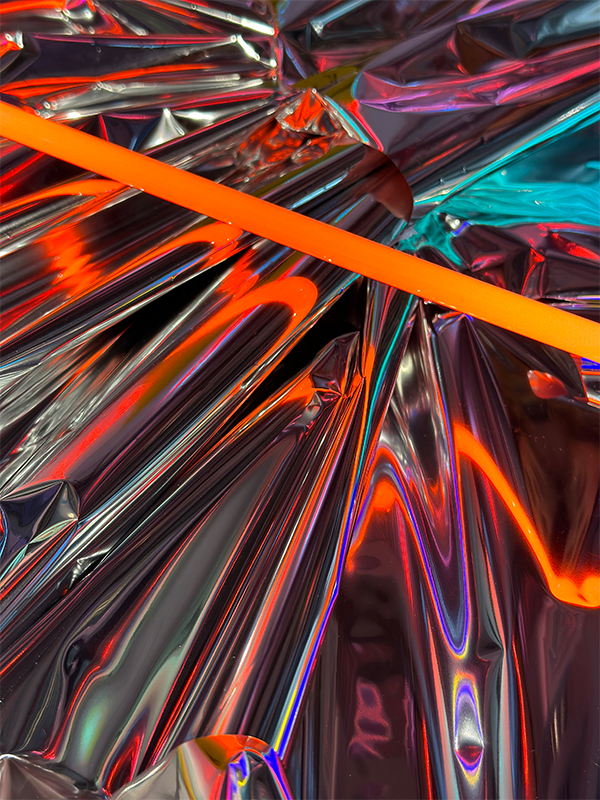 4. 'Prismatic Dreamscape' By Vertical Design
A vivid display of energy and existence, conceptualised by synchronising shapes, colours, and a curated play of light, 'Prismatic Dreamscape' is an unusual installation. Vertical Design crafts its idea in two slender glass structures, each embodying contrasting elements that converge to create an exceptional sensory experience. Blurring the boundaries between the grounded and the infinite, one of the twin installations evokes the earth's energy while the other captures its boundless space. The interplay of dancing lights and lines reflects the wonders of the universe that create a transcendental experience with contrasting features in a luminous dreamscape.
Also read: Dubai's New AYA Universe Promises A Futuristic Light And Sound Park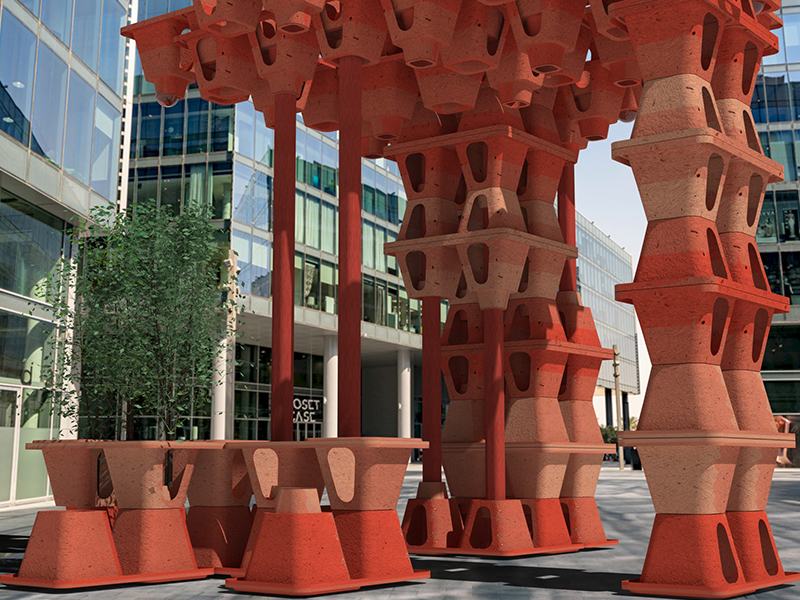 5. 'Pulp Fractions' by TEE VEE EFF
Salvaging discarded waste like paper bags and delivery boxes, 'Pulp Fractions' is a regeneration of packaging material. In light of an increase in consumerism and its consequent impact on the environment, Dubai-based architecture and interior atelier, TEE VEE EFF attempt to reverse the adverse effects of paper waste by creating light, stackable, and adaptable structures. Pressing the paper pulps into custom moulds to develop versatile porous modules allows flexibility of form and function to create an exciting play of shadows.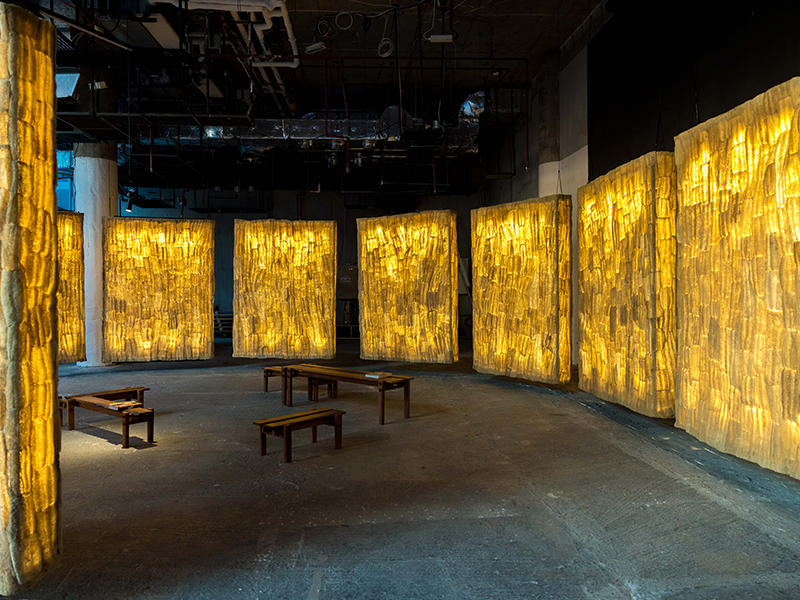 This year DDW focuses on both social and artistic progress, a more holistic approach to design. The festival truly celebrates design in all forms while exploring technological advancements and innovation that demonstrate convergence to demonstrate eco-conscious and creative practices. Moreover, the entrance fee to Downtown Design Fair 2023 is being donated to the Emirates Red Crescent, and the Art Dubai Group has offered to match the total funds raised for relief efforts in Gaza.