The Global Indian Edit : 3 Sought-After Designers In Dubai
3

May

'23

5:58 pm

by

Sneha Shah
Dubai, a modern cosmopolitan, has continuously enthralled the world with a plethora of design innovations and experimental aesthetics. It is home to accomplished architects and designers with unique visions and skill sets. Bearing Indian roots, with a fundamental role in creating a design canvas for human experiences to come forth, Pallavi Dean, Pooja Shah-Mulani, and Dina Murali have made a mark in the region through their superlative craft. For this piece, we bring you insights into the three women's prolific practices that reflect luxury and sophistication on a global level –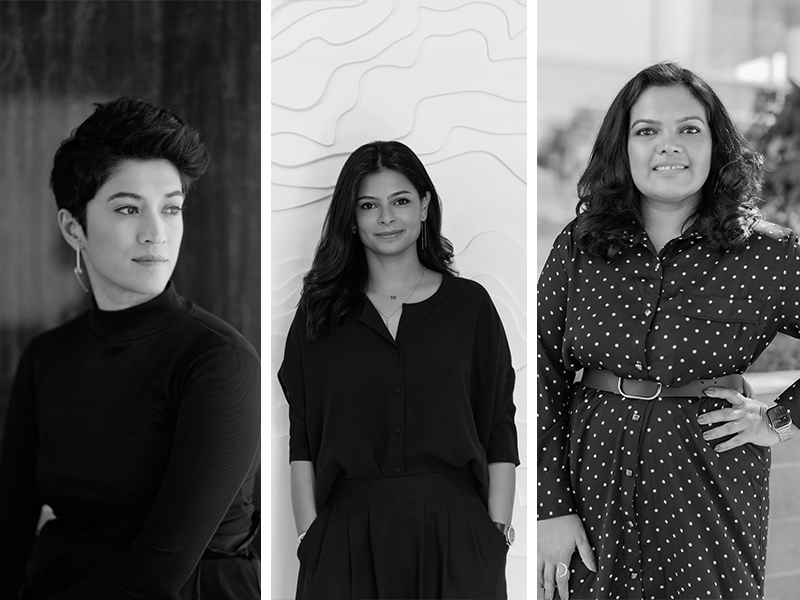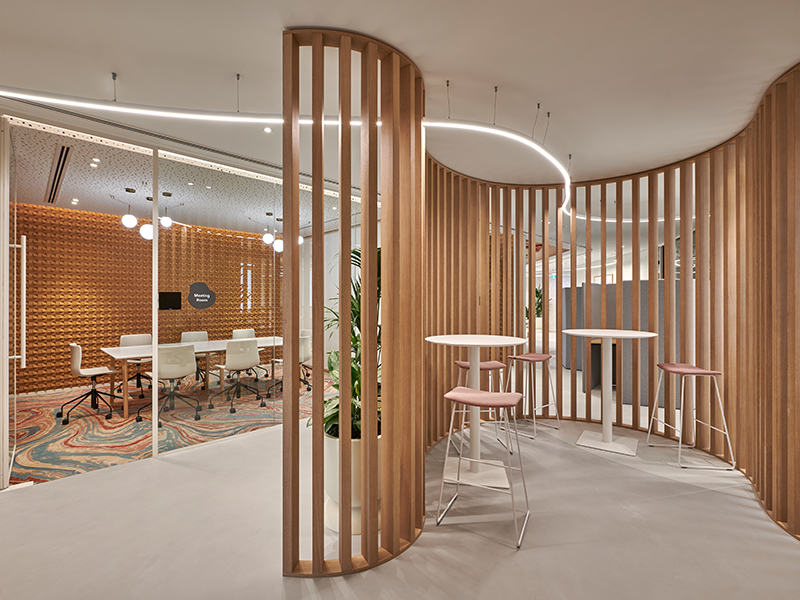 #1 Pallavi Dean, Creative Director and Founder of Roar
Born in India, raised in Dubai, and working in London for years has lent a unique multicultural influence to Pallavi's designs. A trained architect and sustainability specialist, Pallavi has won multiple awards across a range of sectors. In 2013, Pallavi launched Pallavi Dean Interiors, which was rebranded as Roar in 2018. At Roar, there is no definite design style, but a design philosophy – 50% wild through artistic flair, and 50% tame through an evidence-based approach. The projects of the multidisciplinary studio range from commercial and retail spaces to hospitality, educational and residential too.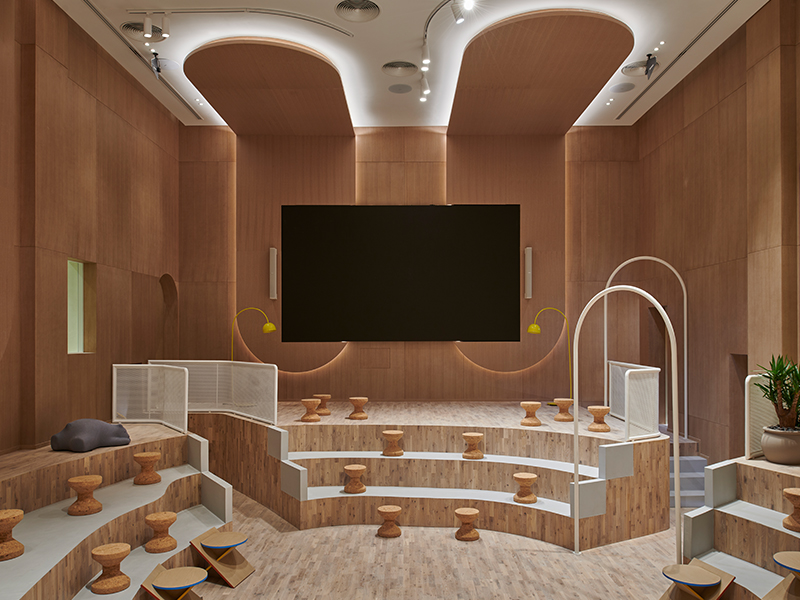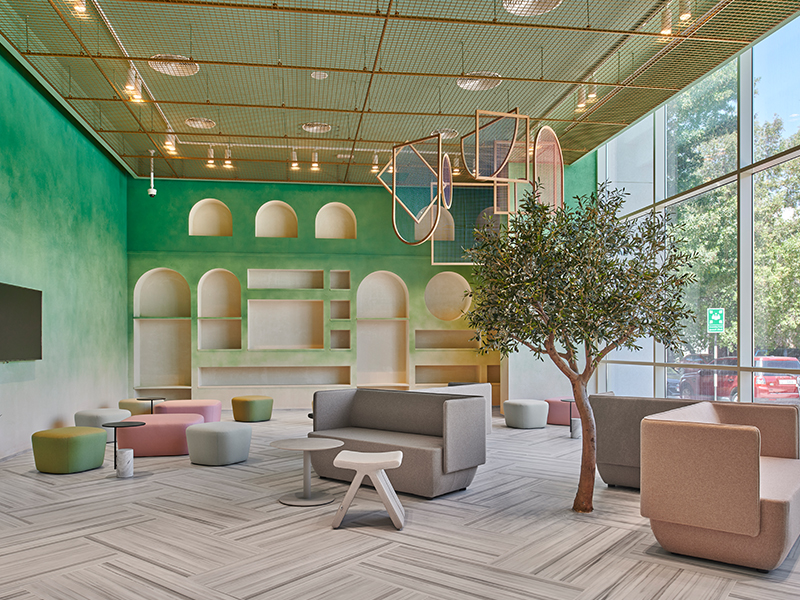 From a set of recently completed projects, Roar has designed the Abu Dhabi offices of UAE's Supreme Council for Motherhood & Childhood (SCMC), an organisation that aims to promote welfare and development for all mothers and children in the region. The interiors infuse playful energy across the three floors of the building, with each level offering a unique experience. "A number of patterns and morphologies have been used throughout to create distinct pockets of functionality and pivotal moments within the space. The outcome is a workplace for education professionals to do their job – from deep, solo work to collaboration – but with a dynamic vibe," explains Dean.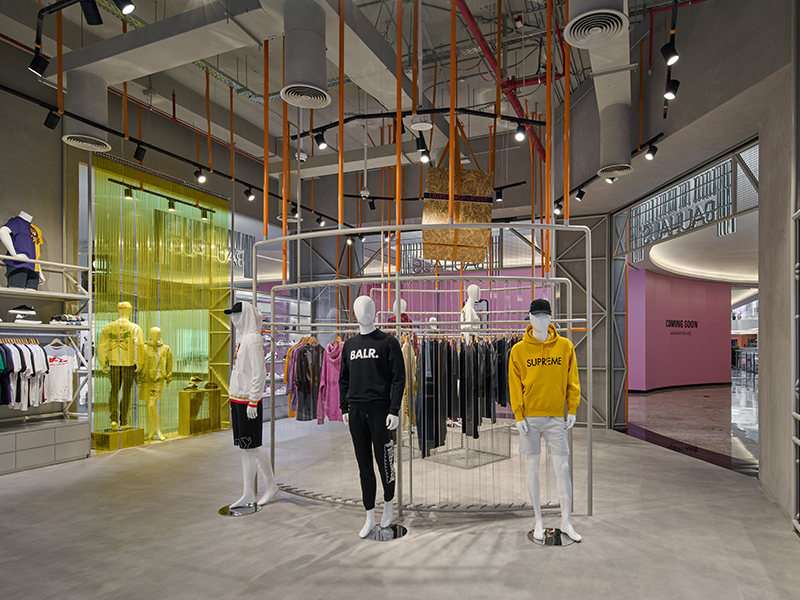 The flagship store of Dubai's street-fashion brand, Bauhaus, takes its inspiration from the brand's home-shopping experience, particularly the packaging of the delivery boxes emblazoned with bright orange security straps and scanning barcodes – the barcode motif also features in the brand's logo. In the shop, this manifests as key design interventions – the lighting, as well as selected product display units, are suspended from the ceiling using radiant orange straps.
Also Read: New In Dubai – La Nena Embraces Galician Craftsmanship And Earth Tones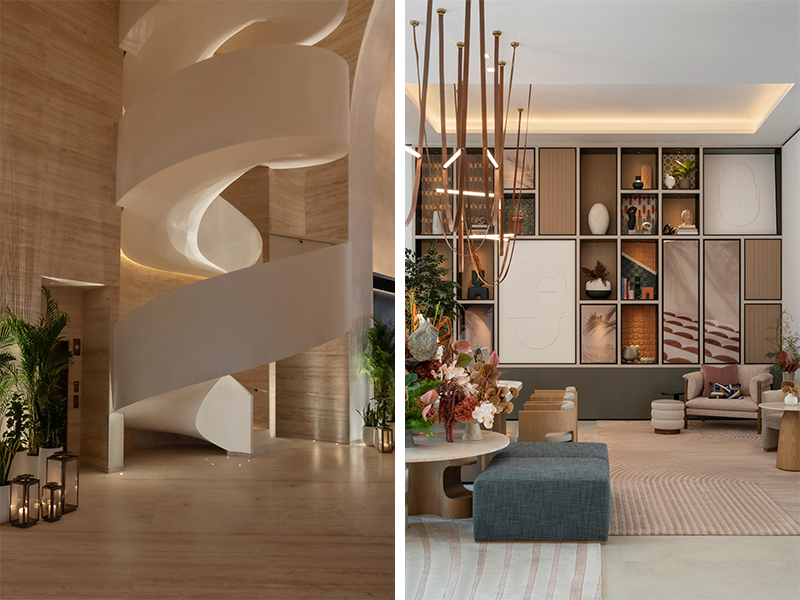 #2 Pooja Shah-Mulani, Partner and Design Director at LW Design Group
Endless possibilities across the design landscape are what attracted Pooja to a life of creativity, innovation and design. Her style is best described as chic, contemporary and fun that is centred around a passion for storytelling for each space. With an Indian heritage and a decade-long journey at LW Design, primarily within hospitality, Pooja distills certain elements from her multicultural roots that become her main source of inspiration for projects; striving for authenticity and unparalleled commitment to exceeding client expectations.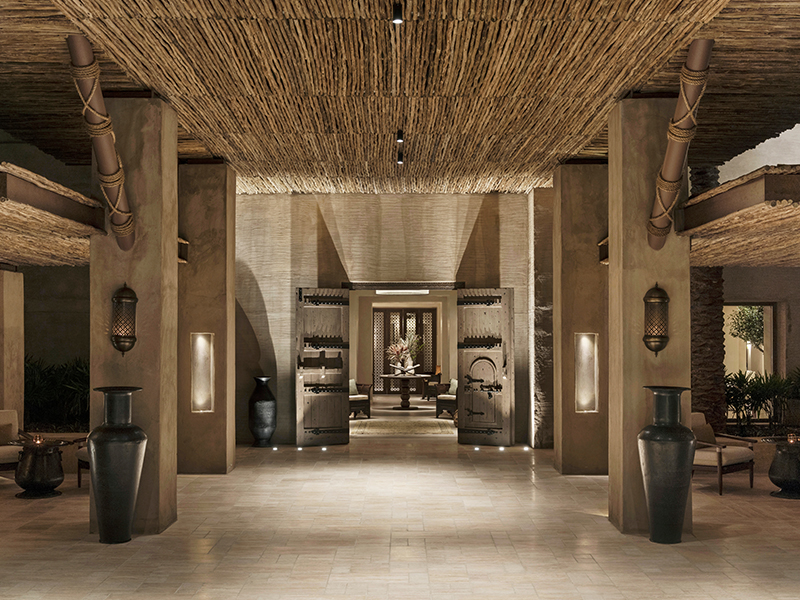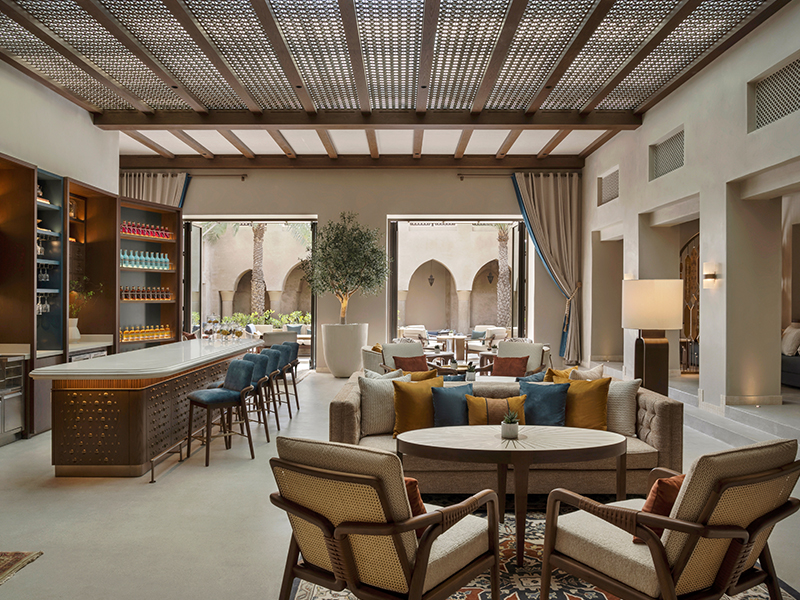 With the refurbishment of Bab Al Shams in February 2023, LW Design has preserved its legacy as the longest-running desert escape in the United Arab Emirates. The overall fabric of the design is a seamless blend of contemporary Arabic elements and sustainable heritage. Spearheading the interior design team, Pooja conceived a restrained palette of materials that marries the barasti-style canopies, adobe walls, and columns with the existing vernacular-inspired architecture.
The flooring of the guest rooms and suites is retained with micro-concrete, integrating indoor and outdoor spaces. Each bedroom has high ceilings detailed with timber beams and a feature ceiling fan; a carved vanity with mother-of-pearl inlay, bright upholstery in modern Arabic-inspired patterns and spacious bathrooms beautifully clad in marble mosaic. All the F&B outlets show traditional elements such as arches with rattan details, punchier tones in terms of colour palette, handcrafted pendant lights and bars treated as focal points.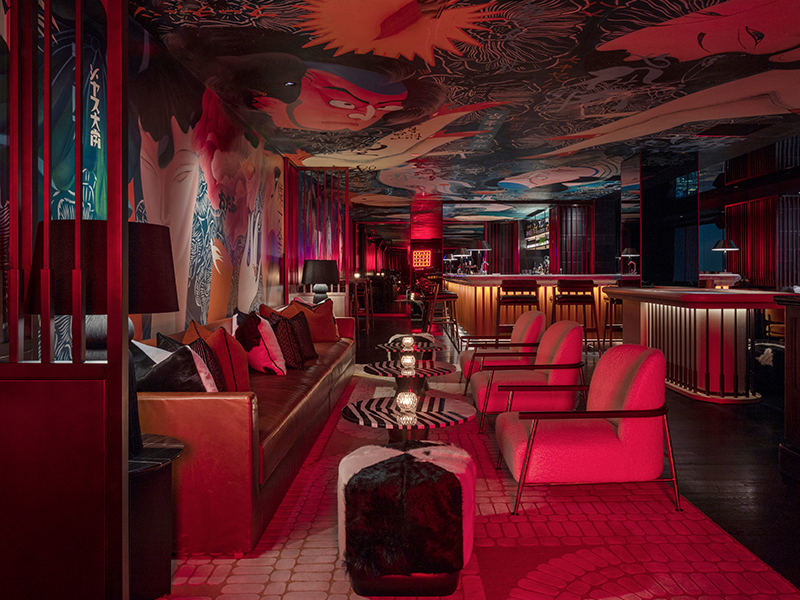 Through 7 Tales, Pooja delivers a playful, immersive and authentic space that brings the nightlife of Tokyo to Dubai. It is a speakeasy cocktail bar where guests can experience urban Japan with a New York twist. Inspired by Japanese culture, the bar has a playful and innovative approach to beverages which is described as an 'Izakaya-styled speakeasy bar'. A glowing lacquered orange bar carved out of solid oak panels takes centre stage while captivating canvases adorn the walls and ceiling.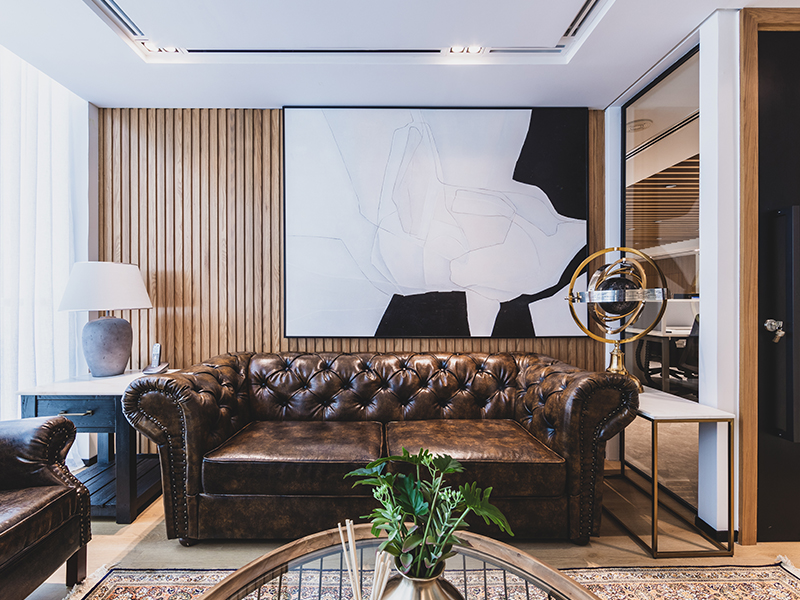 #3 Dina Murali, Design Director and Founder of DZ Design
Dina Murali is the founder and visionary behind DZ Design, a premier luxury interior and architecture studio located in the heart of Dubai's Design District. With a focus on delivering exclusive luxury living experiences for the hospitality and residential sectors in the MENA and African regions, her award-winning design studio offers unique, bespoke solutions that blend creativity, comfort and stylish sophistication. Dina brings valuable experience in telling authentic and compelling stories through design and creating spaces that always put people first.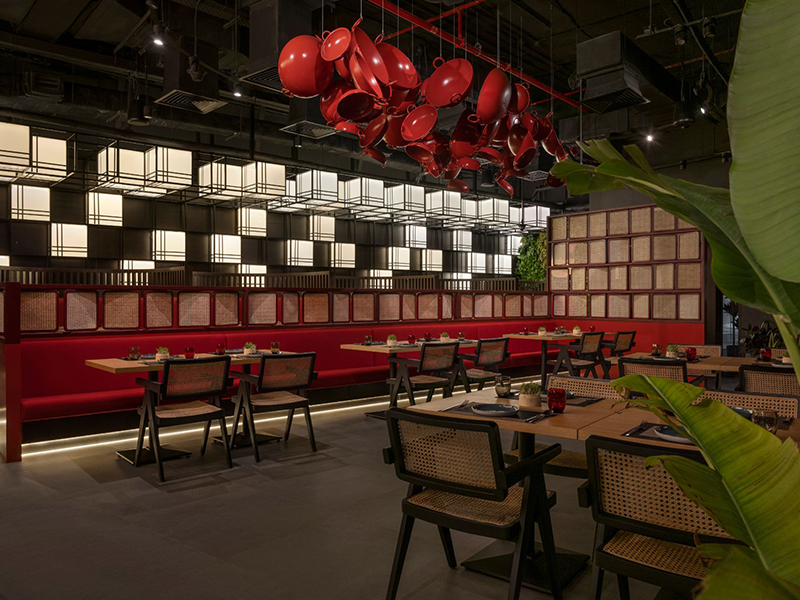 The design of Mogao, an Asian-cuisine restaurant is centred around a display of wok and bamboo steamer. As one of the key design features, the cluster of vermillion-coloured woks is suspended from the ceiling in the centre of the space. Cane furniture with green walls is derived from the concept of the original silk route from where the cuisine takes its inspiration.
Also Read: Sabyasachi's Largest Flagship Yet Features Over A 100 Chandeliers, 18th Century Chairs, And More