Amadeo By Oberoi At NMACC Boasts Four Cuisines Under One Roof Complemented By Curated Cocktails
23

Aug

'23

2:42 pm

by

Sana Krishna
In case you have ever wondered, "What's in a name?", the name Amadeo has drawn inspiration from the Latin term 'Amadeus', which is symbolised by the love of God.
This culinary abode is the latest independent restaurant by the Oberoi that offers meticulously prepared dishes by Executive Chef Kayzad Sadri and his team. Going beyond borders through a gastronomic escapade, yet not blurring them, the Amadeo team has crafted an almost-theatrical experience at the live kitchen counters plating up Indian, Italian, Chinese and Japanese cuisine, all independent of one another.
Sprawled over 14,600 square feet at the Nita Mukesh Ambani Cultural Centre, Amadeo is a space that blends a casual café and an impressive restaurant seamlessly, yet distinguishing the two from one another. Overlooking the Fountain of Joy, the tall glass panels embrace this stunning space designed by EDG Singapore.
Also read: New In Delhi: Restaurants Inspired By Japanese Izakaya Bars, Tuscan Dining And More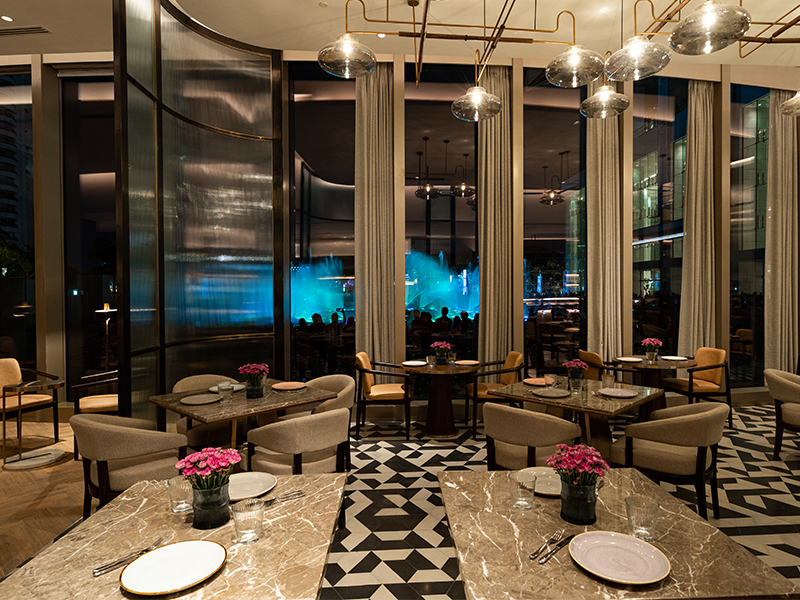 On stepping foot into the luxurious expanse of Amadeo, you are greeted with a quaint café at first: coffee, macarons, pastries and more. A stroll through the café will take you to a large wall of wine bottles. The main seating area boasts views of the Fountain of Joy, offering the onlooker a visual treat of light and water that sway together in perfect motion. EDG Singapore has carefully curated the design of this space with a vision to marry tranquillity to drama – opposites attract, clearly.
The restaurant morphs from a bright and airy space during the day to an ambient and intimate one exclusively for the evenings. The tables are spot-lit and the decorative lights create an illuminating glow. Although the warm contemporary ambience with delicate touches boasts soft glam, it is inviting. Wooden elements and planters lend a homely feel. The layout is open and the aesthetic overall is pleasing to the eye. The dining space area is separated by fluted glass panels and the counter-side kitchen sections are the icing on the cake as you can sit, chat with the chef and watch how your food is prepared. If you prefer privacy, there's a private dining room that can accommodate up to eight people.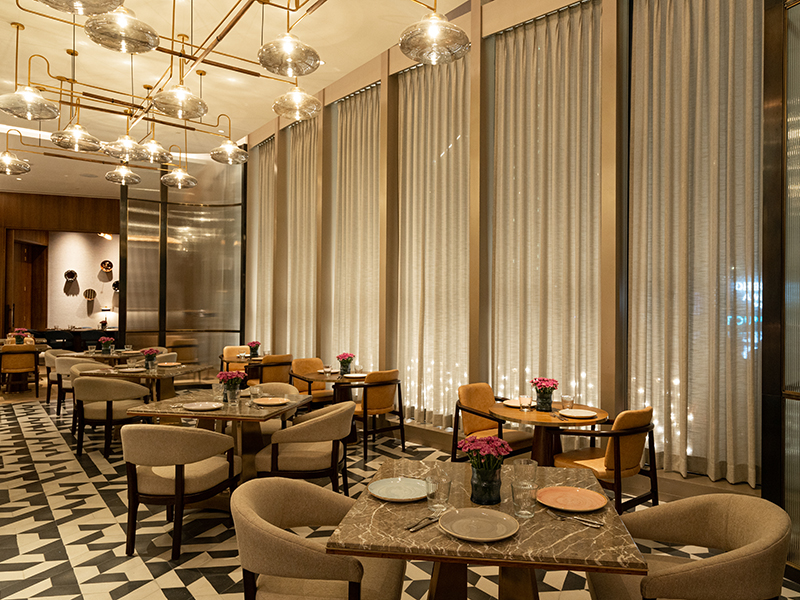 Running a tight culinary ship, Executive Chef Kayzad Sadri aims to please different palates by offering four diverse cuisines – Indian, Italian, Chinese and Japanese. Having said that, Food and Beverage Manager, Alisha Rampal, stresses on the fact that she does not consider this a "multi-cuisine" restaurant. "You will not find things like soups, burgers, dim sums, black dal or butter chicken on our menu. There are far too many restaurants doing that. We only focus on select dishes from each cuisine", says Rampal.
From West-Indian specialities to handmade pasta, from Chinese wok preparations and bao buns to sushi and grills – pleasantly surprise yourself with art plated up by the chef and his team. Everything arrives onto your plate in style. Goat cheese ravioli rests comfortably on a bed of kale sauce with a sprinkle of crunchy walnuts to add another layer to tingle your taste buds. The purple potato chaat is accompanied by almond kachumber and pomegranate: a popular choice. For the lovers of meat, there's a scrumptious plate of chicken pieces that are smeared with spicy thecha (a famous homemade flavouring of Maharashtra consisting of green chillies, garlic and peanuts) grilled on high heat to perfection. The menu here also includes a swirl-creamy truffle tagliatelle, 'make-your-own' bao and wood-fired pizzas. Top off your meal with the decadent saffron kulfi.
Also read: 7 New Restaurants In Goa: A Sussanne Khan-Designed Space, An Experimental South-Indian Outpost, And More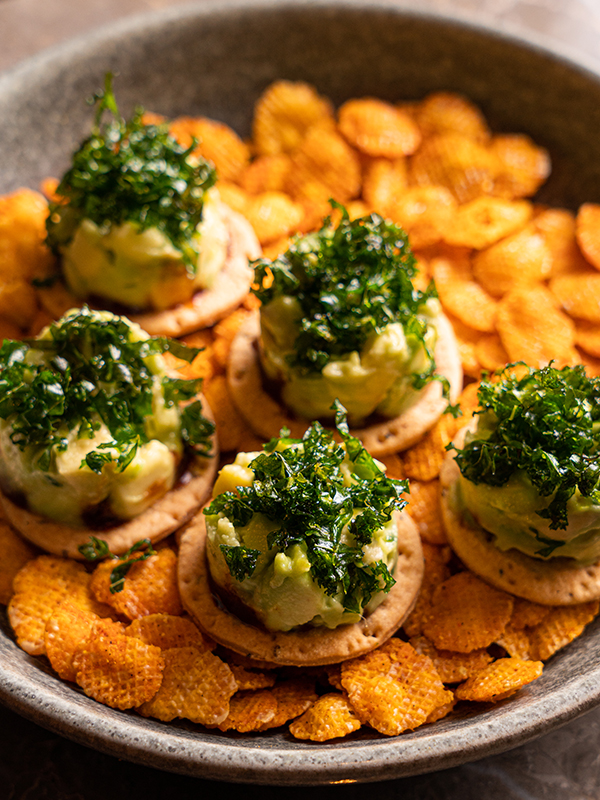 Speaking of spirits, the drink menu at Amadeo is competitive with the food menu. The choices to explore here would be any umeshu (plum wine) based cocktail or something with the Fuji San white rum. The rum is presented in a blood-orange avatar with crushed ice crystals gleaming through the glass. There's a Warli: this drink is tequila based mixed with coconut water and chilli cordial. It is served in an aluminium/steel-like container with a Warli (tribal art from Maharashtra) motif painted on it. If you're more conventional, choose a classic wine from the extensive list.