6 Standout Installations At The London Design Biennale 2023 – #DPReviews
9

Jun

'23

3:50 pm

by

Tanvee Abhyankar
The prestigious global event of London Design Biennale is back with the best of contemporary design from around the world. Led by Dr Christopher Turner, the biennale continues to serve as a platform for designers, artists, and innovators to come together and present their groundbreaking ideas and creations this year as well. With its diverse range of exhibitions, installations, and thought-provoking displays, the biennale offers a unique opportunity to explore cutting-edge developments in design, architecture, technology, and more. It is a hub of creativity, innovation, and cross-cultural exchange, where visitors can immerse themselves in the exciting world of design and gain new perspectives on the future of our built environment. With this year's theme 'The Global Game: Remapping Collaborations', the biennale takes place between the 1st and 25th June at London's working arts center and home to the UK's largest creative community, Somerset House. Built on historic foundations, the location is situated in the very backdrop for art and enthusiasts.
Here are Design Pataki's top picks from the biennale, straight from Somerset House!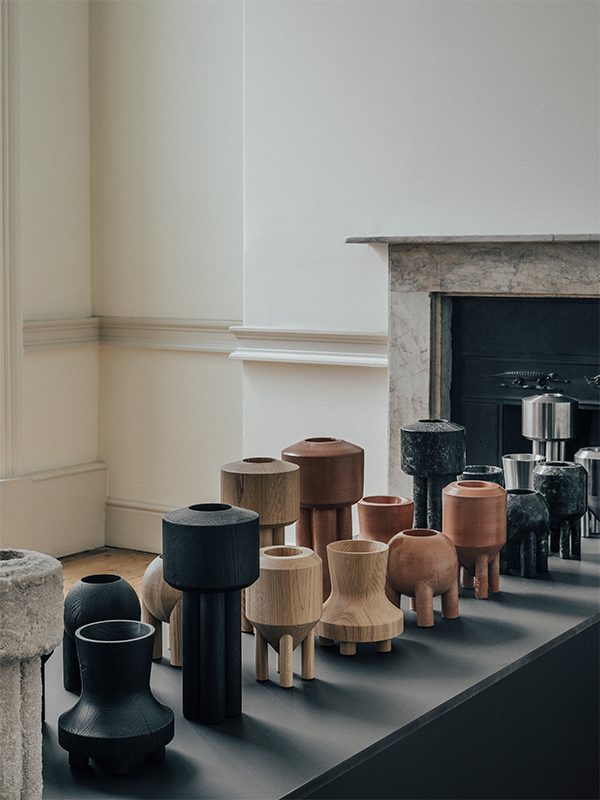 #1 The Darkest Hour is Just Before Dawn in the Ukrainian Pavilion
Faina founder Viktoria Yakusha, Nottdesign's Sergiy Hotvianskyi, and Kateryna Sokolova of NOOM Design Studio form a creative alliance that speaks the universal language of world peace, progress and life. The installation presented by the trio in the Ukrainian pavilion demonstrates the connections between modern Ukrainian design and its past cultural traditions. It also studies the relevance of intercultural communications by means of art.
As a crucial communication hub between the West and East, Ukraine has fostered cultural exchange, collaboration, and innovation throughout its history. However, the ongoing full-scale war since 2022 has disrupted communication channels, presenting challenges for Ukrainian designers. Despite resource shortages resulting from the conflict, these designers, known for their agricultural expertise, are determined to showcase their ability to collaborate effectively with the democratic free world. They persevere in bringing their boldest design concepts to life, even in the face of adversity and blackout conditions. With 'The Darkest Hour is Just Before Dawn' Ukraine not only presents new communications between the country's potentials, but also reflects a sincere desire and ability to interact with gratitude and interest for the sake of humankind.
Also Read: Yayoi Kusama Unveils Her Largest-Ever Exhibit At New York's David Zwirner Gallery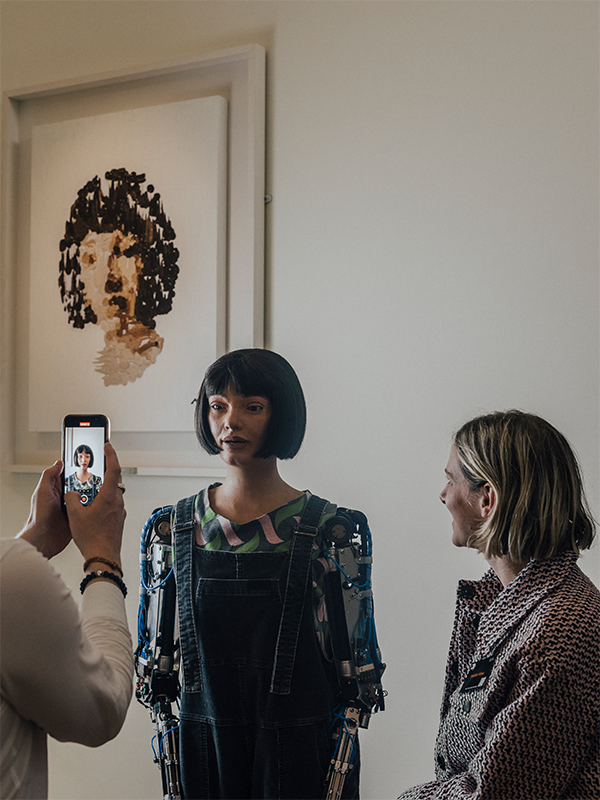 # 2 Ai-Da's AI Mind Home
At the London Design Biennale 2023, a historic moment has unfolded, and it is none other than Ai-Da who has achieved it! In line with the global experience, Ai-Da, the world's first humanoid robot, utilized her spare time during the lockdown to employ artistic AI algorithms in creating a collection of mugs, vases, plates, and cutlery.
"It is imperative that we as a society consider the implications of increasingly powerful new technologies. I hope my designs stimulate this discussion," says Ai-Da as she speaks of her presence and necessity. She further adds "My work explores the relationship between humans and technology, specifically how people interface with machines on a daily basis. I ask viewers to consider how our reliance on technology is impacting our daily lives, now and in the future. My hope is that by sparking dialogue around these questions, we can challenge potential negative uses of new technologies. AI is a hope and a danger."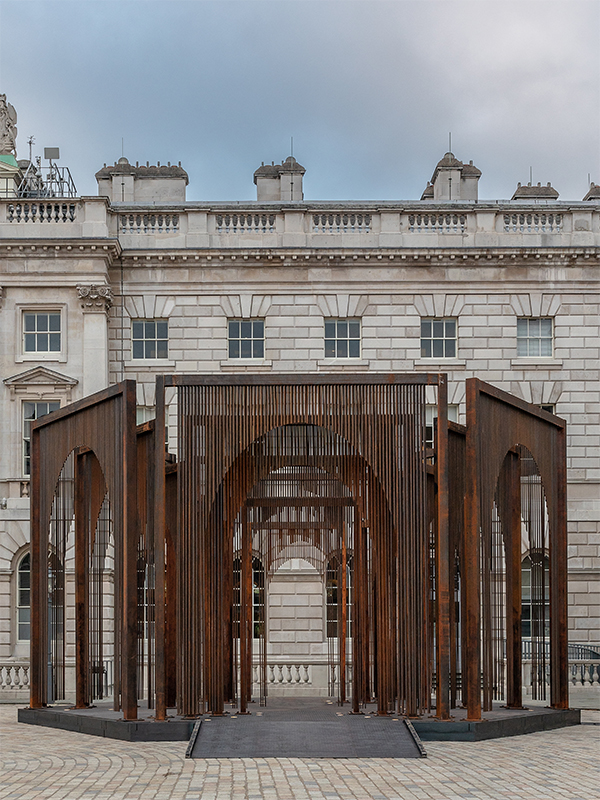 #3 Turkey's OpenWork
A captivating realm of Turkish art and culture is showcased at OpenWork. Turkish artists Melek Zeynep Bulut and Celâleddin Çelik transcend conventional boundaries, blurring the lines between visitor, installation, ground, time, power, and boundaries. Their groundbreaking exploration delves into the historical significance of borders and social hierarchies. Witness their unique perspective on thresholds, which were once symbols of enlightenment but have now become entangled in the complexities of global chaos. The Turkey pavilion raises awareness of humanity's present threshold, offering an invitation for contemplation and meaningful dialogue.
Abstract and metaphorical 'gates' and 'liminality' resonate, exploring themes of displacement and exchange. These creations symbolize shifting power dynamics and the deconstruction of societal structures. Engaging in this experimental game, visitors encounter an unpredictable fusion and a glimpse into a new reality.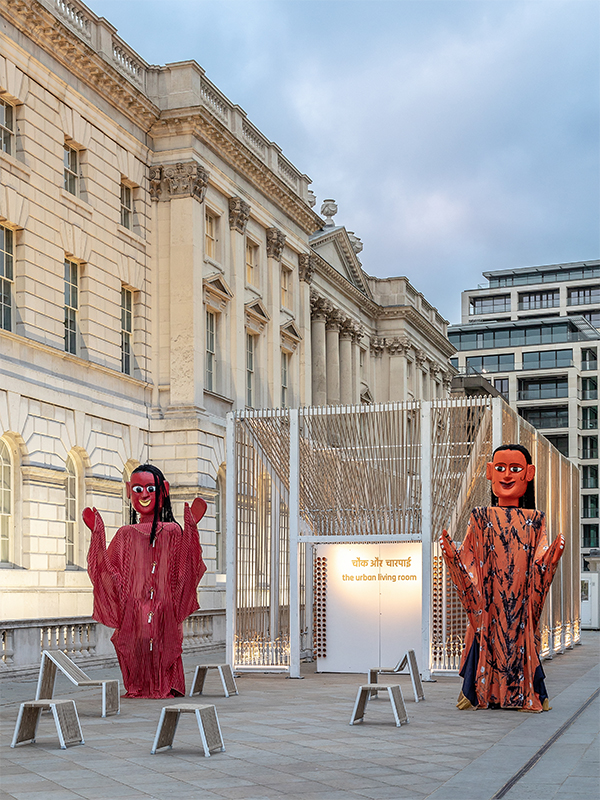 4# India at Chowk & Charpai: An Urban Living Room
India explores the realm of urban spaces this year, embracing vibrant hubs where societies converge. These spaces strive to fulfill functional needs while nurturing collective exchange, all while safeguarding the distinct character and identity of the city. Nonetheless, the rise of globalization has introduced the prevalence of global brands in public spaces, presenting obstacles for local sellers and artisans and contributing to the uniformity of central meeting and trade zones across the globe.
At the London Design Biennale, the Indian Pavilion titled "Chowk & Charpai: An Urban Living Room" ingeniously captures the spirit of a modern Indian street market, known as a chowk. This remarkable installation is the brainchild of Sourabh Gupta and Harsh Chouhan from Archohm, in collaboration with Mridu Sahai Patnaik and Vatsal Agrawal from The Design Village.
The interwoven charpai creates a street square of light and shadow, fostering chance encounters. This installation engages the senses and showcases the adaptability of Indian urbanity in dense landscapes. The chowk embodies resilience, endurance, and the plural paradoxes of Indian society, representing democracy, autonomy, ego, humility, hope, and pride. It stands as a genuine expression of India's eloquence.
Also Read: The Offbeat Sari Is London's First Large-Scale Exhibition That Examines The Contemporary Indian Sari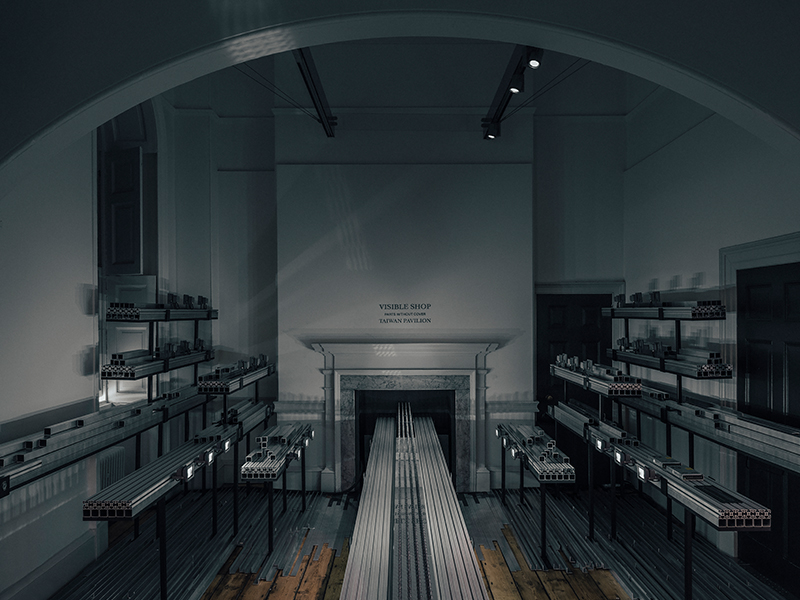 5# Taiwan's Visible Shop
Situated at the convergence of Northeast Asia and Southeast Asia, Taiwan is a compact island heavily dependent on exports. Recently, the pandemic has showcased significant operational advantages of Taiwan's short supply chain economy. The Taiwan Pavilion honors this resilient spirit and expertise, recognizing the nation as a vital trade hub and a crucial component of the global manufacturing supply chain.
Ling-Li Tseng, Chia-Shu Wang, Hsien Chen from Serendipity Studio, together with Chung-Han Yao, Jui-Pin Tseng, and Ling-Wei Chang from Loudly Lightning Studio, have collaboratively crafted a captivating installation known as the Visual Shop. This artistic endeavor pays tribute to Taiwan's vibrant and creative economy, characterized by numerous small and medium-sized enterprises. Within the installation, visitors can explore a metal supply area and a workshop, highlighting the collaborative essence that defines Taiwanese industries. The installation serves as a testament to the individuality and diversity found within the location, showcasing the vitality and dynamism of these enterprises.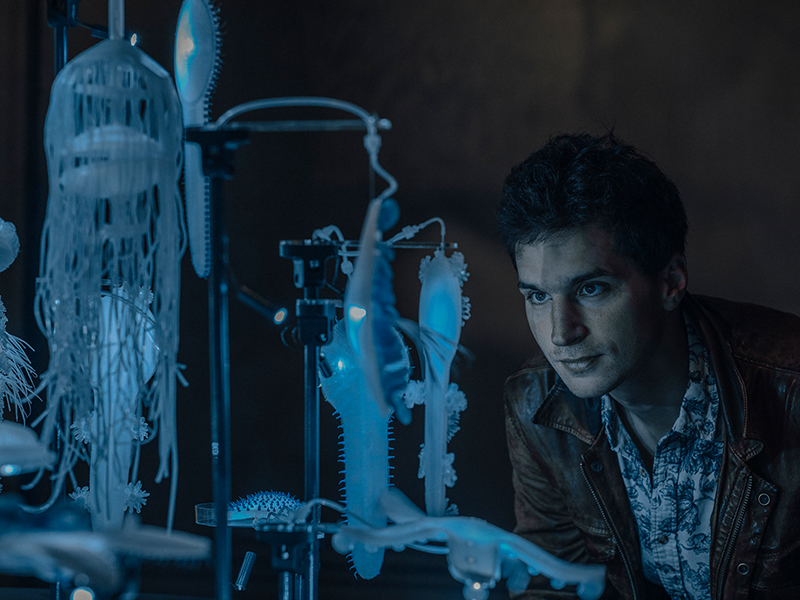 6# Automorph Network blurring Creative Differences
Curated by Arielle Blonder, "Creative Differences" explores the dynamic nature of the physical world and the relationship between time and space. Representing Italy, Israel, France, and the US, Eran Sharon, Benoit Roman, Lining Yao, Antonio de Simone, Ofri Dar, and Dominique Peysson collaborate as Automorph Network to present this captivating display at the London Design Biennale. Automorph is a diverse group of designers, physicists, and architects dedicated to self-morphing as a sustainable approach to shaping matter. By drawing inspiration from nature and studying geometric frustration, the group aims to develop self-morphing systems in different materials and scales.
The installation features undulating partitions that self-morph, evoking various imaginary environments symbolizing the land, underwater, and urban worlds. These landscapes come alive through video projections of self-shaping systems found in nature and laboratories, showcasing the creative potential of effectively managing differences to shape our future.