Bold British Luxury At This Regent's Park Apartment In London By Charu Gandhi
2

Nov

'22

8:42 pm

by

Beverly Pereira
Set behind the sweeping façade of the highly coveted Regent's Crescent, this Marylebone apartment carries every bit of flourish to match its historic status. The 4,500-square-foot residence at Central London's most desirable address is imprinted with the indelible signature of the Kensington-based architecture and design studio Elicyon to reflect British luxury at its finest.
Charu Gandhi, founder and director of Elicyon, is known to work closely with every client. Despite being unable to liaise in person due to the pandemic, the team delivered with finesse, lavishing the project with a grand level of attentiveness. For this project, communications with the client took place over zoom and Gandhi says that she had to find different ways of showcasing design details and themes. "This is much harder when we aren't able to invite the client to our studio to feel with their own hands the material and fabrics we wanted to use, and to see the play of light on the different textures," she says. The client envisioned a highly tailored but liveable space that catered to their lifestyle as a young, international family.
"

They wanted a home that was at once a social space for entertaining and hosting business meetings, as well as a peaceful refuge.

" says Charu Gandhi.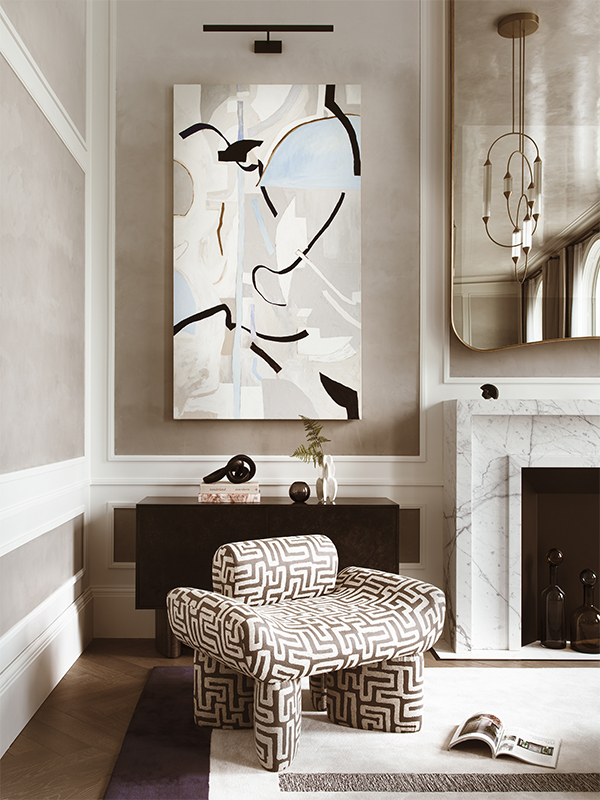 To this end, a sprawling reception at the core of this beautiful home was split into three very definitive zones – an open-plan office, living area, and dining room. Decadently layered and conferred with singular charm, each zone was crafted using a mix of hard materials and soft, playful textures and shapes to avoid monotony and flatness. A monochromatic colour palette with accents of rust, orange, terracotta, and deep rouge bestows the home with warmth and boldness all at the same time.
Also Read : Inside Churchill's Wartime HQ – A Raffles-Branded Apartment That Embraces Vintage Treasures And Bold Patterns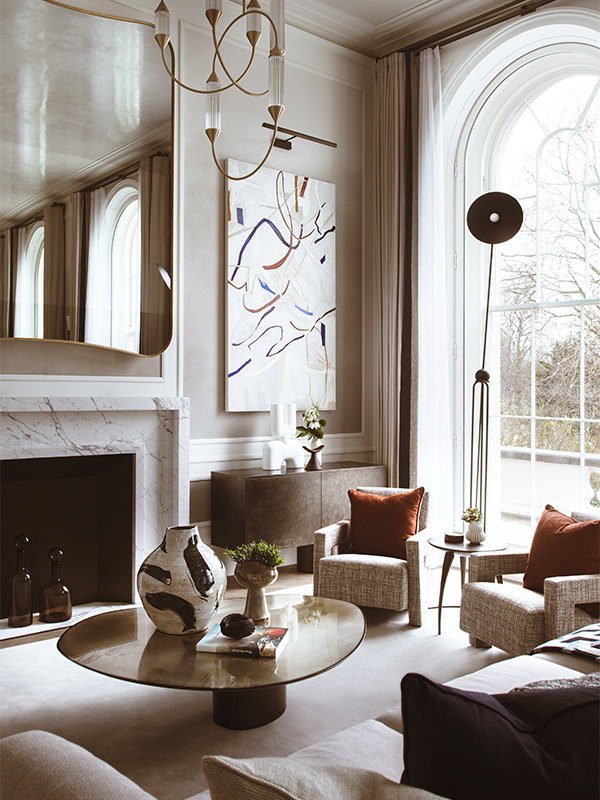 In the reception, four triple-height windows bring in natural light and verdant views of Regent's Park and its leafy surrounds. The walls in this vast expanse are gently uplifted with ombre polished plaster that really allow for the impressive height of the polished marble ceiling to do the talking. "Refined materiality is always a focus for us. The layering of textures and how we react to certain shapes and patterns within certain settings helps to tell a story and communicate the atmosphere," says Gandhi, adding that the hand-applied polished plaster ceiling lent the surface a subtle Trompe-l'oeil effect.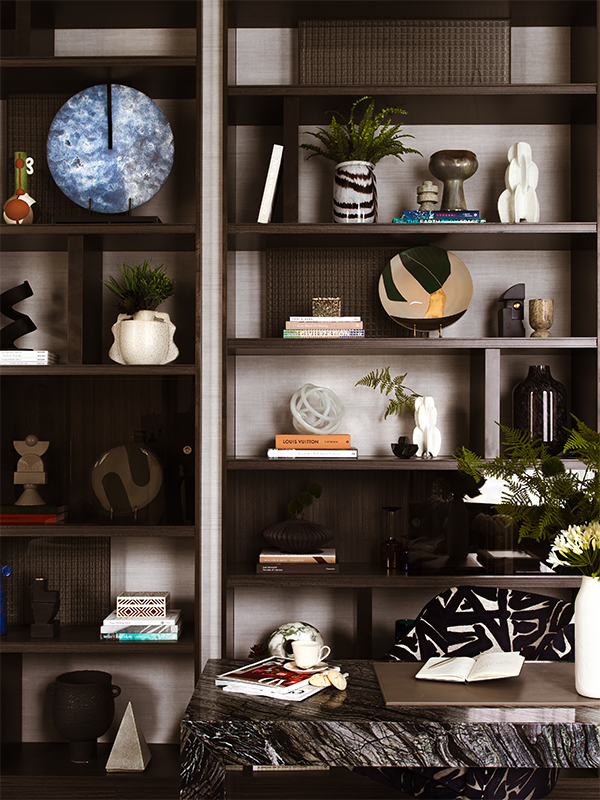 Central to the reception, a sleek black marble desk paired with a bespoke moulded office chair by Bray in patterned jacquard velvet fabric sets the tone for the office set-up. Towering behind the desk, a full-length bookcase is dotted with objets d'art including sculptures by Tom Dixon, ceramics from Clay Canoe, Artemest, and Khayni Malibu, and glass art by Surrey-based artist Adam Aaronson. Crafted with woven silk mesh trapped between glass screens and matte grey leather back panelling, the custom bookcase is an artful creation in itself.
"In this apartment, those working from home can bask in the wonderful natural light that pours in from the floor to ceiling arched windows, and find inspiration from the collection of books and objets d'art that dance between the dappled sunlight during their work day. The client has a great collection of art, especially non-figurative, so we made sure to source further pieces that were sensitive to their cultural preference," says Gandhi. "It definitely feels like the home of a collector."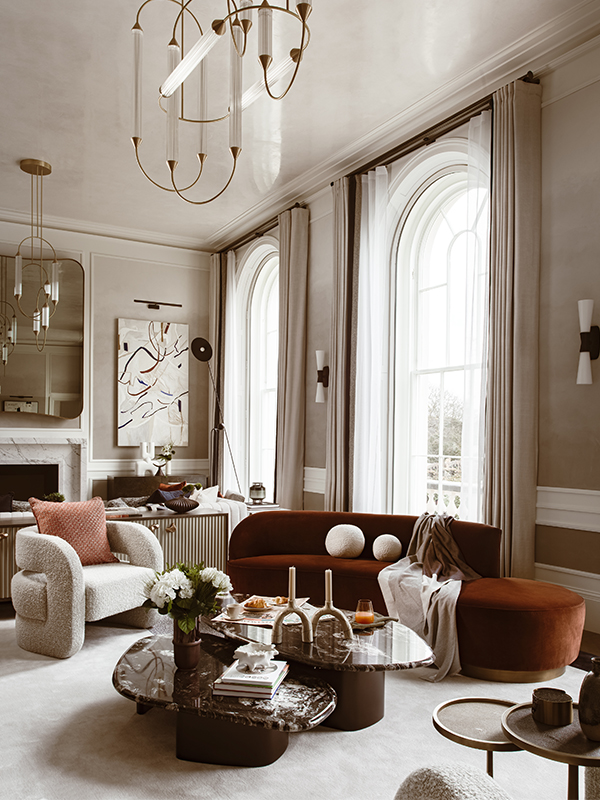 A grand focus was placed on ample seating to entertain friends and family in a casual, relaxed manner as well as business associates in a more formal setting. Dark blue rugs with geometric motifs by Colbourne separate each zone from the next, while a bespoke low fluted cabinet by Thomas James with Laura Meroni Sesel handles in cast bronze divide the office from the living space.
But really, it is the clever use of different furniture styles that work together to create a space within a space. From formal armchairs for meetings right up to the lightness of bouclé ball cushions, there's scope for both day-to-day living and entertaining alike. The playful shape of the cushions softens the more full-bodied pieces like a white Elan Atelier Gesso side table and Holly Hunt titanium marble coffee table. Even the variation in low-level lighting – large Utopia wall sconces, Giopato Coombes pendants and picture lighting presents opportunities to craft distinct experiences within each zone.
Also Read : New In London – 5 Unique Design Hotels That Are Redefining Luxury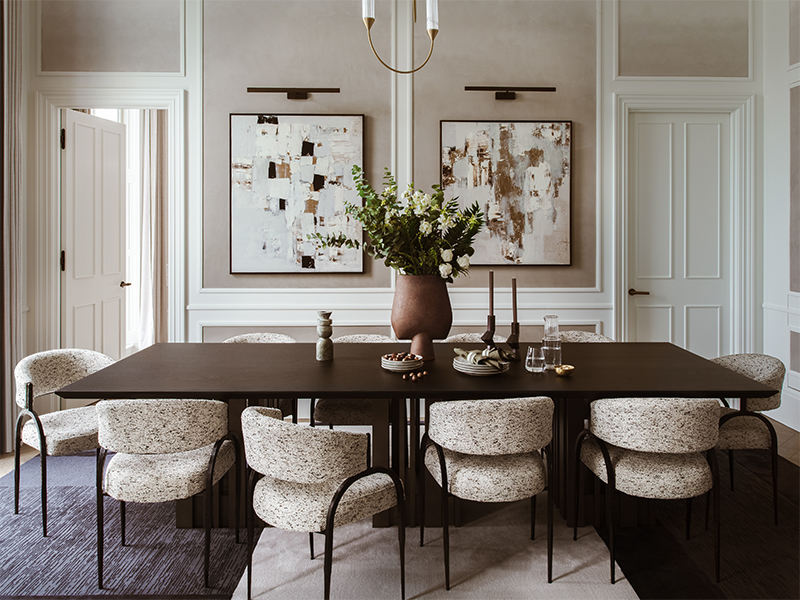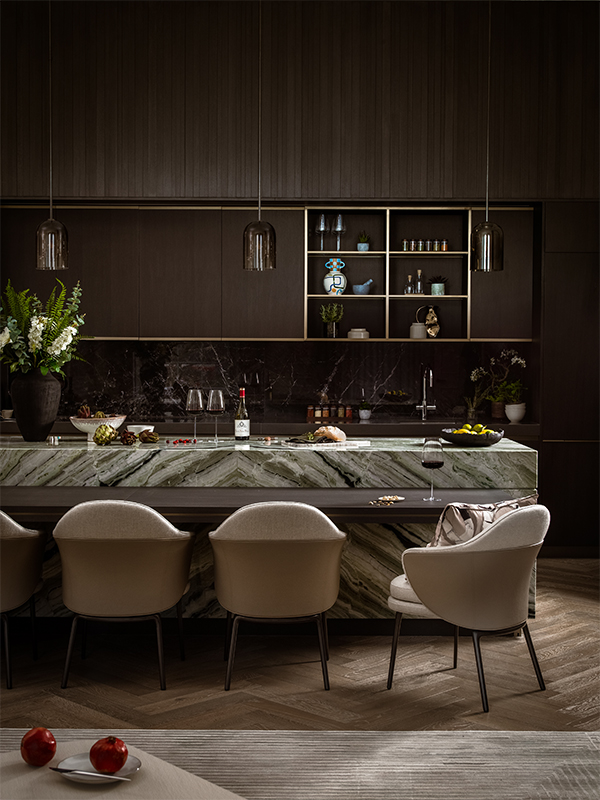 Further inside the house, the tactility and rich tonality flow into a family living room and kitchen that adjoins the reception. Here, the eye is instantly drawn to a stunning green-veined marble breakfast table with leather dining chairs that wrap around the extended bar.
"We wanted to imbue the space with tactility, contrast and energy which is what a family kitchen should convey. Again, we see movement within this texture, very fitting for a kitchen which is a hub of activity. The marble features soft moss-like greens reminiscent of Regent's Park which this property overlooks, and the hints of almost black are reflected in the black cabinetry which gives a sense of envelopment that invites you in," says Gandhi.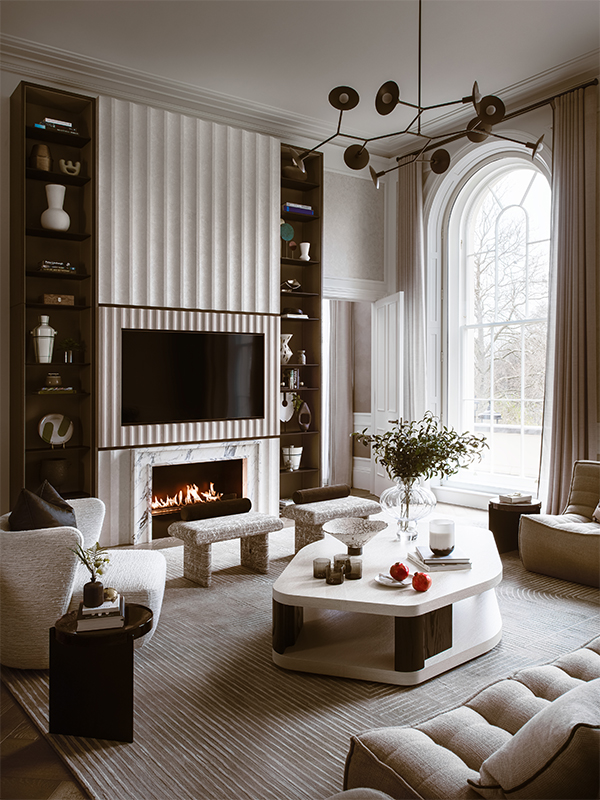 In the adjacent living room, an oversized sectional sofa serves as the perfect place for the family to lounge on. Earthy tones, plush fabrics, a marble fireplace and fluted detailing lend the family living room a warm and cozy but luxurious feel.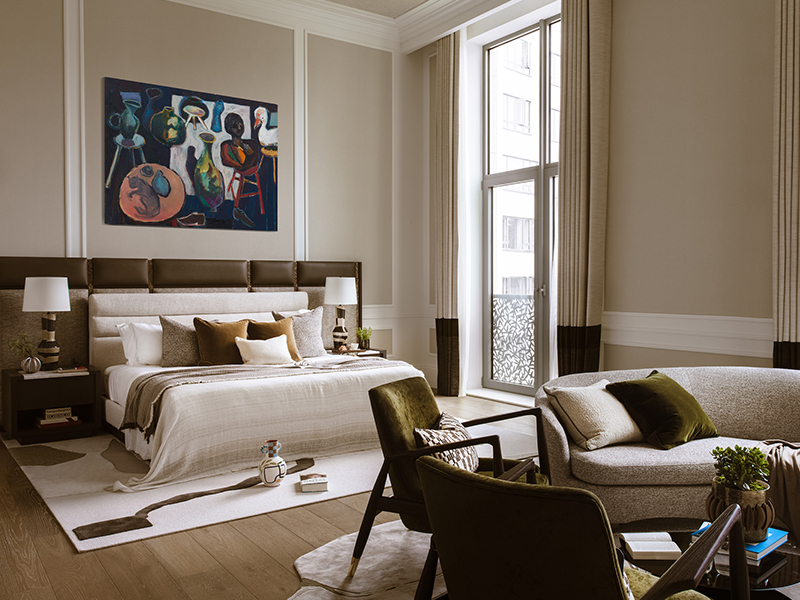 Three double bedrooms set across two mezzanine levels further the reigning aesthetic understated elegance and grandeur. In the principal suite on the ground level of the apartment, the bed takes centre stage with its leather padded freestanding headboard and hammered liquid metal trim.
Nearby, in the living area of the suite, olive green sculptural chairs by José Leite de Castro rest upon a circular rug by Tai Ping. Reflecting London through an international lens, this exquisite residence neither feels ostentatious nor quotidian. Instead, it can best be described as a home meticulously detailed and well in tune with the refined taste of its dwellers