New In London – 5 Unique Design Hotels That Are Redefining Luxury
7

Oct

'22

12:14 pm

by

Nuriyah Johar
The hospitality landscape of London has undergone a marked transformation in recent years. Given the cultural and social ethos of a city that's growing increasingly cosmopolitan, the excessive decorum, sense of propriety, and sophistication that previously characterized the bulk of London's standard hotels now seem out of touch; at least to younger travellers. Shedding this image, the capital's new crop of design hotels are filled with individuality! They are pulsating, creative, and heavy on narrative. Striking a balance between refinement and rule-breaking, they redefine luxury hospitality in a radical way. Here are our top picks from London's newest design hotels –
1. The Twenty Two – A Maximalist Pariessene Dream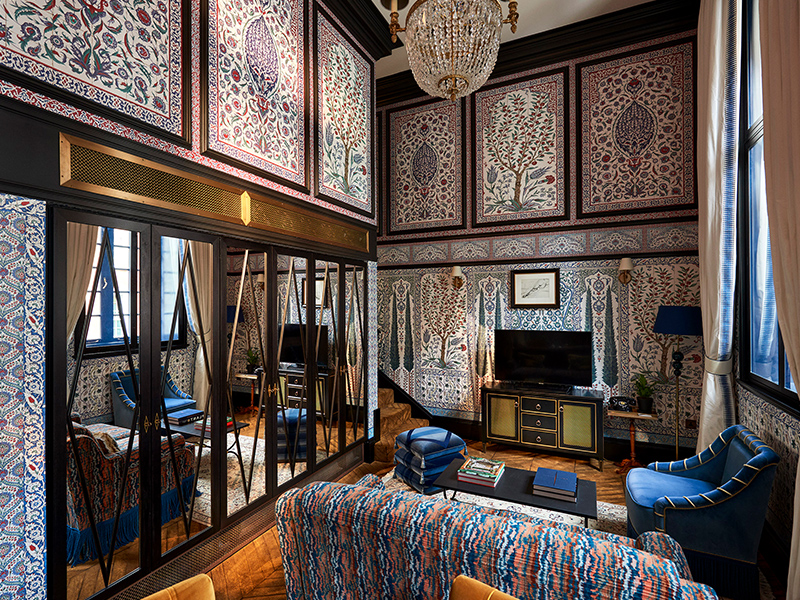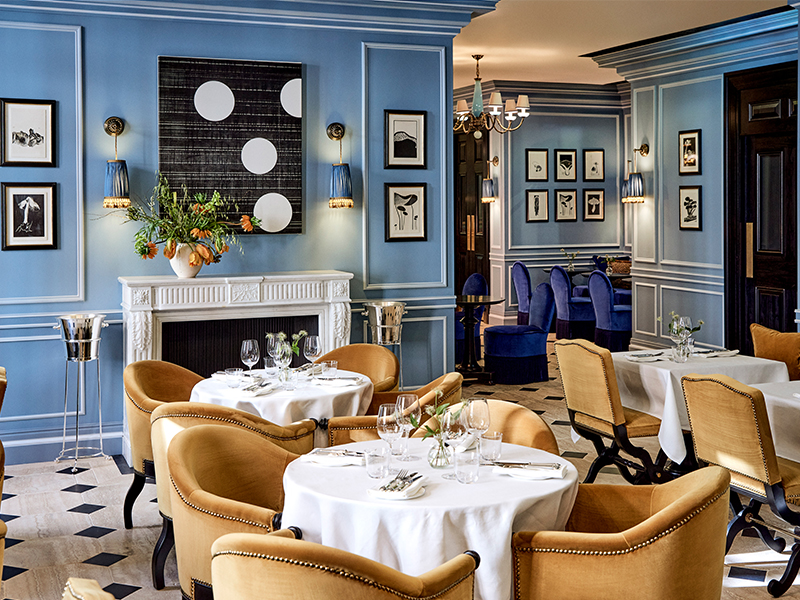 An exciting new design destination on London's Grosvenor Square, The Twenty Two is a landmark hotel, restaurant, and members' club designed by architect Natalia Miyar. The space takes inspiration from the quintessential French elegance of Château de Malmaison, home of Joséphine Bonaparte (the first wife of Emperor Napoleon). Spread across 42,500 sq. ft, this opulent new landmark hotel houses 31 bedrooms and suites, including a mews house with its own separate entrance, as well as a neighborhood restaurant and a private members' club. For this project, Miyar collaborated closely with the hotel's owner, Navid Mirtorabi. "My love for colour and materiality has met with Navid's vision for a hotel which is a hideaway for the creatives and curious at heart who pass through Mayfair," says Miyar.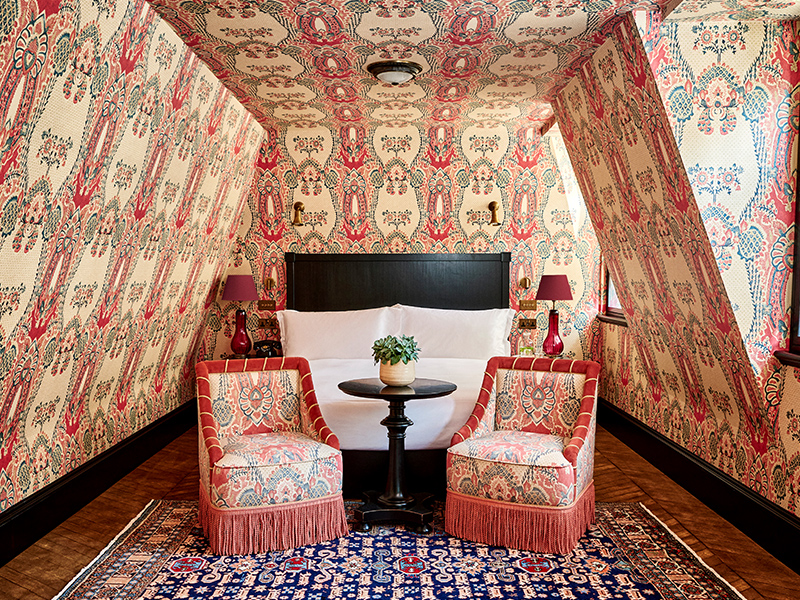 The Twenty Two is a maximalist's dream – richly saturated colour themes, sumptuous drapery, and highly decorative detailing characterize the design of every public and private space at the hotel. Mogul-inspired mosaic wallpaper by Iksell, wall coverings by Braquenié, fabrics by Jiun Ho and Pierre Frey, saturated velvets from Designers Guild and Altfield, and decorative trimmings from Samuels & Sons and Les Passementeries d'Ile de France make up a few of the luxury design labels used by Miyar. A cultural westside hideaway for the creative and the curious, The Twenty Two has undoubtedly been one of the most exciting openings in 2022.
#DPLoves – The highly decorative Heritage Suite which takes its cue from exotic landscapes and faraway lands.
Also Read : Inside Churchill's Wartime HQ – A Raffles-Branded Apartment That Embraces Vintage Treasures And Bold Patterns
2. The Londoner – The City's First-Ever 'Super Boutique' Hotel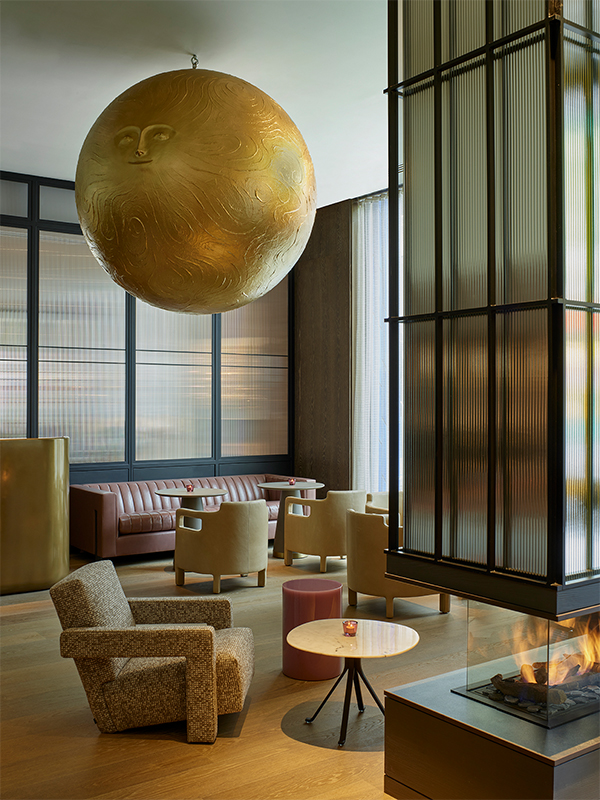 In the heart of London's theatre district, The Londoner stands sixteen stories above – and below-ground as the city's first-ever super boutique hotel. Global design agency Yabu Pushelberg has designed this hotel as an ode to the art of performance by crafting archetypes of a theatre production's cast and crew to personify spaces within the hotel. "It was most important that we create a project that is exuberant, a joyful expression of not only its location but also the cultural context," says Glenn Pushelberg. "The history of London theatre provides such rich material. We wanted to create an experience with substance that was thoughtful, transcending the moment through its design."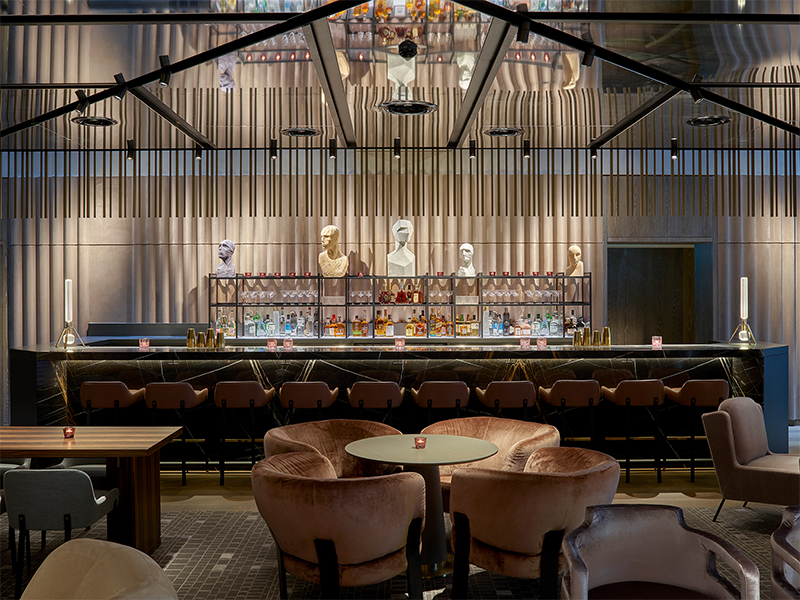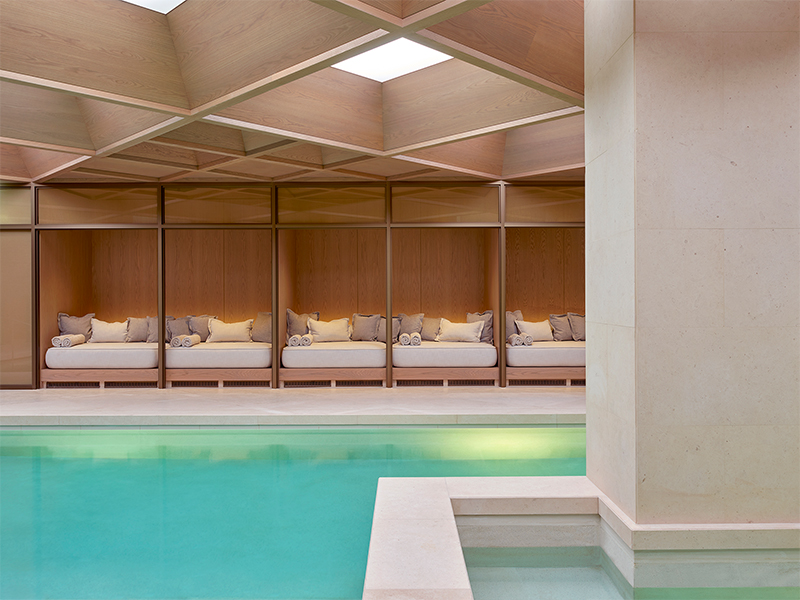 All of The Londoner's 350 bedrooms and suites, six concept eateries and bars, private screening rooms, seven meeting spaces and grand ballroom are immaculately styled. For Yabu Pushelberg, the project served as a one-of-a-kind canvas to push the boundaries of decorative creativity. From custom gramophones in the club to a floating metallic moonhead created by artist Andrew Rae, they infused the hotel with a wholly unique, extroverted personality. The Londoner is the latest opening by Edwardian Hotels London, one of the UK's largest privately owned hotel groups.
#DPLoves – The theatratrical ethos that runs throughout the hotel; each public space is imbued with the character of someone essential for bringing a production to life.
3. One Hundred Shoreditch – A Striking Addition To One Of London's Coolest Districts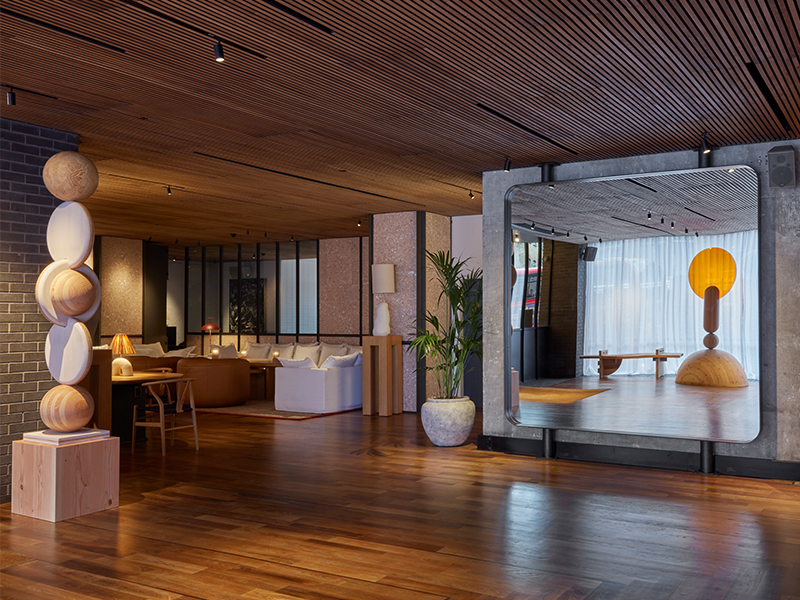 One Hundred Shoreditch, the newest hotel from Lore Group is a compelling reflection of how the iconic area of Shoreditch has evolved in the last decade. Its interiors mirror the neighbourhood's newly cultivated sophistication, while the public spaces retain the pulsating vibrance synonymous with the area. Designed by Lore Group's Creative Director Jacu Strauss, the rooms are finished in neutral colour schemes and styled with abstract art, while the suites feature a mix of bespoke furniture and curated vintage pieces, in addition to large terraces with views of Shoreditch and the London skyline. One Hundred Shoreditch has 258 bedrooms and suites along with three bars, a restaurant, a coffee shop, and five meeting and event spaces. One of the most noteworthy amongst these is The Rooftop at One Hundred Shoreditch that offers panoramic views of East London.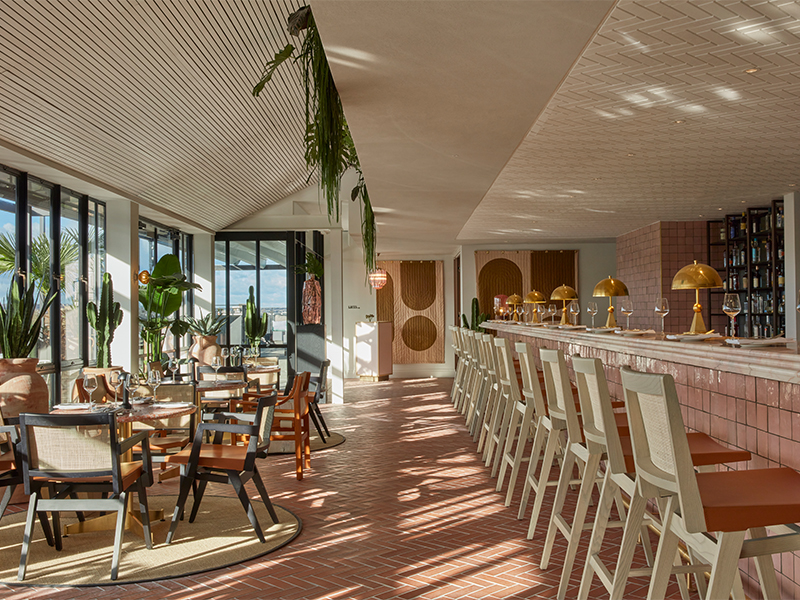 Lore Group is an international hospitality company whose properties include the award-winning Pulitzer Amsterdam, Sea Containers London, Riggs Washington DC and Lyle Washington DC – all of which are widely celebrated for their thoughtful design and interesting use of space.
#DPLoves – The Rooftop at One Hundred Shoreditch that offers panoramic views of East London.
4. The Marylebone Hotel – Business Meets Pleasure In London's W1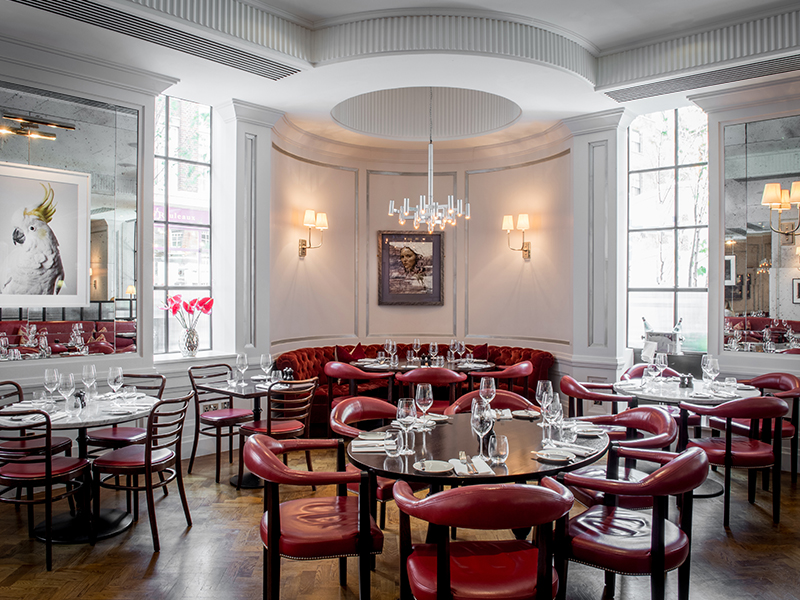 The spirited, bijou feel of Marylebone, one of London's trendiest neighbourhoods, is reflected in The Marylebone – a chic hotel from The Doyle Collection, an Irish family-owned hotel group. The interiors of The Marylebone were conceptualized in part by Fettle Design, along with the hospitality group's in-house creative team. Setting the scene is the hotel's chic lobby and the Cocktail Bar which is characterized by its series of inviting nooks and playful, elegant terrace. Another notable restaurant is 108 Brasserie, a charming alfresco spot set on the cobbles of Marylebone Lane; its outdoor tables, fresh greenery, and elegant lantern lights are reminiscent of a quintessential Parisian café, whereas the indoor section of 108 exhibits a more formal sensibility.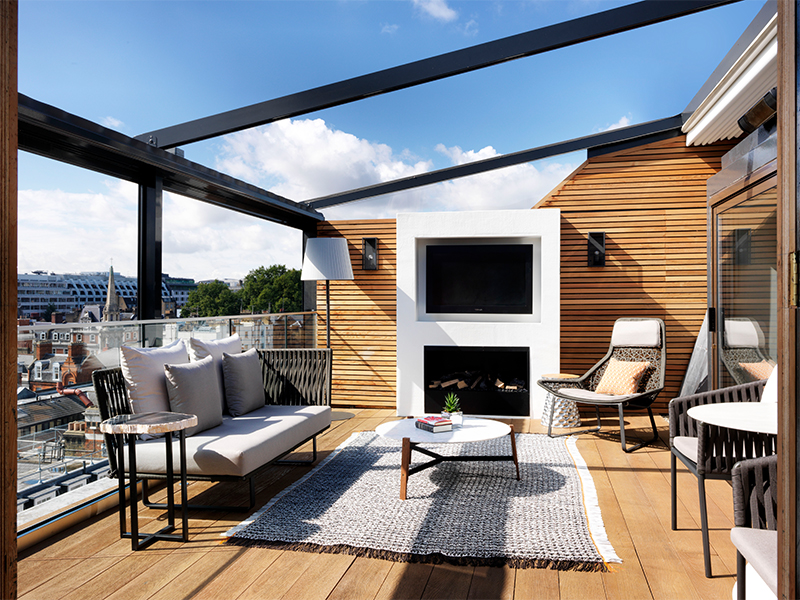 Colour, pattern, and texture are brought to life at The Marylebone with every public and private space designed with a keen attention to detail. Classic yet contemporary, luxe yet accessible, traditional yet casual, The Marylebone is a charming paradox that perfectly harnesses the infectious energy and style of London's W1.
#DPLoves – The quaint and colourful alfresco section of 108 Brasserie.
Also Read : From Undersea Rooms To Literature Festivals : These Luxury Resorts In The Maldives Are Creating A Niche For Themselves
5. NoMad London – An 18th Century Prison Turned Luxury Hotel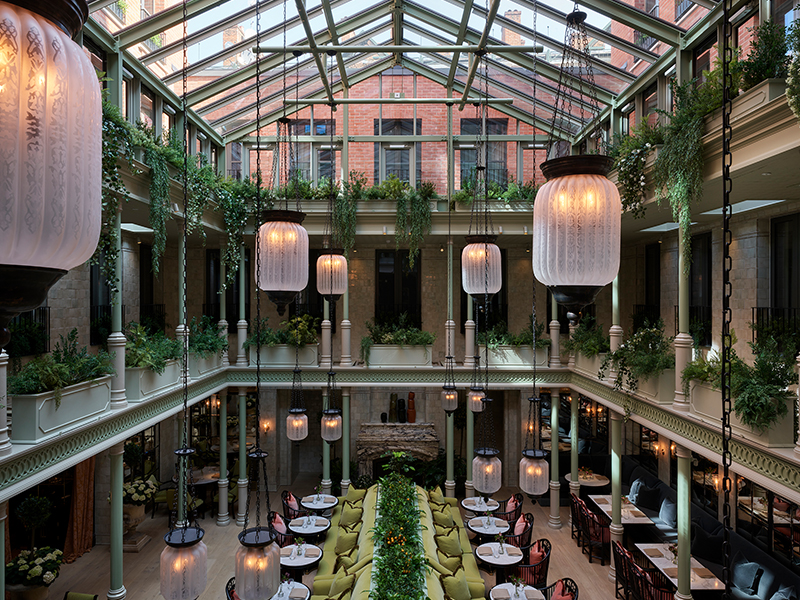 NoMad London is located inside the historic Grade II listed building famously known as The Bow Street Magistrates' Court – a police station that was once home to the Bow Street Runners and both the courthouse and holding cells housed many notable defendants such as Oscar Wilde. A collaboration between Sydell Group, Roman and Williams, and EPR Architects, the transformation of the iconic property draws inspiration from its history and location. The hotel is the brand's most intimate property, housing 91 rooms, a soaring three-storey atrium restaurant, and a stunning ballroom events space within the former Magistrates' Courtroom supported by two private dining rooms and a bar.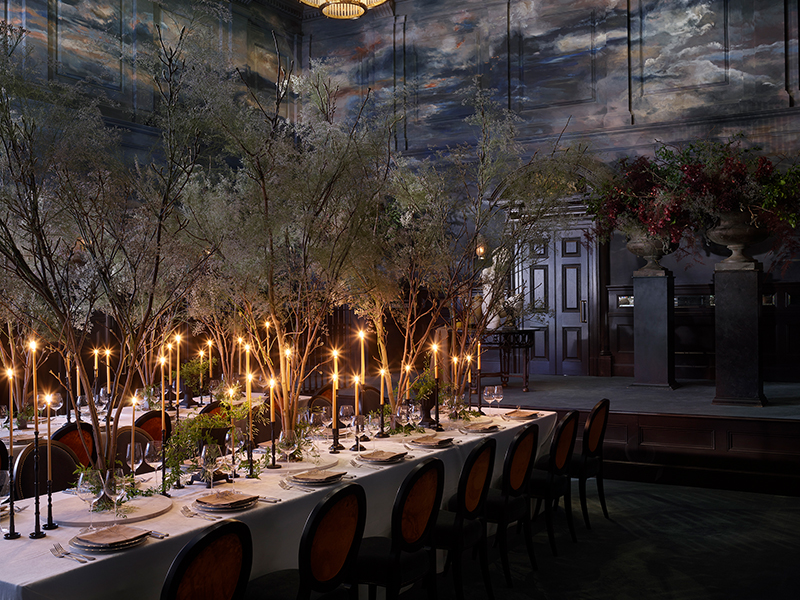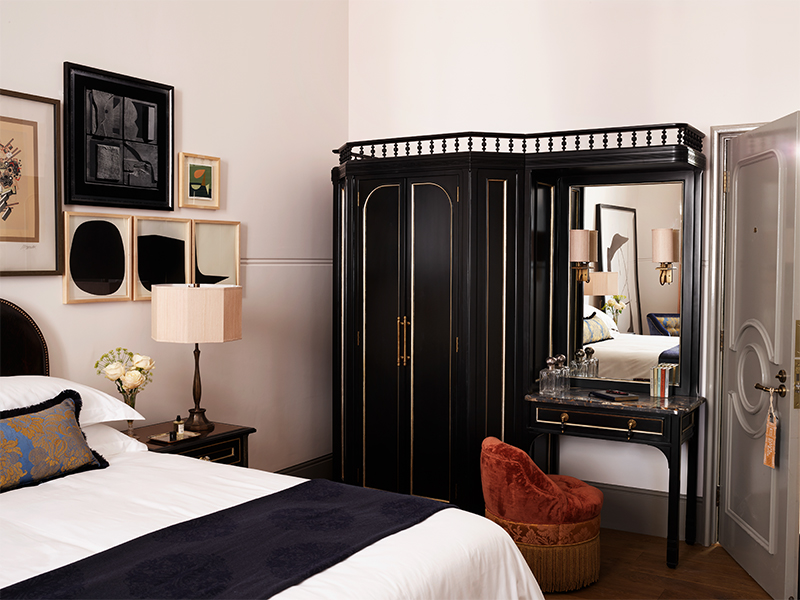 "The spirit of NoMad London is collected and fundamentally residential. It embraces a New Romanticism that has a powerful contrast with the grit and strength of the courthouse. From rich textured textiles to aesthetic inspired woodwork to ethereal murals, the space evokes a grand residence but always tempered with a bohemian spirit that we infuse into every Roman and Williams project" says Robin Standefer (Co-founder of Roman and Williams). The hotel is also home to a world-class art programme that celebrates the influence of post-war American art and the European avant-garde. It accommodates a curation of over 1,600 collected and commissioned works by a variety of British and international artists that lends a deeply layered narrative to the hotel experience.
#DPLoves – The surreal and immersive Magistrates' Ballroom.