#DPExclusive – This Manhattan Apartment By Aamir Khandwala Is A Collector's Paradise
2

Mar

'23

11:25 am

by

Beverly Pereira
The process of collecting – antiques, contemporary pieces, or both – essentially involves patience, an eye for detail, and an interior that does justice to the idea of rarity and provenance. When Aamir Khandwala was enlisted with the design of an apartment in Manhattan's historic and curiously cool NoMad neighbourhood (North of Madison Square Park) for a longstanding client and well-travelled collector, the New York-based designer crafted a receptacle predisposed to highlight an extensive collection comprising both vintage and contemporary furniture, lighting, objects and art. In doing so, the project also birthed a home that nurtures both a sense of permanence and the peripatetic existence of a world traveller.
"For this Manhattan apartment, we performed a gut renovation with the goal of creating a home that is both grand and grounding" – Aamir Khandwala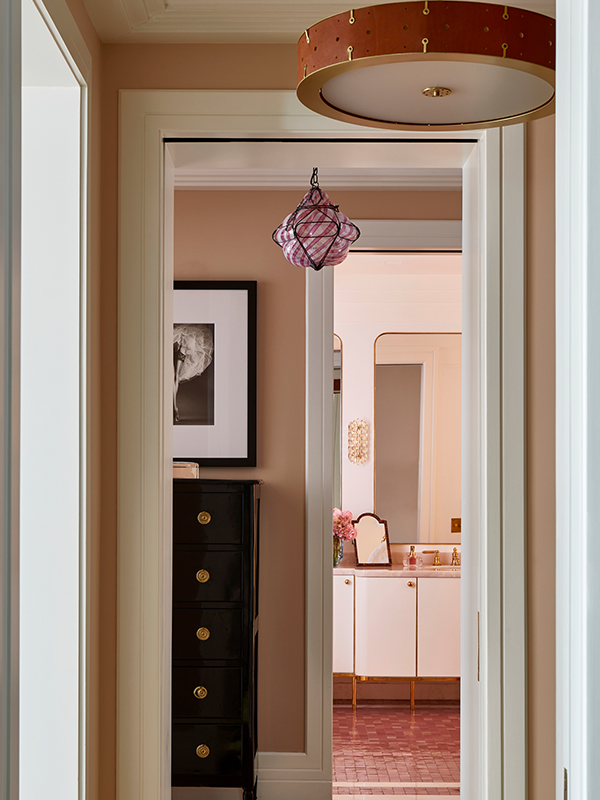 Every inch of the 3,200 square feet apartment overlooking the leafy Madison Square Park brims with detail and character. Across the two bedrooms and baths, living room, dining and office, colours enlivened by texture reflect the client's global sensibilities. From terracotta-toned walls and powder pinks with blush highlights to glossy blacks and hints of turquoise, such details evoke memories, emotion and experiences. "Our client loves colour as do we, and has a taste for unique furniture and art. We've had the privilege of working with her on various properties in the U.S. and Europe. There are times when we finish each other's sentences. It's a special decades-long relationship based on trust," says Khandwala.
Also Read : Bold British Luxury At This Regent's Park Apartment In London By Charu Gandhi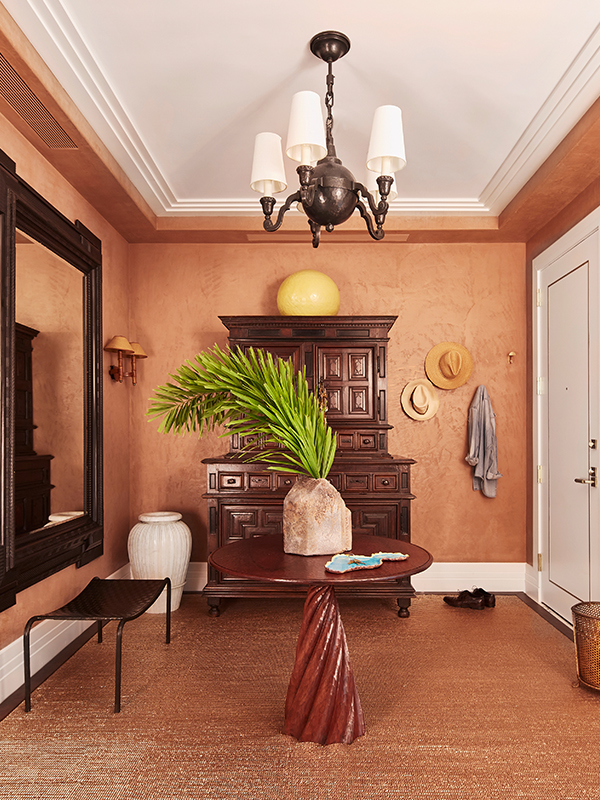 For this apartment, as if to kickstart a new phase in life, the client had envisioned settling into a home that reflected nuances of New York, Paris, California and Morocco – places she had lived in and loved. In the entryway, walls carry terracotta and mud Tadelakt plaster, a traditional Moroccan wall finish said to have originated in Marrakech. A contemporary "Dervish" table by Anne and Vincent Corbière sourced from Twenty First Gallery in New York defines this cosy vestibule, instantly setting the tone for the rest of the apartment. It offers the first glimpse of the client's collection: a vintage French 1940's cannon ball chandelier; a carved and ebonized mirror from France; a 17th-century French armoire; a pair of 1950's Jacques Adnet wall sconces in bamboo and leather.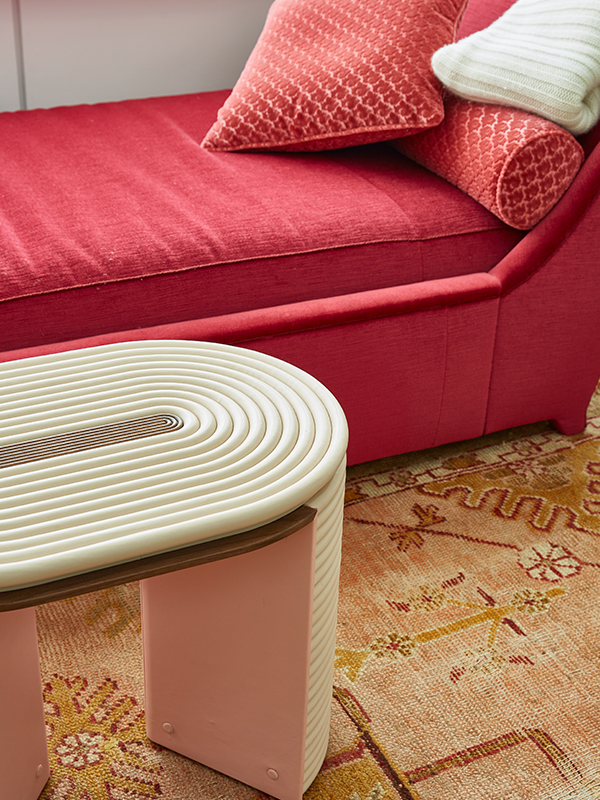 In the residences delivered to clients of Khandwala's eponymous firm, edited spaces are decorated with pieces, old and new, that speak to each client, yet carry all the markings of his approach to interiors. "For this Manhattan apartment, we performed a gut renovation with the goal of creating a home that is both grand and grounding," says the designer. With his team at Aamir Khandwala Interior Design, a bathroom was transformed into a home office and a bedroom into a media room. They had worked with general contractor Michael J. Leone and upholsterers Atelier Jouffree & LH Upholstery for this project.
Also Read : Designer Serena Crawford Takes Us Through Her Remarkable Curio-Filled South African Beach Cottage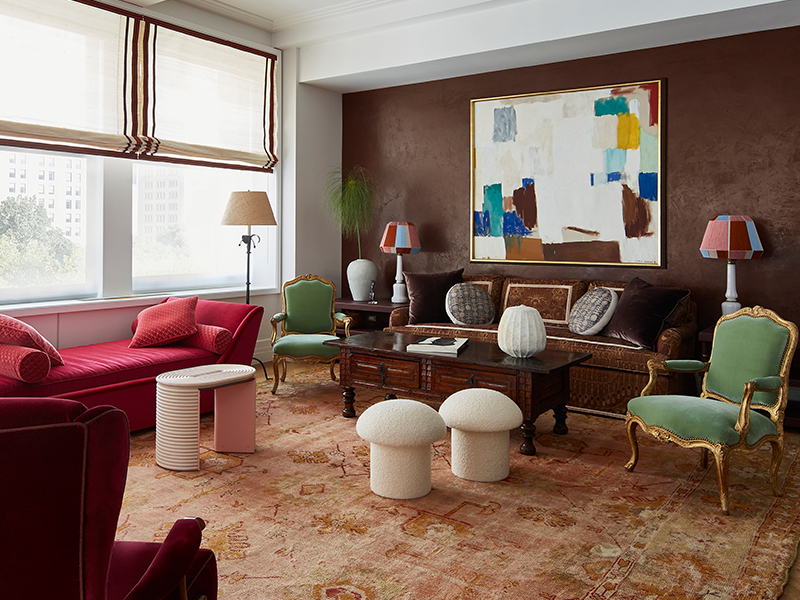 Inhabited by the gravitas of antique finds, the living room recalls the charm of a 19th-century tearoom in France. Custom Roman shades designed in house with velvet trims and borders in burgundy and sandy tones filter mellow light into this sun-drenched space. A burnt sienna Givenchy-style sofa upholstered in Robert Kime fabric developed from a 17th-century velvet panel is flanked by a stately pair of the client's own Louis XV giltwood armchairs reupholstered in tender pistachio Prelle velvet.
This space is also meticulously edited to play home to contemporary pieces. From a playful pair of Champignon Mignon stools from Maison Gerard and a custom leather and walnut stool by Mark Grattan from New York's Cristina Grajales Gallery, right up to a beautiful rouge velvet Dreamboat daybed by Ochre, the living room with all its antiquities is effortlessly layered to create an imaginative lexicon of old meets new.
Tadelakt plaster walls continue to evoke a sense of consistency throughout the apartment. Here, a deep brown plastered accent wall backdrops the client's vintage Turkish Oushak rug that runs within inches of the living room's edge. It also permits other items from her collection to shine, including a pair of stunning table lamps with custom shades by Blanche Field and a painting by American abstract expressionist artist Giorgio Cavallon.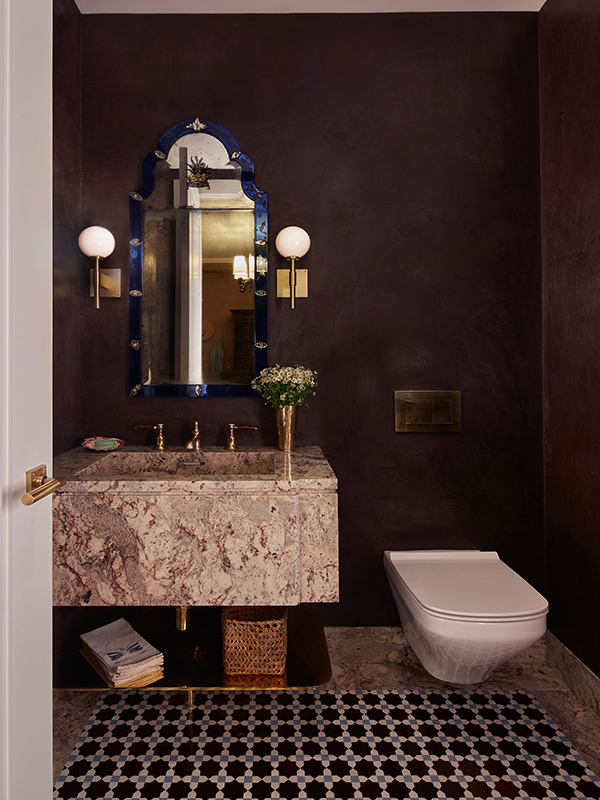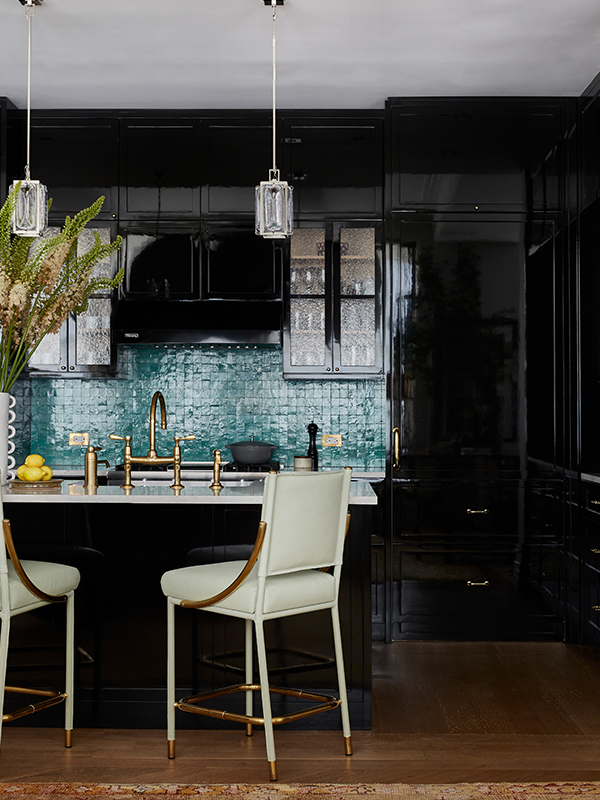 High-gloss surfaces define the kitchen, where Khandwala's custom cabinet millwork with over ten coats of Farrow & Ball Pitch Black paint finished with EduDeco lacquer really shines. A trio of Triscota pendants by Christophe Côme, another treasure from Cristina Grajales Gallery, and Opera counter stools in Mediterranean cow hide from Soane are striking additions to the otherwise practical approach to kitchen design taken by Khandwala and team.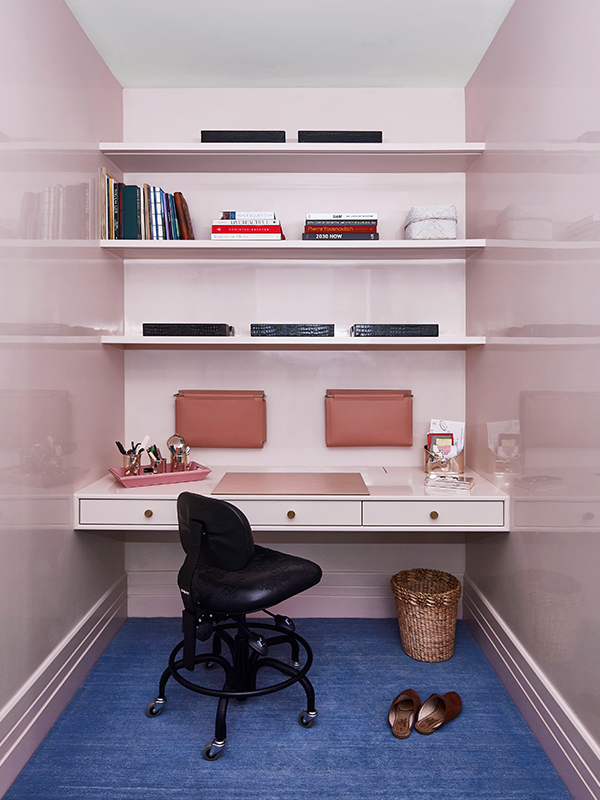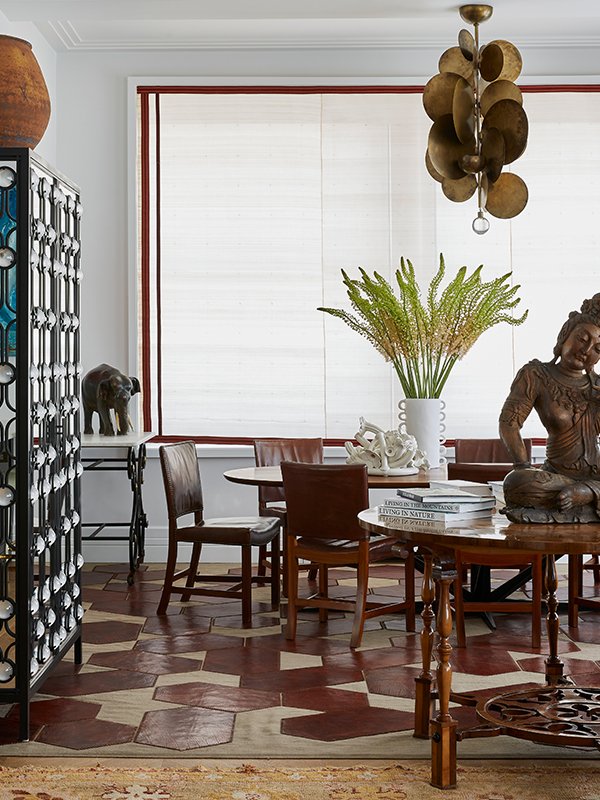 The dining room effortlessly mixes modern and contemporary elements with vintage pieces like a large Buddha sculpture owned by the client. Eight vintage Kaare Klint red chairs by the late Danish designer, procured from Dienst + Dotter or the city's go-to antique store for all things Scandinavian and North European, congregate around an Agave dining table from Atra upon which a ceramic Flora sculpture by Anat Shiftan from Hostler Burrows sits pretty. The Grand Meuble iron and glass cabinet by Christophe Côme and a Herve Van der Straeten chandelier crafted from hammered brass shells are the stars of this otherwise grounded space.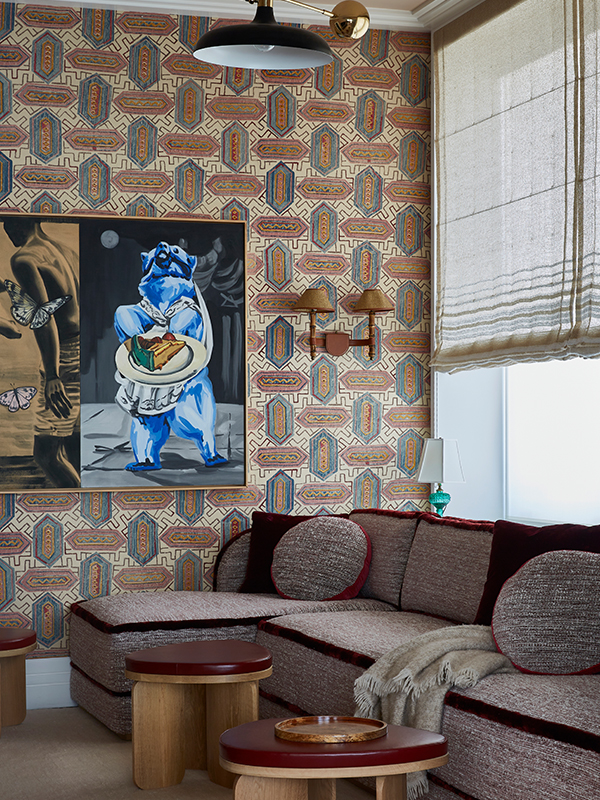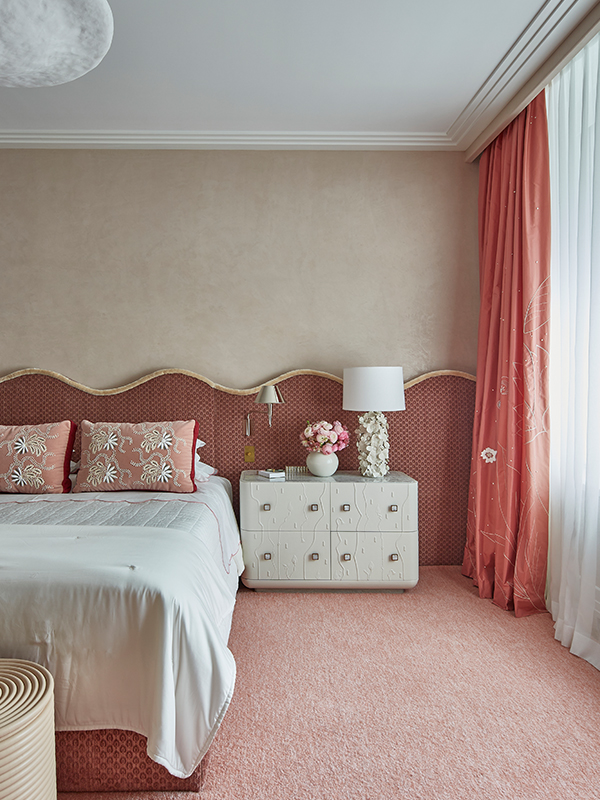 Elements like the pink Claremont velvet headboard with a Samuel & Sons silk fringe designed by Aamir Khandwala Interior Design and produced by Atelier Jouffre indicate a mastery of the art of softness and Parisian chic in the bedroom. The custom bedding is by Nancy Stanley Waud and the porcelain Flower Collage lamp is from Cocobolo Design.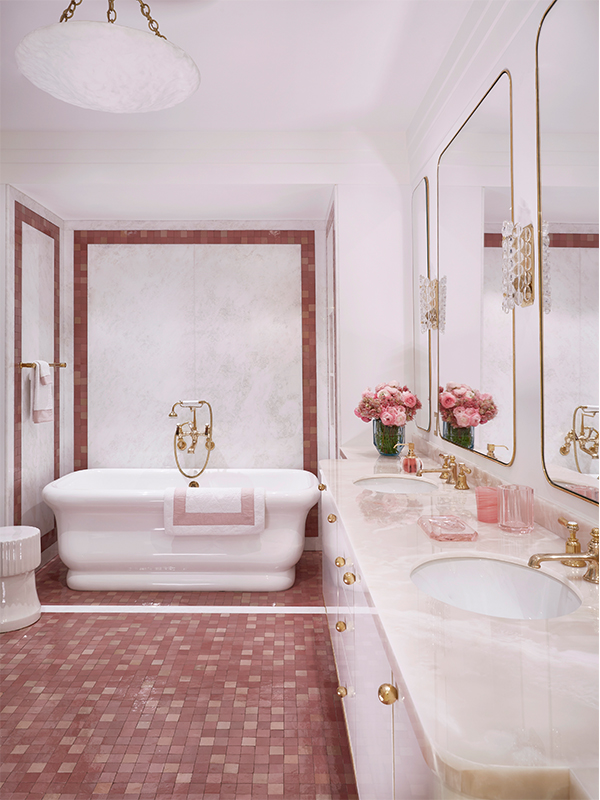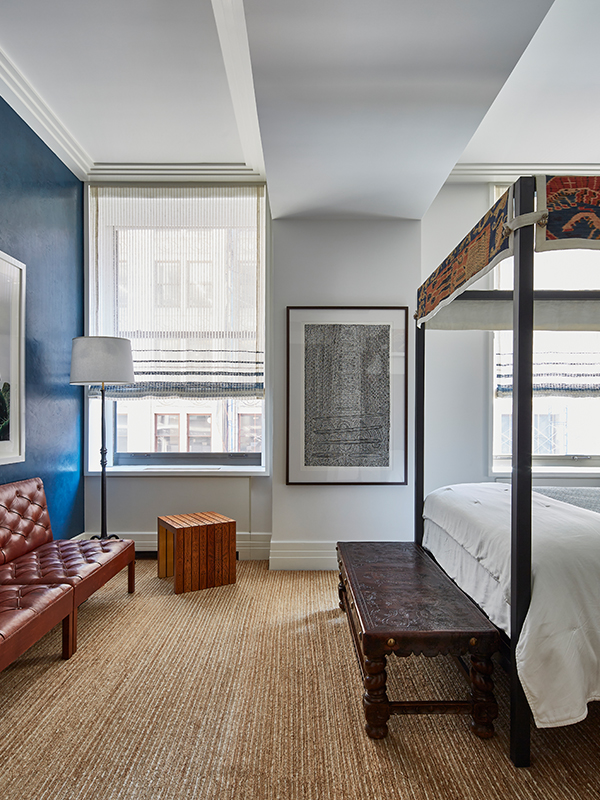 A custom Sumac rug from Crosby Street Studios against a Mediterranean blue Tadelakt finished wall sets the tone for the earthy guest room that's a treasure trove of precious finds, including leather side tables and a singular bench—both from Paraguay in the 1950s. Other items in the client's collection include a stunning D.Nuna artwork and a pair of tan tufted Danish leather chairs. A melange of the old and the new yet again becomes a design highlight, accentuated by Paraguayan artist and architect Pedro Barrail's Holy Mackerel wood stool tattooed in the indigenous South American pyrogravure technique and procured from the Cristina Grajales Gallery.
Also Read : New In London – 5 Unique Design Hotels That Are Redefining Luxury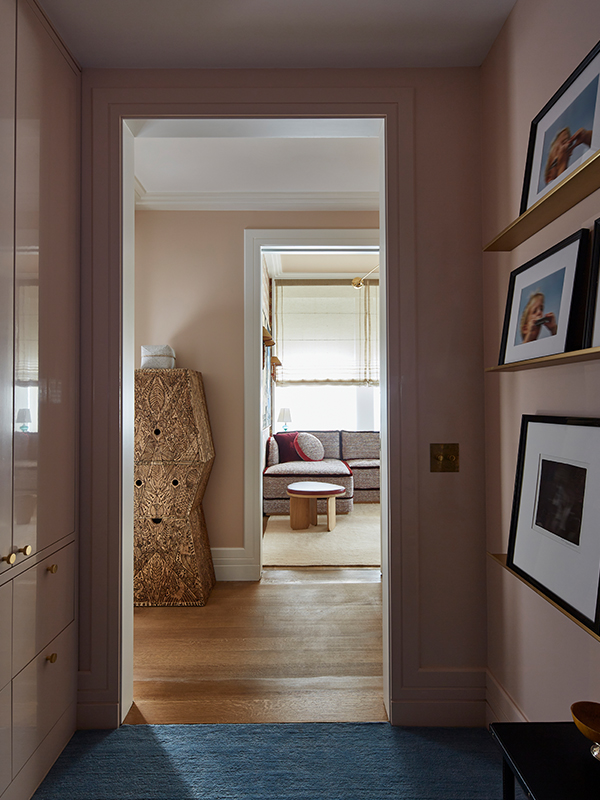 The home is modern yet timeless, original yet intimate enough to invoke a sense of familiarity. Khandwala tells us that the task of creating a balanced mix of using elements from the client's existing collection and supplementing newer selections to create an incomparable environment was easier said than done. "Apart from working during the height of the Omicron variant and trying our level best to maintain the project timeline and deliver it on time, our main challenge was to create a harmonious and balanced mix of furnishings for a well-heeled and sophisticated client."
*Photoshoot styling credits – Aamir Khandwala Design Studio