Layered Expression With Mangrove Collective – Weaving Narratives With Design, Craft, And Technology
8

Dec

'22

5:05 pm

by

Sneha Shah
A storyboard of indigenous skills and artisanal craft through a contemporary idiom, NCR-based Mangrove Collective began as a 'collaborative design' studio in 2015. Founded by Suman Sharma and Arun Kullu, furniture designers from NID, Ahmedabad, the brand has built a cache of products that showcase a singular ability to articulate materials in an imaginative vision. The studio specialises in bespoke furniture, millwork, accessories, and everything in between.
"The seeds of Mangrove Collective were planted when we realized that the design fraternity was limited in thought due to an absence of like-minded vendors with relevant skills and infrastructure, to execute their ideas from design to conception. Further, there was a lack of a one-stop shop that had the expertise in multi-materiality, and could translate an idea to an international level product.
It's then that we decided to offer the Architects and Designers community a platform and infrastructure to co-create. With a deep understanding of furniture, we serve to value add, in terms of product detailing and design engineering; as well as add that extra layer which takes it beyond just the functionality. One size does not fit all, making customization an integral part of our process. We consistently strive to translate what the customer is seeking, everything else is only a byproduct of their expressions. Furniture is not fashion; it is timeless, and must reflect its inhabitants' personality," expresses Suman Sharma, Founder and Design Principal, Mangrove Collective.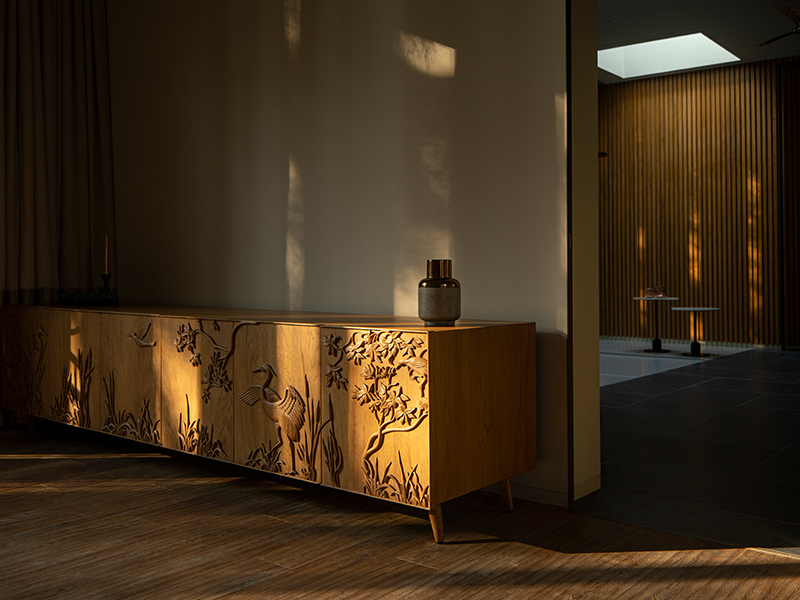 The studio works on the principles of conscious thinking – from design to build – an approach that celebrates local resources, cultural influences, and a keen sensitivity for all stakeholders and the environment. The strength of the products lies in their durability and versatility, augmented by the teams' expertise in multi-materiality.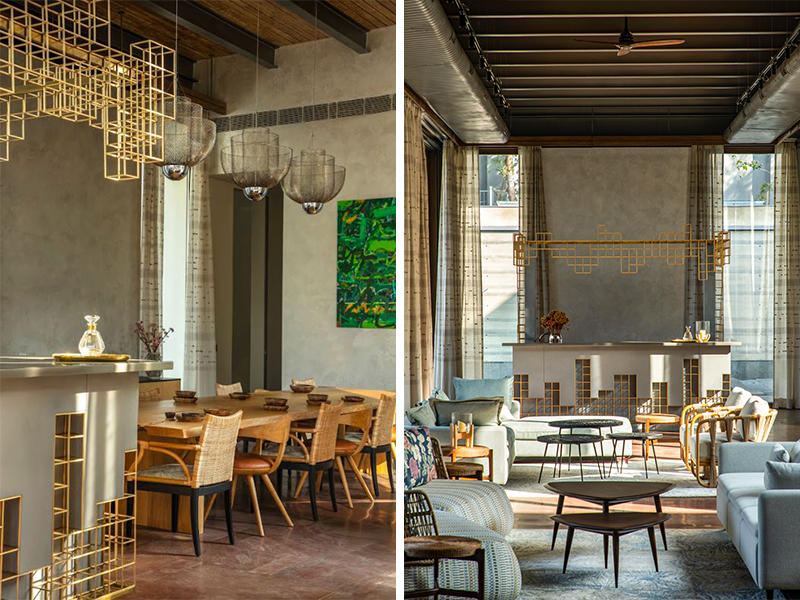 At Mangrove studio, the natural synergy between furniture designers, architects, technical team, and artisans' community, helps facilitate the creation of products with a high degree of finesse and refinement, creating a balance between ergonomics, structure, functionality, and aesthetics. Every furniture piece and design is contextual and evocative, reimagining India's heritage within a modern and avant-garde narrative.
Also Read: Sourcing Secrets With Gaurav Bhatia, Saloni Sharma, and Tahir Sultan – The Antiques Edit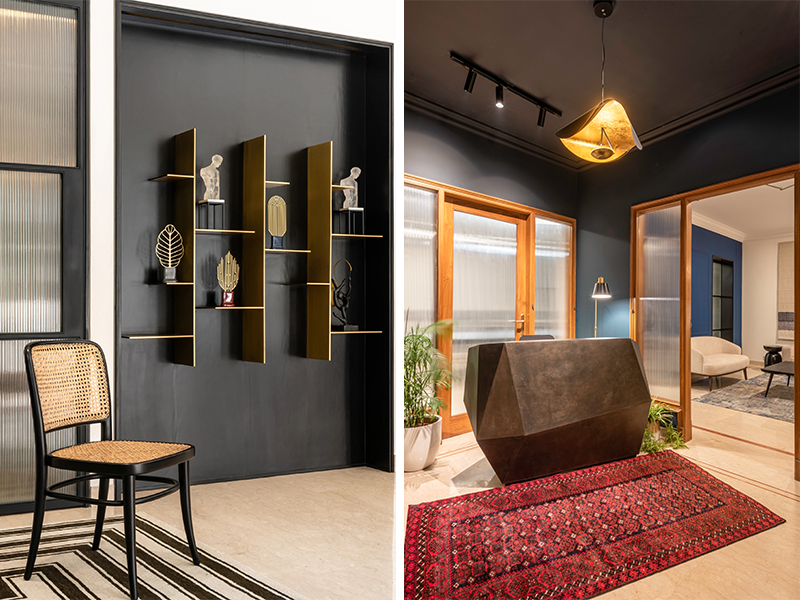 A wide-ranging canvas of materials is the brand's calling card, comprising timber, cane and natural fibres, metals, stones, concrete, a wide range of fabrics, interspersed with modern technology and traditional craft.
"Furniture is the culmination of form, technology, and craft. While form is the starting point of any product, technology and craft aid its development. Though techniques have existed for centuries, how we apply these in novel ways is to us innovation and creation. Wood hammering and charring, semi-precious stone inlay, tarkashi, fluting, bidri work, marquetry, parquetry, and laser etching, we use all such techniques to develop bespoke furniture & products.
Furthermore, we also enjoy restoring products, like the ancient Tibetan doors, by integrating them into various furniture pieces. Similarly, developing products and accessories using upcycled textiles", adds Suman.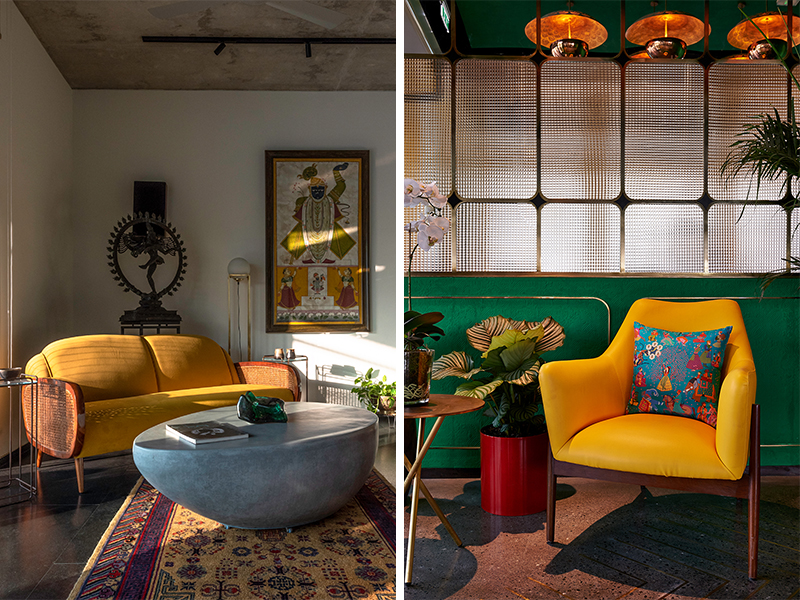 A critical part of Mangrove's DNA is formed with a core belief that the products must add value, and establish an emotional connect with its owners. Homeowners are now becoming increasingly aware of the importance of embracing mindful lifestyles, and Mangrove's ethos resonates with the same process.
"Local makes sense, else we would be working against mother nature. It is the biggest advantage we have, given the rich bank of resources available to us from across the country, resources in form of material, manpower, technology, and design inspiration. We develop products using materials that are both culturally and environmentally relevant, and in many ways contribute to empowering the artisanal community", says Suman.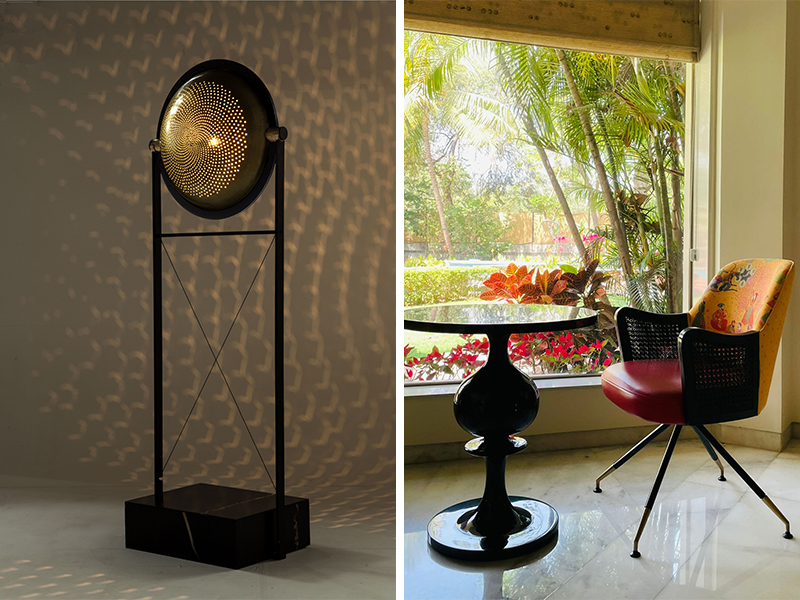 By actively involving clients as participants in personalising their furniture, this atelier has nurtured an ecosystem wherein the entire process from conceptualising to execution is a journey that they embark on together as equal partners.
The design hub of Mangrove Collective is a thriving workspace, that entails a team of 150 skilled professionals from diverse backgrounds that function collaboratively and as equals, with an open and inclusive culture.
"Each product comes with its unique identity. The common factor amongst all the above products is the amalgamation of design, technology, craft, context, and an endless appeal", concludes Suman.
Also Read: Sourcing Secrets With Hyderabad-Based Architect Sona Reddy