India's First Apple Store In Mumbai, BKC Runs On 100 Percent Renewable Energy
19

Apr

'23

10:12 am

by

Crew
Apple launches its first-ever store in India, the highly anticipated Apple BKC in Mumbai's financial district. Designed to be one of the most energy-efficient Apple Store locations in the world, Apple BKC comes with a dedicated solar array and zero reliance on fossil fuels for store operations. The store is operationally carbon neutral, running on 100 percent renewable energy. "Apple BKC is a reflection of Mumbai's vibrant culture and brings together the best of Apple in a beautiful, welcoming space for connection and community," says Deirdre O'Brien, Apple's senior vice president of Retail.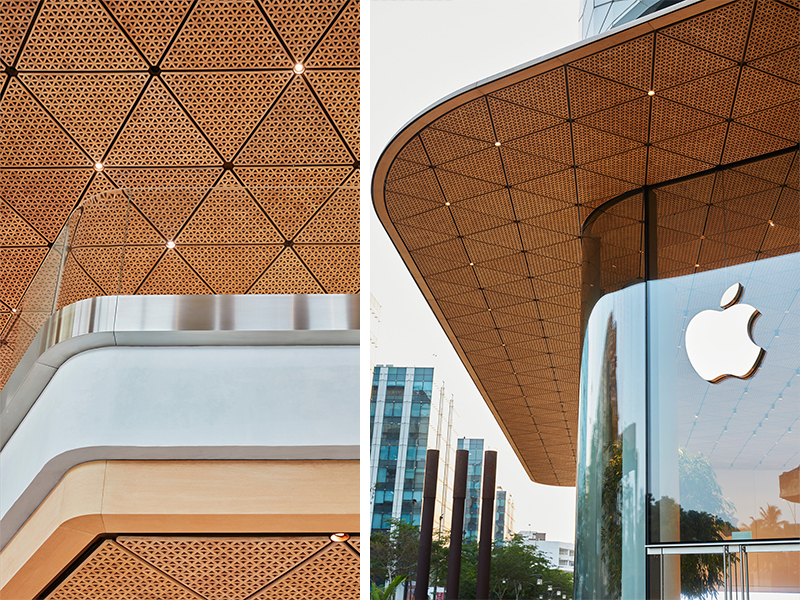 Designed by Foster + Partners, the store's architectural composition comprises a triangular handcrafted timber ceiling that extends beyond the glass façade to the underside of the exterior canopy, reflecting the unique geometry of the store. Every expansive triangular tile is made up of 408 pieces of timber, with a total of 1,000 tiles that form the unique ceiling. Interestingly, the store features over 450,000 individual timber elements, all of which were assembled in Delhi. Amidst the narrative of glass and steel which predominantly defines BKC, the timber elements add certain warmth.
Also Read : Everything You Need To Know About The Nita Mukesh Ambani Cultural Centre (NMACC) In Mumbai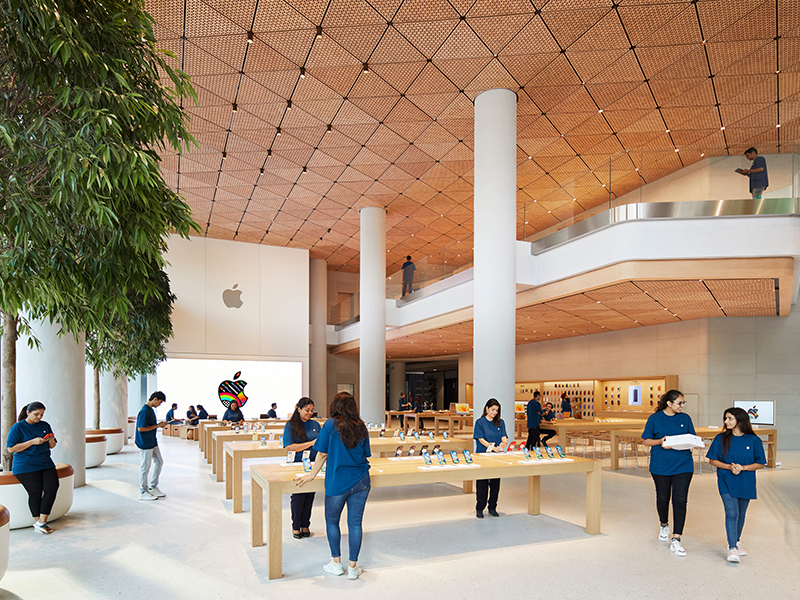 A minimalist interior in line with Apple's visual sensibility is punctuated by subtle nods to India, like the walls clad with grey stone sourced from Rajasthan. A 14-meter-long stainless steel staircase connecting the ground level and the cantilevered mezzanine, and lush indoor trees add an element of biophilia to the space. In an endeavor to establish itself within the social fabric of the city, Apple BKC has launched a special Today at Apple series called "Mumbai Rising," running through the summer. The aim is to celebrate the local community and culture by bringing together visitors, local artists, and creatives together in free sessions.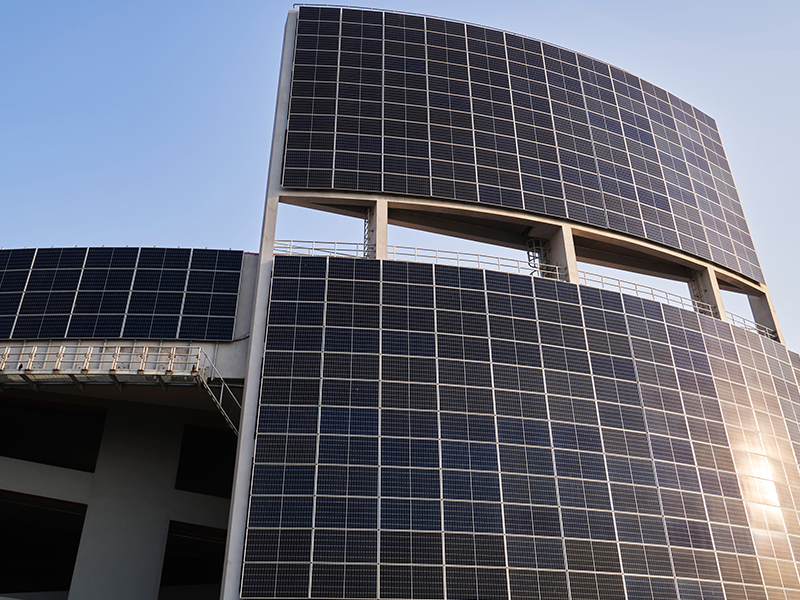 Apple is set to launch its second store in India in Saket, Delhi, on the 20th of April. As the brand celebrates more than 25 years in India, Tim Cook, Apple's CEO says, "India has such a beautiful culture and an incredible energy, and we're excited to build on our long-standing history – supporting our customers, investing in local communities, and working together to build a better future with innovations that serve humanity."
Also Read : An Underwater 7000-Capacity Parking Garage For Bicycles Opens In Amsterdam