Leopard Safaris And Eco-luxury Meet At Brij Pola Jawai, A Wilderness Retreat In Rajasthan – DP Reviews
21

Mar

'23

12:31 pm

by

Beverly Pereira
The wildlife-rich state of Rajasthan can sometimes feel saturated with luxury offerings and safari tourism—often at the cost of the environment. As more travellers seek ways to consciously connect with nature in a landscape that might soon be overrun by irresponsible tourism, there is the wonder of Brij Pola Jawai. Jawai, named for the river that flows through this little village in the Pali district of western Rajasthan, is home to 50-60 leopards roaming freely in the Jawai Bandh Leopard Conservation Reserve. Teeming with these agile cats, Jawai has proven to be a unique habitat consisting of granite rock formations, a result of volcanic lava eruptions that date back to over a billion of years ago.
The luxury camp is nestled in the wilderness with a barely-there boundary between the property and the land of the leopards. Whether in-room or outdoors, the Brij Pola Jawai experience is exclusive, experiential, and bespoke. Joining six other bespoke properties in the Brij collection, it truly reflects the height of rustic luxury.
Getting There
Although the property was a little less than a three-hour drive from Udaipur's Maharana Pratap airport, the journey was comfortable and enjoyable. From Jodhpur, the drive is a little over three hours. The drive past highways flanked by the majestic Aravali foothills and then through sleepy villages landed us in the heart of leopard country. Diverging off the main road to access a narrow stretch of dirt road fringed by mammoth rock hangings, we soon caught sight of Brij Pola Jawai's pristine white canopies looming in the distance.
Also Read : Your Guide To India's 10 Most Unique Hotel Pools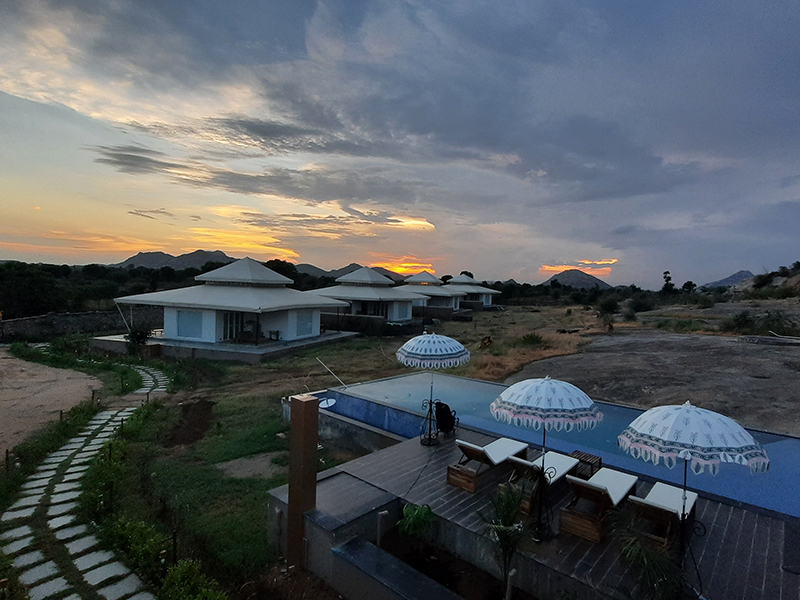 Luxury Tents
The property is composed of just four luxury tents, two of which are equipped with private plunge pools and sun loungers. If I had my druthers, I'd steer clear of the word 'glamping' to liken the guest tents at Brij Pola, Jawai to an eco-luxury lodge experience. At 2,500 sq ft, each tent is generously sized and, with a commendable canopy height, hardly feels like a tent in the traditional sense of the word—although it does look like one from the exterior. They are spacious but cosy, earthy yet regal, and delicately swathed in natural light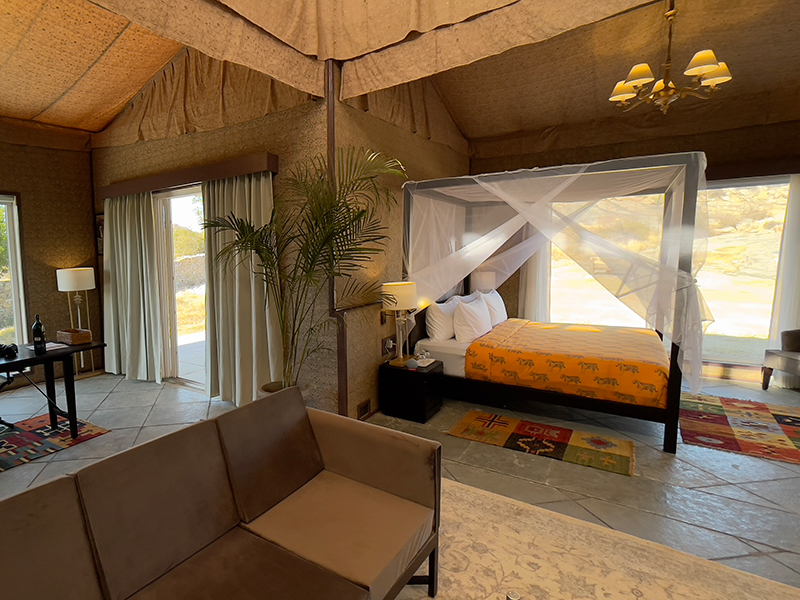 Design Highlights
Skylights bring in soft light, as do large windows that frame a variety of verdant vistas and command a 360-degree view of Jawai's dramatic landscape. Atmospheric and earthy at its core with a natural stone flooring, the tents in this camp are equipped with every modern amenity to ensure a luxurious stay. Each tent opens out to patios in four cardinal directions—a design detail that truly revitalises the senses at sunrise and sunset.
With minimal intervention to the land, the property overlooks an imposing hill called Pola (meaning 'hollow'), a spectacle in itself that houses a cave once inhabited by leopards. Despite being deemed inactive, I was told there had been a leopard sighting only ten days ago. As I sat on my bed soaking in the ruggedness of this hill and the peacock and langur sightings through one of these very windows, I spotted a leopard scale the craggy hill! Nature truly gives when you least expect it, I thought to myself as I gazed out of the windows well calibrated to deliver maximum gratification.
Also Read : Jaipur's Newest Boutique Hotel, Villa Palladio Is A Maximalist Crimson Dreamscape – DP Reviews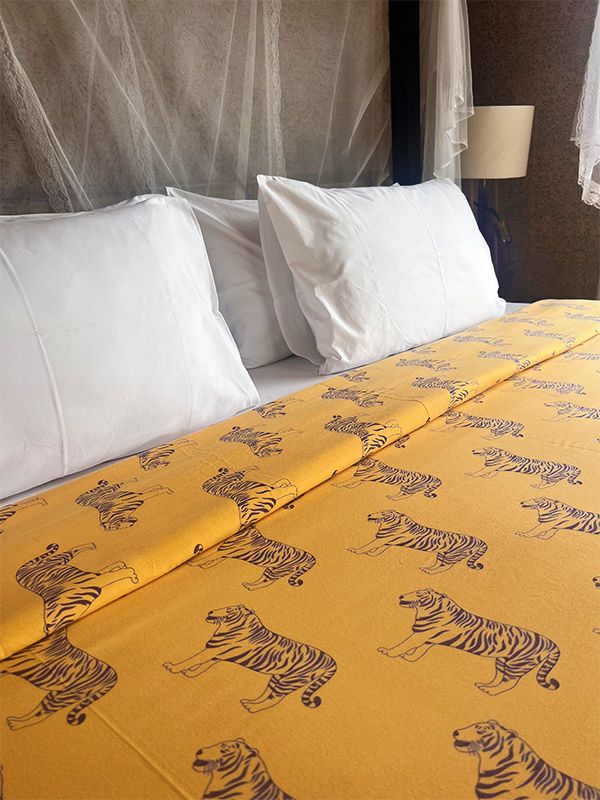 The living space with sofas, wildlife-themed coffee table books, and gigantic chandeliers is central to the room with other spatial features designed around it. On one side, a large nook comfortably holds a desk, cupboard, luggage space, coffee-station and mini bar. Every piece of furniture, including the elegant four-poster bed and desk, is crafted from locally sourced wood. Perfectly backdropping this pared-back aesthetic, block-print fabric wall covers with floral motifs evoke the charm of frescoes in a Rajasthani palace. Other design details like block printed wildlife-themed motifs on duvets and cushions by the NGO Help in Suffering forge a definitive connection with vacationing in the wild.
The open bathroom, the largest we've seen for accommodation of this kind, holds a bathtub carved out of a single local stone, 'his and hers' stone basins to match, and a shower to set the tone for a decadent stay. Then there's the open-to-sky shower that proved to be an indulgent perk to soak in the afternoon sun after a post-safari dip in the plunge pool. The bathroom is equipped with every imaginable amenity, while bamboo toiletries tie in with the property's sustainability efforts.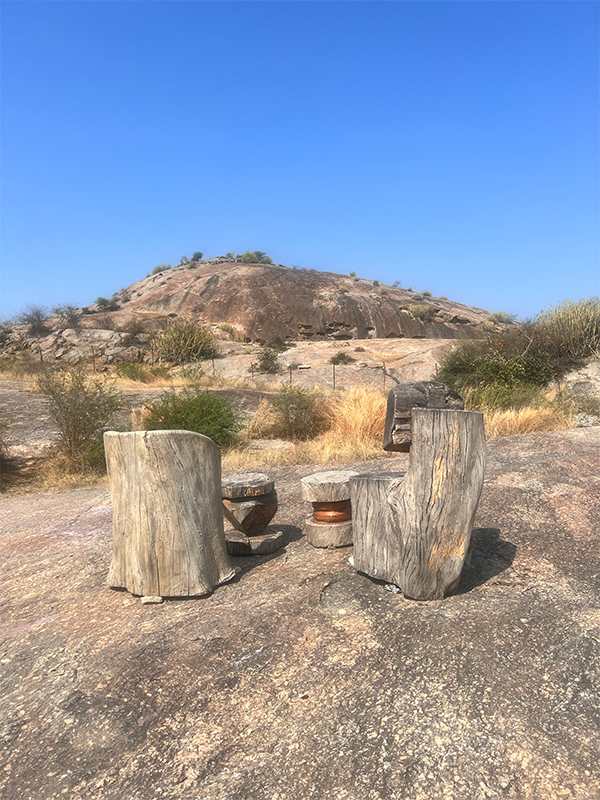 Experiences
The leopard is the 'Mona Lisa' of Jawai, and travellers visit just for a sighting of this majestic animal. One of the most elusive of the big cats, these nocturnal creatures co-exist with the other guardians of this land—the crimson-turbaned Rabari herdsmen who can be spotted shepherding their goats daily. Guided by the in-house naturalist at Brij Pola Jawai, I was treated to sightings of a dominant male, a playful pair of cubs, and even a leopardess with her eyes fixed on a hare a little after sunset.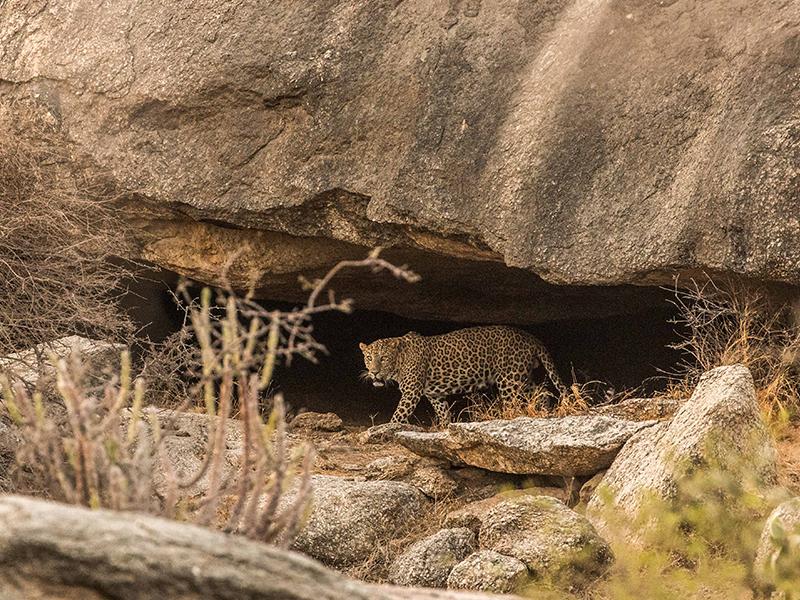 While leopard sightings are the biggest draw here, it is as much about the thrill in scouting for these oft-camouflaged animals. Immersed in "scanning" the landscape for a coveted sighting, I was reminded of the magnificence of nature. Aside from peacocks perched on rocky tops and frolicsome hoopoes flying past our safari jeep, I soon began to identify over a dozen impressive avian species, and even spotted blue bulls and chinkara. The Palash tree and cactus-like Thor Danda, masterpieces of colour and texture, are always flush with flaming orange flowers that are the only burst of colour on Jawai's arid terrain. After an exhilarating safari drive, one savours the sunrise or sunset in the wilderness itself with a warm beverage in hand while devouring cookies and sandwiches.
Besides the thrill of a safari, with Brij Pola Jawai, every other activity is transformed into a memorable experience—whether it's cycling, trekking on a wild trail, or learning about the people of Bera over a local meal in a thatched village house.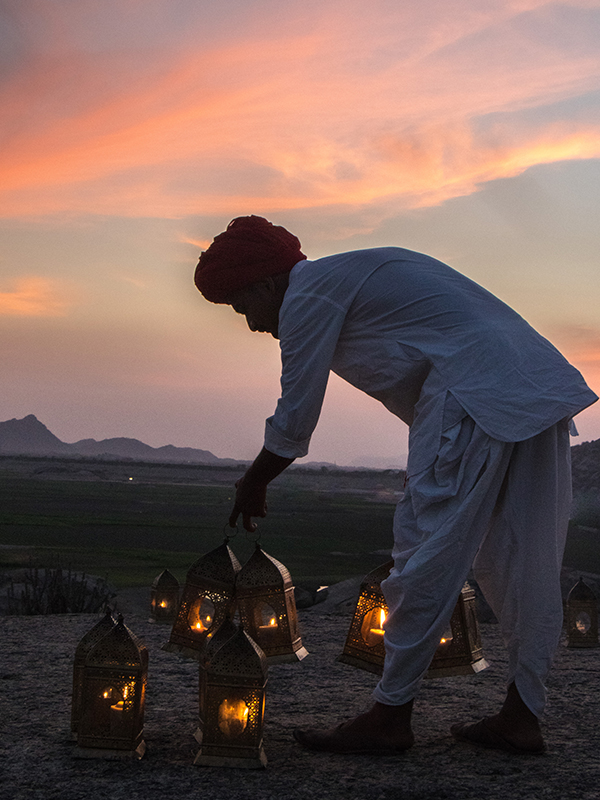 Dining
Back at the property, even dinners are spectacular. Guided solely by the glow of lanterns and stirring strains of live folk music, we found our way to a table for two under a star-speckled sky. The culinary offerings are diverse: kebabs and a choice of North Indian gravies are ideal for dinners, as are the pizzas and bowls of pasta.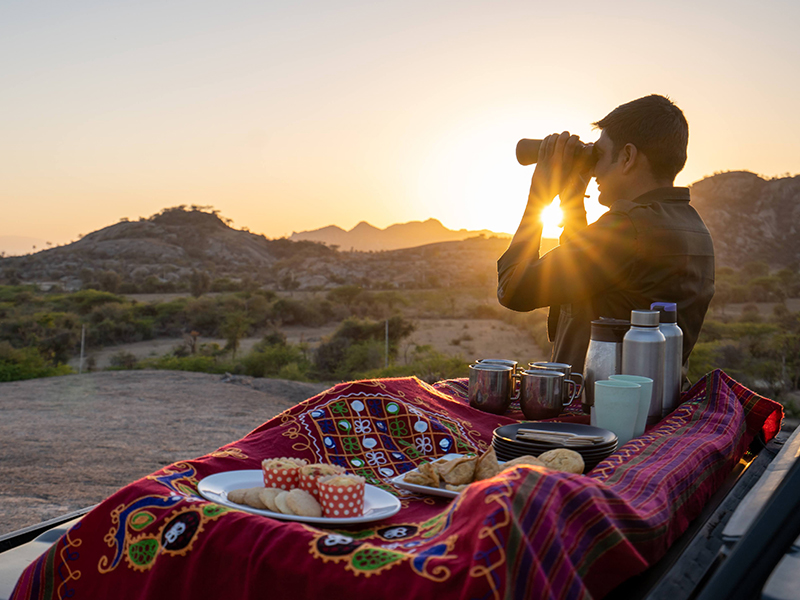 Breakfasts at the property are hearty and best enjoyed by the pool; or, one can head into the wilderness for a breakfast with the peacocks! Whether it's a simple dosa with coconut chutney or fluffy omelettes with toast, jam and white butter, it's the freshness of locally procured ingredients that shines. Our private butler, the exemplar of Rajasthani hospitality, went above and beyond to see to our dining preferences.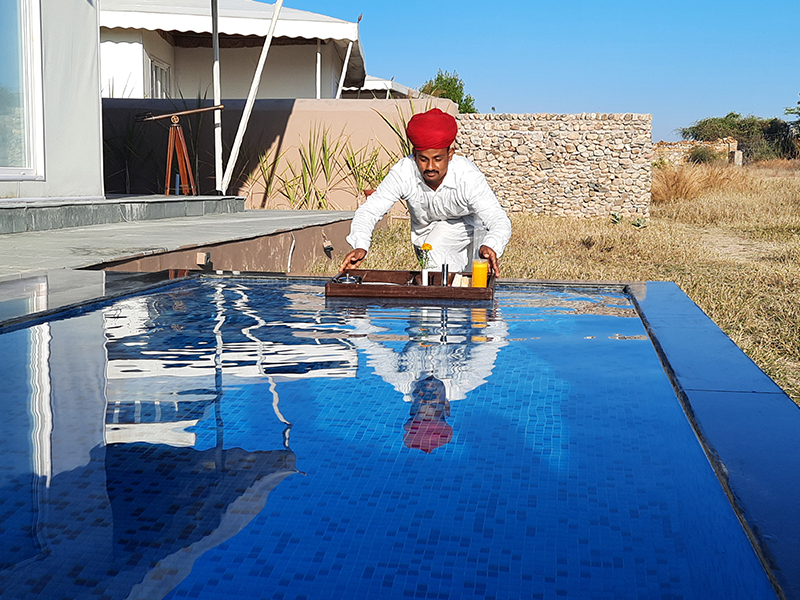 The Verdict
In Jawai, the conservation of leopards is purely community-based. Even the property's naturalists work hard to sustain the thriving ecosystem. Brij Pola Jawai is singular in that it also hires and sources ingredients locally and supports the families of employees. The Brij collection is a unique brand of hospitality. To me, Brij Pola Jawai is pure escapism and guilt-free luxury all at the same time.
#DPLoves
The turndown service that includes thoughtful touches like bowls of soaked almonds and raisins, and souvenirs like traditional Rajasthani bags and fans
– The private butler service and in-house naturalist assigned to each guest
– The thrilling 4WD in a jeep across Jawai's rocky terrain that unravels spectacular views of the enigmatic landscape
– The curated dining experiences like a table set up for lunch under a Banyan tree in the wilderness