Stop By This Soho-Inspired Coffee Shop In Surat
1

Sep

'23

7:32 pm

by

Manisha AR
Strong, bold, and vibrant is a coffee preference for some but for the Goodstuff Cafe, it's an aesthetic they have embraced. The interiors, designed by Studio Morkas, bring together whimsical and contemporary design to create a warm and elevated experience for café-goers. With dark wooden flooring to match the colour of their croissants and upholstery like pinwheel cookies, the interiors take inspiration from the coffee chain's menu. With eight locations across the city of Surat, this new location is an extension of the founder Mr. Khuzaima Saify's love for a good cup of coffee.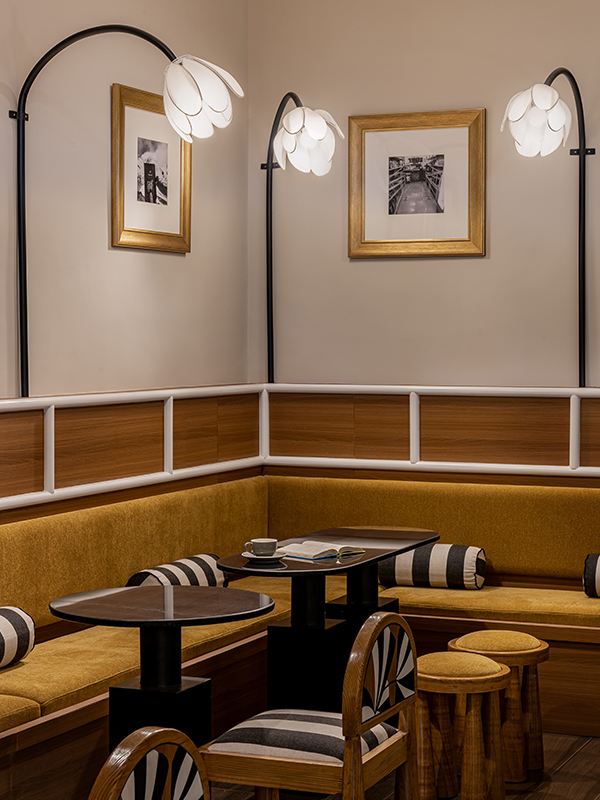 We particularly love the brass frames and custom flower pole lights that hang over every coffee table to create a little booth without the stuffiness of partition walls. The small space of 400 sq ft has been transformed to look like a coffee nook straight out of France or Italy. The reception counter has been designed to stand out against the mustards and browns of the interiors with its sea blue tiles. The lampshade is custom-designed by the team at Studio Morkas and crafted by a local artisan in Mumbai. 
Also read: 3 New Restaurants In Goa: Old Portuguese Houses, French Gourmet Cuisine, And Heritage Indian Recipes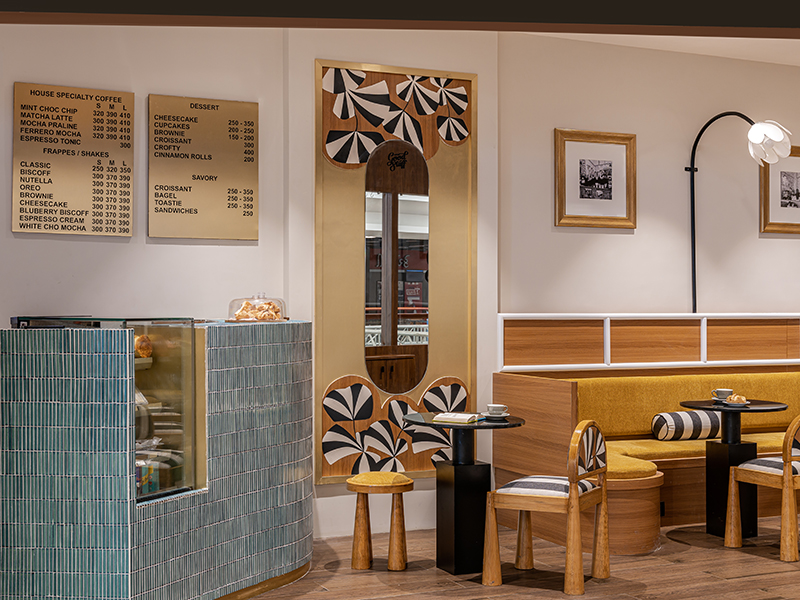 "In our design practice, we make it a point that each space that we create has its own identity and language, says Alina Morkas. She goes on to add "We feel it is important for each space to have custom furniture pieces built in relation to what it wants to communicate."
The flower motif of the lampshade can be seen on the backs of the chairs and as part of the mirror installation as well. All of the furniture pieces have been custom-designed by the team at Studio Morkas and the flowers have been hand-painted. The upholstery along with other materials has been sourced from local stores in Surat and Mumbai.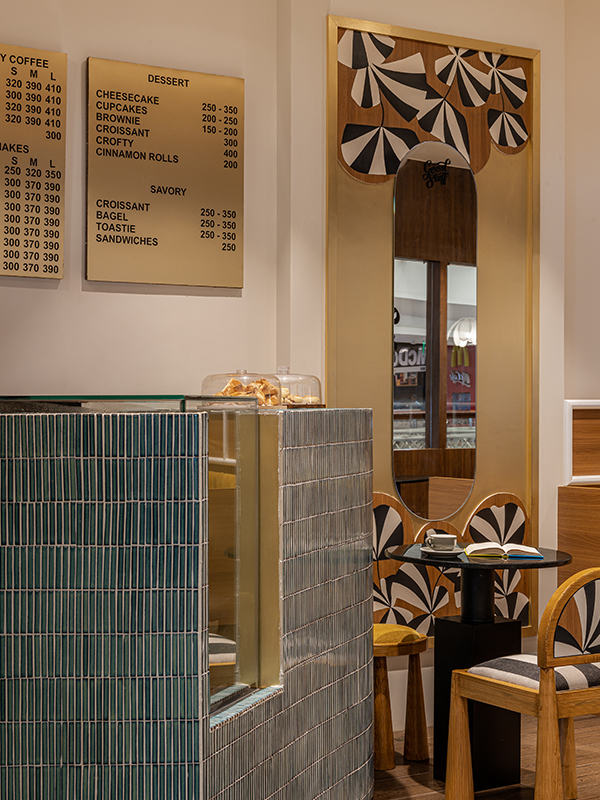 A sibling duo Alina and Amaan Morkas have been working together under the moniker of Studio Morkas for the last two years. Inspired largely by soho palettes that combine traditional and vintage furniture with hints of modern decor elements, Studio Morkas creates an oasis of comfort and calm with their projects. Their style is often characterized by neutral color palettes, modern, minimalist decor with subtle pops of color, and soft contemporary furnishing. With GoodStuff the approach has been a bit more playful. The idea of creating an oasis of calm as a respite from the bustle of the surroundings is a key design concept for this space. 
Also Read: This Wabi-Sabi Inspired Cafe In Surat Offers Comfort Food And Comfort Place