3 New Restaurants In Goa: Old Portuguese Houses, French Gourmet Cuisine, And Heritage Indian Recipes
10

Aug

'23

1:58 pm

by

Nirtika Pandita
The famous beach city and the Portuguese heritage of Goa never cease to amaze. Be it the rush of tourists or the peak of monsoon, Goa always has something to offer; the place is buzzing with new and exciting  restaurants irrespective. From old Goan villas housing quaint Goan and French gourmet experiences to bringing the whole of India to Goa, these new luxurious spaces are bustling with life, taste, and class.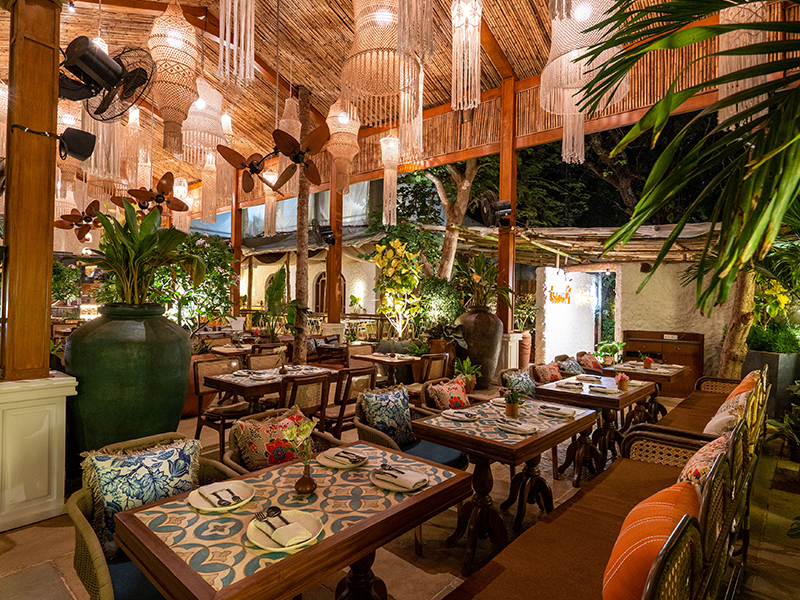 #1 Bawri, Assagao
A homage to age-old Indian recipes and the local craftsmanship of Goa, Bawri is a beguiling amalgamation of taste and experience. Nestled in lush green surroundings, the restaurant founded by Sahil Sambhi and Chef Amninder Sandhu serves as a secret passage to another world. The menu, meticulously curated by Chef Sandhu, aims to serve age-old recipes prepared using lost cooking techniques combined with complex flavours drawn from locally sourced ingredients.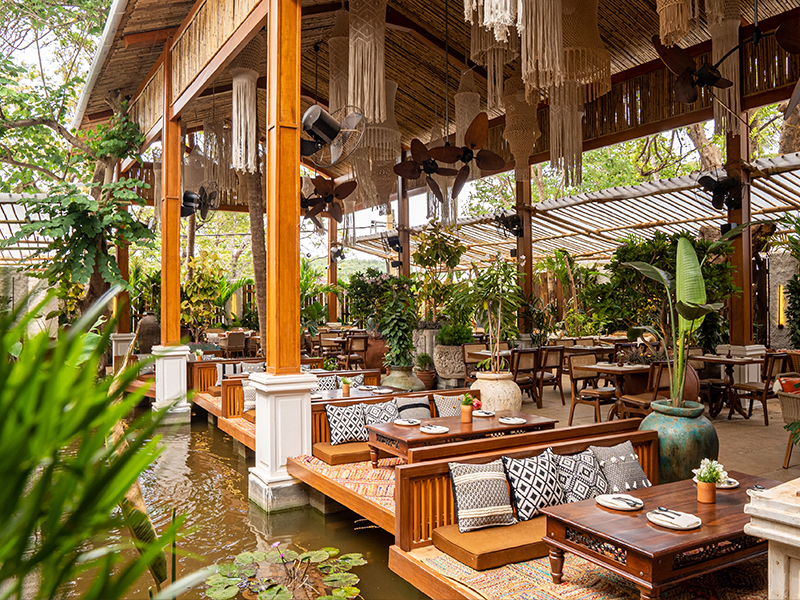 Designed by Orphic Design Studio's Vivek Guha, the restaurant and bar take inspiration from the local Goan artisan bamboo and pottery communities. The space combines the elements of a coastal cottage with modern rustic influences, highlighting the beauty of natural materials and rugged charm with earthy materials, colours, and forms.
Also Read: 7 New Restaurants In Goa: A Sussanne Khan-Designed Space, An Experimental South-Indian Outpost, And More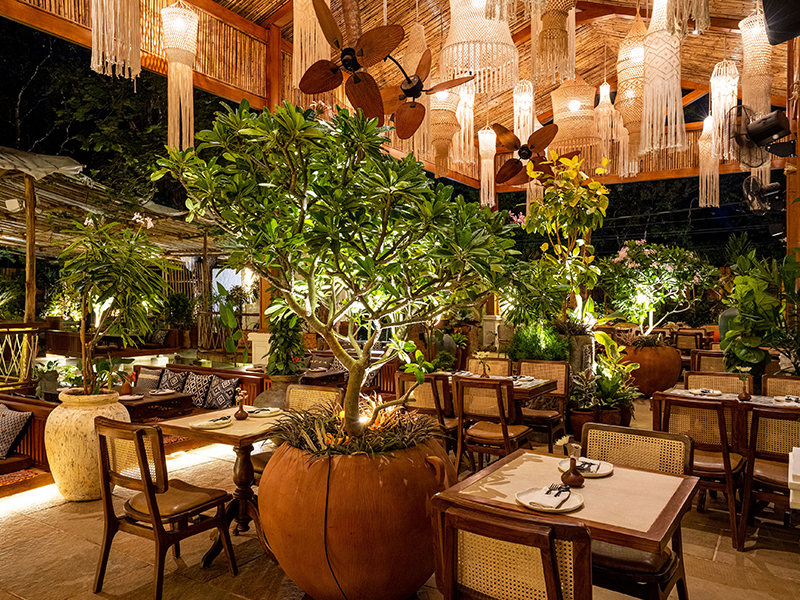 The menu boasts traditional dishes right from Kashmir's prized mushroom gucchi and Nagaland's pork salad to Manipur's bheja masala and Kerala-style tiger prawn; the list is endless. The traditional Indian-style low-seating arrangement on floating cabanas, accompanied by the classic dishes, is what one will experience at Bawri. They also have al-fresco areas and semi-open spaces, giving patrons access to different levels of openness to the surroundings.
"When we began conceptualising Bawri, we were extremely certain that it would have two key ingredients: traditions that you very rarely see anymore and warmth that you would see when you went over to your grandmother's or relatives' place after a long time. We're trying to make you fall in love with Indian tradition and culture while not just evoking but also creating memories," says Chef Sandhu.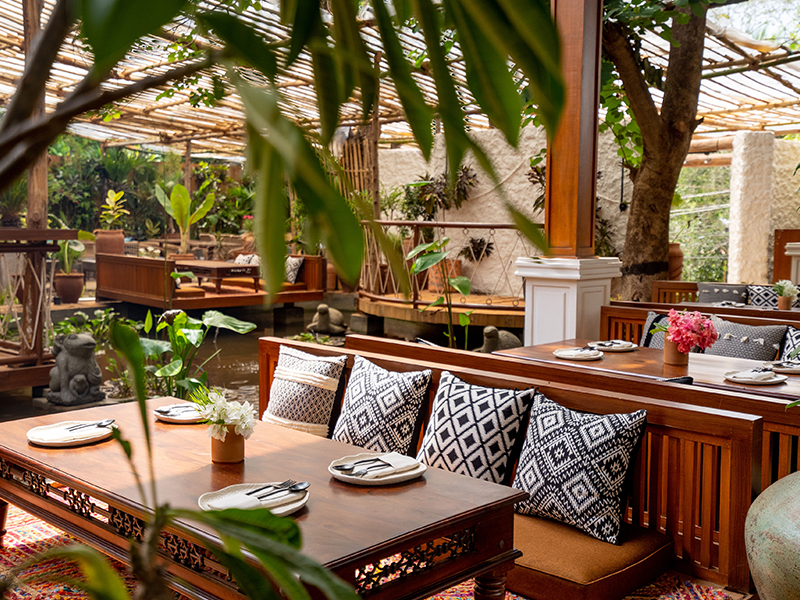 #2 The ASSA House, Assagao
Bringing the luxurious experience of a French bistro to Goa, with fine-dining gourmet French cuisine and black and white harlequin tiles, The ASSA House is a charming spot. The interiors by Amita Kulkarni effortlessly fuse the elegance of French dining with the rich heritage of Goan houses. Housed in an old Portuguese villa, the old-world charm of the stunning portico with outdoor garden space will lure you in to gorge on baked Brie and French onion soup.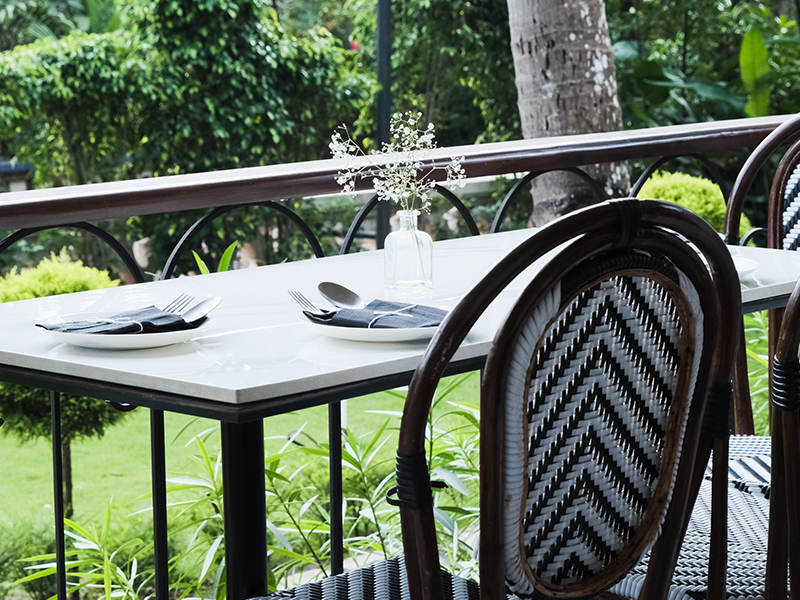 Their menu is a reflection of chef Alexis Bielbaum and Sumit Savardekar's passion for fusing the best of two worlds, which has resulted in crafting dishes like truffle pappardelle and tomme cream, steak tartare, and fish and chips dassa. While French desserts such as Crème Brulee, Paris Brest, baked Alaska, and Baba Au Rhum will swipe you off your feet.
Here also lies a captivating black bar serving carefully curated cocktails such as Cherry on the Cake, Palorita, and Flat Bubbles by mixologist Varun Sudhakar. The owners, Nitin Wagh and Shubham Setia, plan to open a speak-easy bar on the upper floor. "Every dish at The ASSA House is thoughtfully curated. We emphasise ensuring a perfect blend of flavours, textures, and presentation," says Nitin Wagh and Shubham Setia.
Also Read: Delhi's Indian Accent Launches HOSA In Goa, An Experimental South Indian Restaurant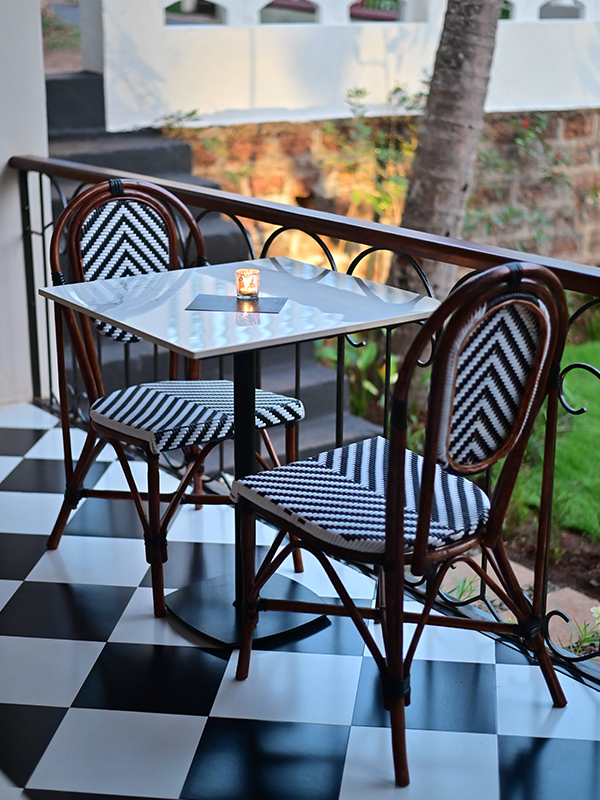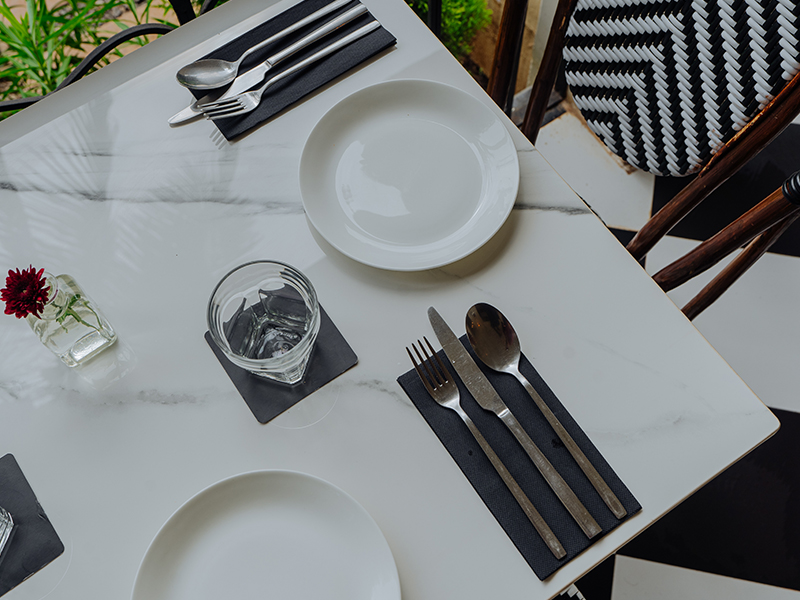 #3 Terttulia, Panjim
Keeping intact the key architectural element of Goan houses—a must-have 'balcao' (an outside porch)—Terttulia hits the right spot when bringing to light the simple look and feel of Goan life. Restaurateur Imrun Sethi, who owns the Terttulia chain, has joined hands with entrepreneurs Sunny Sara, Ritik Bhasin, and Ranbir Batra for this Goa outlet. Built into an old Goan villa, the restaurant is an adaptive reuse project. Goa-based design studio Otherworlds has effortlessly converted the space into a restaurant that grows out and around the central bar in an open structure.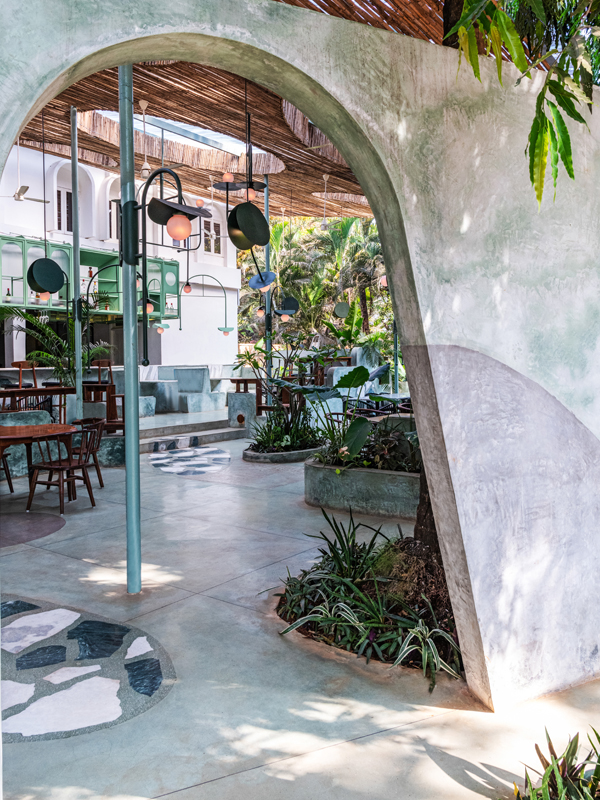 "When we first visited the villa, we noticed that there wasn't a balcao that welcomed you. The house was an enclosed shell. We naturally wanted to connect the indoor and outdoor parts of the house, and we thought it would be best if the bar became the bridge for that connection in the form of a balcao. We began by opening up some of the facade walls on the ground floor and building the floating bar onto them", says Arko, Founder and Principal Architect, Otherworlds.
Also Read: New In Bangalore: A Gorgeous Villa-Restaurant, A Sleek All-Day Bar, And A Tranquil Cafe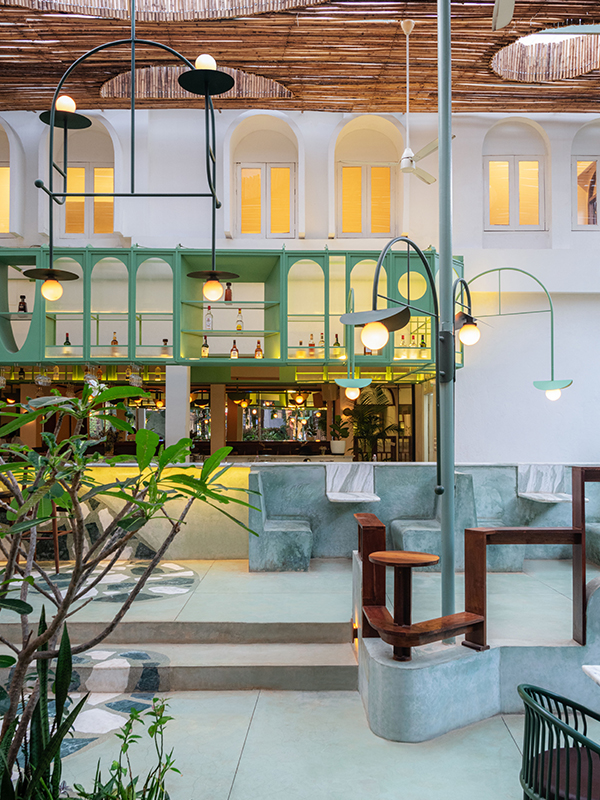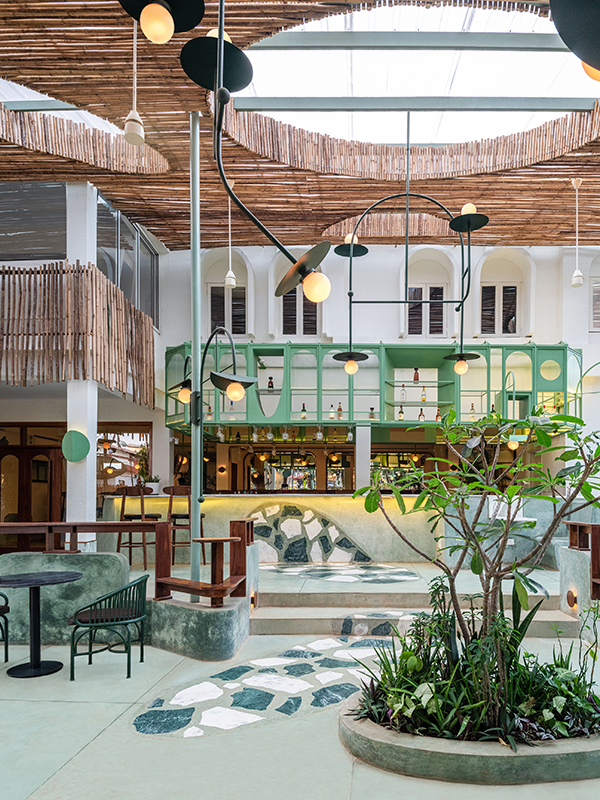 The bar extends partly inside and partly outside, functioning not only as a traditional bar but also as a balcao for people to sit and sip their drinks in peace. Hovering above the bar is a floating library of assorted liquor and books that turns into a lit centrepiece chandelier in the night. The whole structure is made of metal and fluted glass, holding lamps that branch out from its ends, giving light to the benches built along the bar wall. Here, the white marble slab that makes the bar top fold down turns into small tables, forming an intimate two-seater space along the bar.
While the monolithic olive-green blankets the walls of the space, the bamboo canopy covering the sky with elliptical openings allows the space to light up naturally throughout the day, dropping a gentle dappled glow over the dining area.
The Terttulia Goa menu offers a wide range of international and local dishes, including pizza, pasta, salads, and locally procured seafood. To quench the thirst while partying, the cafe serves a variety of smoothies, juices, coffee, and an extensive list of cocktails and coffee.