Tarun Tahiliani And Vinita Chaitanya Transform An Old Colonial Mansion Into A Retail Haven In Bangalore
6

Jan

'23

2:39 pm

by

Nuriyah Johar
Housed in a restored heritage bungalow, Tarun Tahiliani's new flagship store in Bangalore is a compelling homage to the designer's India Modern philosophy. It comes with all the gorgeous trimmings of traditional architecture – monkey top roofs, stone mosaics, and terrazzo tiled floors. To transform the previously dilapidated structure into a remarkable retail haven, Tahiliani commissioned Bangalore-based interior designer Vinita Chaitanya. A true champion of Indian maximalism, Chaitanya's creative sensibilities aligned with Tahiliani's at every step, resulting in what we see before us now – tangible proof that in the inexhaustible sea of e-commerce, physical retail is far from irrelevant.
"The collaboration was a mutual arrangement of happy ideas" – Vinita Chaitanya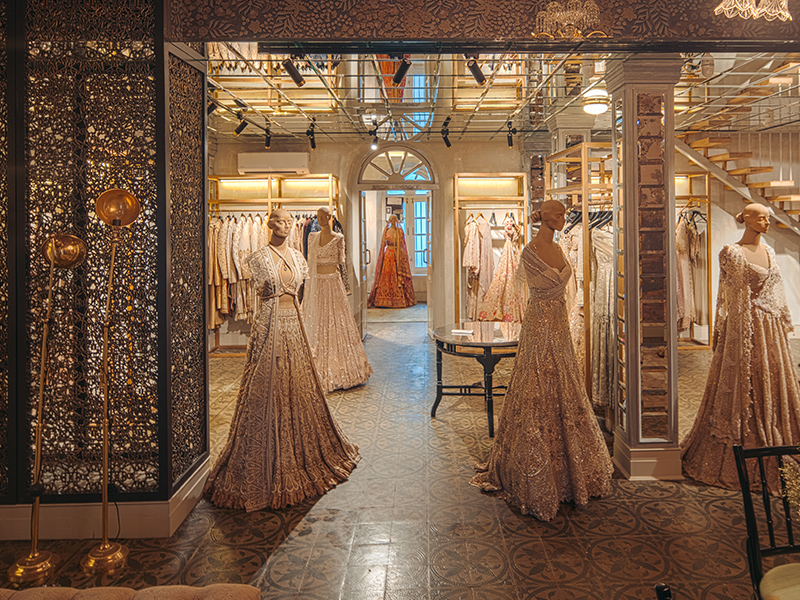 Spread across 4,500 sq ft, the store is the embodiment of "heritage luxury," according to Chaitanya. Interestingly, her inspiration for the store's material palette and colour scheme lay in the mansion's original flooring! She says, "the existing floors turned out to be so beautiful that we decided to stay with the same tones for the walls; in a wash, and in some cases with wallpaper." A chalky shade of grey washes over the interior walls, complemented with custom Tarun Tahiliani wallpapers. The floors are layered with custom rugs from Obeetee – a brand that Tahilaini collaborates with often, and the furniture is a mix of restored antiques and custom-made pieces.
Also Read : Sabyasachi's Flagship Store In New York Is A Maximalist Celebration Of Heritage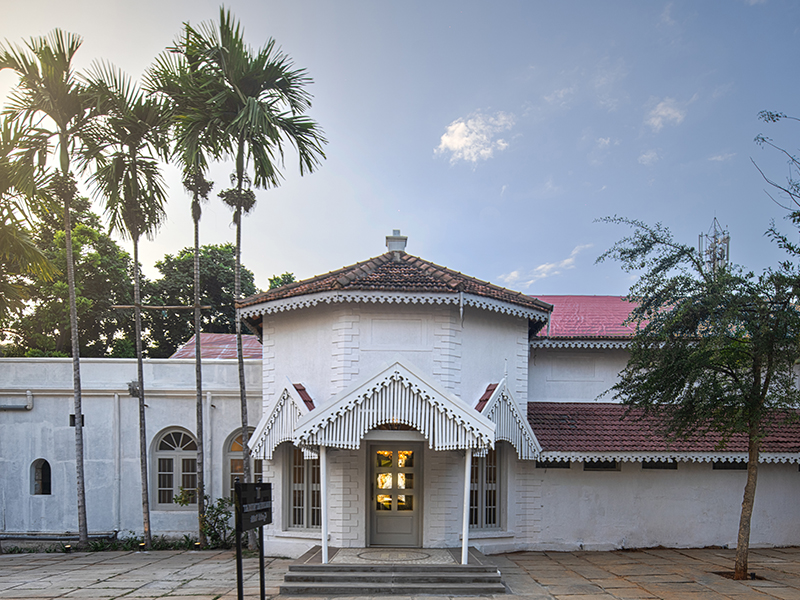 Both Tahiliani and Chaitanya wanted to keep the layout of the original mansion intact. The retail experience was hence conceptualized around the anatomy of the existing space; the accessories lie on the left, the ready-to-wear pieces lie on the right, and the aangan (courtyard) showcases the designer's grand couture collection. "Sample the range and breadth of the collections – each in its own dedicated space, to be viewed by itself," says Tahilini. "At the center of all this is the aangan, literally wrapped by a painted banyan, with motifs from our embroidery studios. This is the couture core of the brand."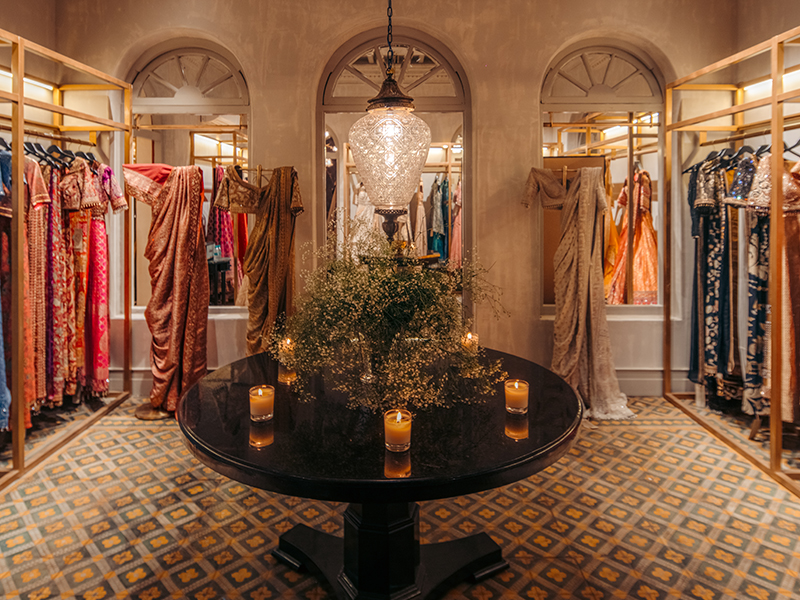 Overall, the creative collaboration between the fashion veteran and interior icon was "a mutual happy arrangement of ideas," according to Chaitanya. "Tarun is the maestro! We had conversations on design in the beginning, and then, because he knows best how to lay out his stores, he took over. We would discuss smaller details as and when needed. Maybe, as he says, I inspired or guided him in this direction." She goes on to add, "of course, Bangalore's colonial monkey top architecture is my passion," referring to the distinct architectural detail unique to the Southern city.
Tarun Tahiliani's flagship outpost in Bangalore marks the brand's first foray into South India, and adds to their growing list of Indian stores which are located in Mumbai, New Delhi, Hyderabad, and Kolkata.
Also Read : New In Delhi: AMPM, Ensemble, And KoAi Mark The City's Latest Retail Openings