This Gorgeous Sri Lankan Villa Exudes Bohemian Luxury And Tropical Bliss
28

Feb

'23

4:04 pm

by

Nuriyah Johar
Nestled in the balmy environs of coastal Sri Lanka, Braganza House is many things. It is bohemian, maximalist, and luxurious all at once, layered with design influences around the world. Owned by British designer Chlöe Elkerton, founder of Singapore-based interior design firm E&A Interiors, the villa tells the story of confluence through its every layer. "The initial vision I had for Braganza House was to create a beach house in the countryside that was different from the many Bawa-inspired and modern tropical villas, as wonderful as they are," says Elkerton. "I wanted to create something unique and fresh that was a home rather than a rental villa that encompassed my journey in life so far and the people and places that have influenced me."
"The initial vision I had for Braganza House was to create a beach house in the countryside that was different from the many Bawa-inspired and modern tropical villas, as wonderful as they are" – Chlöe Elkerton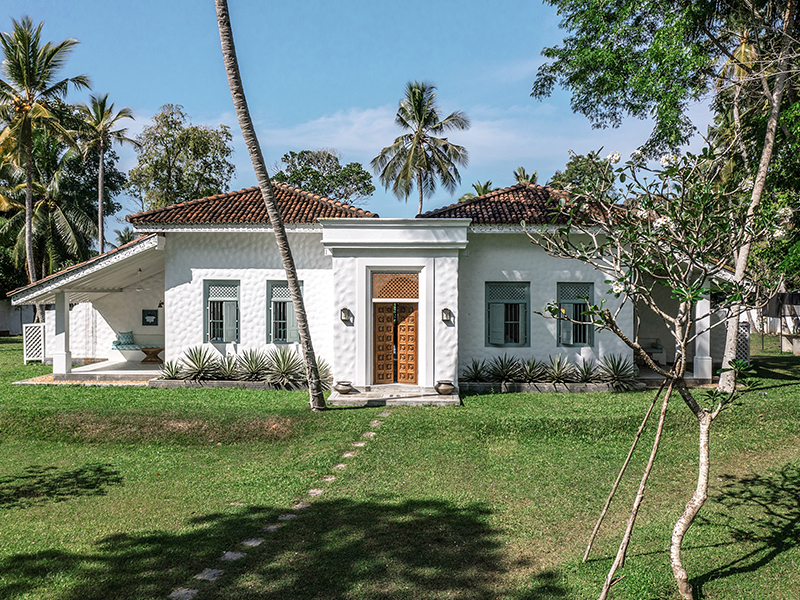 Braganza House lies amongst lush tropical gardens with extensive paddy views, just a few minutes from the outstanding beaches of Talpe on the South coast, and only 15 minutes from the historic Galle Fort. The house comes with four gorgeous guest suites, along with a verandah and pool area, altogether spanning over 6,000 square feet.
An English designer living in Singapore, Elkerton's love affair with Sri Lanka began several years ago. "Sri Lanka is still quite raw and that's what I really love about it," she tells us. "It's not Bali or Thailand, it's charming, and there's nowhere else quite like it. The landscape is so diverse – from the hill country to the stunning beaches, the ancient rock of Sigiriya to the Unesco World Heritage site of Galle Fort. Not to mention the incredible wildlife, delicious food, and the beautiful people of Sri Lanka."
Also Read : Jaipur's Newest Boutique Hotel, Villa Palladio Is A Maximalist Crimson Dreamscape – DP Reviews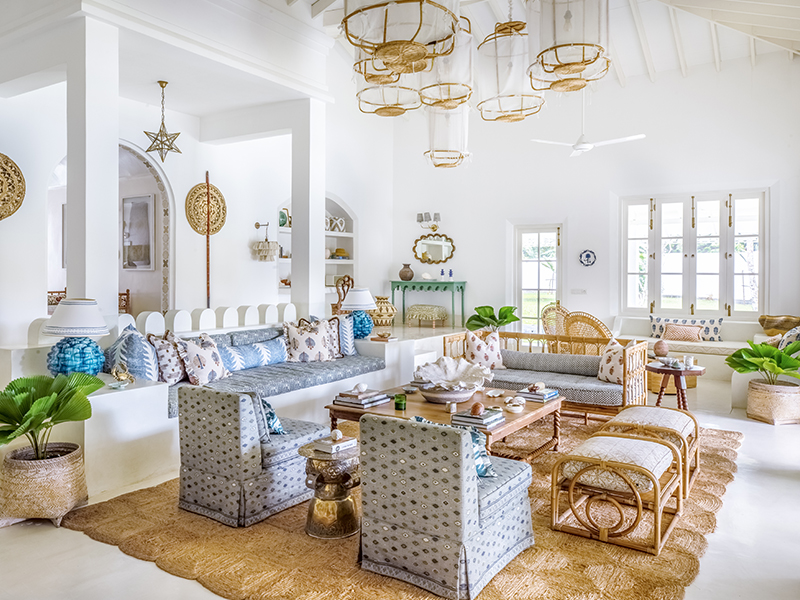 Taking inspiration from quintessential Sri Lankan bungalows and combining it with a mix of Mediterranean and Moroccan influences, Braganza House is refined yet relaxed, infused with the calm and peacefulness of the surrounding countryside. Stunning fabrics from world-renowned designers, including Sybil Colefax, Nicky Haslam and Fermoie, exist in harmony with locally-made furniture, tropical artwork and findings from nearby antique shops, including a stunning 19th-century Dutch ebony chair.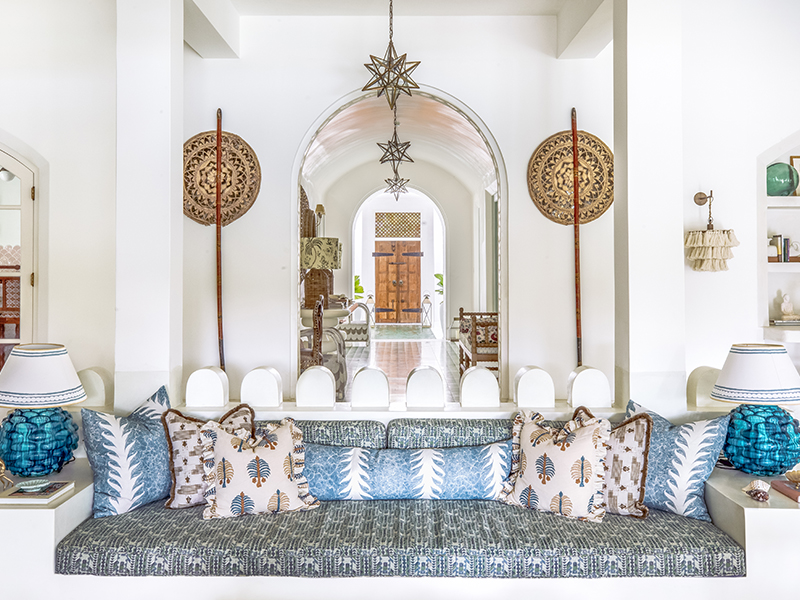 One enters Braganza House through an antique carved ʻflower' door, into an open courtyard paved with emerald green Moroccan bejmat tiles. Large temple fans flank the sitting room entrance, complemented by sculptural lamps from Vaughan. Flooded with natural light, the sunken sitting room features a stunning high vaulted ceiling full of suspended rattan lanterns, a playful bar area, and built-in polished cement seating with a whimsical scalloped back. This is layered with bespoke rattan details and patterned furnishings.
The open plan sitting room overlooks the verdant garden and the pool beyond, framed by three French doors with scalloped transoms that lead onto the pretty verandahs which wrap around the property. "I love how impressive the Sitting Room looks," says Elkerton. "Especially that moment when you walk through the antique front door, which is adorned with hand-carved rosettes, through the open courtyard. It is always amazing to come upon this space in the house, no matter what time of the day!"
Also Read : 7 New Restaurants In Goa: A Sussanne Khan-Designed Space, An Experimental South-Indian Outpost, And More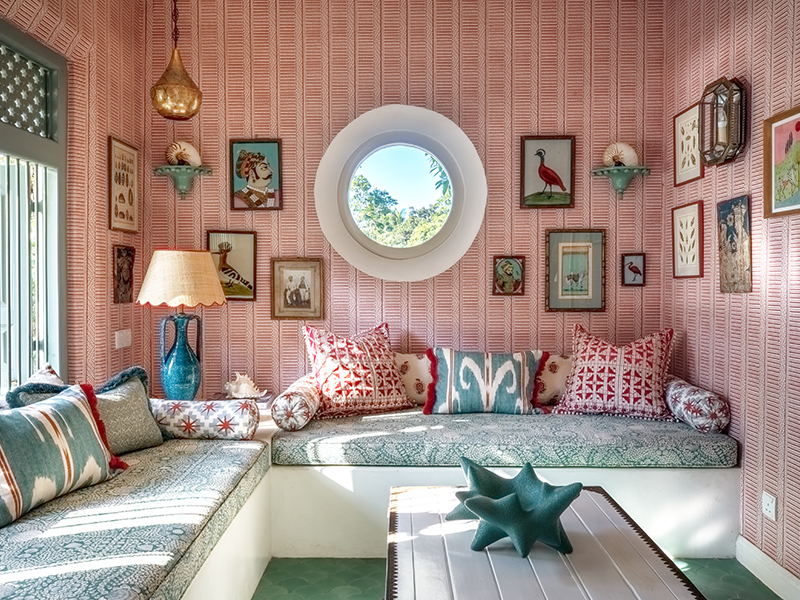 A second, smaller living area dubbed the Shell Room is features wrap-around seating with an assortment of beautiful cushions. Colour and pattern are the stars here; the green cement scallop floor tiles contrast with the printed red wallpaper beautifully. "The Shell Room is particularly special because it showcases lots of my personal art pieces and shells that I have collected over the years," says Elkerson. A whimsical porthole window looks out onto the pool beyond.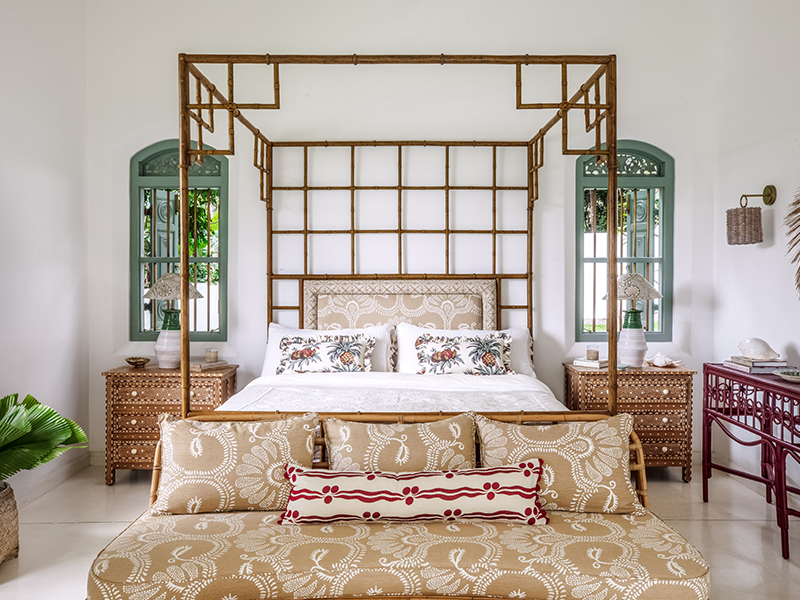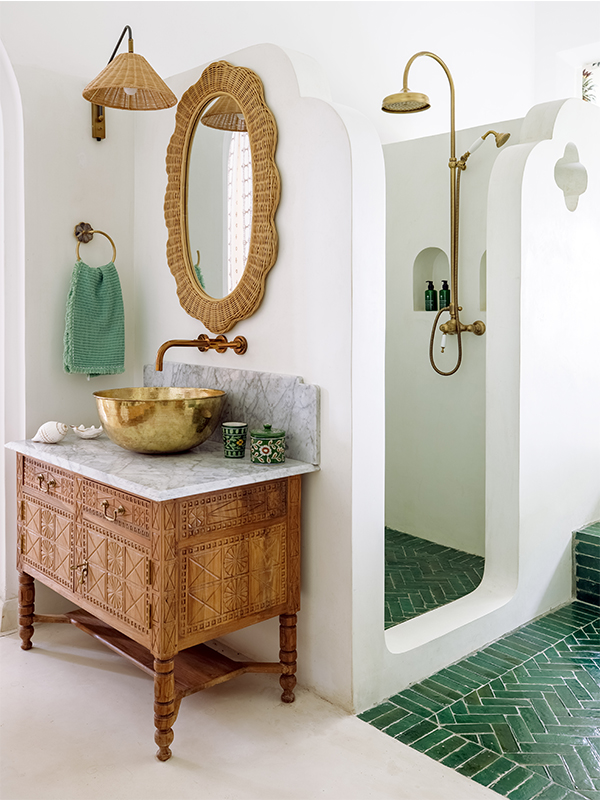 Featuring the same attention to detail as the living areas, every bedroom at Braganza House is thoroughly unique in its design. The Palm Suite lies beyond a set of antique white Dutch doors. "We sourced the antique windows and doors from my local antiques guy "Gamini" in Talpe, and I would always pop in every time I visited the site to see what pieces he had, and quickly snapped up anything that caught my eye," says Elkerton. A grand four poster rattan bed is complemented by natural cane and rattan decor, botanical textiles, and natural greens. French doors open out onto the spacious verandah, blurring the boundaries between the interior and exterior. A bright open-concept bathroom features striking Moroccan bejmat floor tiles, double brass basins, and rattan lighting.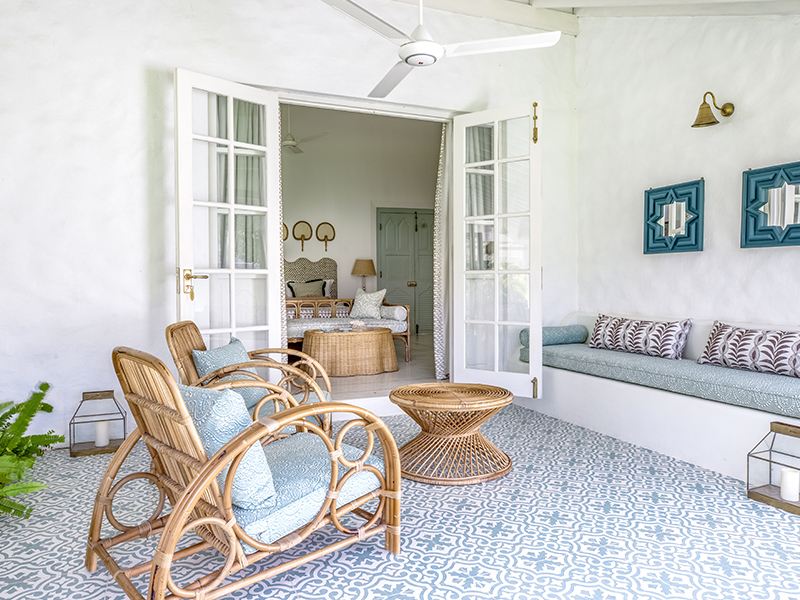 The Pearl Suite exudes a bohemian elegance, layered with textiles in dusky pinks, seafoam, and sand tones inspired by the South coast. An undulating wave-shaped headboard with rattan seating, fretwork carpentry and arched bookcases create a calming space, and French doors lead onto a spacious terrace, where built-in seating provides stunning views of the garden and pool beyond.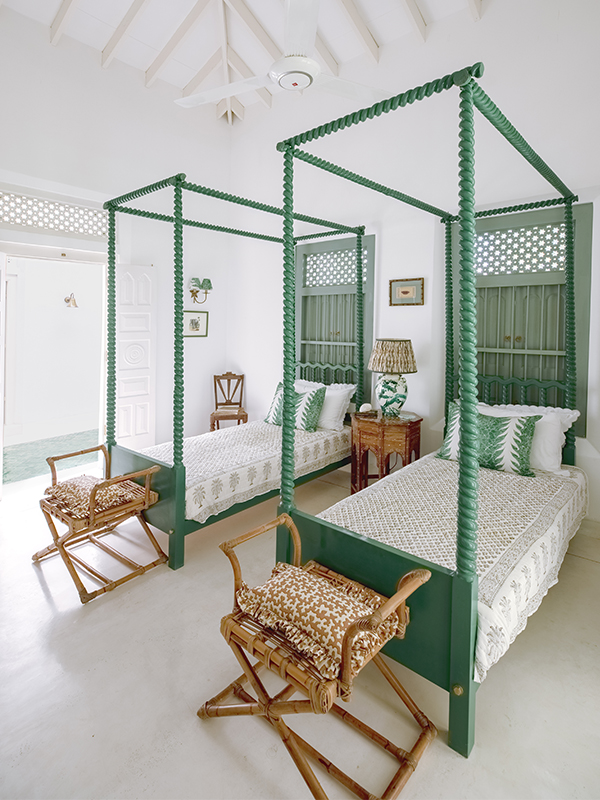 The colour green comes alive in the Peacock Suite, a twin-bedded space perfect for children. A set of green barley twist four-poster beds, which mirror two antique windows and accentuate the lofty space. The motif of colour is carried forward in the ensuite bathroom that features detailed green Moorish encaustic tiles.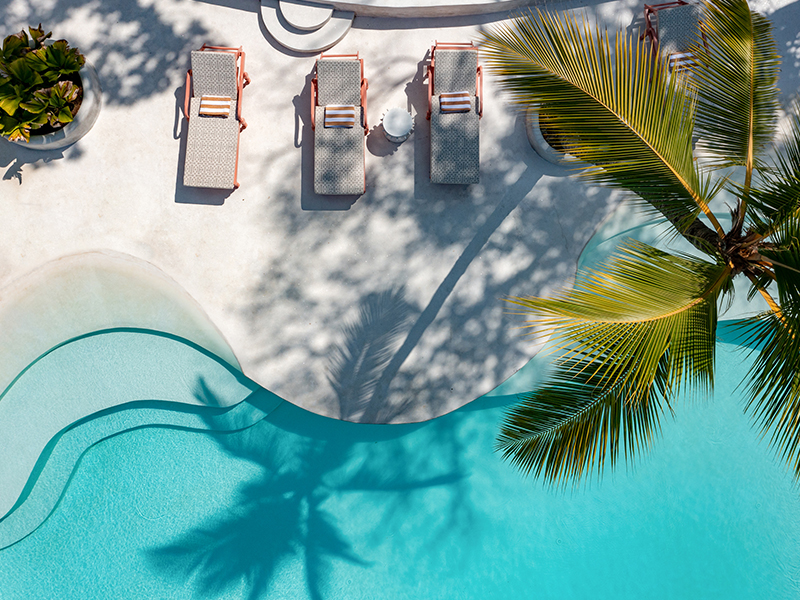 Just as compelling as the interior are the outdoor areas at Braganza House. The tropical garden and lawn is home to peacocks, exotic birds, monkeys, and a number of fruit trees and flowers. A stunning, freeform pool finished in terrazzo sits elevated within the lush greens. Featuring a natural beach-like deck, it brings a slice of the beach inland. By the pool lies a rustic, al-fresco dining area designed with a roof made with cinnamon sticks!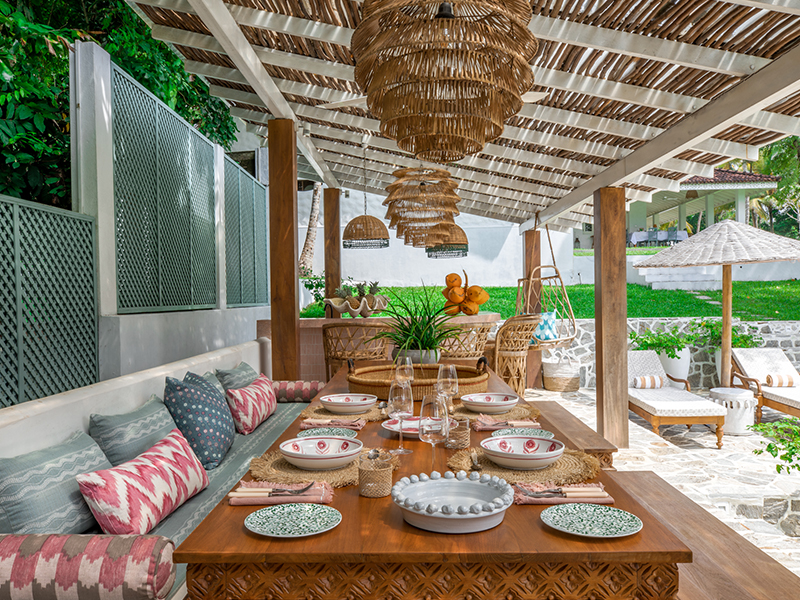 A stunning home away from home, Braganza House can be booked for up to eight people. Elkerton concludes, "Braganza House has definitely evolved over the period but I feel it has also remained true to my initial vision. A grown up bohemian and chic tropical house is what I envisaged, and I always knew I wanted to create something different from what already existed in Sri Lanka."