This Beachside Home In The Town Of Kelwa, Maharashtra Is Coastal Chic At Its Best
11

Oct

'22

7:04 pm

by

Beverly Pereira
The restoration and renovation of old structures unquestionably poses a unique set of challenges, making it almost impossible to not run into a stone wall in the process. "It is challenging to decide what should remain and what should be discarded or even added," says architect Amritha Karnakar, founder and creative head of Amritha Karnakar Architectural Design (AKAD). Aside from delivering multiple interior, architecture, and landscape projects built from scratch since 2010, Karnakar has worked with utmost sensitivity on several such renovation projects over the years – so much so that she now finds it exciting to revive and bring back old structures to life.
For a recent project completed in March 2022, a beach house constructed 25 years ago in the coastal hamlet of Kelwa in Maharashtra, the architect was entrusted with a spruce-up that would also meet modern standards. What ensued was the conversion of a two-bedroom home into a three-bedroom holiday home with interrupted ocean views and a spiffed-up roof, among several other additions. The home truly epitomises coastal chic-meets-traditional India.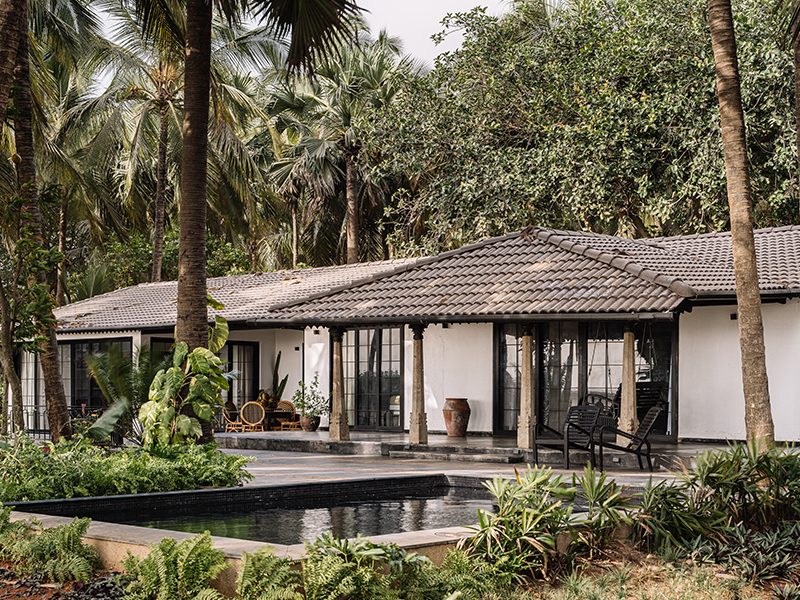 Entering the property, a lush coconut grove opens out into the 4986 sq-ft holiday home, swathed in a tropical-inspired coating of black and white. The site, roughly two hours away from maddening Mumbai, looks out onto the Arabian Sea and comes with every opportunity for repose amid the tranquil surrounds.
Save for a brief that included the revival of the house and addition of newer blocks to cater to the client's expanding family, Karnakar was given carte blanche to set about the renovation of an old structure which she describes as one that came with an old-world cottage feel. "The client and I had bonded over our love for traditional Indian aesthetics on our very first meeting. We were drawn towards a vibe that would be traditional with a modern feel, but at the same time would have this relaxed vibe to match the location," says Karnakar who opted for locally sourced materials like laterite, basalt and granite for the project.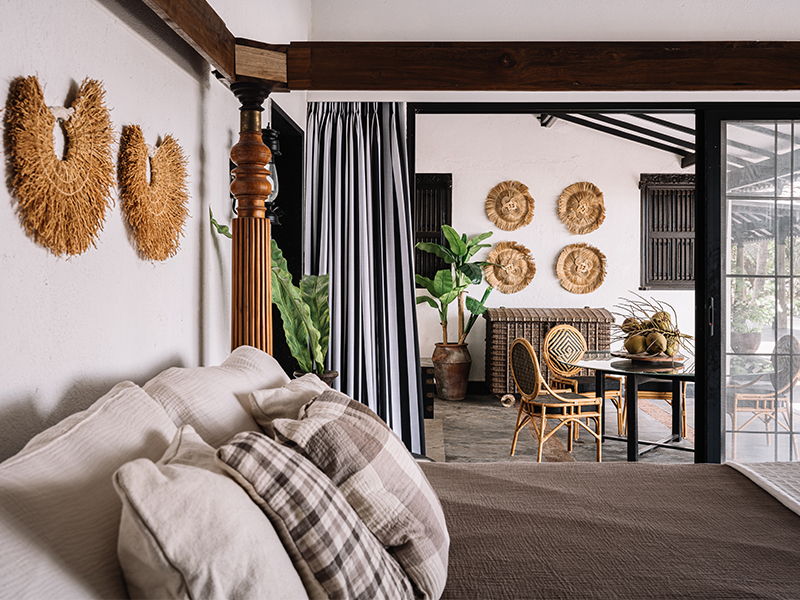 Remodeling the home first involved reimagining it to incorporate a third bedroom in line with the brief. To this end, Karnakar and her team integrated a black-and-white bedroom with floor to ceiling sliding windows and doors to bring in views of the beach past the coconut grove and existing well. Much like a glass box sitting adjacent to a casual semi-open dining area, this bedroom with its limestone flooring, vintage bed, upholstery by Le Style, and vetiver hand fans fashioned into wall hangings carries all the charm associated with coastal living.
Also Read : This Elevated Weekend Retreat in Bamboo Encapsulates Kolkata's Rural Charm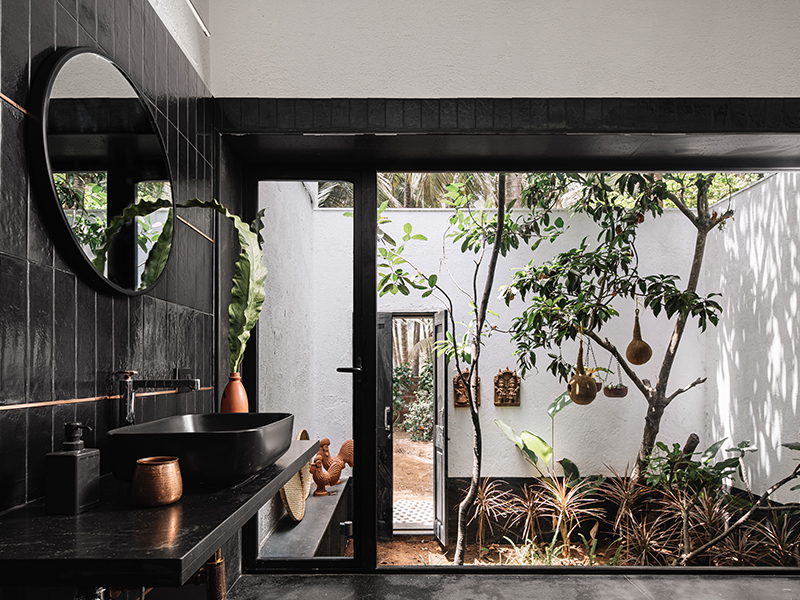 The newly added bathroom, fitted with an alternation of striped matte and glossy black tiles with copper metal trimming, allows for an experience akin to showering in the outdoors. It features a glass façade that brings in views of a courtyard and an existing chickoo tree retained for good measure. Dotted with Molela terracotta wall hangings crafted by Rajasthani artisans and roosters sourced from Peacock Life, the courtyard, says Karnakar, warranted a glass façade to bring in natural light besides lending a spacious appearance to the bathroom. Molela is a hollow relief terracotta craft said to have originated in the eponymous village in Rajasthan on the banks of the river Banas.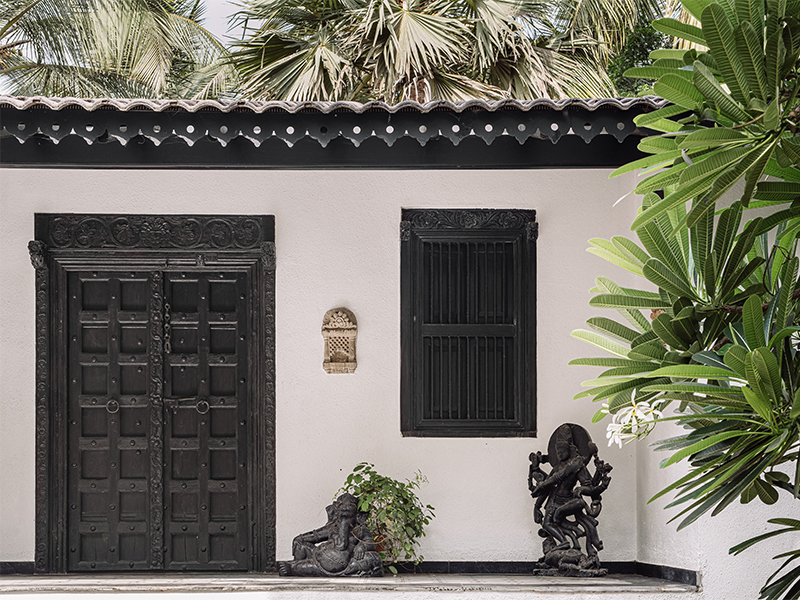 The pre-existing roof, with its old Mangalorean tiles worn away due to fallen coconuts, was damaged to the extent of causing leakages. Opting for stronger concrete Monier tiles as opposed to terracotta tiles, Karnakar admits that the real challenge was to strip away the old tiles and replace them with new dark grey clay tiles without damaging the old wooden members of the roof. "The old roof structure was sloping in different angles and was very low towards the back porch, creating little space to use cement board sheets. Therefore, in many places we used thin tin sheets as a protective layer under the tiles. We also had to do the roof work on a quick timeline because of the impending rains. Being by the ocean, we had to deal with a lot of dampness and heavy rains," she says. Besides steering clear of cutting existing trees, the team was mindful of avoiding heavy drilling to prevent any damage to the old structure.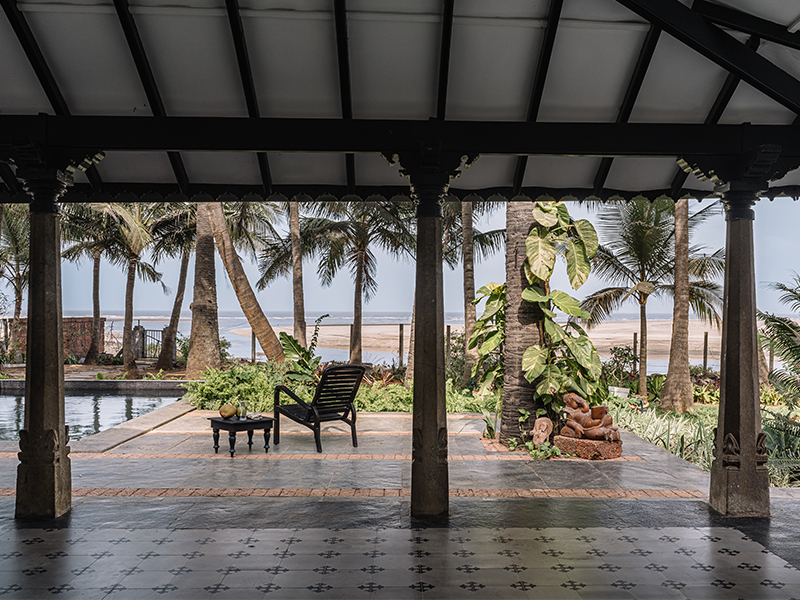 The remodeling of this coastal home included another very crucial change — the extension of a backyard porch overlooking an all-black tiled pool, a well, and the seemingly limitless waters beyond. Stepping out of the living room, one sets foot on to the extended porch fortified by stone pillars that not only provide shade but also bring in a rustic touch.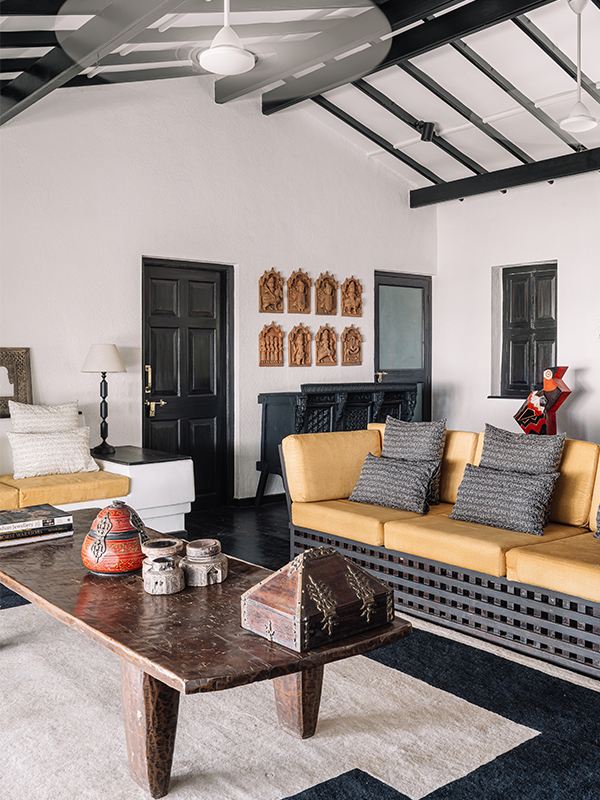 Aside from the major rehaul of this holiday home, Karnakar designed the interiors to truly reflect its beachside backdrop while giving it a modern beach home feel with traditional aesthetics. Peppered with antique objects and a smattering of cane accessories harmonious with the coastal vernacular of the South, the home champions Indian art, craft and heritage. In the living room, a checkered black wood sofa sits comfortably with another sofa — the latter, a bespoke piece built into the wall, is uplifted by a black beaded mirror by Sage Living and Marapachi Bommai wooden dolls gifted to the client by her mother on her wedding day.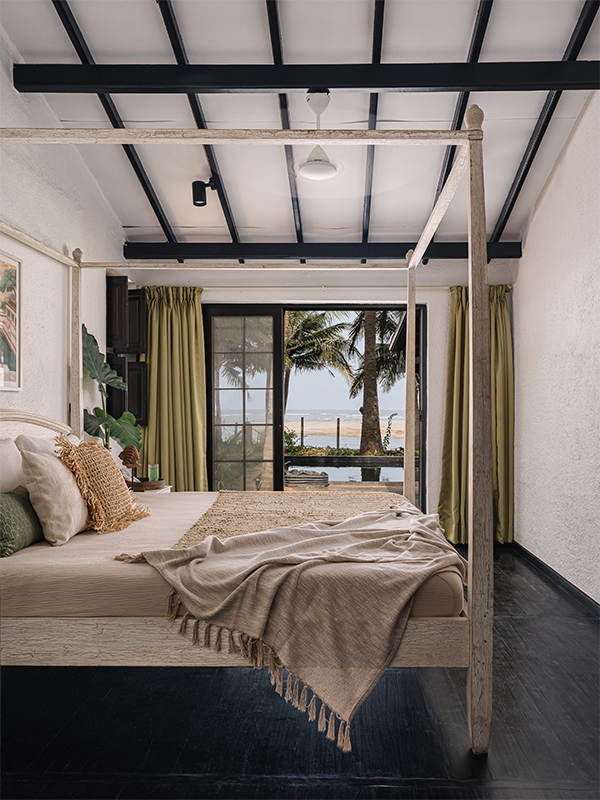 As for the two existing bedrooms, these once dingy and dark spaces were remodeled and fitted with glass sliding windows to welcome both natural light and breathtaking views of the Arabian sea by doing away with the old wooden windows. However, like the rest of the house, the old wooden flooring, roof and roof members were retained in these private spaces but revived with an all-black finish. In the first bedroom, a beautiful wooden four-poster bed with a crackled finish exudes a definitive coastal charm, while art by Richa Kashelkar depicting Hampi's famous stone temples accentuates the rustic personality of the home. An outdoor shower attached to the bathroom here builds on the idea of a coastal home as a true nautical retreat — a sanctuary for the senses.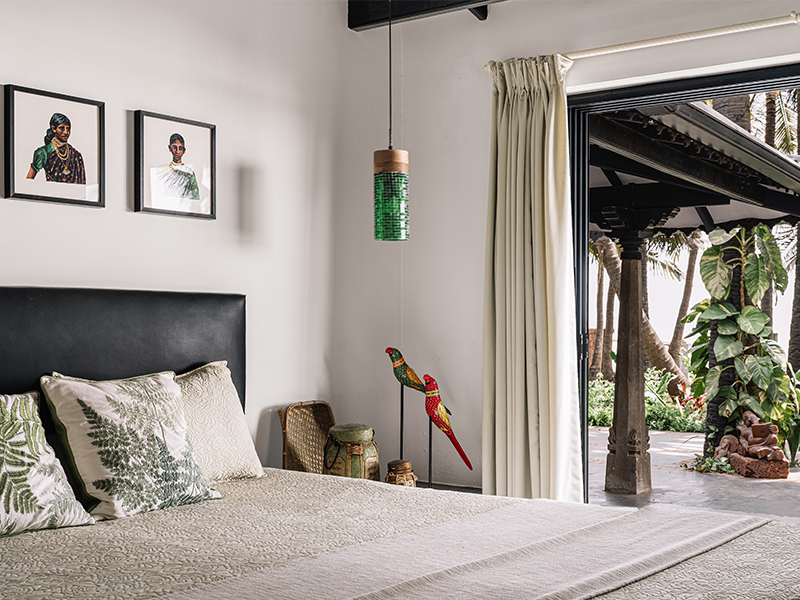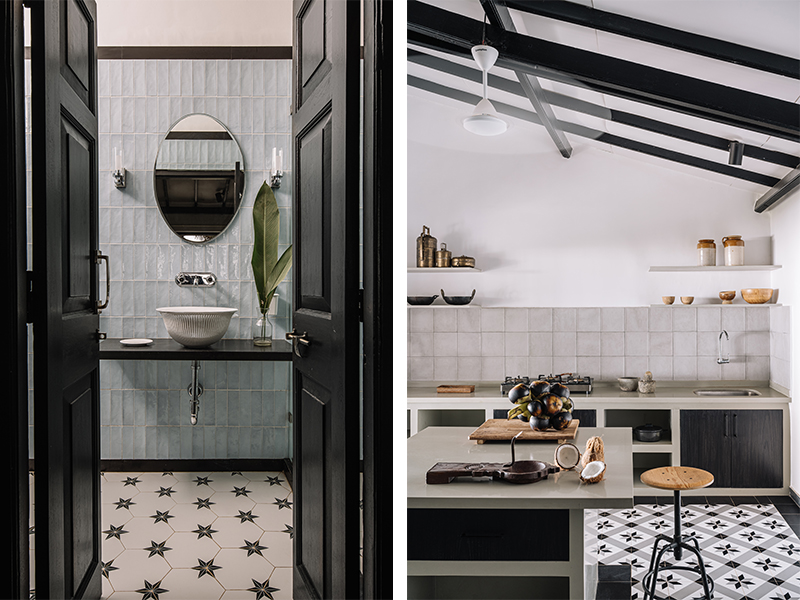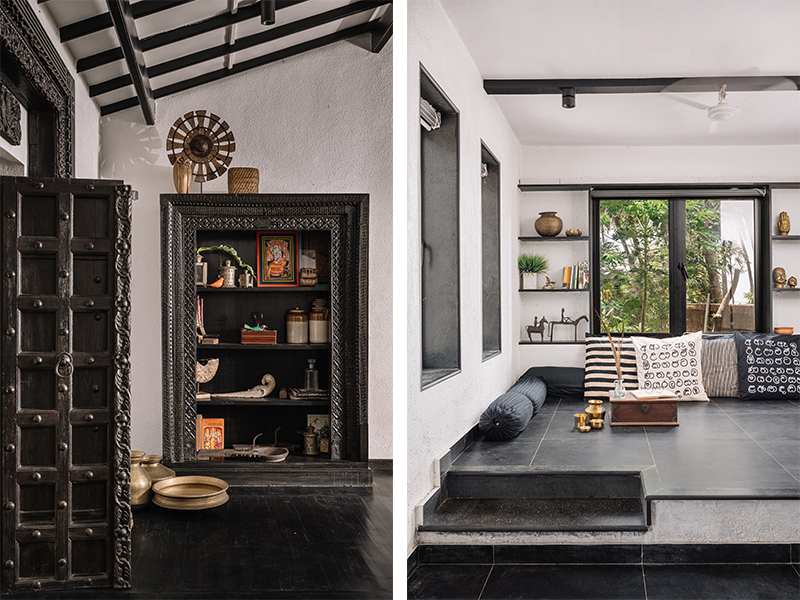 This airy home carries all the right touches — a balanced sensibility of the modern and the classic — that make it the perfect getaway to enjoy a quick city break. Indeed, one can almost smell the warm, salty air and feel the sea breeze with just a glimpse of this coastal home.