Venice Architecture Biennale 2023 Represents And Advocates Diversity, Here's 5 Reasons Why
11

Jul

'23

11:21 am

by

Tanvee Abhyankar
The Venice Architecture Biennale began on the 20th of May this year, and will run until November 26th, mesmerising architecture and design enthusiasts around the globe with its grand spectacle. Marking its 18th edition, the esteemed Venice Architecture Biennale, orchestrated by Lesley Lokko, has embraced the compelling theme of 'The Laboratory of the Future'. Architects and creators from diverse corners of the globe have been invited to participate and showcase their visionary works within this thematic framework. Under Lokko's skillful curation, the Venice Architecture Biennale unfolds across six captivating sections. This year, Lokko welcomes an impressive roster of 89 participants, more than half of whom hail from Africa or the African Diaspora. Notably, the biennale embraces diversity, encompassing a wide range of genders and age groups, resulting in an unmissable exhibition of remarkable significance.
Here are Design Pataki's top picks from the Venice Architecture Biennale 2023.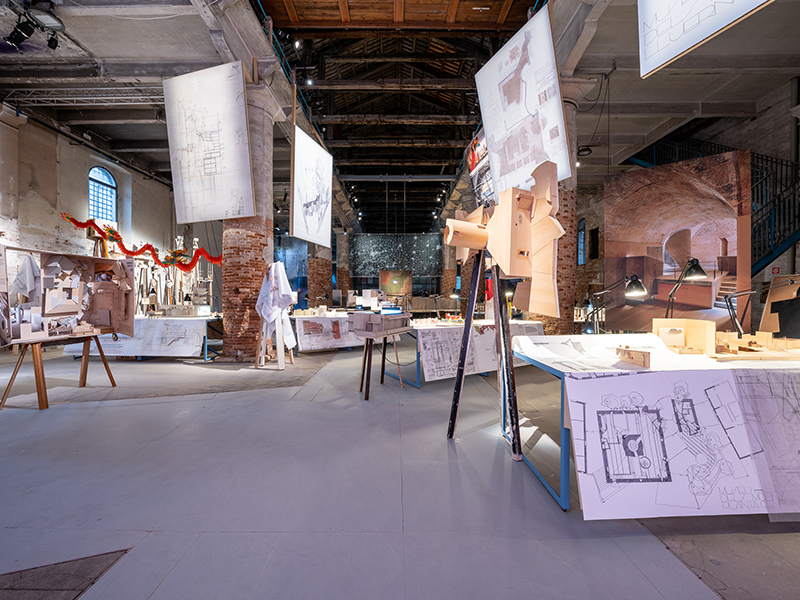 #1 'Emotional Heritage' from Barcelona
It is not only people that contain the memory of a place, buildings too are loaded with memories of the uses and lives that occupy them. The built fabric reflects social behaviour. It speaks of a way of using the ground, the sky, of a way of inhabiting. As an architect, to read the memories held in buildings and in people is to think about a future that counts on that past.
As the name suggests, Flores Prats Architects bring forth an emotional angle to heritage and built forms in construction. The setup focuses on how it is not only the people who carry memories, but also the places that have been inhabited and used for years together. They believe that "when a building is closed and abandoned, it remains alive in the memories of those who lived there". Bringing to reality this same notion are a series of process material displayed in the pavilion: unfinished drawings, models and films, documents which incorporate doubts and reflections.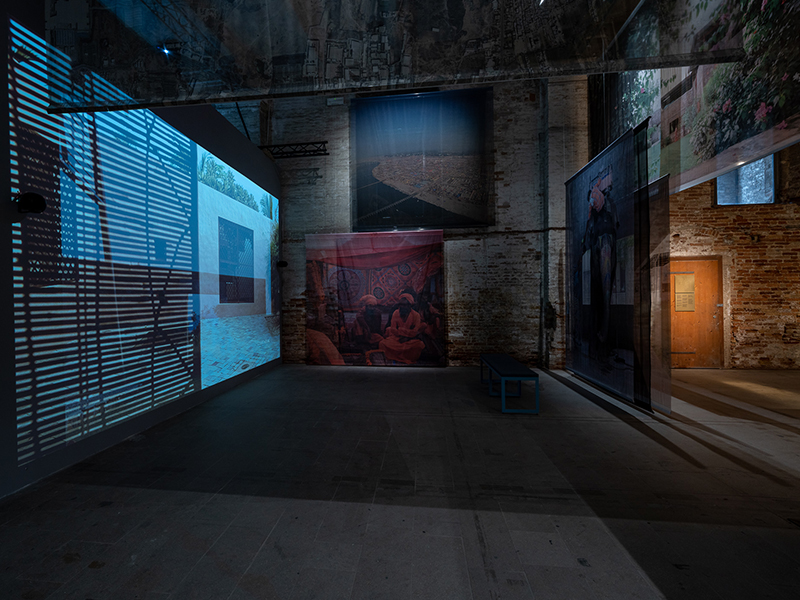 #2 'Loops Of Practice, Thresholds Of Habitability' from India
Indian veterans architect Rahul Mehrotra and cultural theorist Ranjit Hoskote team up for the Venice Biennale Architecture this year. They have established a feedback loop installation, focusing on various topics like architecture, design, research, writing, advocacy, and pedagogy; all of which are based on the architect's practice.
The Arsenale section dedicated to Loops Of Practice, Threshold Of Habitability holds large screens suspended from above, displaying video presentations and vitrines, setting forth documents. The installation successfully highlights the importance of simultaneously designing, practising, thinking, and exploring through various modes and methods, as it intends to do.
Also read: From Hong Kong To Paris, Art Basel 2023 Evokes All The Senses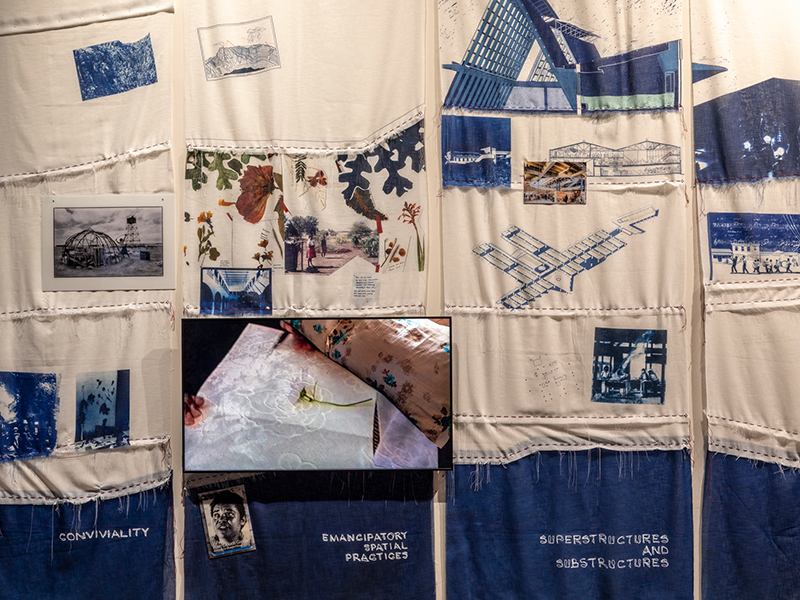 #3 'Tectonic Shifts' from South Africa
Wolff Architects' exhibition explores various themes in their work through a geological metaphor—the series of soil profiles form the basis of the installation. Titled 'Tectonic Shifts,' the exhibition space employs the powerful indigo blue colour to portray a theme as powerful—it depicts origin from the sunlight-powered cyanotype printing process. The cyanotype printing process here addresses South Africa's electricity challenges and offers an artistic response to it. The exhibition also draws relevance of the blueprints to the architecture community, as it immediately links the visitor to the historic ways of reproducing architectural drawings.
The display features an interesting, stitched arrangement of vertical bands of cloth (see the image above). With prominent recent works showcased at the top in the form of drawings, films, or photos, the layers beneath represent earlier influences and the collective subconscious of collaborators. The installation incorporates scrolling displays that overlay content onto cyanotype printed textiles, symbolising abundance amidst energy scarcity in South Africa.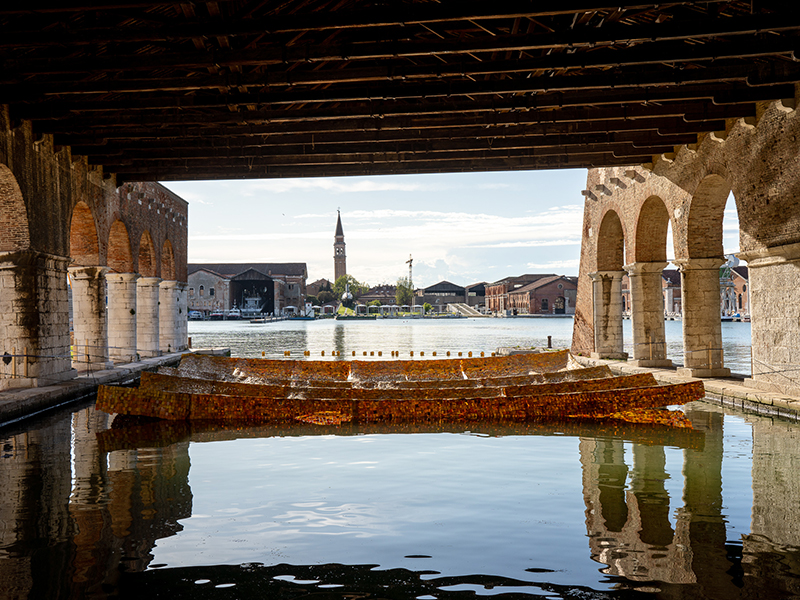 #4 'Time And Chance' from Ghana
The installation by Serge Attukwei Clottey is located in the upper support structure of the Gaggiandre and can be easily spotted with virtue of its organic hanging shape. Clottey is a multidisciplinary artist from Accra, Ghana, who explores personal and political narratives related to trade and migration through installation, performance, photography, painting, and sculpture. His 'Afrogallonism' concept involves transforming primarily yellow, Kufuor-era gallon containers into art by cutting, drilling, stitching, and melting them. These containers are not inherently African but are made of imported and discarded plastic. In this particular project, Clottey uses the Venetian architecture to create a site-specific installation, investigating the connection between 'Afrogallonism' and this culturally significant location. In the Corderie, hangs a fragment of this work.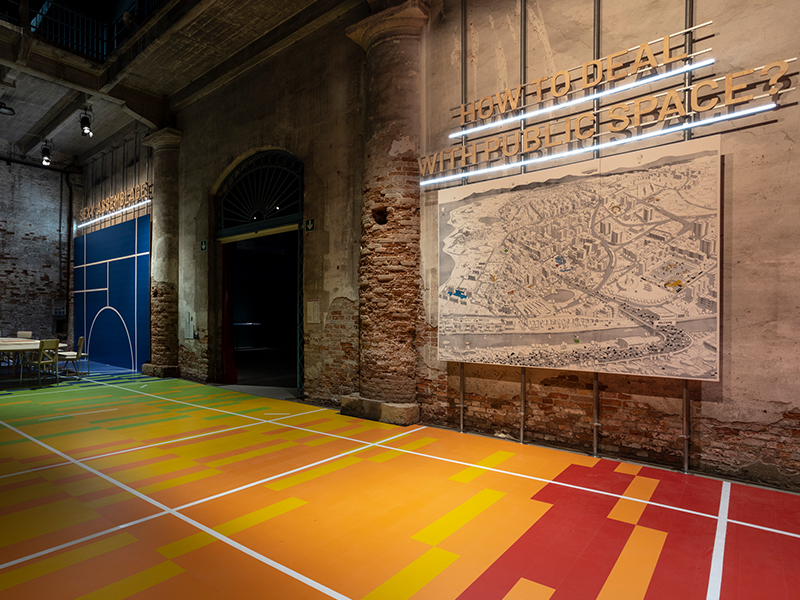 #5 'Sexy Assemblage' from Rome
As you explore the Arsenale, you'll inevitably come across a vibrant display that captures your attention. Orizzontale, a collective of architects from Rome, presents an innovative approach to designing public spaces. They believe in integrating playfulness, actions, and communities to create unique forms of collective gathering. Through their visually captivating installations, they showcase a holistic perspective on public spaces, gathering ideas and texts that reflect their overall philosophy. At the heart of Orizzontale's creative process lies a fundamental question: How can diverse and distant skills, people, places, materials, stories, and desires be brought together? This question is at the centre of their exhibition, "Sexy Assemblage," presented at the Venice Architecture Biennale 2023. Rather than proposing isolated formal solutions, Orizzontale suggests using a range of tools, both formal and informal, to shape multiple "open systems."
By merging diverse elements and encouraging collaboration, they invite visitors to envision new possibilities for collective gathering and inspire fresh perspectives on the potential of public spaces.
Also read: MAP Museum Of Art & Photography Signals A New Era For Museums In Bangalore