What If The White Lotus Came To India? Here Are Our Dream Locations
20

Dec

'22

4:52 pm

by

Nuriyah Johar
It's been a little over a week since The White Lotus aired its Season 2 finale. Usually, that's how long it takes for a new show to be replaced by the next shiny thing in the ever-changing pop cultural discourse, and yet, we can't stop talking about it! This American black comedy-drama created by Mike White follows the guests and employees of the fictional White Lotus resort chain, whose stay is affected by their various psychosocial dysfunctions. From tranquil Hawaiian beaches to grand Italian palazzos, the locations of these resorts have fuelled our collective urge to travel rich and live out our Dolce Vita fantasies in true Jennifer Coolidge fashion. While speculations abound over the setting of the next White Lotus resort for season 3, we thought we'd take a stab at location scouting ourselves. Here are some strong contenders for a fictional White Lotus property in India –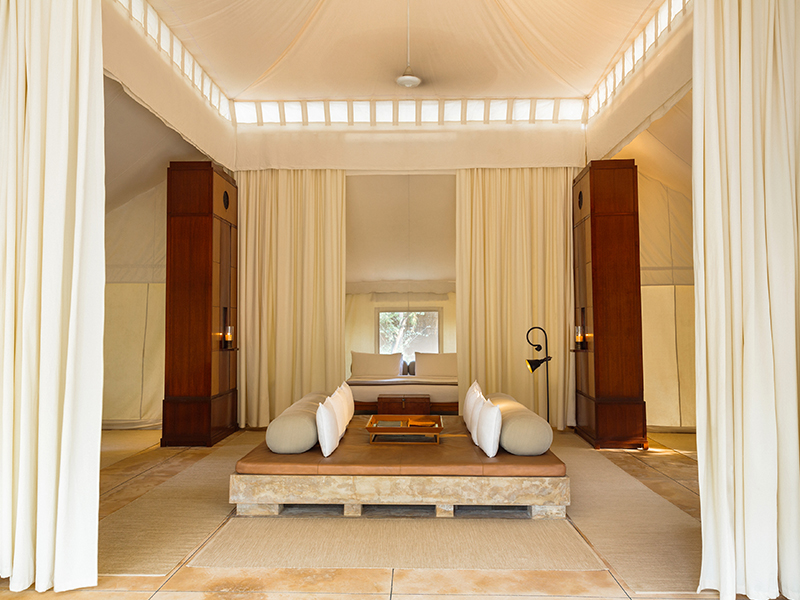 Aman-i-Khas, Rajasthan
On the threshold of Ranthambore National Park lies Aman-i-Khás – a secluded camp offering exclusivity and a once-in-a-lifetime experience. The luxury hospitality property's 10 Mughal-style tents offer anything but a conventional camping experience; complete with deep soaking bathtubs, cashmere furnishings, and intimate private spaces, where elevated comfort and nature are found in equilibrium. In the camp's stunning environs, animal encounters can be found in abundance, with twice daily safaris into the domain of the majestic Bengal tiger. Back at camp, spa therapies, swimming and dining take centre stage. We haven't seen a White Lotus safari scenario yet, and can only imagine the wild plot lines that would ensue!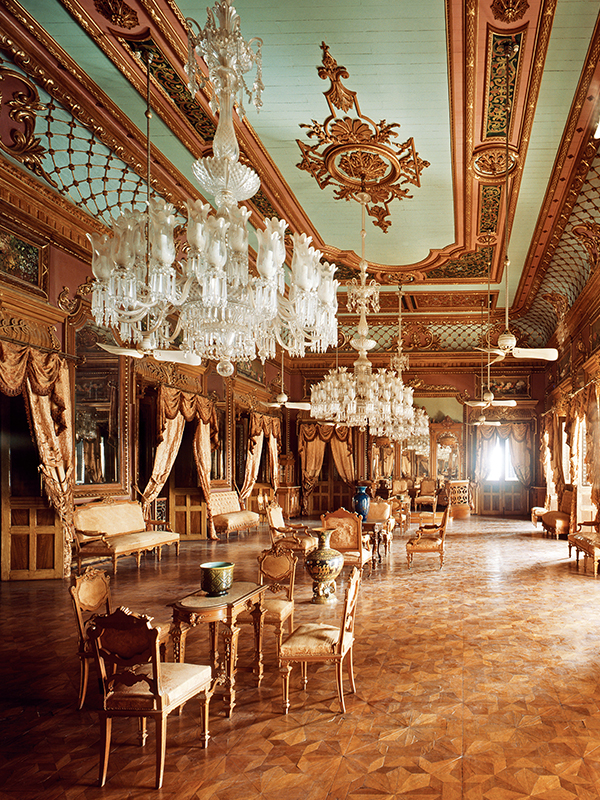 Taj Falaknuma Palace, Hyderabad
Perched 2,000 feet above the city of Hyderabad is Taj Falaknuma Palace – the former residence of the Nizam, who was rumoured to be the richest man in the world at one time. The five-star luxury hotel, spread over 32 acres, transports guests back to the gilded ages. The 60 rooms and suites have been refurbished and restored by Her Highness Princess Esra, the Nizam's Turkish wife. Each provides marvellous views of the palace courtyard and the 400-year-old city of Hyderabad. Opulence and luxury come alive in true White Lotus fashion at the grand fine-dine restaurants, the stunning Durbar Hall, and the sprawling palace gardens.
Also Read : Bijoy Jain Marries Sustainable Architecture With Thoughtful Luxury At This Hillside Retreat In Kasauli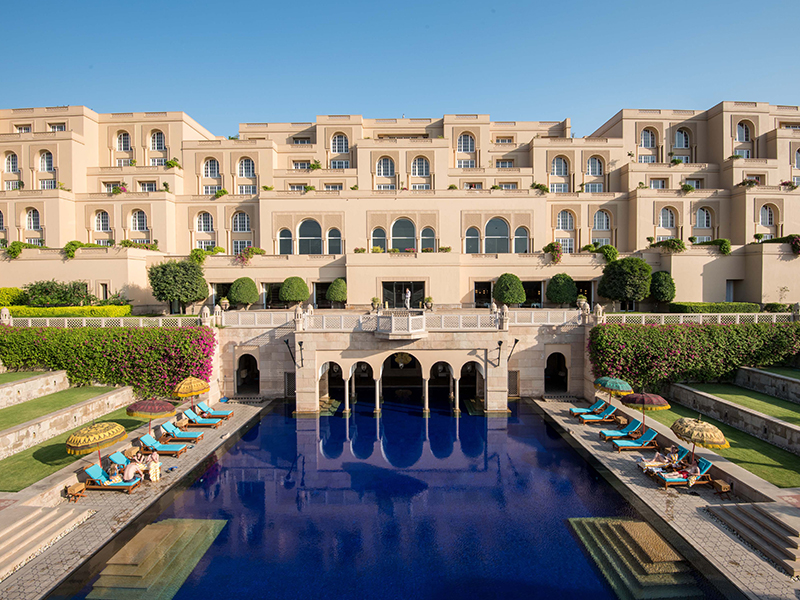 Oberoi Amarvilas, Agra
The historically rich city of Agra forms the perfect backdrop for The White Lotus – a show so deeply rooted in cultural context. Located just 600 meters from the Taj Mahal, The Oberoi Amarvilas finds its inspiration in Mughal palace designs; with fountains, terraced lawns, reflection pools, and pavilions. The five star hotel offers unrestricted views of the Taj Mahal from all rooms and suites. Exquisite dining areas, a sprawling temperature-controlled pool, and a restorative spa promise an unforgettable experience of Agra.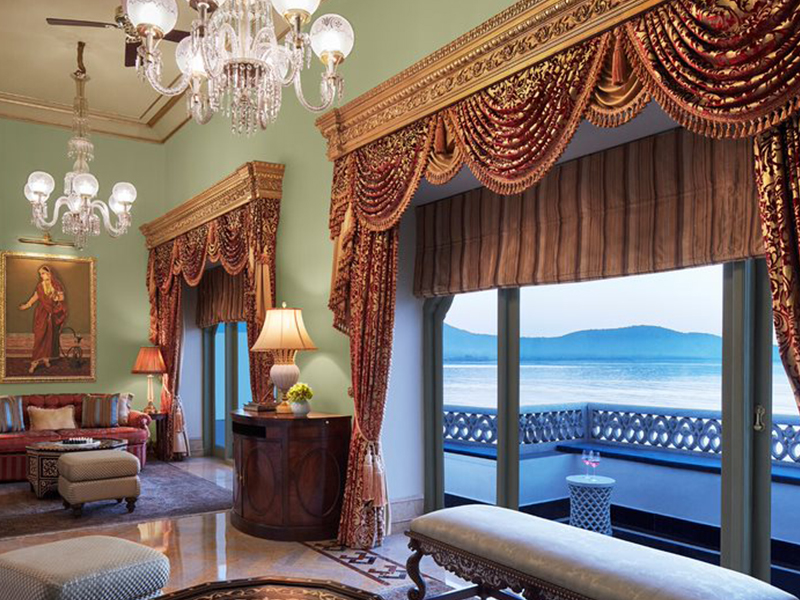 Taj Lake Palace, Udaipur
A marble haven floating in the middle of Lake Pichola, Taj Lake Palace is a grand heritage hotel in Udaipur complete with 65 luxurious rooms and 18 suites. Its location affords every room breathtaking views of the neighbouring City Palace, Aravalli Hills, Machla Magra Hills, and Jag Mandir. The hotel's architecture takes influence from Mughal sensibilities, predominantly led by Mewari techniques. A fictional White Lotus would hardly be this palace hotel's first claim to pop cultural fame, though; it became world renowned when the James Bond film 'Octopussy' was filmed within its walls!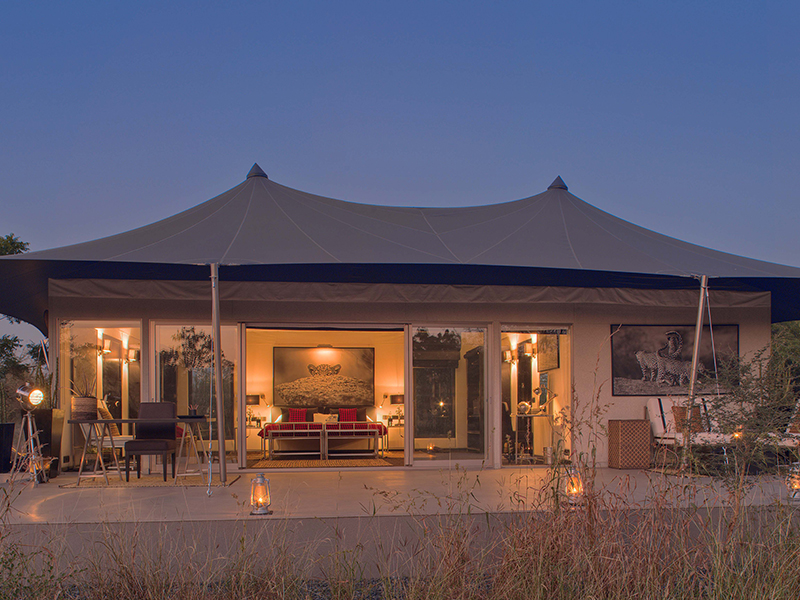 SUJÁN JAWAI, Rajasthan
The stunning SUJÁN JAWAI, a Relais & Châteaux property, derives its name from the seasonal Jawai river which flows through this remarkable landscape, in the heart of Godwar, Rajasthan. The luxury camp lies between Jodhpur and Udaipur, which makes this unique and otherwise remote location accessible to travellers in the know. Featuring eight Luxury Tents, a Royal Tented Suite, a Lounge Tent and a Dining Tent, JAWAI's style takes inspiration from the dark granite hills that surround the camp, fused with the vibrant, dashing colours of the indigenous Rabari herdsmen who share this unique landscape with the leopard. Created in a timeless flourish with canvas, stainless steel and leather accoutrements, each tent is abutted by a private veranda that looks upon unobstructed views of the dramatic wilderness around.
Also Read : A Glimpse At The Lego-Inspired Iconic Atlantis The Royal, Dubai