Linen, The Hottest Fabric Trend For 2023 – With Sachin Chauhan Of Dialogues by Nirmals
13

Jan

'23

1:52 pm

by

Sneha Shah
With the post-pandemic new normal, the world of soft furnishings has seen a conscious shift towards timeless, comfortable, and sustainable fabrics. The materials crafted through a gamut of inspirations with a blend of tradition and modernity, have encouraged playful choices with textures and patterns that add depth and dimension to a space. One such fabric, owing to its resurgence in popularity, is linen and it is having a big moment!
Carefree, elemental, fanciful and worldly – this multifaceted material comes with an earthy and sustainable edge. Inspired by the nuanced observations in the fabric world, Delhi-based Dialogues by Nirmals' focus lies on offering the best and finest textiles; with a keen eye for unmatched craftsmanship and intrinsic weaving traditions. "The prime idea behind Dialogues by Nirmals is to offer our discerning clients, be it the designer/architect or the homeowner, remarkable products that are at par with the international standards of quality and craftsmanship", expresses Sachin Chauhan, Director, Dialogues by Nirmals.
"We wanted to cater to all design sensibilities from subtle minimalism to brutal maximalism and thus dialogues came into being, a space where all languages of interior fabrics are available for our clients to have a meaningful dialogue with."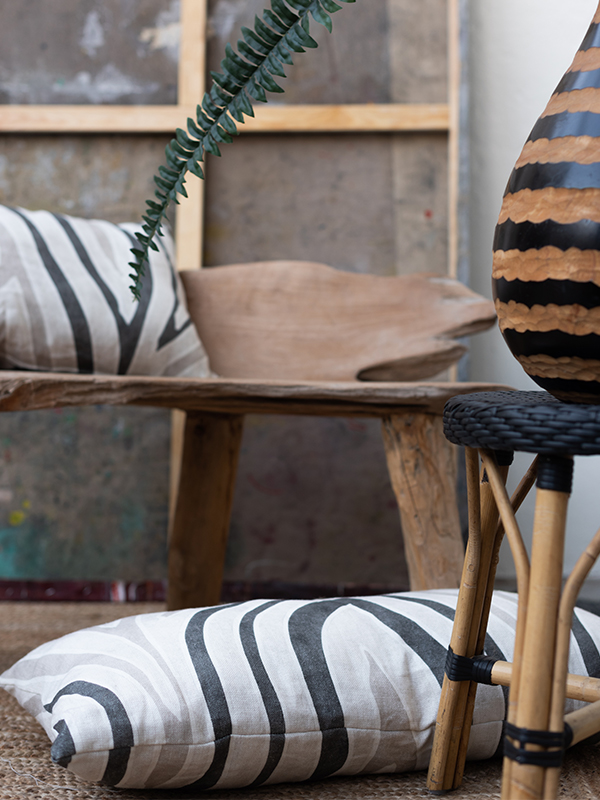 With a rich legacy of 40 years, the brand aspires to be a platform for conversations on the finest yarns; with the most exclusive and coveted editor labels such as Guell Lamadrid, Les Créations De La Maison and Coordonne, that the Indian market has witnessed. With a linen-focused endeavour, Dialogues by Nirmal's USP lies in
a trendsetting assortment of fabrics like linen infused boucle and satin weave linens, that integrate artistic reimagining's of 'global-local' cultures. The linen embroideries are at par with international standards of quality, and are woven together through innovative practices and high-tech processes that appeases a spectrum of aesthetic sensibilities, both classic and contemporary.
Describing the brand's signature style and aesthetics, Sachin says, "We have created a collection which is at both ends of the spectrum when it comes to colour, serenity-personified pastels as well as a statement-making amalgamation of bold colours. With a well-curated range of solids, textures, prints and embroideries in linen, we provide one with ample options to choose from."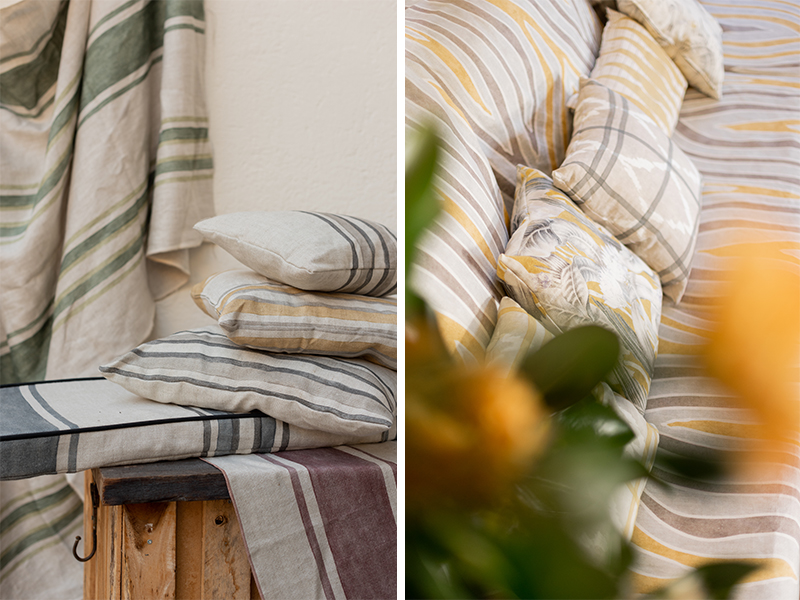 With an inviting appeal and allure, linen with its robust qualities has been explored across all spectrums of home furnishings and décor. "Linen never runs out of fashion, linen fabrics have been found that are dated back thousands of years and they are still in vogue", adds Sachin. Emphasising the versatility of this most sought-after fabric through its tasteful collection, Dialogues by Nirmals shares insightful tips and recommendations on lending an ever-classic energy to your home:
Keeping It Neutral With Drapes
Warm hues like oak or sandy beige, and neutral tones such as oyster grey, ivory and eggshell in curtains add a classic flair to your spaces. Lighter shades like these, filter light in a subtle way, helping the room to appear brighter by permeating airflow while still offering privacy. "For drapes, a good GSM fabric would ensure a consistently good fall", says Sachin.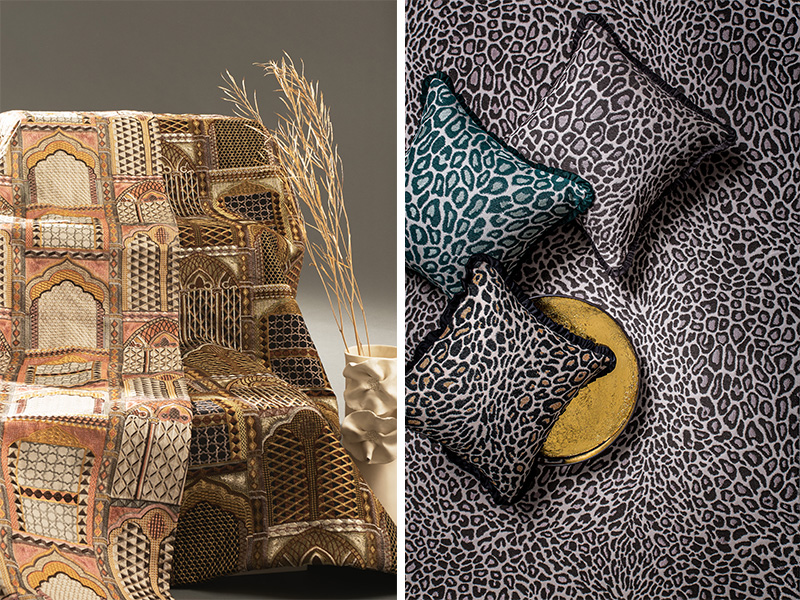 Go Abstract With Upholsteries
A brilliant choice for upholstery – such as for an accent chair or even sofa sets, linen is incredibly durable. Opting for unique prints with a variety of hand-embroidered motifs or patterns lends a vibrant appeal to the space and is also easy to maintain as linen does shrink or bleed. "Linen yarn is extremely supple and malleable at the same time, so a good Martindale count should make a good option for upholstery", informs Sachin.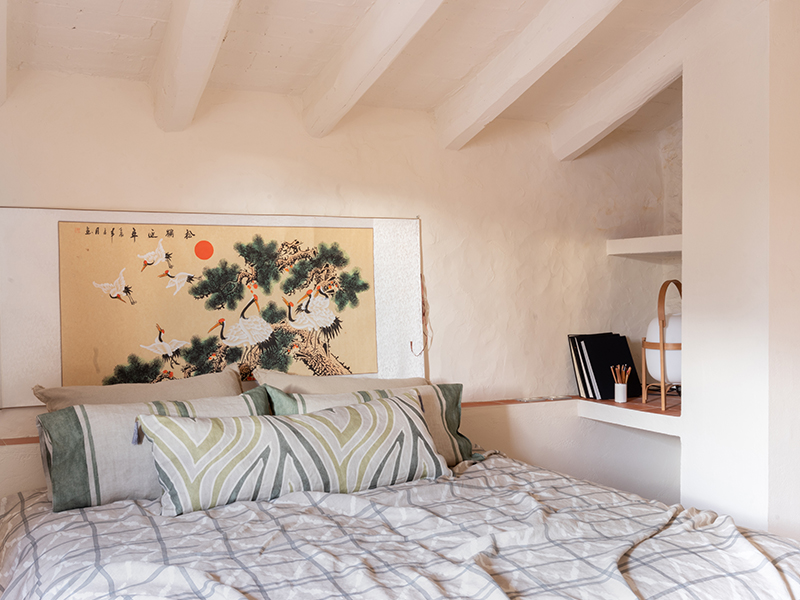 Sumptuous Play Of Textures For Bed Linen
"With the advancement of technology, many kinds of fabrics can be made from linen e.g., linen satins and linen velvets, detailed embroidered linens and the good old plain and textures," adds Sachin. Linen being more textured compared to other fabrics offers a fresh and lively mix-and-match in non-white bedding options. Additionally, the softness and moisture-resistant properties make it an excellent insulating fabric.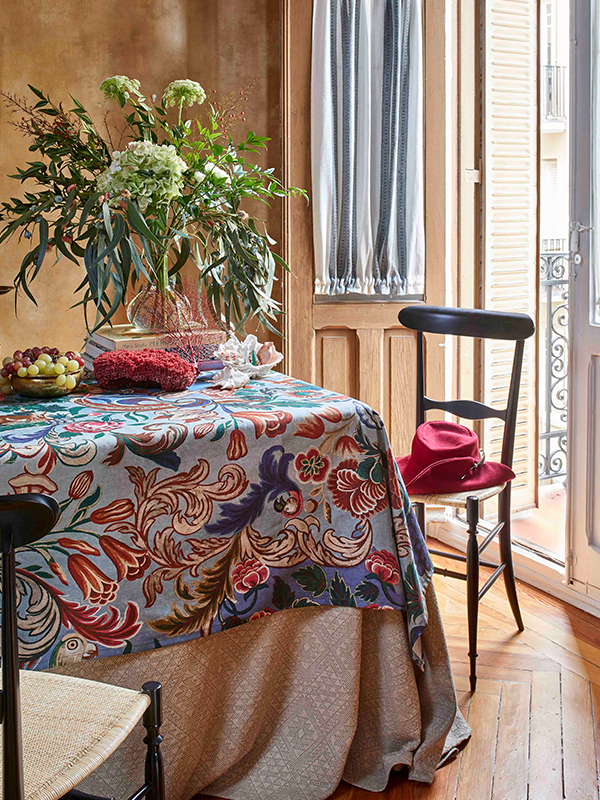 Country-Cottage Charm For The Table
Today's lifestyle often calls for a casual yet relaxed style and linen's organic look adds flair to any table setting through tablecloths, placemats and napkins. Whether you're looking for something festive or just want to add a pop of colour to your table, linen's versatility transforms your table from ordinary to special. "Unlike cotton and silks, it's very easy to care for; linen still looks great with a few wrinkles, making it a fuss-free fabric", says Sachin.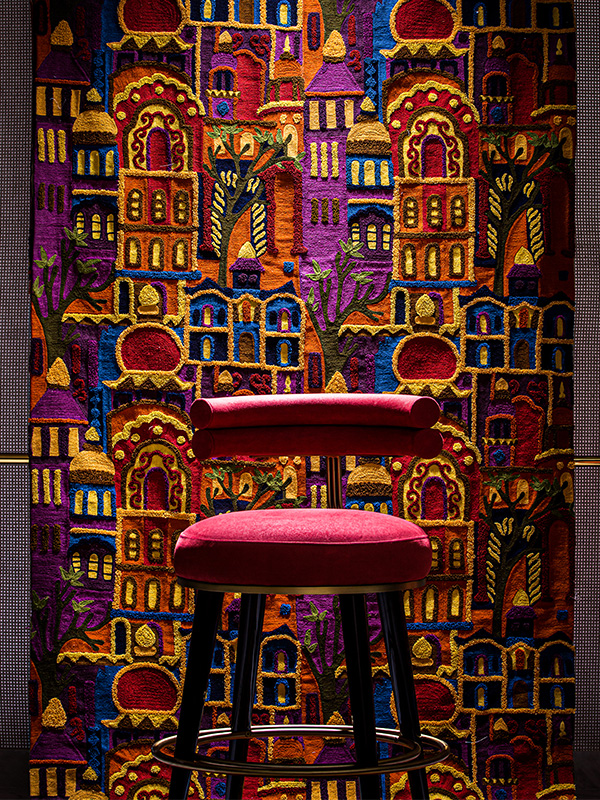 Linen On Your Walls!
Linen wallpapers or wallcoverings provide an excellent contrast to wood-grained or painted walls; a superior natural material that offers unparalleled elegance. With the interlocking of shapes and figures and a mix of outdoors, wallcoverings in eclectic visuals evoke a sense of order for the bold and shy.
Given its absorbent and breathable nature, linen is perfect for all seasons; it acts cool in summers and warm in winters making it ideal for Indian weather!