Mattresses 101, With Foam Home's Sabina Bhanpurawala
10

Feb

'21

9:30 am

by

Nuriyah Johar
Foam Home is one of India's leading brands in the mattress industry. Buying a new mattress can be an overwhelming task, given just how much there is to consider, and the ever-increasing number of options available. From types of materials to levels of firmness, the seemingly uncomplicated world of mattresses can be a labyrinth to an unsuspecting shopper. There's no one-size-fits-all formula, and you can't afford to get it wrong.
Fortunately, we have an expert on mattresses to help us navigate this complex space. Sabina Bhanpurawala is a second-gen entrepreneur and CEO of Foam Home, one of India's leading brands in the mattress industry. With a forty-year-old legacy of manufacturing, trading, retailing and importing quality grade mattresses, Foam Home's focus lies on providing absolute luxury and comfort to its users. The Mumbai-based company has always maintained its reputation of providing its niche clientele with the latest developments in the business.
From debunking mattress myths to simplifying the different types of mattresses, we get down to brass tacks with Sabina –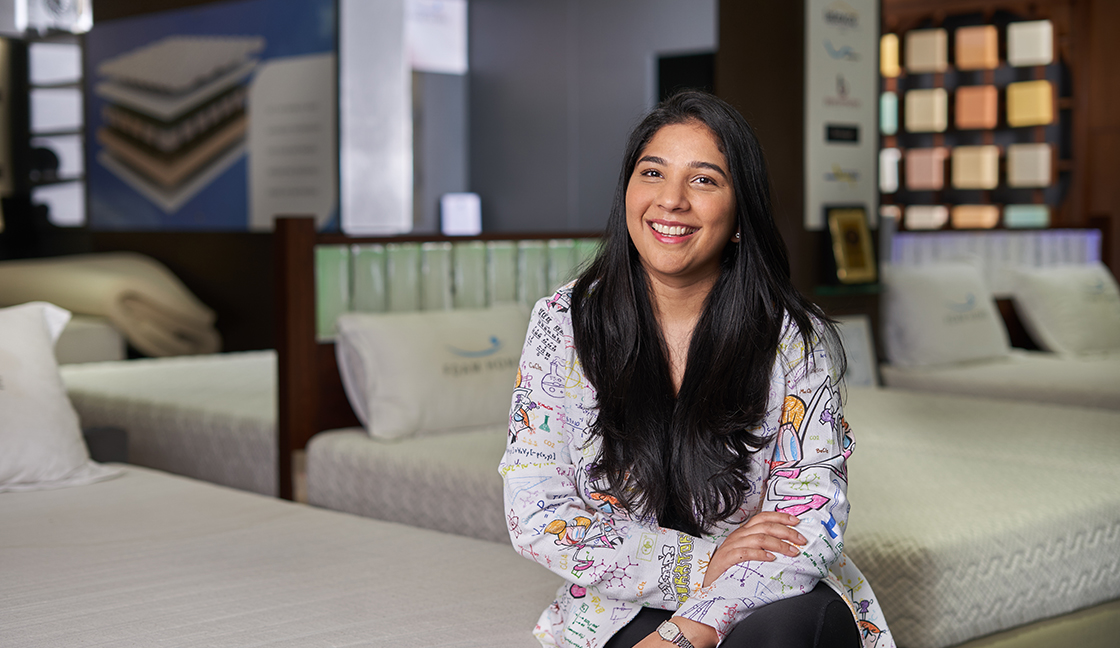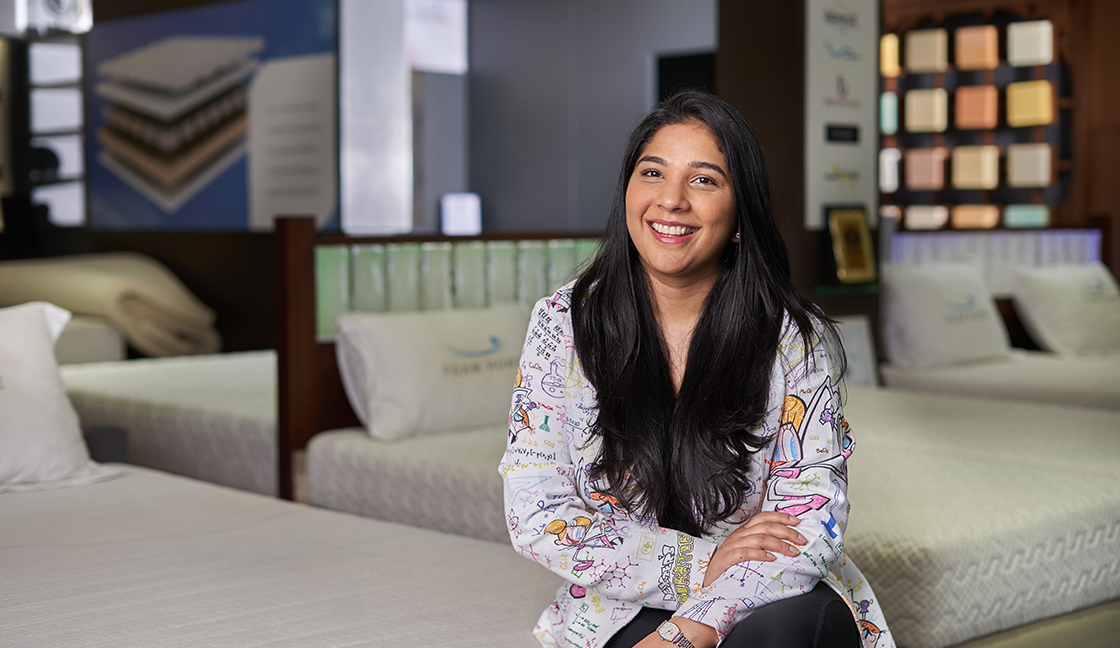 Design Pataki: How does one decide upon a mattress type?
Sabina Bhanpurawala: More than the choice of material, it's important to identify what compression you would need. Once we know that, the next thing to consider is the budget. There are plenty of materials available in the market like Foams, Latex, Coir, Bonded Foams, Springs etc. Your budget will determine the kind of material and construction you will settle for. Over the years we've learnt that in India, traditional materials like Cotton, Coir and Bonded Foam are popular among people who like firm beds as a preference. Foam, Memory Foam, Latex and Springs are more neutral in their compressions.
Design Pataki: What are some of the common mattress myths that you can bust for us?
Sabina Bhanpurawala: "If I have a back issue, I must sleep on a hard surface." A hard surface is meant for you to exercise your spine for a few days ONLY. The suggestion nowhere indicates that it has to be your permanent sleep surface. In fact, you tend to strain your spine even more on a firm surface that fails to adapt to the natural contours of the spine.

"Soft mattresses damage the spine."
Soft and Firm are subjective terms. The definition would primarily depend on the weight of a person. Soft mattresses that make you sink and restrict your movement are unhealthy for the back. However, soft mattresses also offer the cosiest sleep, hence using an Ergonomically designed soft mattress is not only safe, but it offers the best sleep you'll ever have.
"Higher the density, harder the foam."
Density is a technical term. Simply put, the denser the foam, the more is the foam material used in a given area and the heavier that foam is. Consumers need to worry about Foam purity and not its density. For instance foam with 50 density when impure will not last you for more than 3-4 years before they form dents. At the same time, a 100% pure foam of 32 density will easily last you a decade.
"Higher the price, better the mattress."
When we help you select a mattress we consider several factors. Age, weight, lifestyle, usage and fitness levels. Based on this we shortlist options for you. Sometimes, the most expensive mattress may not be meant for you and in fact, the entry-level model would work wonders. So the most expensive mattress, while may be made of expensive materials may not be the right fit for you. Having said that, quality comes at a price. Breathable, pure, advanced foams will definitely cost you more than basic – commercial ones. Certain materials and technologies are expensive because of the processes and materials that are used in making them. I always maintain – Expensive or cheap – depends on how much you value your sleep!
"Natural materials are the best."
The one primary reason people prefer "natural" materials is that they believe they won't generate heat. Please realise, that practically every cushioning material around you is either Foam or Fibre. If they don't make you feel hot, then neither will your mattress. Natural materials, while more breathable, have a lot of negatives too. Being natural, they house and raise mites and bugs. Mites and bugs do not survive in synthetic materials. So synthetic materials are far more hygienic than natural.
Design Pataki: Can you give us your thoughts on Orthopaedic mattresses?
Sabina Bhanpurawala: It's the one term loosely and commonly used by mattress sellers. Orthopaedic is a term in medicine used to describe preventive and corrective measures for deformed bones and muscles. Mattresses need to be Ergonomic and not Orthopaedic. Ergonomic means it needs to support your body correctly and adequately. Every mattress brand claims to have an "Orthopedic" mattress which most often would comprise a Firm range of mattresses. Please do not confuse Orthopaedic with Healthy or Supportive.
Design Pataki: What is the importance of a warranty or guarantee when buying a mattress?
Sabina Bhanpurawala: Let's get to basics. Warranty is when certain parts/components that fail to perform are replaced within a certain life span of a product. Guarantee is when the entire product is replaced. Most mattress brands offer a warranty against manufacturing defects which primarily covers permanent sagging or dents in the mattress. These dents have to be approximately an inch. Please note this will entirely be at the discretion of the manufacturer. Every warranty card states that the warranty is applicable only if the mattress has been used 'properly'. What I'm trying to say is, that it is very rare that you will be able to claim your warranty over a mattress, the warranty conditions have several loopholes and ambiguities. If you must, make sure to read the Warranty cards before the purchase or the best thing would be to purchase from a credible and reputed company which will stand by you without the need of this piece of paper.
Design Pataki: When should you part with your old mattress?
Sabina Bhanpurawala: Mattresses that are used daily must be replaced every 7 years. A mattress loses its support system by then as well as becomes a house of dead skin cells.
Design Pataki: What are your top tips on mattress maintenance?
Sabina Bhanpurawala: The only way germs get carried onto your mattress are through you, it would be nice to follow certain practices like not dumping clothes on the bed, not keeping your bag on the bed, not sitting often but instead having a dedicated seating area in the room (this also helps increase the life of the mattress and avoids uneven sagging). Besides this, weekly vacuuming, using a protector and dry cleaning mattress covers once in 6 months is a good maintenance schedule.