The Fundamentals Of Establishing A Sustainable Design Business
20

Jan

'21

5:25 pm

by

Nuriyah Johar
While the aim of this piece is to dive deep into the world of sustainable design brands – a larger question that needs to be acknowledged is that of the nature of sustainability itself. The term features in the title of this piece (and several other articles by Design Pataki), yet it is apparent that over the past several years 'sustainability' has been reduced to a mere buzzword. It is used liberally and with little regard for consequence. It is a forbearer of greenwashing and a way for brands to absolve themselves of any real responsibility to elicit change. To unpack what it really means to be sustainable, we speak to a scholar on the subject in our newly launched Design Pataki Podcast.
The brands we have chosen to speak with for this piece have tangible proofs of their endeavors to be 'sustainable' – in the broad, general understanding of the term which includes using eco-friendly materials, minimizing waste, manufacturing in collaboration with or in a manner that benefits the local communities, and overall, embodying an ethos of wanting to do good and assuming responsibility in a holistic way. We have explored their journeys, delved into the challenges they faced and extracted their thoughts on the sustainable market in India.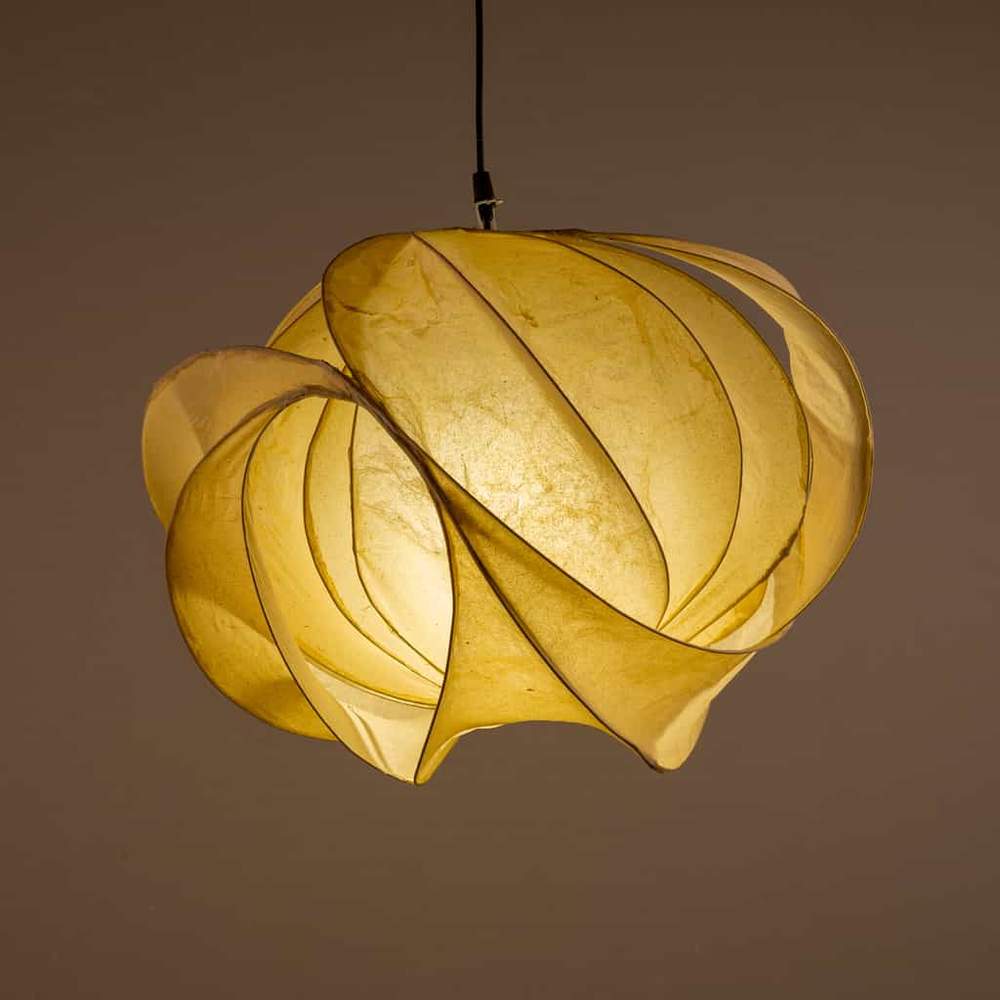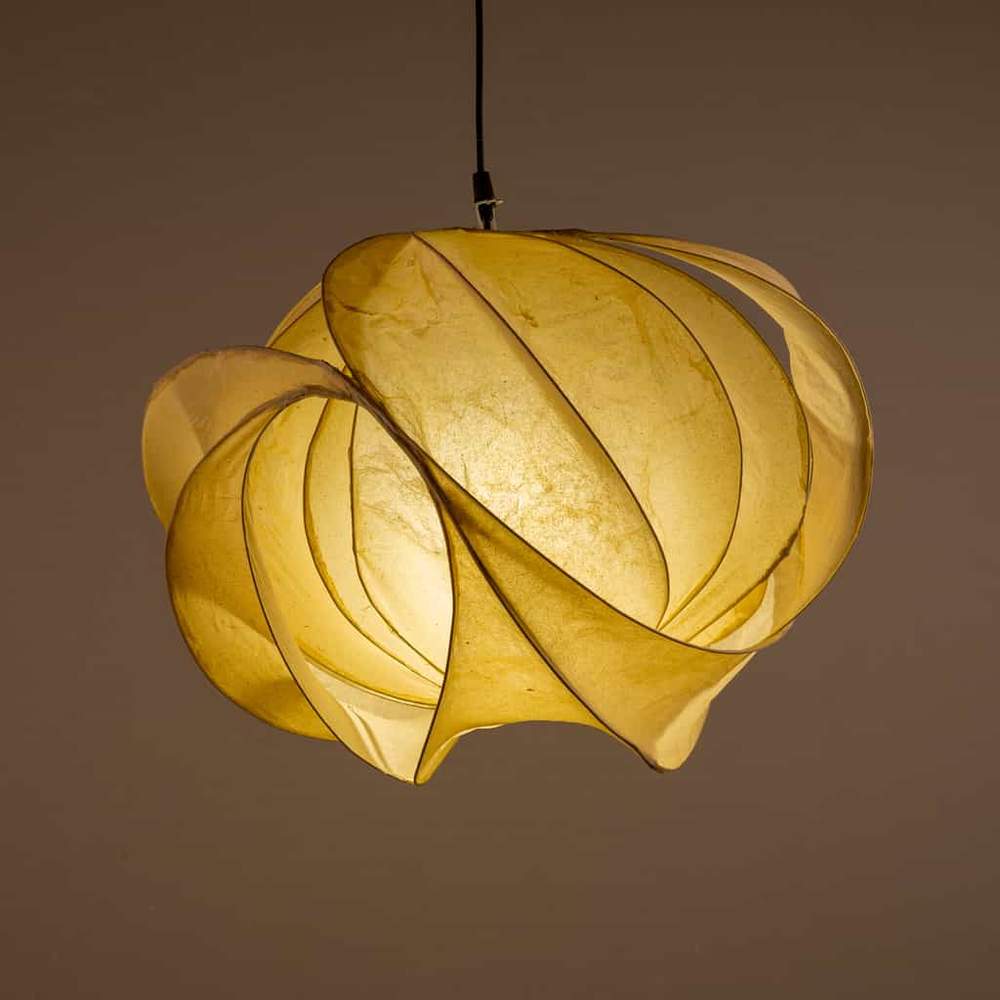 Oorjaa
Established in 1998, Oorjaa is the brainchild of Jenny Pinto, who after having spent close to 20 years in the advertising industry in Mumbai, decided to move to Bangalore and explore natural materials and crafts. Pinto set up her handmade paper studio with scaled-down equipment in one of Bangalore's first ever green, mud-brick buildings. Her products at the time included hand-stitched books, art, and lighting. Since the process of papermaking is water-intensive and requires waste agricultural fibres as raw material, Pinto was conscious about recycling right from the start. Her driving motivation was finding a balance between producing sustainably and making a profit.
However, when the business grew to a certain level, the challenges of scaling up sustainably caught up with Pinto. That's when Radeesh Shetty of The Purple Turtles (a Bangalore-based furniture and lighting studio) entered the picture and offered to partner and build a brand. Following this, Oorjaa took a more active approach to research and development, exploring waste materials outside of paper. They introduced Wabi Sabi, a collection developed with granite quarry waste. The response to this was phenomenal, and it greatly expanded Oorjaa's clientele, especially in the hospitality and corporate areas. Oorjaa is constantly innovating in the sustainable design and decor space. Their goal still remains to expand the business while keeping the Oorjaa ethos central.
We speak to Jenny Pinto, Founder, Oorjaa –
What are your thoughts on the sustainable segment in the Indian décor space?
The green segment is at a very nascent stage in India, and I think producers and consumers are still in the awareness-building stages.
The country still grapples with vast amounts of solid waste and air pollution. Design is part of that problem, because how products get produced and waste get disposed of, begins and ends with Design. The materials used, the production processes, the packaging, the disposal…all these are informed by design, and so it's high time design practitioners and manufacturers feel responsible.
On the positive side, there has been a lot of awareness and returning to the use of natural, local materials and handcraft. Indian craft is and has been rooted in sustainable practices.
Regarding costs and price points, in today's market, it is still expensive to produce sustainably because policies support polluting and unsustainable business practices. The moment government policies change and there are rational subsidies and taxes, prices will come down. The electric car is a good example.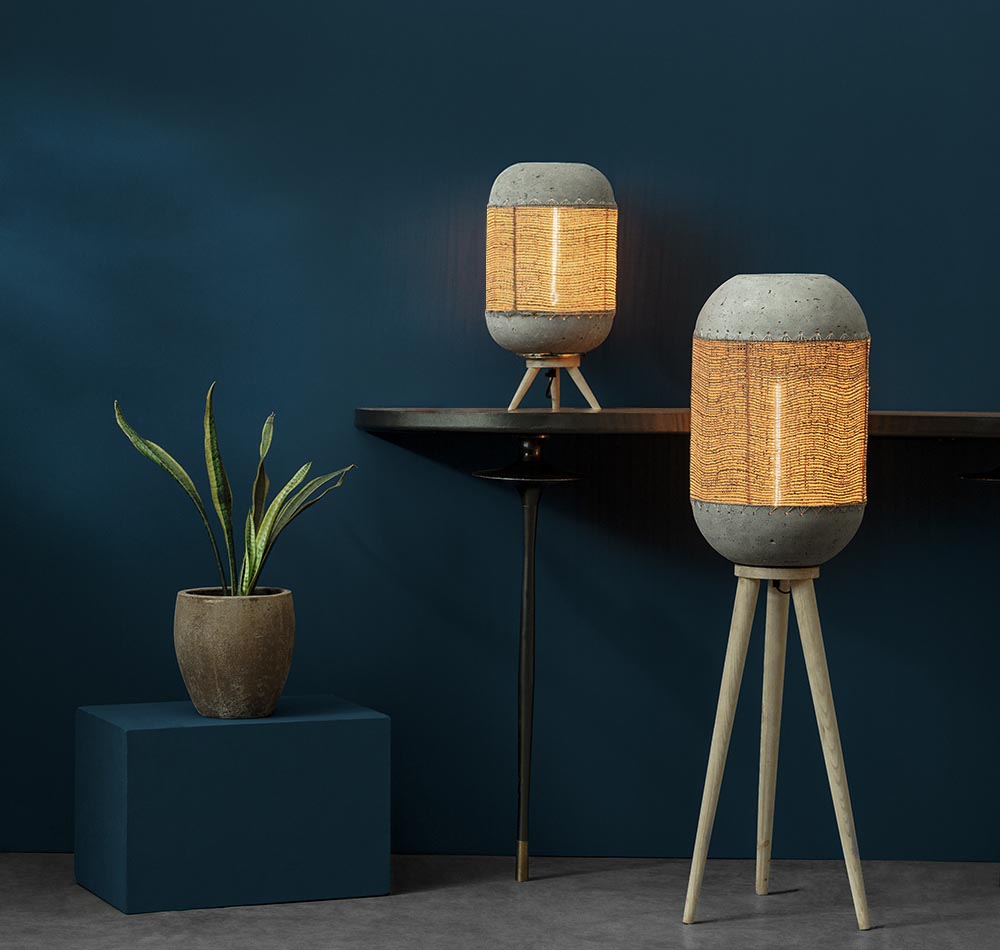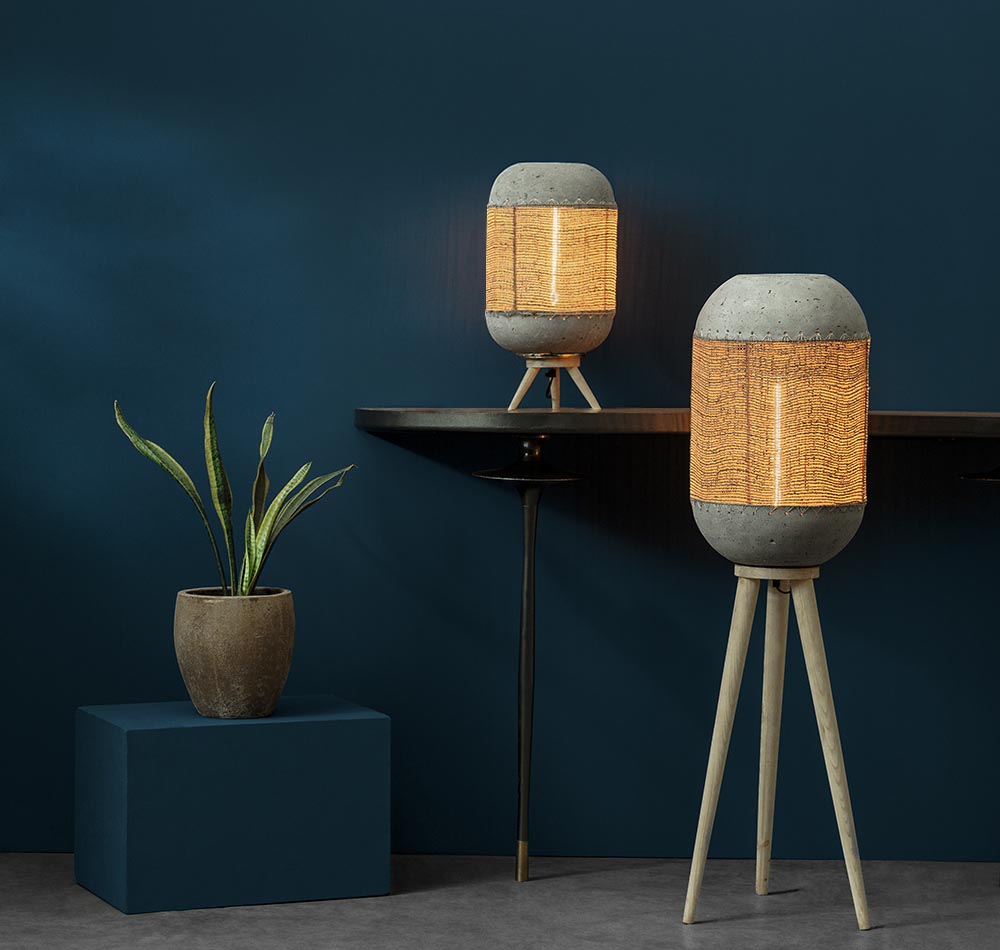 What were the challenges you faced while scaling Oorjaa? How did you overcome these challenges?
Oorjaa is an environmentally conscious and handcrafted brand, and it takes a great amount of effort to scale such businesses. We question our materials and processes at every stage and it is possible to do this only because it is still small. So scaling up is a tough process.
One needs to be conscious about the brand ethos while scaling and for us, it was clearly a matter of how much is too much. We have been careful not to over manufacture, we manufacture against orders and don't hold too much inventory. We also ensure that some of the hand-crafted processes are supported with the right tools to speed up production but we have very consciously not mechanised the entire process. We go to great lengths to keep it handcrafted, to recycle water, recycle materials, make our packaging biodegradable, take back broken products so we can recycle them, etc.
Another challenge is finding the right talent, training them and keeping them conscious of the company ethos. We hire designers who are passionate about the environment and buy into the Oorjaa philosophy. We encourage artisans to conserve materials, conserve water, and be conscious of waste.
What would be your projection for sustainable design brands in India for 5 years from now?
The trend in India to use natural materials and handcrafted methods is encouraging and keeps us optimistic.
For ourselves, going forward, we would like to make our products available in niche international markets though we still see India as our core market with growing demand from direct consumers. We want them to be aware of our core brand values and WHY we have those values and hope that this percolates to all areas of urban living. We hope that Oorjaa urges its customers to question everything they buy and use and be conscious of how they dispose.
What does 'sustainability' mean to you? Do you define Oorjaa as sustainable?
Sustainability is what we aspire to, but we prefer to call ourselves a Responsible Business or a Conscious Business, where we try and express our values through our work and our products. The promise of Oorjaa is 'live lightly' and by that, we mean treading the planet with a lighter footprint.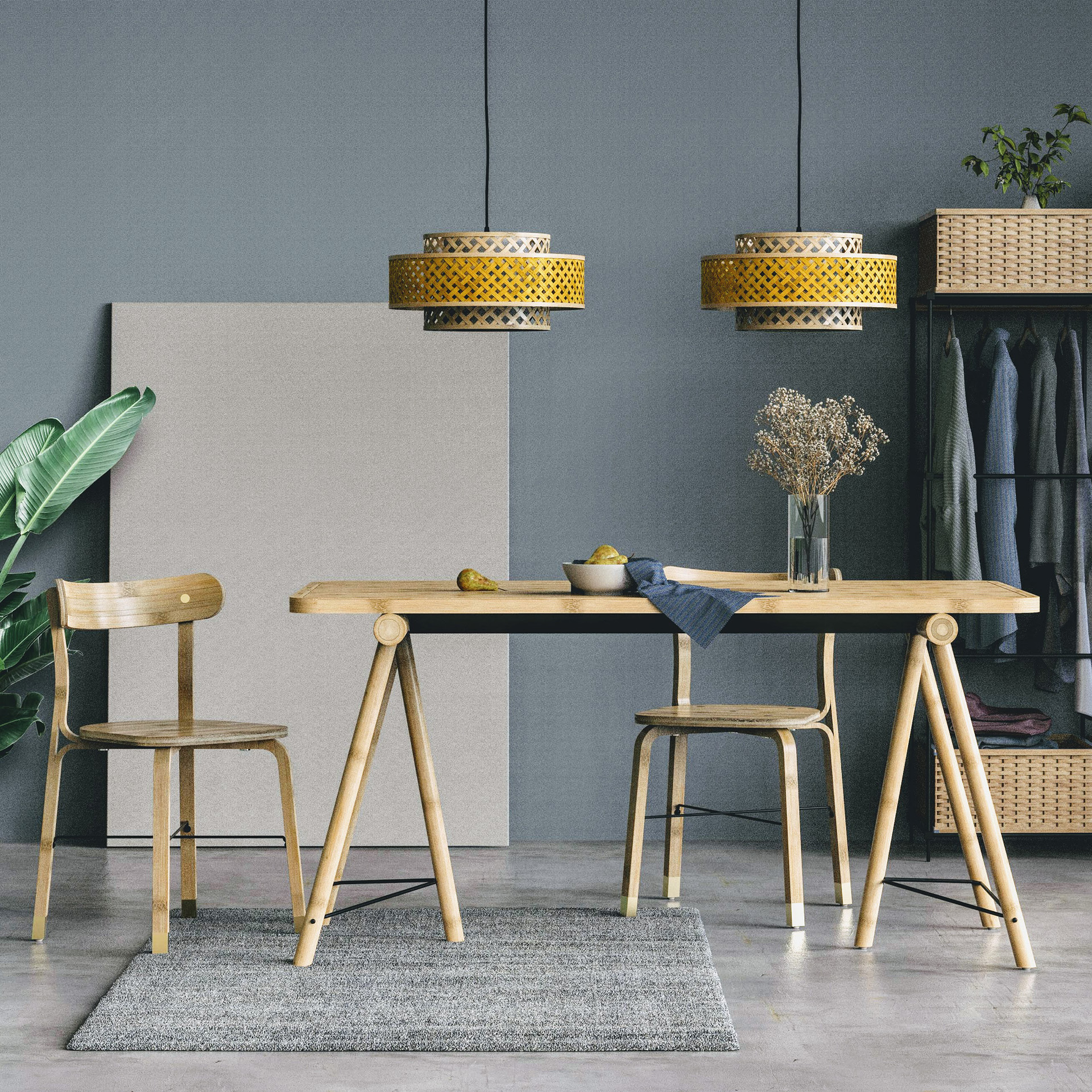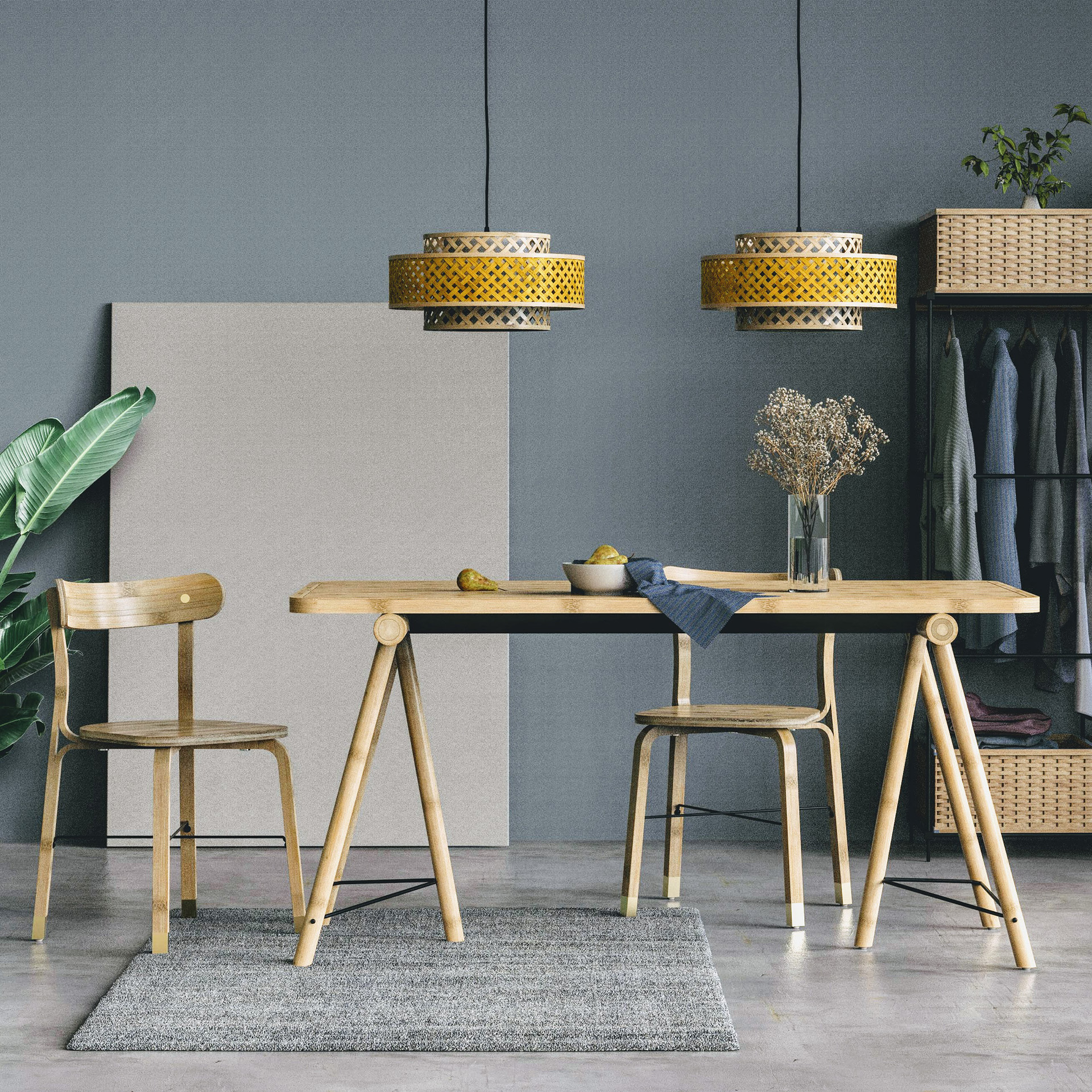 Mianzi is a furniture and decor company that aims to dramatically alter the way bamboo is seen and used. It is not only a sustainable ethos and an aesthetic appeal which drives their designs, but also a vision to create products which are individualistically revolutionary. Working in association with Madhya Pradesh State Bamboo Mission (MPSBM), Mianzi's goal is to cogitate bamboo as a possible semi-industrial product. Mianzi breaks down the fundamentals of design and rethinks the whole architecture of a product from the body to the details in order to make full use of bamboo's potential as a building material. Harvested from fully sustainable and rapidly growing forests, bamboo is an environmentally friendly, renewable resource with a fiber that is over twice as strong as timber.
Looking at sustainability from a holistic perspective, Mianzi places importance on creating employment opportunities in states like Madhya Pradesh where bamboo is an intrinsic part of the local culture. They work with artisans to resuscitate ancient craft practices and create designs that resonate with the modern consumer.
We speak to Shashank Gautam, Founder, Mianzi –
What are your thoughts on the sustainable segment in the Indian design and decor space?
The sustainability, being associated with 'going without' is always belittled, but we need to redefine that, especially when home design and decor are concerned. We need to understand that the purpose of sustainability is not to greenwash with yet another eco-friendly material, but rather to rethink industrial production and product conception in a realistic way. With the current age advancements, if we consciously manufacture products that are not only sustainable or aesthetic but economically viable, we can redefine the bounds of sustainability and make every day not just organic but more elegant and economic.
Living an eco-conscious lifestyle is not about limiting comfort in life but about opting for a smarter lifestyle with small but impactful changes.
What were the challenges you faced while scaling Mianzi? Can you take us through the journey of the brand?
Working with natural material is always challenging especially when we compare it with similar existing products in the market that are made out of wood or metal or plastic. These raw materials have been available commercially for a longer time and a lot of research has been already done, in terms of design and manufacturing. In comparison, Bamboo still needs to be explored more to exploit its several properties and innovate. Further, finding a balance between aesthetic freshness, quality, and affordability is quite challenging.
We also faced the major challenge of ascertaining that all our products have the same preciseness and quality all around. The artisans working on the products have always been quite individualistic, haven't worked on a set standard, and some of the freshly introduced after-research techniques were foreign to them.
Over the period of time, there have been several challenges starting from the design while keeping an all-around sustainable mindset. Recently, the pandemic and the lockdown that followed impacted our sales and logistics tremendously, as neither could we accept new orders nor deliver the earlier ones in time.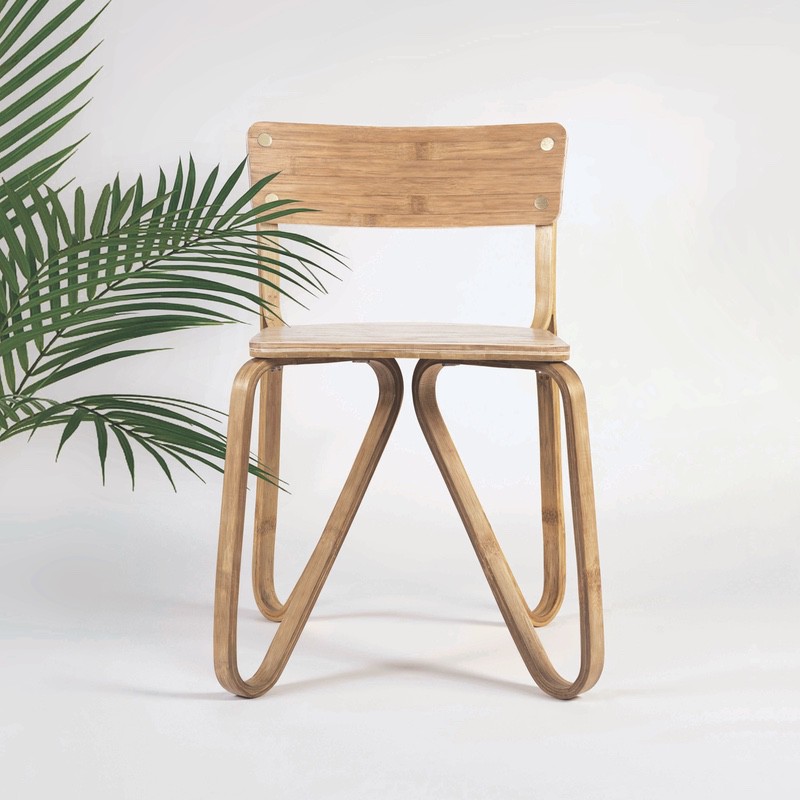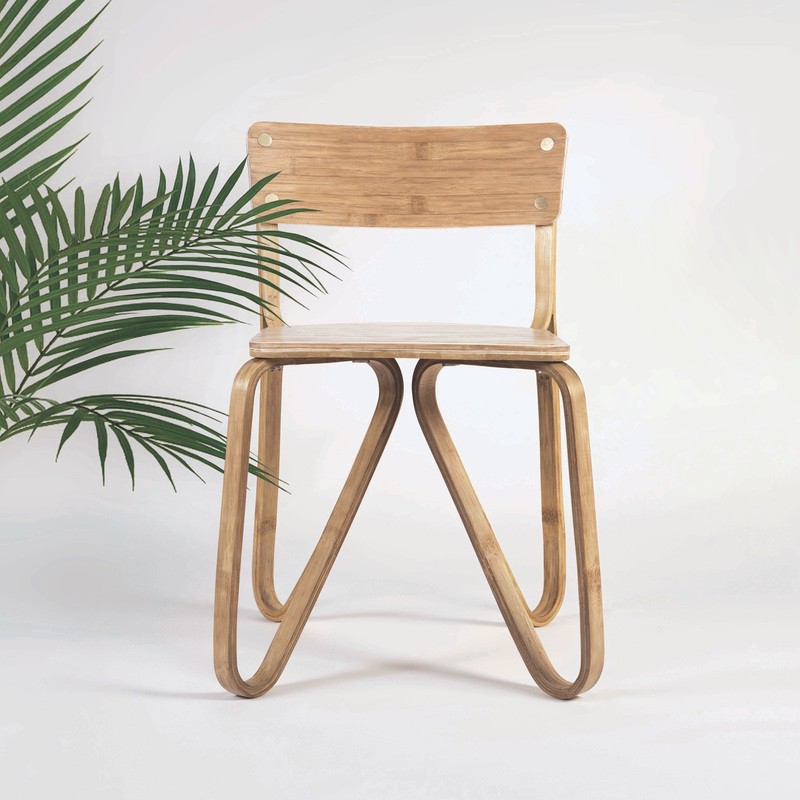 How are you overcoming these challenges?
We took this lockdown period to research and develop quicker and smarter production methods and also worked on our current products in terms of design and efficiency.
We worked and developed molds and jigs, which the artisans can carry to their home along with the material, with which they can produce products skillfully with exactitude, effortlessly, and swiftly from their homes. We believe the prudent use of technology can be beneficial to us all.
What does 'sustainability' mean to you? Do you define Mianzi as 'sustainable'?
For us, 'sustainability' has a quite broad spectrum, and is not just limited to carbon footprint, and the choice of raw material, though those are intricate and essential factors as well. Enthused by the concept of Hedonistic Sustainability, our sustainable approach initiates with resourcing locally available raw material, that is easily renewable yet strong and flexible in nature, i.e. Bamboo and a continual efficient use of that procured raw material. We conceptualize the designs in a manner such that they ascend forward with an innovative approach and yet it can easily be flat packed to occupy less volume in transportation, i.e. sustainability should continue to its transportation and further use. Minimizing waste production, and maximizing reuse is also part of being sustainable.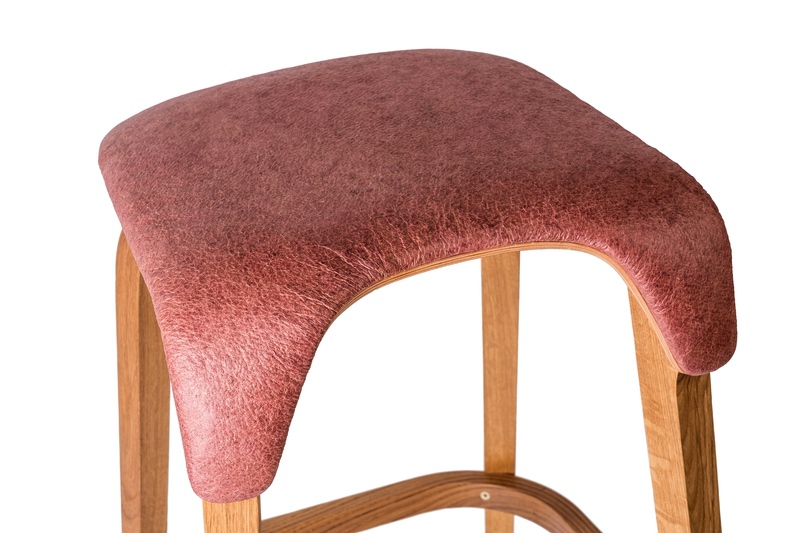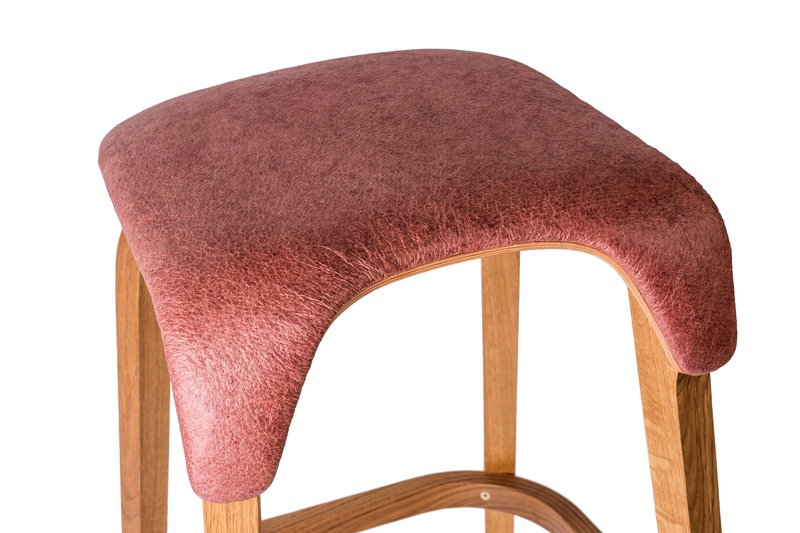 Malai
Kerala-based Malai's vegan coconut leather points to an area of great potential in the fashion and decor spaces. Established by Zuzana Gombosova and Susmith CS, Malai specialises in creating and developing bio-based materials which can be used to design accessories and products. Their inspiration lies in the beauty and purity of natural materials, and that of the coconut palm in particular.
The company is named after their eponymous, newly developed, biocomposite material with a feel comparable to leather or paper. Malai is made from entirely organic and sustainable coconut waste in Southern India. Working with local farmers and processing units, the company collects their waste coconut water (which would otherwise be dumped, causing damage to the soil) and re-purposes it to develop Malai.
Malai works in collaboration with several brands in the fashion and interior space. While seventy percent of their produce is exported to clients in Europe and the US, the demand for vegan leather in India is on the rise too. Malai hopes to be able to supply more local brands and manufacturers in near future.
In February 2020, Malai was awarded India's biggest fashion sustainability award when it emerged as a winner of the Circular Design Challenge run by IMG Reliance & UN India.
We speak to Zuzana Gombosova, Co-Founder, Malai –
What are your thoughts on price points in the sustainable design and decor space?
Well, I think as in any market there's a bit of everything. Most of the people in India complain about premium price points when it comes to sustainable products but I think it is the comparison that we are part of that is unfair. We are compared with mass manufactured products often made from synthetic materials that are cheap. I think we need to teach our audiences and clients to look at the value system from a different point of view and communicate our pricing in a transparent way. There're a lot of grey areas in communicating what 'being sustainable' means on the side of designers, manufacturers and consumers alike. I also think India is a particularly difficult market to consider sustainability for as it relies a lot on products that are manufactured en mass and for as low price as possible.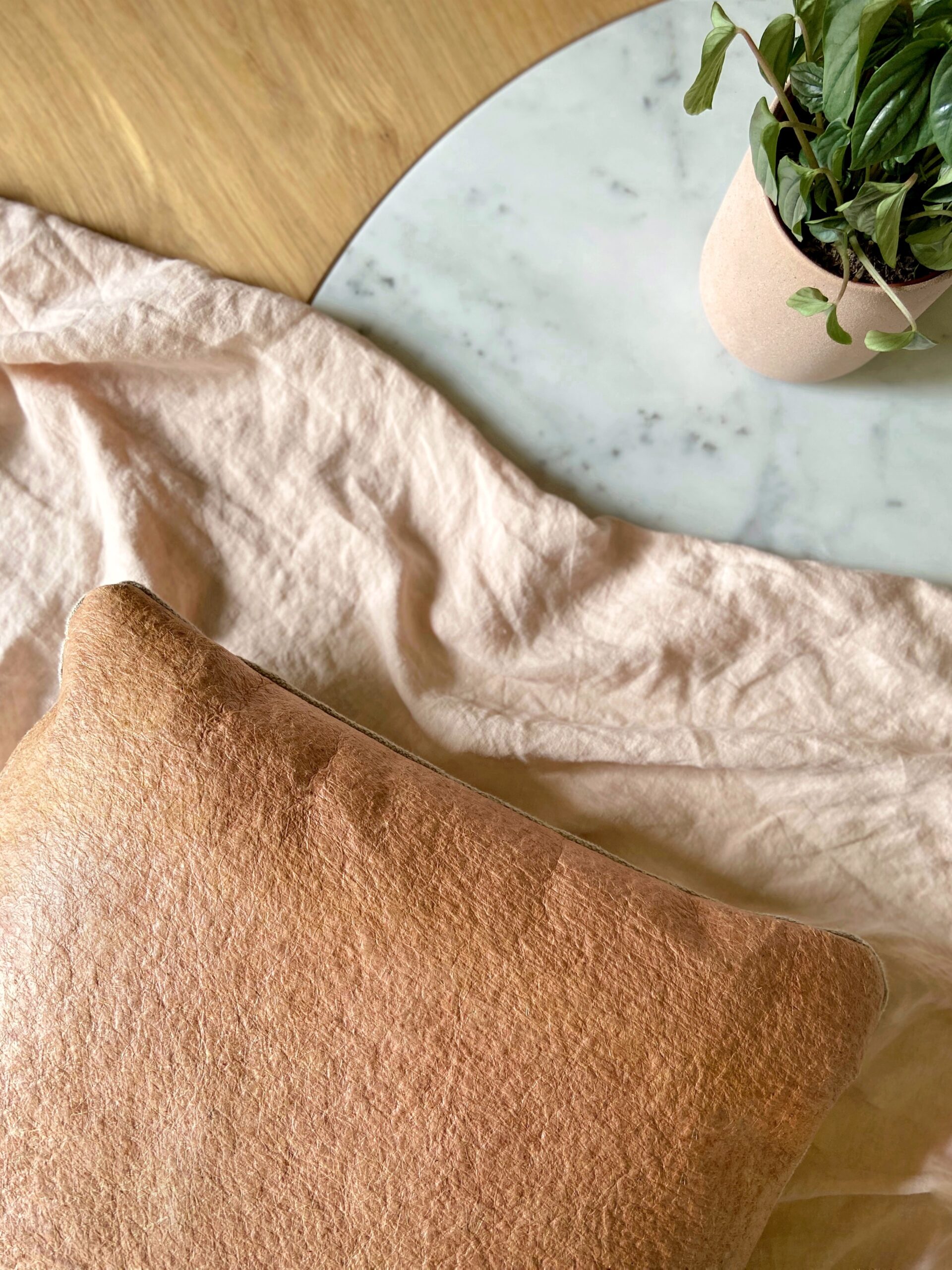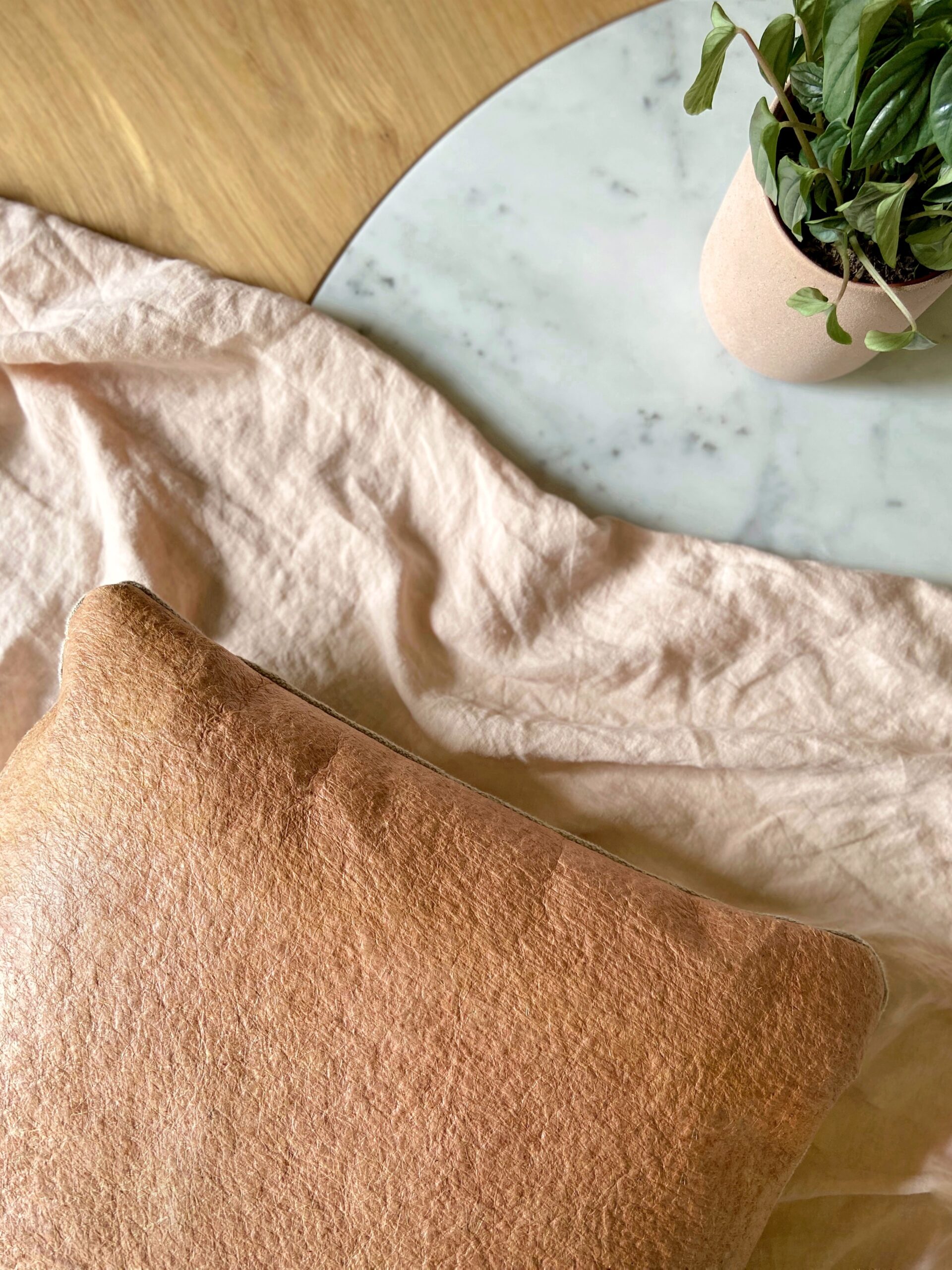 Can you take us through the journey of Malai?
It's been a long and bumpy journey to be honest. Before Malai there was my interest in materials produced by microorganisms. I have devoted my master's studies to this topic. That's when I came across Bacterial Cellulose and read that in the Philippines it's grown on coconut milk or water from mature coconuts. In 2015 I came to India for a job and noticed India is full of coconuts however nobody makes Bacterial Cellulose here. Coconut water (from mature coconuts) was wasted in the processing units. We got together with my colleague at the time – Susmith, Malai's co-founder and started experimenting with bacterial cellulose grown on this media. We thought it's a wonderful source for material with superior quality and we were wondering if it could be further improved to suit the needs of different types of applications within fashion, packaging or other fields. We started the initial research in 2017 and slowly step by step scaled up to a start up which was registered in 2018. Since then we have been presenting the material on different design festivals, exhibitions and gained a little more attention. We are still quite small and are able to produce around 200 m sq/ month.
What does 'sustainability' mean to you?
Sustainability to me means to be able to do something again and again indefinitely. Malai is on the way to be as sustainable as possible. We still have a lot to improve but I am quite happy that this is our primary goal rather than focusing on how to make profit as fast as possible. We consciously chose the simplest ways of making and bring in improvement and innovation into every process step by step only after careful consideration and intense testing. I believe Malai's strongest sustainability achievements are the fact that it's made completely without synthetic ingredients, it's compostable and also doesn't depend on animal derived ingredients.