Trends In The Workplace, With Interior Design Magazine's Editor-in-Chief Cindy Allen
8

Mar

'22

10:39 am

by

Nuriyah Johar
After two years of an erratic, pandemic-fueled work-from-home life, we're finally moving into a time period marked by a gradual Return to the Workplace. For some, this is a welcome reset to the circumstances they've known pre-Covid. However, for others acclimatized to the comforts of working from their homes, it marks a tough readjustment. This altered and somewhat divisive perception around the workplace has had a definite impact on trends, and as a result, the concepts of human-centered design, flexibility in the office, and inspiring aesthetics are becoming inextricable to the conversation around commercial interiors.
For this piece, we reached out to Cindy Allen, Editor-in-Chief at Interior Design Magazine (@cindygram @interiordesignmag), who has helmed the American publication for 20 years now. She has established herself as a force in elevating the design profession's importance and exposure, acting as an ambassador and fervent supporter of architects and designers. "When asked to share a few top trends I'm spotting in the industry these days, I made it easy for myself and referred to our latest issue featuring Interior Design's Best of Year awards, a global design competition celebrating the best-of-the best… and it was chock-a-block full of ideas!" she tells us. Here are her thoughts on what's shaping the workspace in 2022 –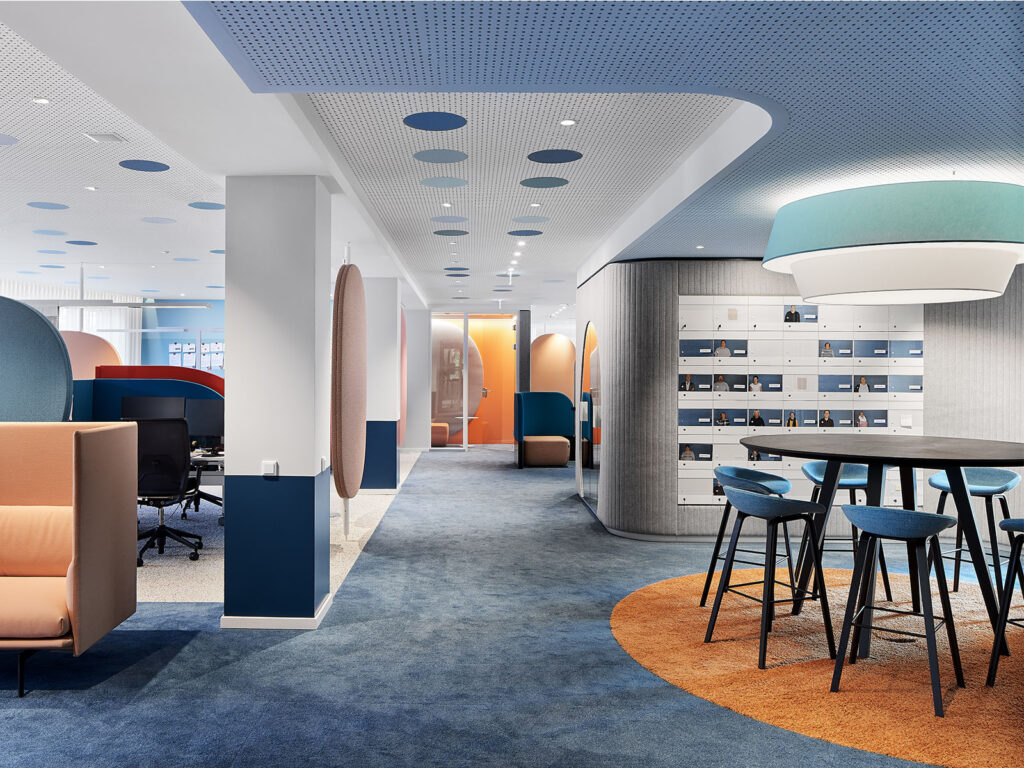 Human-Centered Design: It's All About People!
According to Allen, "If there is one overall take away from these challenging times is that people are 'it', and firms are committed to making human-centered design priority number one! The new workplace is adapting to be healthy and sustainable, nurturing inclusivity, and celebrating us…we the people!"
Pictured above, the mission of Aktion Mensch in Germany is providing aid for projects that support people with disabilities, and advocating for equality and inclusion. Ippolito Fleitz Group put those values on display by not only neutralizing disabilities, but also celebrating them. For example, high contrast hues help the visually impaired delineate between spaces, and allow for a simpler way finding system for the learning impaired.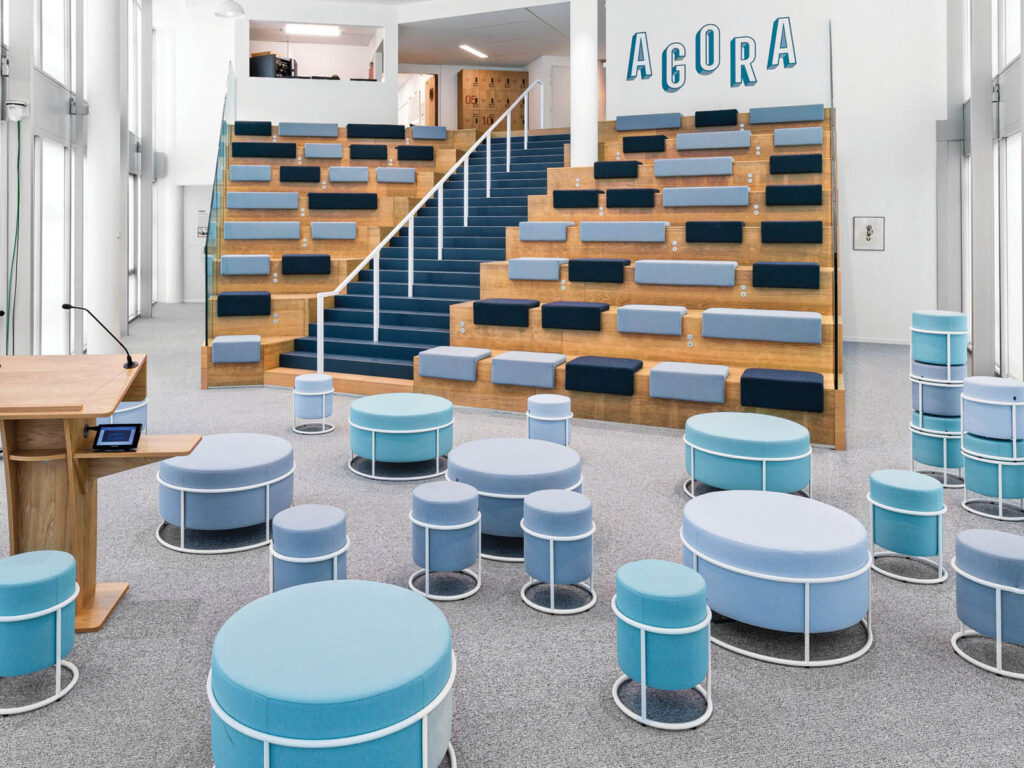 Flexibility And Adaptability
"Flexibility is key for employee retention, productivity, and quality of life – one size doesn't fit all – and hybrid work environments that encourage both the digital and the physical workplace are in demand, and designers are adapting to seamlessly move between the two!" she tells us.
Pictured above, 55% of Roche Laboratories in France was designated as collaborative space with built in flexibility…and the top floor has entirely reconfigurable workstations.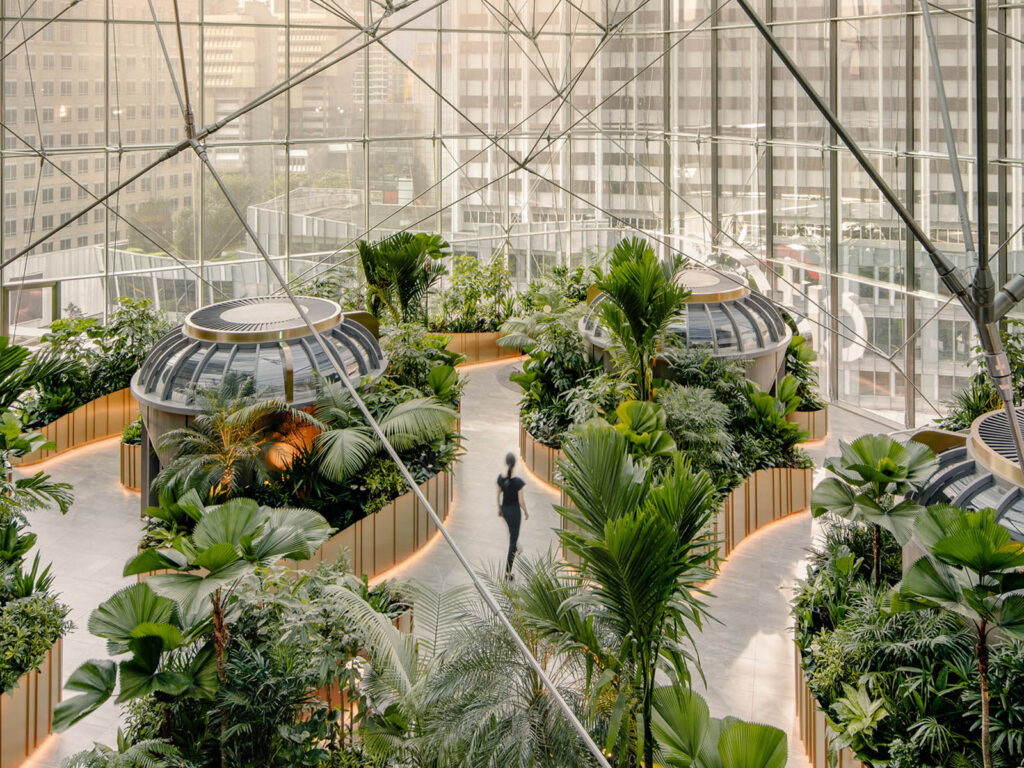 Health And Wellness For All
Allen tells us, "Designers are incorporating the principles of wellness into all projects, both commercial and residential. Today's offices are more holistic than ever before and companies are investing in both mental, spiritual, as well as physical health and wellbeing. There is more onsite fitness than ever before – think gym, yoga, physical therapy – and mental health services, from onsite clinics to wellness rooms, where you can take a mindful breather….aaaaahhhh."
Pictured above, Ministry of Design's concept for Citi Wealth Hub in Singapore stemmed from the idea that the 36-foot-high atrium is where things are grown, nurtured, and protected…just like wealth. And for the mental well-being of the employees, office areas became an extension of the lush green conservatory, and a smart lighting system was designed to match circadian rhythms.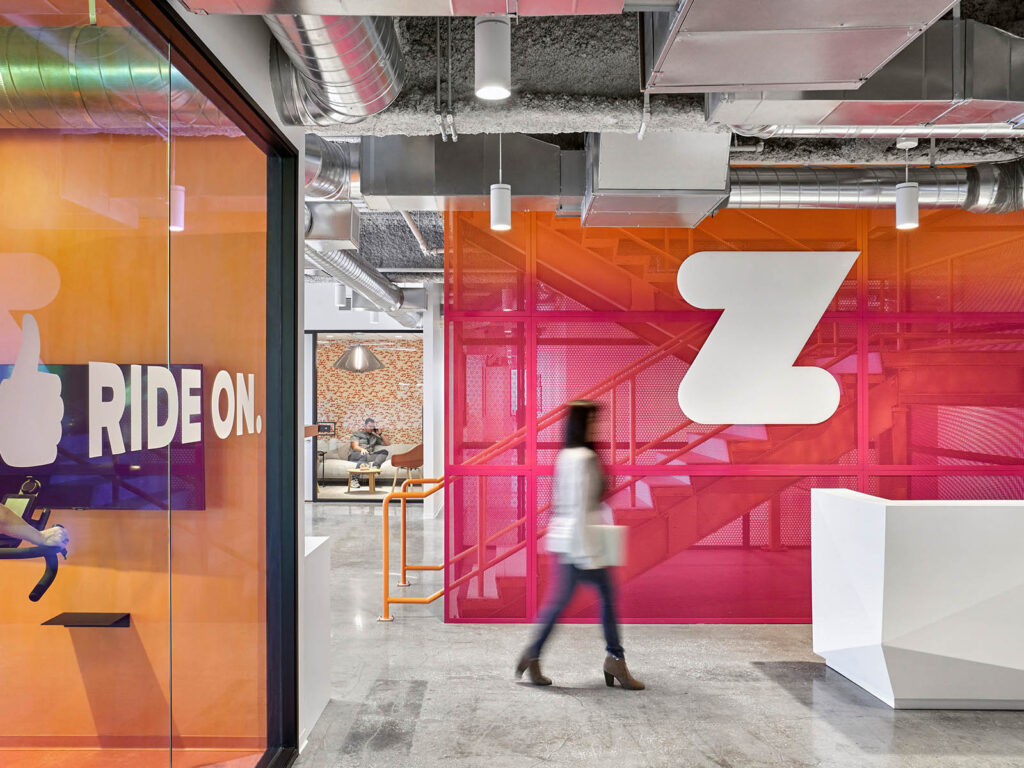 Creativity is King
"'Design' is the differentiator for companies these days to express who they are as a their brand, and create meaningful spaces that are collaborative, flexible, fun! And workplaces don't have to bust the budget either," says Allen.
Pictured above, IA Interior Architects used humble, but authentic materials throughout the office like CNC-milled plywood as arches, and polished concrete flooring, along with loads of vibrant colours, super graphics, slogans and posters!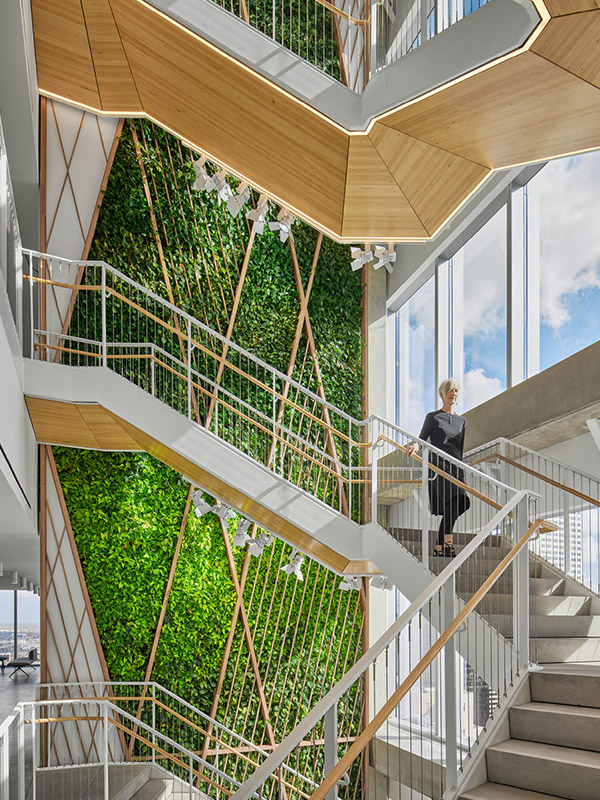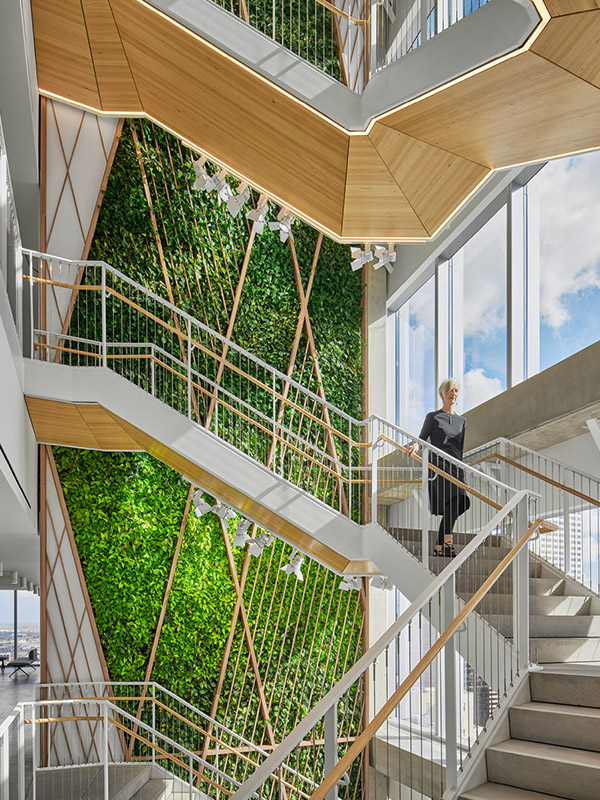 Designing Sustainable Projects
According to Allen, "In the 'old' days, designers would have to sell the idea of being green to their clients, but now sustainability is the major driver on most projects: boy, we've come a long way! Designers are passionate about specifying products as local and regional as possible, and manufacturers are committed to becoming carbon neutral in their production cycles."
Pictured above, this waste management headquarters is located in a new office tower in Texas (with a LEED Platinum-certified core and shell designed by Gensler). The interiors, by Perkins and Will feature a gorgeous nine-story living wall, and abundant environmental graphics throughout with text drawn from sustainability reports the company had been publishing since the 90's.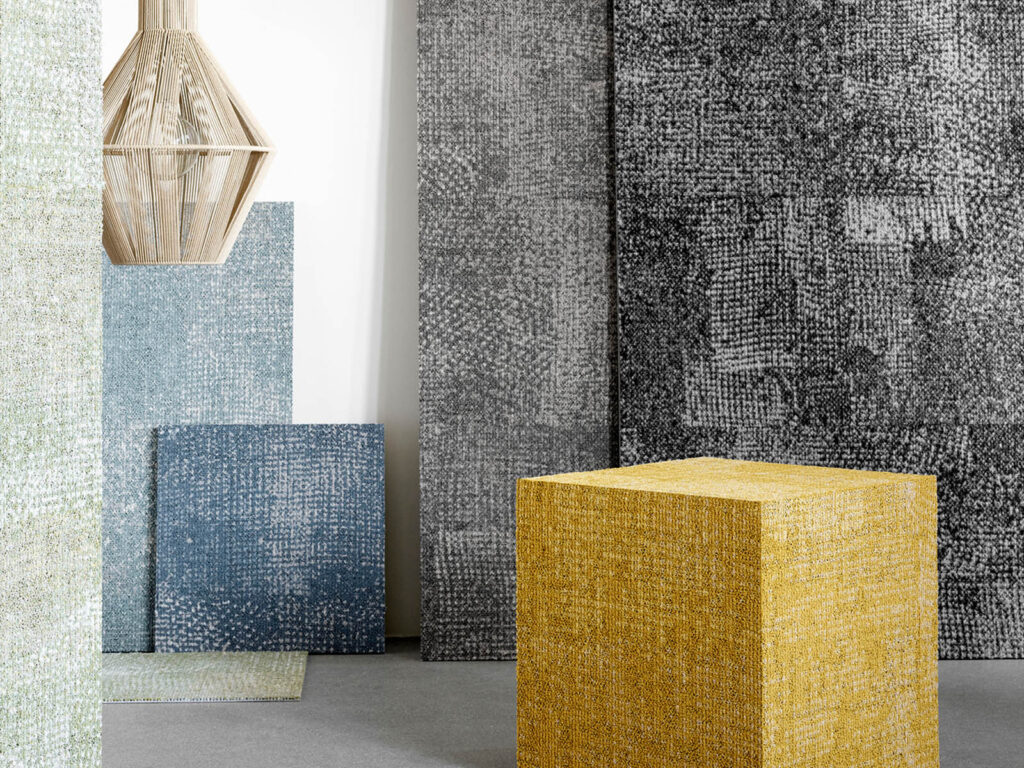 Designing Sustainable Products
"We are now seeing innovative products made from anything imaginable: furniture made from ecological coatings from recycled jeans, leather, and concrete, and many many products made from waste from the ocean. Denmark's Ege Carpets, launched a new flooring collection designed by Saguez & Partner, called Transition, in which Econyl yarn, fabricated from the abandoned nets form the loop pile, and the variegated patterns are reminiscent of forest floors. And best sellers are now doing green versions like Herman Miller who just reintroduced their top-selling Aeron chair made from recycled ocean waste," she says.
We concluded by asking Allen about the trends that have fallen out of favour, to which her succinct reply was, "Any design that's formulaic, excessive and indiscriminate luxury…waste."