Futurism And Biophilia Come To Live In This Sprawling Mumbai Apartment
31

May

'23

1:35 pm

by

Niki Dewani
Unleashing boundless creativity and merging three apartments into one grand canvas, Amita Kulkarni and Vikrant Tike, founders of SAV Architecture + Design, have crafted a mesmerizing masterpiece of modern design and artistic expression in the vibrant heart of South Mumbai. Embracing the central idea of evoking a cozy, bungalow-inspired ambiance, they skillfully intertwined the interiors with nature, infusing a seamless connection while preserving a contemporary aesthetic that harmonizes with the bustling cityscape. The outcome is an enchanting living space filled with creativity and character.
"We wanted to design the apartment as an open-plan, experiential space that connects constantly to nature" – Amita Kulkarni and Vikrant Tike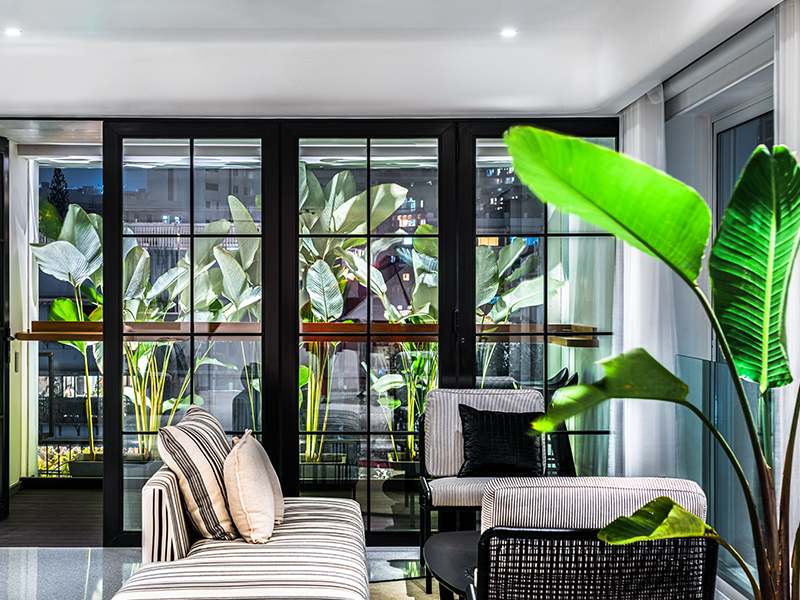 Having previously worked with the clients on their house in Goa, the team aimed to create experiential, artistic, and expansive spaces that bring in filtered light and a sense of the outdoors much prized in bungalows. They eagerly embarked on the challenge of converting the dark and dingy rooms into captivating ones full of life. "We wanted to design the apartment as an open-plan, experiential space that connects constantly to nature," said Amita Kulkarni and Vikrant Tike. 
Also Read : Karim Rashid On Artificial Intelligence, The Age Of Instagram, And India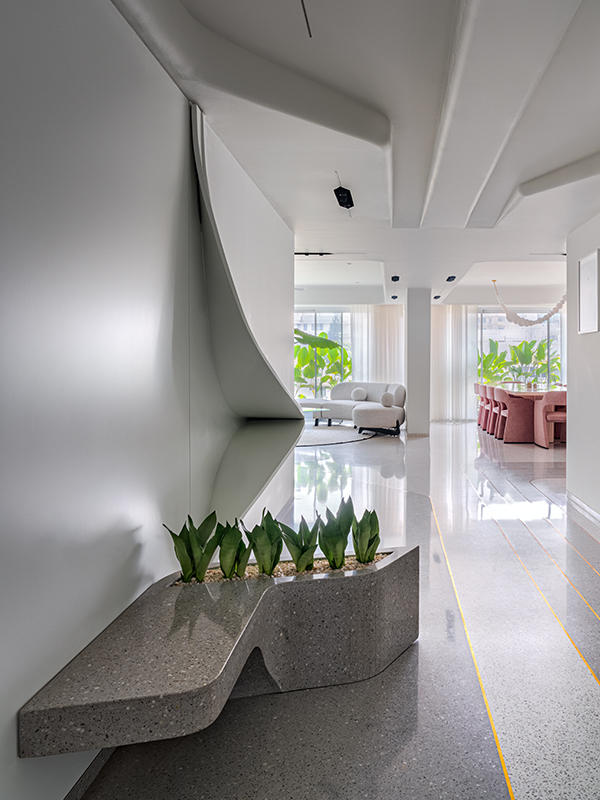 Upon stepping foot into the apartment, one is greeted with an awe-inspiring journey of design. The soft curves in the ceiling draw one's gaze upwards, while subtle yet striking brass inlays on the floor add a hint of glamour. The overall effect is both breathtaking and inviting, making guests feel welcomed and at ease as soon as they step inside.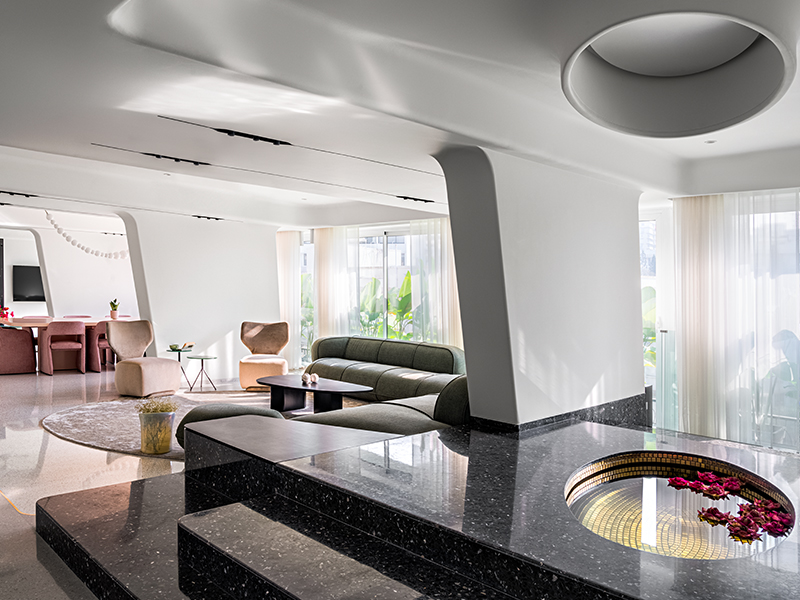 Proceeding to the living room, guests are welcomed into a remarkable open-plan space that impeccably exhibits multiple dimensions of design. This area features an amphitheater, two distinct living rooms, and an elegant dining room, seamlessly blending together to create a captivating and visually stunning experience.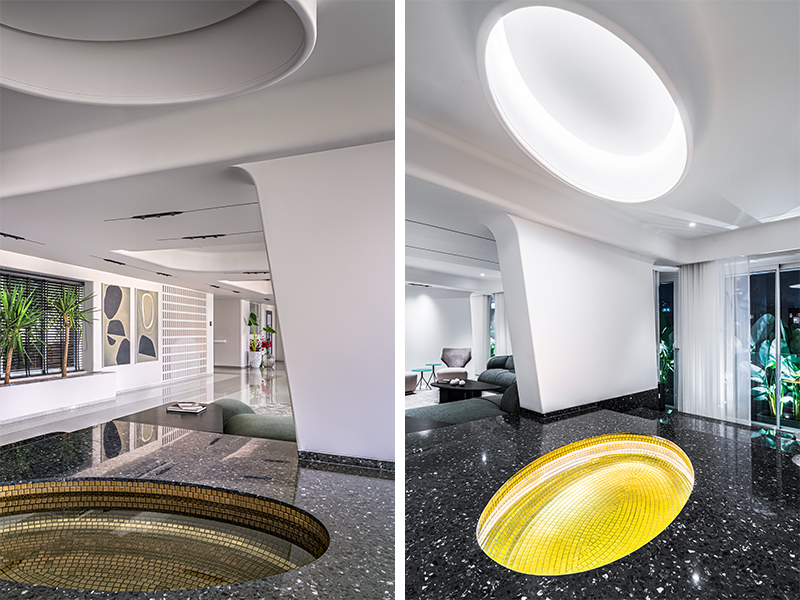 The eye is immediately drawn to the amphitheater, boasting a magnificent gold, mosaic-lined, elliptical meditative pool. This exquisite feature takes inspiration from renowned land artists such as Richard Serra and James Turner and was skillfully crafted on-site by Rajasthani artisans. Above it hovers a white teardrop sculpture, meticulously sculpted out of hand plaster by skilled craftspeople. Completing the scene, striking black marble steps leading up to the pool provide an inviting setting for casual conversations. This area epitomizes a fusion of serenity and grandeur, encapsulating the essence of meditative beauty in a small yet impactful space. "Our favorite statement piece in the apartment has to be the meditative pool. It merges art, architecture, and interiors into one seamless experience," the designers tell us.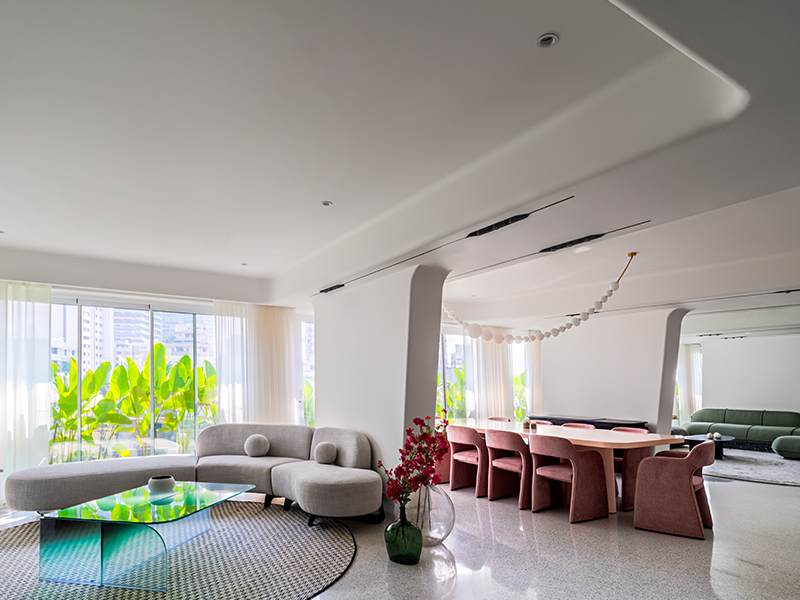 Bespoke bold furniture beautifully integrates with fluid interiors in the living and dining areas, exuding a feeling of expanse and drama. Plush sofas and armchairs feature subdued hues, lending focus to the textures of the space. To keep the central theme of greens and artistic experiences, the main finishes are designed to be monotonous with seamless grey terrazzo floors and fluid white ceilings and walls.
Also Read : This Luxe Apartment In Mumbai Is A Repository Of Collectible Design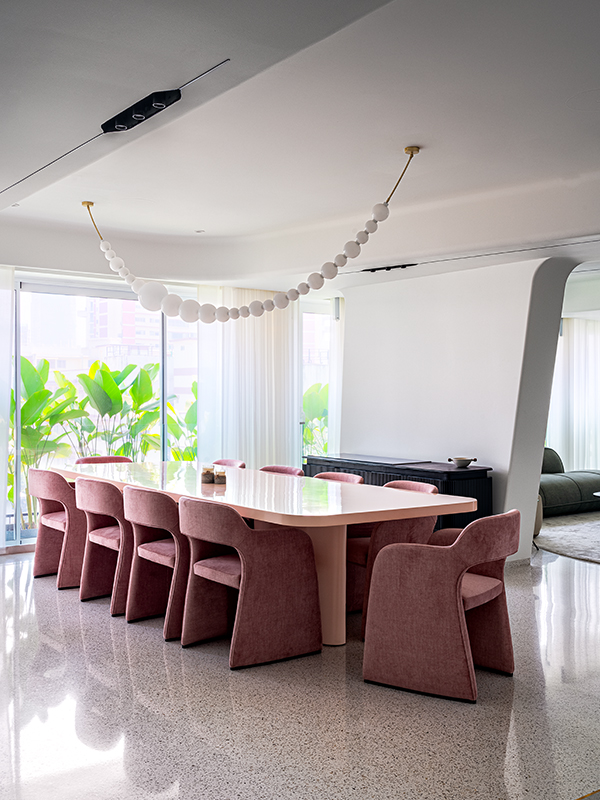 The dining room features a charming pink table, complemented by plush velvet powder puff upholstered chairs that exude an inviting and cozy ambiance. Enhancing the space's elegance is a captivating pearl chandelier suspended overhead, casting a luxurious and sophisticated glow.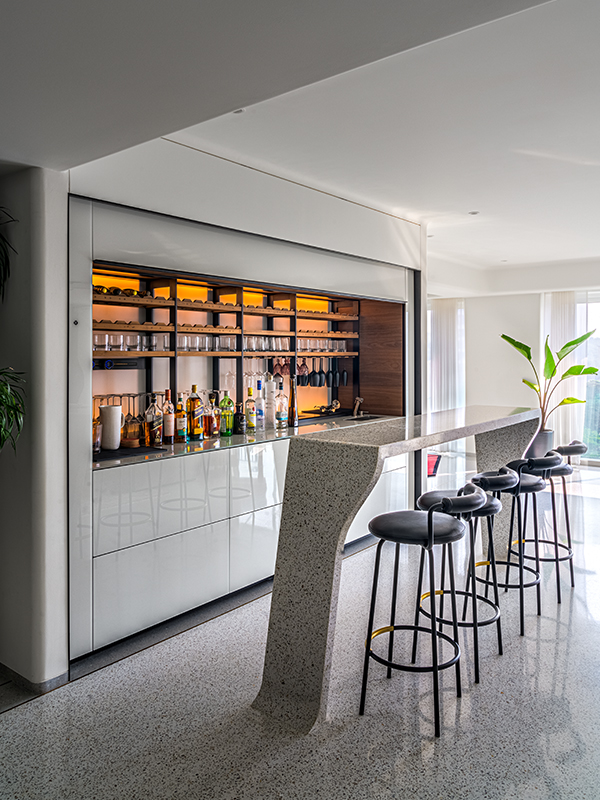 Moving further toward the entertainment space of the apartment, one's attention is immediately captured by the stunning terrazzo bar console. The inclusion of Valcucine's custom-designed and ergonomic bar unit, complete with receding doors that unveil the carefully arranged accessories, adds an intelligent touch of artistic elegance. This area serves as an ideal setting for leisurely evenings spent with friends or for unwinding after a long day.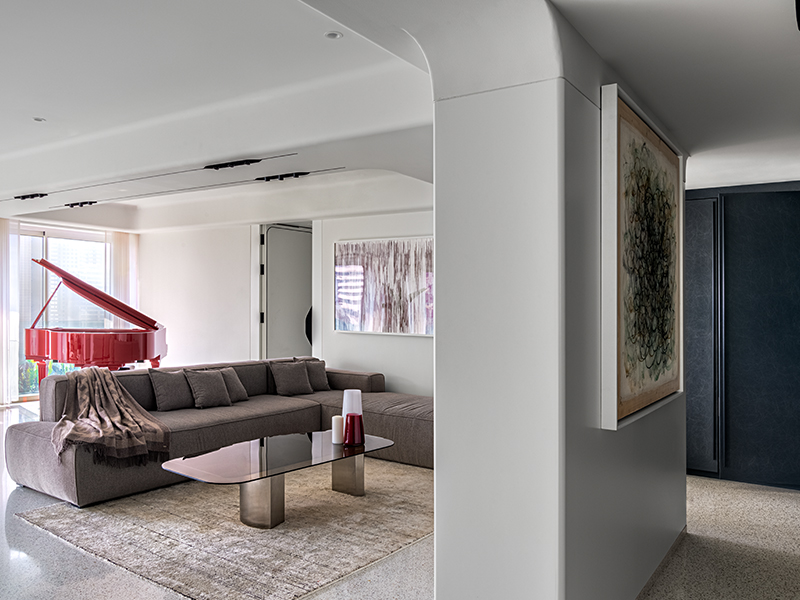 In the informal living room, the focal point is the grand, sculptural crimson piano, commanding attention as a bold and daring statement piece. It stands proudly amidst a space that exhibits the same sense of confidence. The deep lounge couches in shades of grey and black invite guests to sit back, relax, and immerse themselves in the room's dominant monochromatic palette.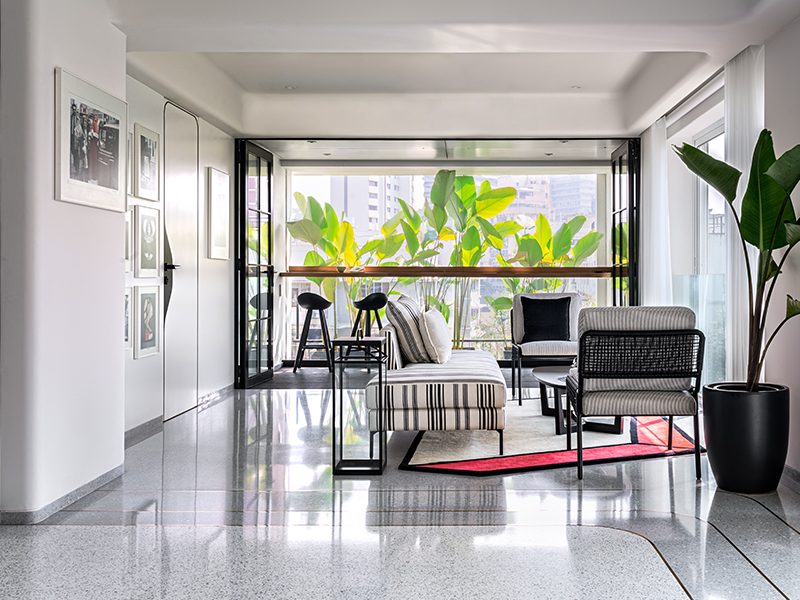 The design team ingeniously fashioned an urban sanctuary through a spacious inset balcony, adorned with abundant tropical foliage and fitted with folding doors. This remarkable addition infused the apartment with a refreshing outdoor retreat aura, bathing the interiors with a soft, filtered green light reminiscent of tranquil low-rise bungalows. To harmonize with the natural surroundings, the designers opted for a striking black-and-white color scheme on the balcony, creating a stylish contrast against the vibrant greens.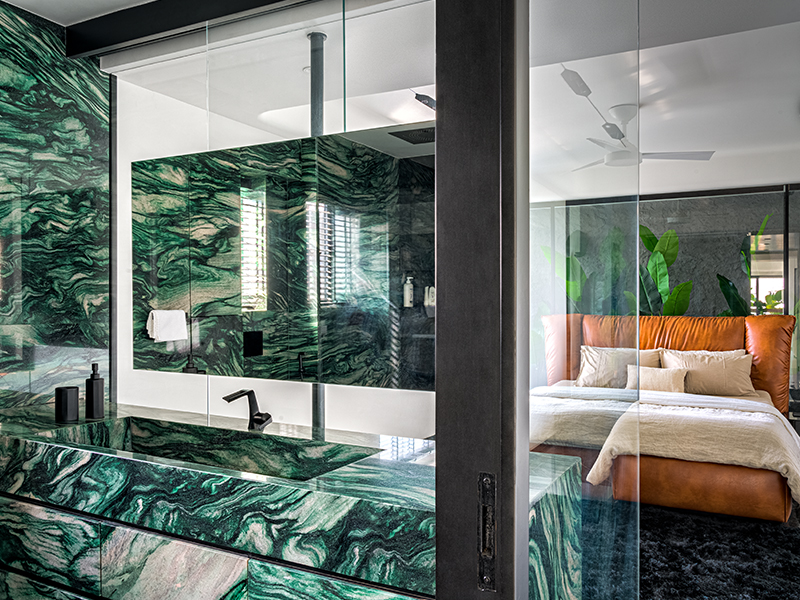 Continuing the motif of coziness and tactile richness, the bedrooms epitomize comfort and tranquility. The master bedroom, with its eclectic and earthy ambiance, showcases a tan four-poster bed gracefully positioned against a glass window, allowing the verdant greens behind to filter through. The ensuite bathroom is a testament to opulence, boasting a breathtaking jade-green marble vanity and basin counter, thoughtfully equipped with integrated drawers. "The green connection and bold lines of the bathroom flow seamlessly to the minimally designed bedroom," add Kulkarni and Tike.
Also Read : Everything You Need To Know About The Nita Mukesh Ambani Cultural Centre (NMACC) In Mumbai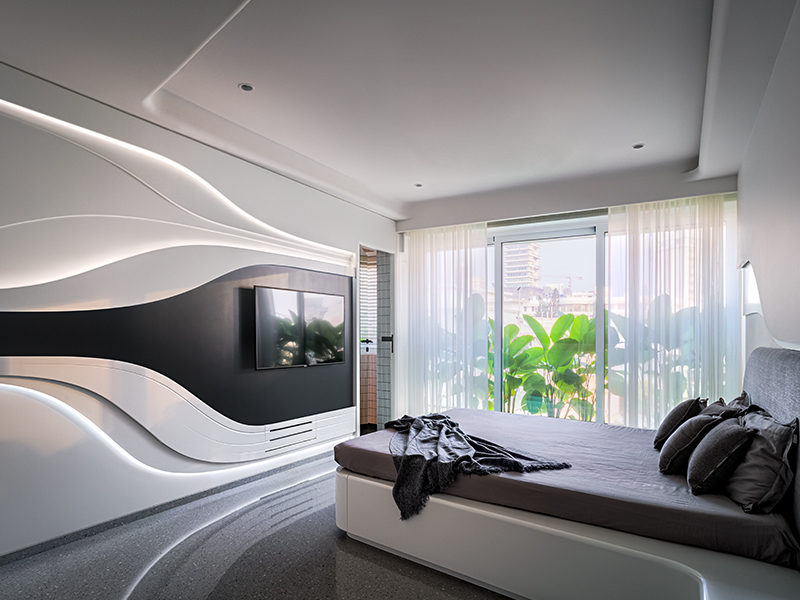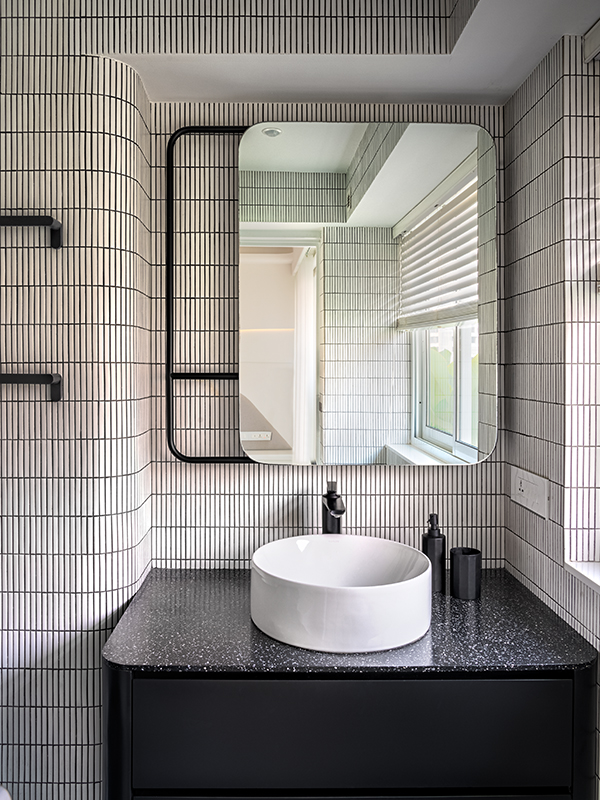 In the same vein, the son's suite and bathroom exude a sleek and contemporary aesthetic with a monochromatic color scheme. The wall paneling and bed take center stage, featuring customizable multi-hued lighting systems that allow for creating the ideal ambiance. Meanwhile, the bathroom steals the spotlight with its curved walls adorned in white finger mosaic tiles, adding a touch of elegance and visual intrigue, featuring fittings by Kohler.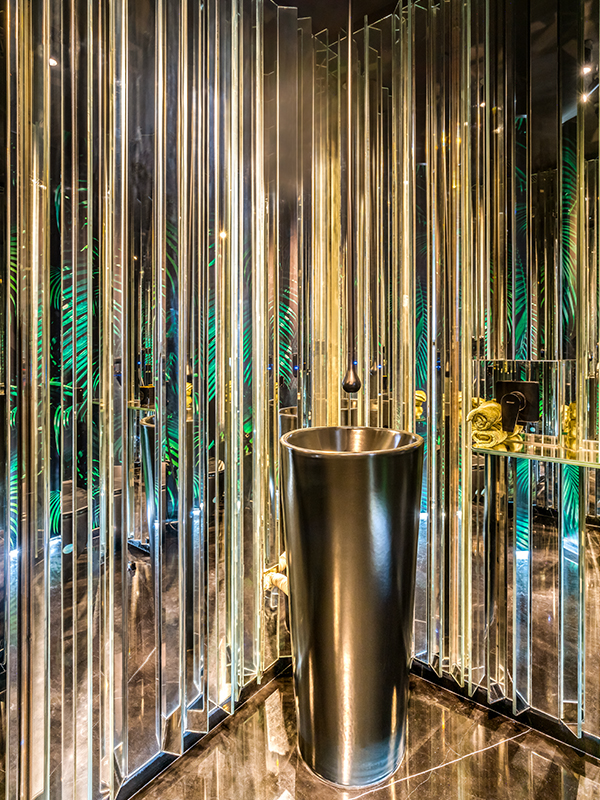 The meticulous attention to detail extends to every corner of the apartment, including the powder room, where an intriguing illusion awaits. Vertically-slatted mirrors gracefully glide across a backdrop of lush green fern wallpaper, creating an enchanting visual effect. The free-standing basin poses as a sculptural object, adding to the artistic and glamorous experience.
The apartment is a testament to the power of thoughtful and intentional design, where each element has been carefully curated to delight and inspire. This project is itself an artistic endeavour, evident in the innovative pieces of art that adorn it. Artists either from India or those inspired by Indian heritage were intentionally chosen to add a unique touch of cultural heritage to this modern masterpiece. With its innovative use of space, art, and lighting, this apartment sets a new standard for luxurious living and pushes the boundaries of modern interior design with a harmonious blend of the outdoors and indoors.