This Luxe Apartment In Mumbai Is A Repository Of Collectible Design
10

May

'23

3:04 pm

by

Nuriyah Johar
Finding the right balance between extravagance and simplicity is harder than it looks. More often than not, design tends to err on either side of the sweet spot, ending up ostentatious or too pared down. This 5000 sq ft apartment in Mumbai, however, manages a faultless blend. Kayzad Shroff and Maria Leon of SHROFFLEóN designed this expansive (by Mumbai's standards) interior to reflect a sense of quiet luxury. Housed in an old building on Peddar Road, the two storey home required structural stabilization of the apartment in addition to reworking the layout and general refurbishment.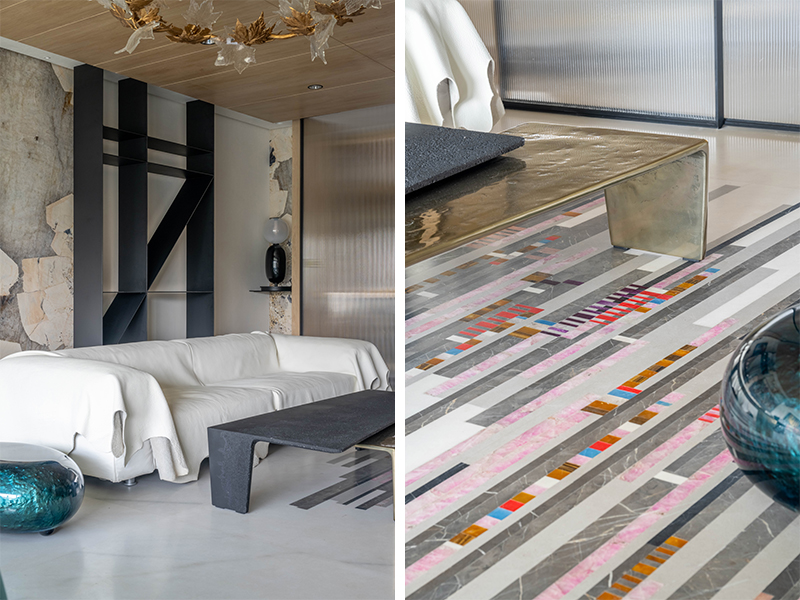 The residence is spread across two levels, each with its own distinct character. The lower floor houses the public spaces; in addition to the living and dining areas, this level also features a well-equipped home gym, a spa, and a serene massage room. In the living room, texture, pattern, and unconventional forms take center stage. A chic minimalist sofa from Edra lies alongside the Abyssus side table in blue by McCollin Bryan and a dual-textured center table. The floor is lined with white lassa marble, and a remarkable art inlay that adds colour and dimension to the room. "Within the living room, we collaborated with Visakh Menon, an NYC based interdisciplinary artist to create a customized marble inlay flooring – translating his abstract works into a floor art," Shroff adds.
Also Read : #DPExclusive – This Manhattan Apartment By Aamir Khandwala Is A Collector's Paradise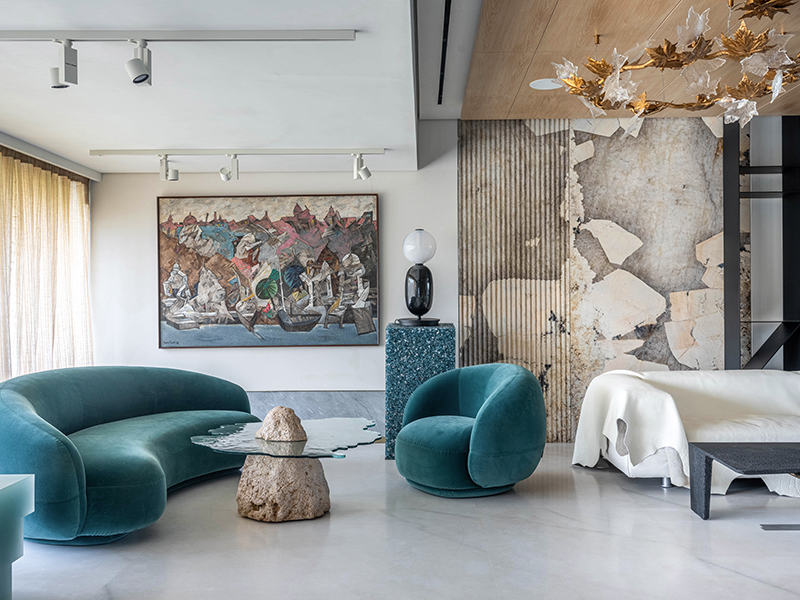 An adjoining seating area in the living room includes a rich blue sofa by Tacchini alongside a centre table sourced from Rossana Orlandi. Drawing focus to the back wall lies a stunning side table by Ferdanando Mastrangelo – one of Shroff's favourite pieces used in the apartment. A decorative light by Serip hangs overhead, adding a hind of gold to the space.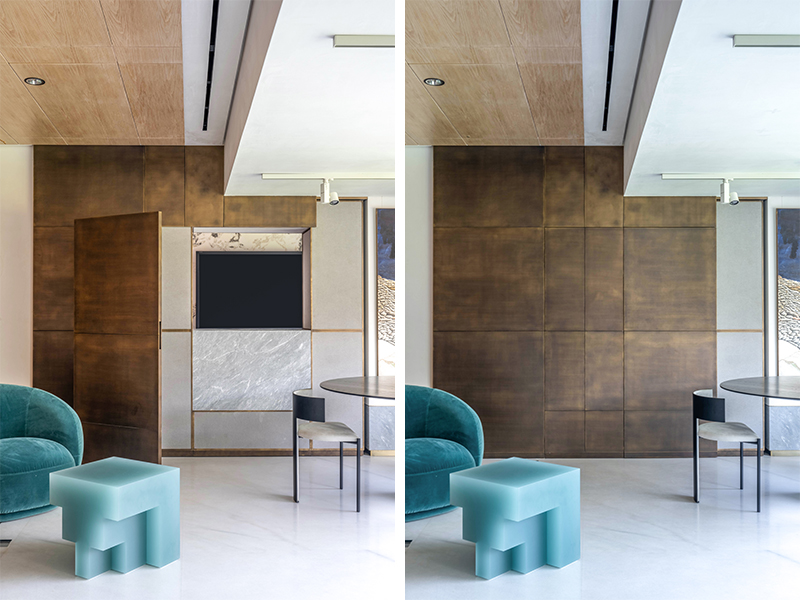 A transitional space that connects the living and family rooms houses a concealed brass and marble bar by Loco, that doubles up as a statement wall. A soft blue resin side table by Niko Koronis lies alongside a Cassina chair, in keeping with the colour scheme of the living room.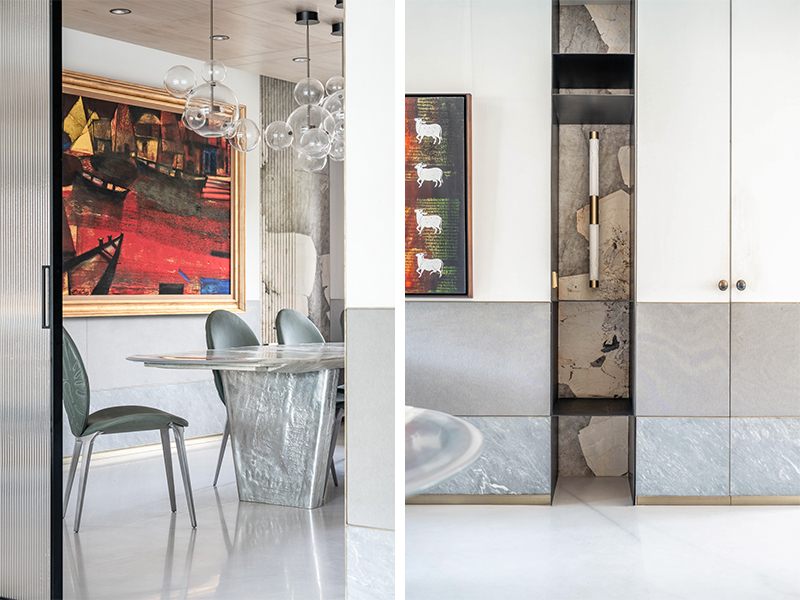 In the dining room that lies beyond a fluted glass door, one is immediately drawn in by a Vincenzo De Cotiis dining table, casted in aluminum and fused with murano glass. Complemented by dining chairs from Gubi and an ephemeral bubble-like light from Giopato Coombes, the dining area brings forth a sense of quiet glamour. Amidst the neutral palette of gray and beige, art from the clients' personal collection stands out.
Also Read : Three Contemporary Mumbai Homes That Champion A Neutral Colour Palette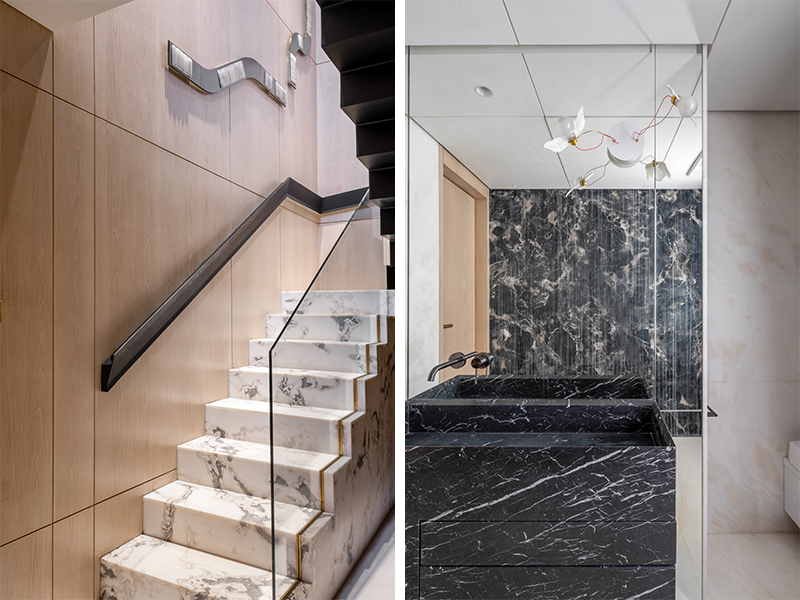 The stairway leading to the upper level features a striking black and white palette, in contrasting materials. Decorative lights by Arjun Rathi accentuate the stairwell, which is clad with a soft wooden veneer. The private areas of the house, namely the master suite – complete with a 400 sq ft walk-in closet and three bedrooms for the clients' daughters are housed on the upper floor.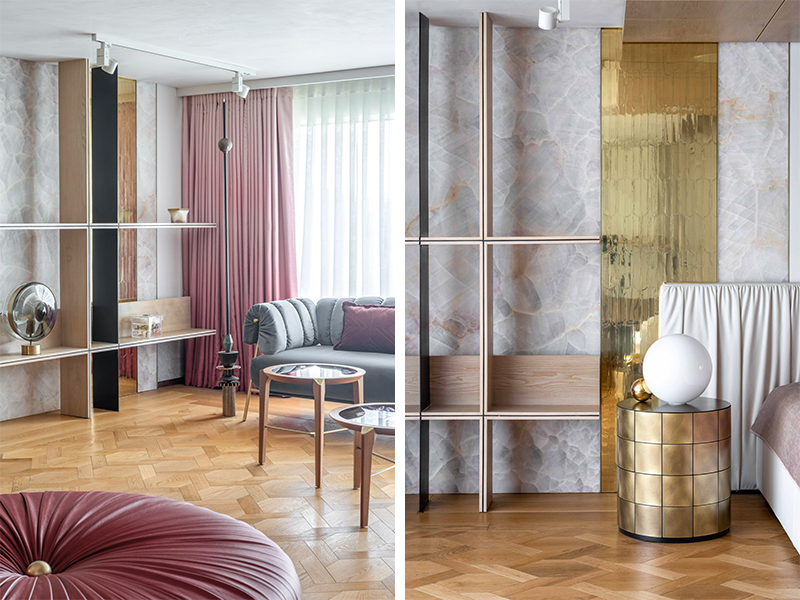 In the master bedroom, luxury has a free reign. Collectibles from some of the finest luxury design brands come together in a tasteful curation – a beaded statement light by Preciosa, a matte brass bedside table by De Castelli, a deep pink pouf by Roberto Cavalli, and a table lamp by Bomma are amongst a few. Hues of pink and blue join the beige and gray colour scheme, punctuated with striking gold details in the sprawling space. A patterned wooden floor adds a sense of intimacy, replacing the grand marble that lines the lower level.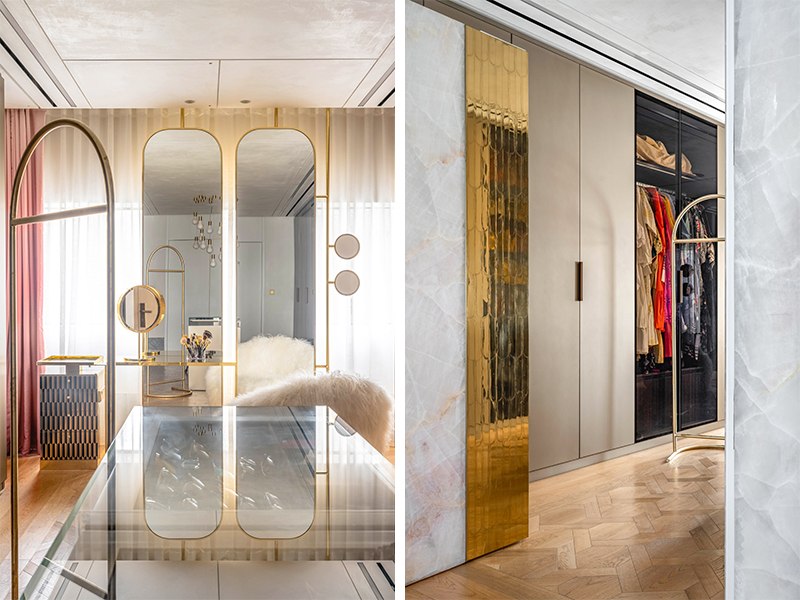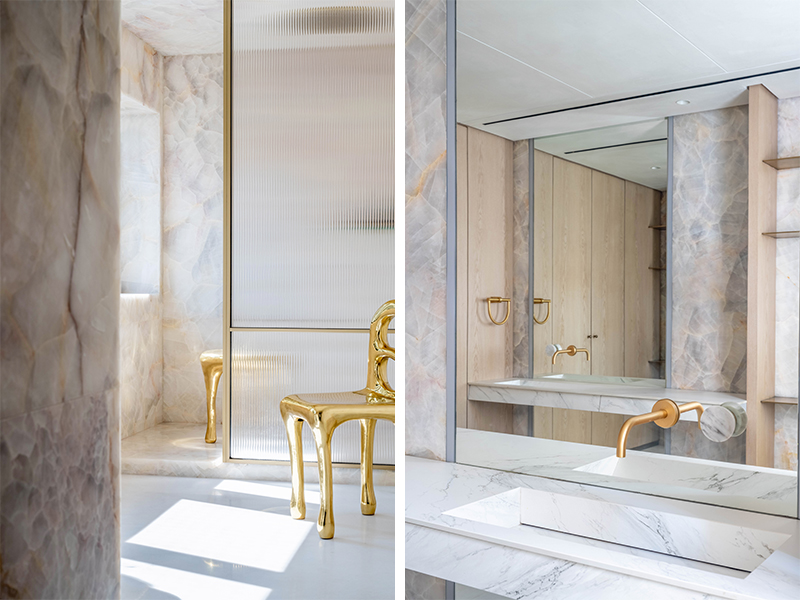 Amongst the most special rooms in the home and a rarity in cities like Mumbai, the walk-in closet is a soft, dreamy haven complete with fur chairs (courtesy Baxter), a gilded vanity by Scarlet Splendour and cupboards by Loco. Throughout the bedroom and adjoining walk-in, glossy gold panels customized by Scarlet Splendour clad the walls.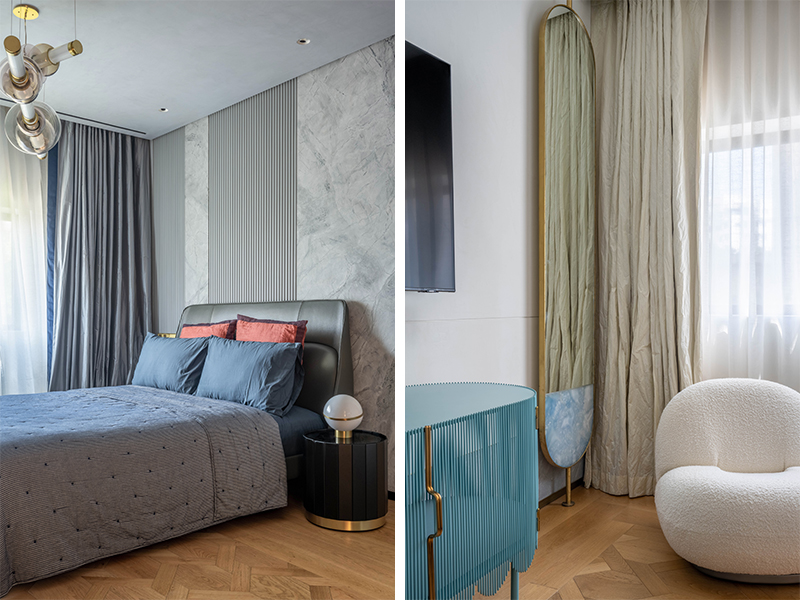 The three additional bedrooms display a simpler sensibility characterized by a subtle sense of luxury. Furniture by Baxter, Scarlet Splendour, and Novamobili has been used across the rooms, all of which feature unique textural finishes like fluted wall panels, wooden cladding, and whimsical wallpapers. Ultimately, SHROFFLeON has created a space that feels like a well-curated design gallery, infused with the warm comfort and intimacy of a lived-in home.
Also Read : 10 Gorgeous Collectible Benches We Have Our Eye On In 2023