Mumbai's Gastronomic Adventures: A Minimalistic Gelateria, A Quaint Rustic Restaurant, And Beyond
5

Sep

'23

4:18 pm

by

Tanvee Abhyankar
Mumbai remains in a perpetual state of culinary innovation, constantly unveiling a host of trendy restaurants and cafes that cater to a wide spectrum of tastes, spanning both global and regional cuisines. Within this vibrant gastronomic landscape, we have thoughtfully curated a trio of dining establishments hailing from distinct corners of the city. Each of these culinary gems promises a singular and unforgettable experience, certain to tantalise the taste buds of Mumbai's discerning residents.
For those with a penchant for both sweet and savoury delights, there's Affogato, designed by Kasturi Wagh and Vineet Hingorani. If you're an admirer and connoisseur of North Indian cuisine while residing in Mumbai, Nksha awaits you. It's a meticulously designed space by Shruti Jalan and Neesha Alwani, offering temptingly crafted Northern Indian dishes. And for the global citizen within you, Pleo is the place to be. This striking resto-bar is designed by Misbah Kapadia and serves delectable cuisine from around the world.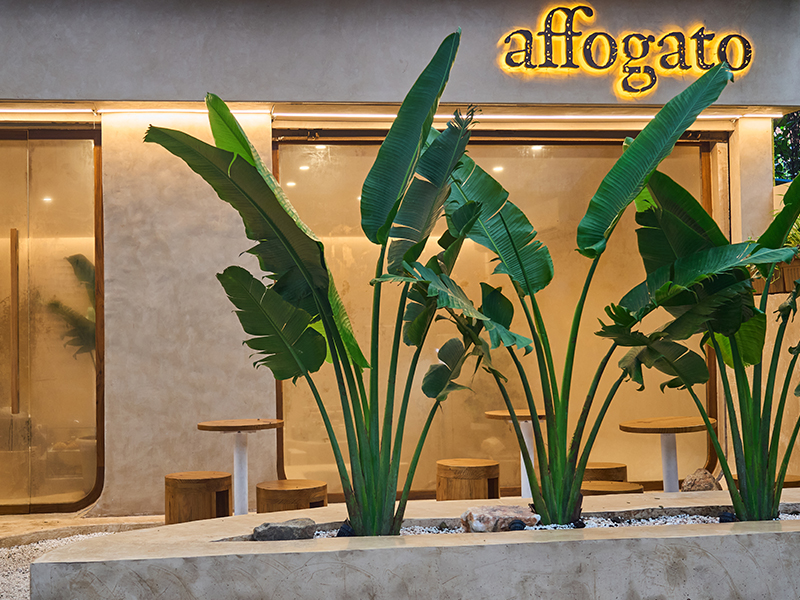 #1 Affogato In Khar
Khar's newest gelateria, is designed to transport visitors from the cobbled streets of Florence to a modern, coffee-inspired haven. The design is the brainchild of Kasturi Wagh and Vineet Hingorani from Mumbai-based kaviar:collective, this modern patisserie and one-of-a-kind gelateria is dipped in delightful shades of coffee. Spread across 600 square feet, this space successfully exudes the ambiance of a subterranean art gallery. A welcome bonus is that it's pet friendly, so you can bring your furry friend along.
Also read: Stop By This Soho-Inspired Coffee Shop In Surat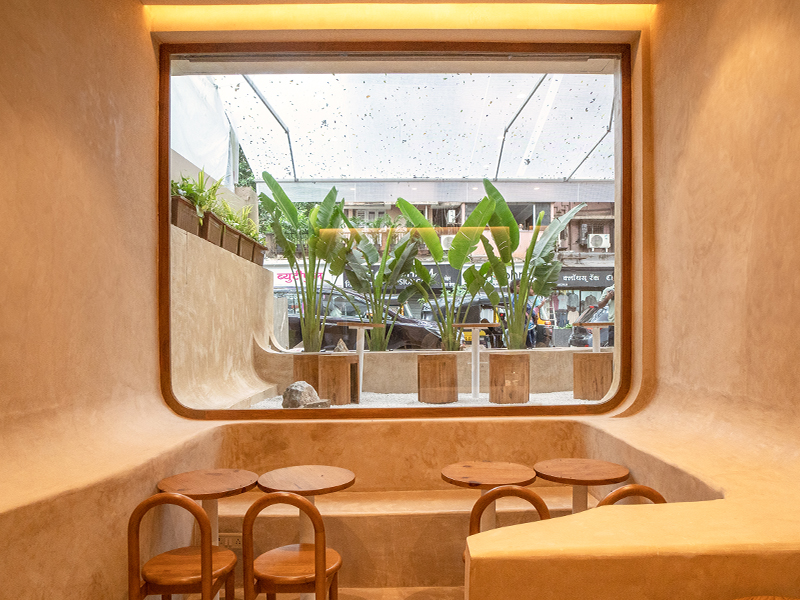 This multi-functional and well-lit space aims to elevate spirits and accommodate various activities. Founded by Suren Joshi, Affogato is the latest addition to his impressive portfolio of soulful food spots across the city. Teaming up with co-founder and gelatiere Shalini Rattan, the café proudly offers authentic, no-added-sugar gelati and vegan, keto-friendly sorbets.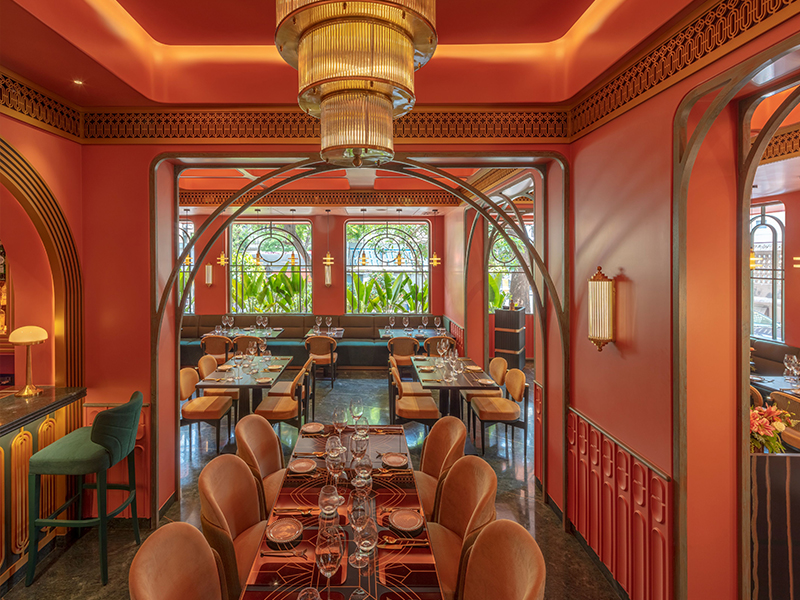 #2 Nksha At Churchgate
Nksha is that one quiet spot that watches the ever-bustling Mumbai life passing by through its brass framed window panes. The latest addition to the Marine Drive dining scene, Nksha offers a fine-dining experience that specialises in North Indian flavours. Founded by food connoisseurs Pranav M. Rungta and Chef Vikram Arora, Nksha combines rarity, delicacy, and opulence The restaurant's ambiance, designed by Neesha Alwani and Shruti Jalan of ns*a Architecture and Interiors, pays homage to the old Bombay glamour of yesteryears, drawing inspiration from the 1950s Art Deco style of its Churchgate location. These interiors complement the premium culinary experience at Nksha, creating a harmonious blend of old-world charm and contemporary flair.
Also read: Amadeo By Oberoi At NMACC Boasts Four Cuisines Under One Roof Complemented By Curated Cocktails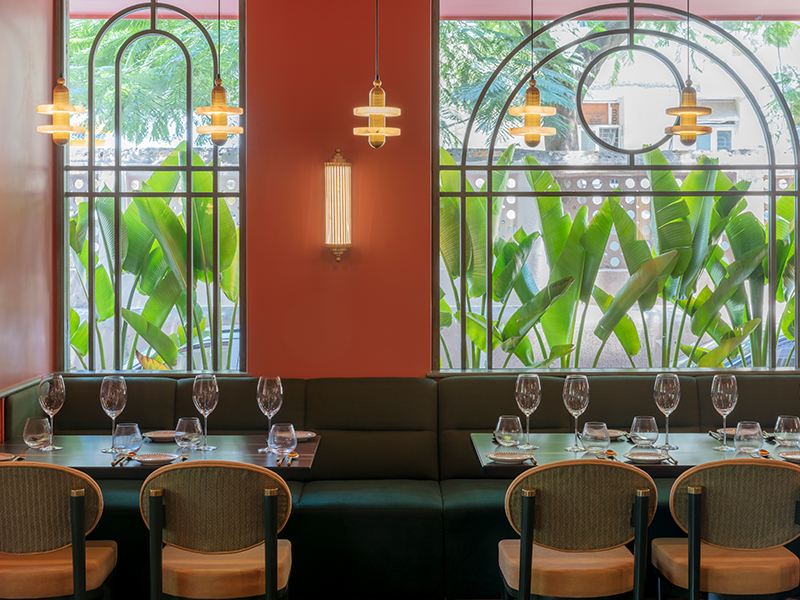 Using a palette of pinks, vibrant corals, rich greens, and bronze accents, Nksha crafts an inviting ambiance that is simultaneously elegant, chic, and playful. What sets this place apart are the meticulous details throughout the space—geometric shapes, intricate metalwork, wall sconces, and antique patina finishes come together to define the restaurant's character. A similar palette is seen in the culinary delights as well; the deep hued 'porcini & button mushroom galouti kebab,' paired with a specially crafted Churchgate cocktail is bound to tantalise your taste buds for what's more to come to the table. Lastly, a unique Indian take on serving the bill is seen as a wholesome experience at Nksha—the check comes to you in a bronze dabbaa and loads of Indian mouth flavourings.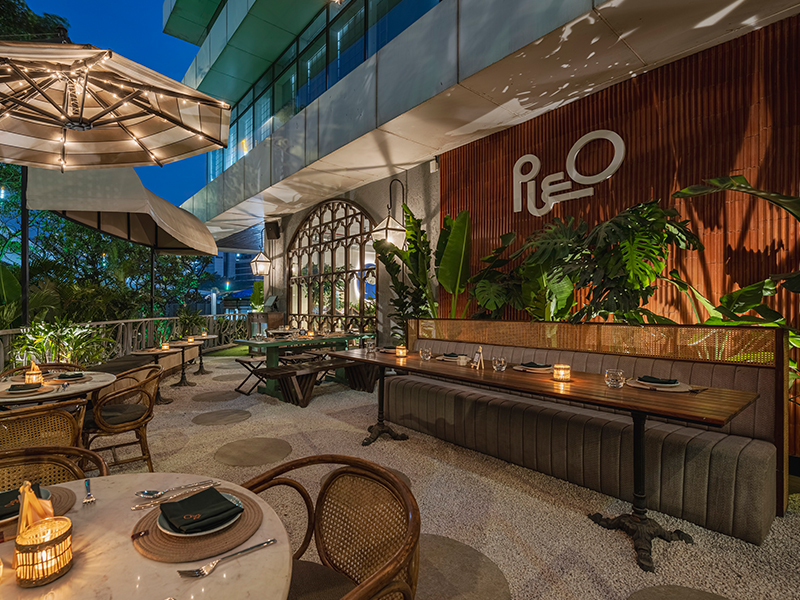 #3 Pleo in BKC
Pleo transcends the ordinary definition of a resto-bar; it offers an immersive journey that seamlessly melds delightful cuisine with a warm and welcoming ambiance. Designed by Misbah Kapadia of Design Konstruct, the establishment invites patrons to savour a fresh and delightful menu in its relaxed and earthy atmosphere. The furniture, colours, partitions and materials all come together to form the perfect colour and material palette to create a relaxing environment. vintage and modern elements blend together harmoniously, providing comfortable seating and a touch of rustic charm.
Also read: ​​Six Senses Vana Enraptures Wellness Seekers By The Healing Powers Of Nature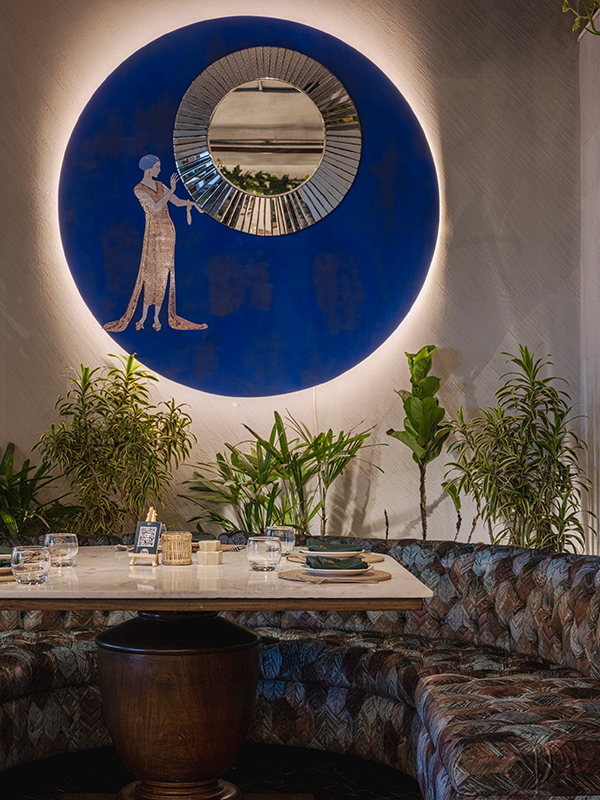 At the heart of Pleo lies a well-lit central area adorned with lifelike artificial plants, creating a serene and tranquil oasis. The kitchen and bar areas are brimming with character, featuring distinctive embellishments and inviting nooks. An appetising array of food and beverage options adds to the foundation of Pleo—Asian, North Indian, Continental, and European cuisines elevate the food experience altogether, only to be paired with their colourful signature cocktails. Pleo is heavy on the crowns—be it the golden crown of their Truffle and Edamame Dimsums or the fuzzy foam crown of their Truffle, Avocado & Blue Pea Rice Uramaki. It is one union that the ambiance sings with the food, taking you along, sailing!