Sajan Mani On The Politics Of Body And Its Implication In Public Spaces
26

Jul

'23

2:24 pm

by

Manisha AR
An intersectional artist and curator, Sajan Mani's work contemplates time. Though known for his durational performances, he also produces sculptural installations, texts, and images that accompany the performance and are often the product of extensive research. He currently lives and works from Berlin, but often visits his hometown in Kerala to develop new work. As an intersectional artist, major themes in his work include archiving and documenting narratives of marginalized and oppressed people, the black Dalit body, and its implications for everyday life. He tells Design Pataki, "I think a lot about my experience with this body, and what I face when I carry this body into public spaces."
Mani is the first Indian to be awarded the Berlin Art Prize in 2021. He has participated in international biennales, festivals, exhibitions, and residencies. The list includes India Art Fair (2019), CODA Oslo International Dance Festival, No (2019), Specters of Communism, Haus der Kunst, Munich (2017), and the Kolkata International Performance Art Festival (2014-16), to name a few. He has also shown his work at various galleries in Europe, India, Australia, and more. The list includes Verge Gallery, University of Sydney (2022), Nome Gallery, Berlin (2021), New Art Exchange with Arts Council England, London (2017), and Chatterjee & Lal Gallery (2015), Mumbai, to name a few.
"My body is present to activate the space, and once the space has been activated, there is usually a performance installation," says Sajan Mani.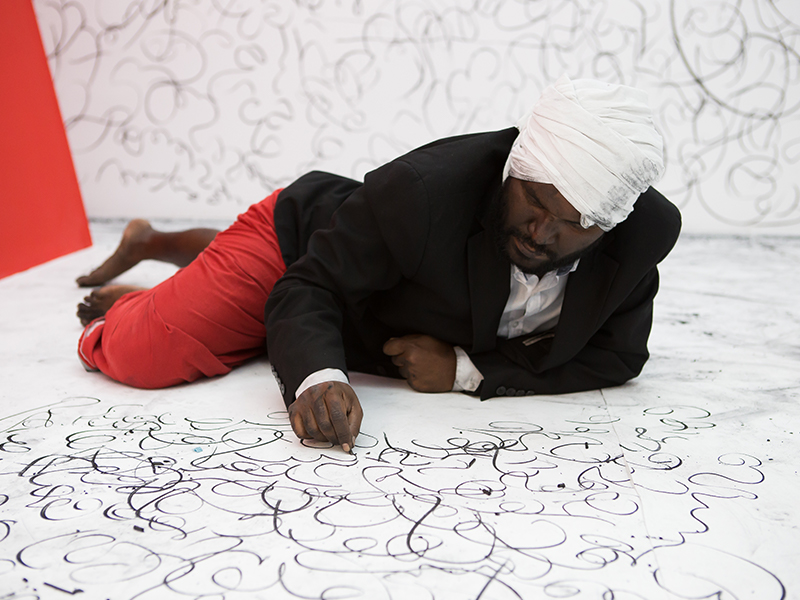 Two years ago, Mani had his first solo exhibition in Europe at NOME in Berlin. Titled 'Alphabet Of Touch >< Overstretched Bodies And Muted Howls For Songs,' the show opened with a durational performance. Being a multidisciplinary artist, much of Mani's work begins with his body as a medium and primary material.
Mani's relationship with art has grown and morphed into his current art practice. More than the degrees and colleges, it's his experiences that inform his art research. Hailing from a family of rubber tappers, Mani completed his early education in Kannur. After completing his bachelor's in Journalism and Literature, he spent some time working on political cartoons. After this, he worked different jobs, explored art through animation, and finally made his way to fine art after finishing a degree in applied arts from Mysore, India.
Also Read: Coachella Witnesses A Blend Of Robotic And Mythic With Sri-Lankan Born Artist Kumkum Fernando's Sculptures
Unlearning Lessons From My Father by Sajan Mani, 2020, Video projection on natural rubber sheet, HD Video 4'44"
The Passage of Time
Mani was always a curious child. He loved stories and paid attention to the ones unfolding around him. We talked extensively about 'Theyyam,' a Dravidian ritual, done largely in Kerala and Northern Karnataka in the form of a folk dance to seek blessings. His parents told him a few stories too; he read many more and experienced the rest over time. From stories, he progressed to poetry, then philosophy, and finally to politics, which informs much of his process and work today.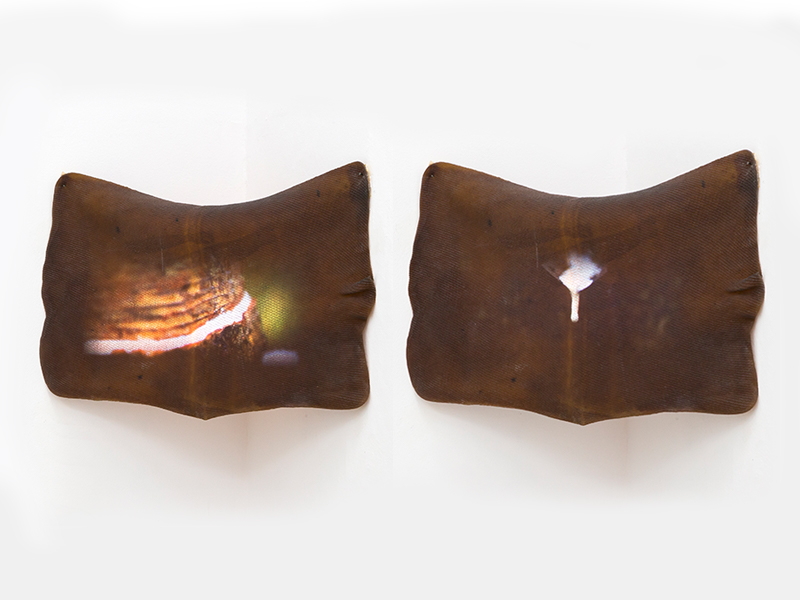 In 2018, he told a story in collaboration with his father, "Unlearning Lessons from My Father," an HD film that he projected onto a natural rubber sheet. In the video, Mani's father demonstrates the meticulous process of rubber harvesting. This poignant story is entrenched in colonial history, botany, and material relations, among other things. It comes from a deep study of the history of rubber that is highly gruesome, as described in Australian historian John A Tully's book titled "A Social History of Rubber." Mani's practice and work tend to foreground these complex and problematic histories through simple, rich, and detailed visual storytelling.
Also Read: MAP Museum Of Art & Photography Signals A New Era For Museums In Bangalore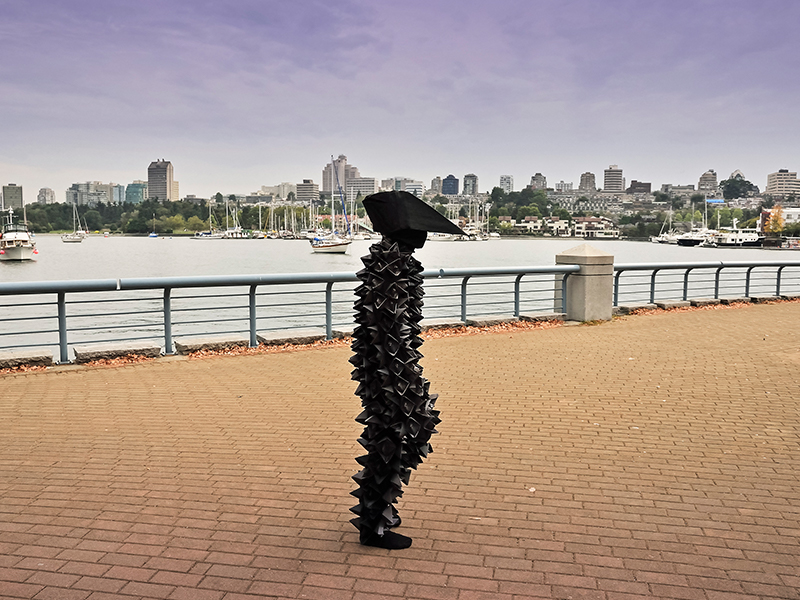 Migration
Another theme that interests Mani is migration. He constantly questions how language, knowledge, people, and histories travel with people. In 2014, Mani was invited to participate in the Vancouver Biennale 2014 in Canada. Despite holding an invitation from the biennale, Mani was stopped by the border officials and held back with refugees until they received verbal confirmation of his invitation from the biennale team. Struck by this, the artist transferred this experience into his practice. He went back in time to look at the people who had gone on a long journey to a new country in search of new possibilities.
In a participatory project during the Vancouver Biennale, the artist invited various children from Roundhouse Community Center to build 376 black paper boats to reference each passenger onboard the Komagata Maru ship. Later, he attached these ships to his body, walked from the Roundhouse Community Centre to Stanley Park, and offered his body to the water. The Komagata Maru was a Japanese steamship full of British Indians on their way to Canada who were denied entry. Upon returning to Kolkata, they were shot by the British army for attempting to incite violence and rebellion. In both Vancouver, Canada and the town of Budge Budge, Kolkata, a memorial was built (years later) to commemorate the passengers on this ship.
An artist and a curator
"My work isn't just about the beauty or aesthetics," says Mani, adding, "There is also a lot resting underneath." His practice also includes facilitating, hosting, and bringing together individuals. As a curator, he prefers to center the art and the artists that make the work. Some of his curatorial works include the Pandemic Project, which he co-curated with Aroh Akunth; the Decolonial Lab with Serubiri Moses, Political Yoga, and Wake up calls for My Ancestors, with a collective of artists, historians, and researchers.
All of his projects are inquiries and investigations he embarks on to develop counter-narratives and gather evidence. A long-term critical artist-archivist project, 'Wake Up calls for My Ancestors', brings together scholars and artists to "give an active call to the muted voice of the Dalit and archives other subaltern subjects who are being appropriated, exhibited, accessed, edited, and disseminated as mere photographs. This project started as an exhibition that was on view at Oyoun in Berlin, Germany, last year. It was followed by a panel discussion and has continued as a research project. Many of the images at this exhibition were the artists' re-readings of the stories he uncovered when he found ethnographic images of South Asian indigenous people taken by German explorers in the 1800s.
Each story that Mani tells in his work is merely the tip of the iceberg and becomes increasingly powerful the more you revisit it. He can weave multiple stories in concentric circles from a simple premise and connect the dots to show viewers a much bigger picture. The tape for instance in the painting from 'Wake up calls for my Ancestors,' represents the scale that was used to mark and identify the indigenous people by ethnographers, reducing them to mere science experiments.
In our conversations, he was constantly activating and engaging my interest in communal and collective histories that often fall outside of traditional Western art history archives. We briefly discussed how the diaspora tag impacts his work and with much hesitation explained that the Indian diaspora, just like Indian history, is complex, nuanced, and contentious.
Also Read: #DPExclusive – Reinterpreting The Ancient Craft Of Bidri, æquō Collaborates With French Illustrator Boris Brucher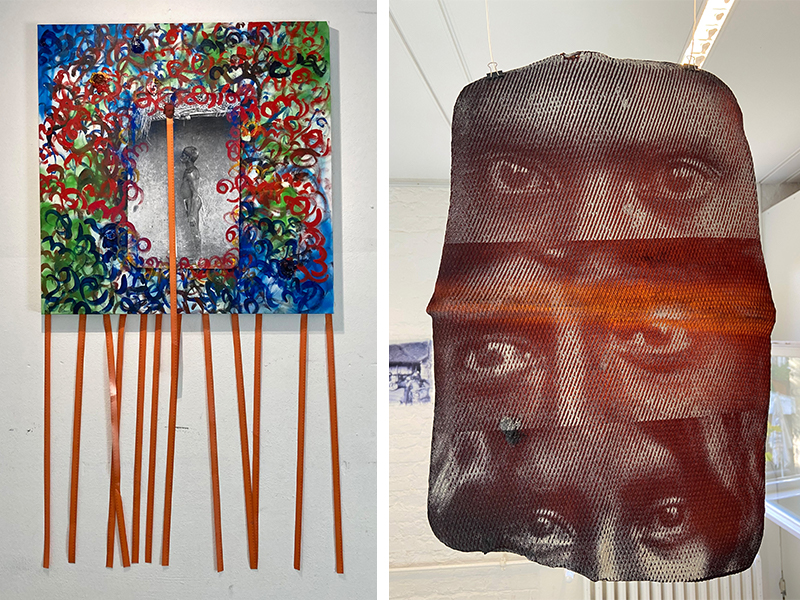 A culture in flux
India continues to be a multi-faced nation with many tribes, castes, communities, and religions that are sources of discrimination and oppression. This, however, is not reflected as comprehensively in postcolonial Indian history. Mani elaborates that conversations have become more nuanced and conscious of caste only because many members of the Dalit community have been able to afford travel and education abroad and research these histories more deeply. He finds that while the Western audience is happy to engage intellectually with these complexities, they fail to grasp the nuances of South Asian culture and the gravity of overcoming these challenges. On the other hand, he says it's not like the Indian audience is very knowledgeable, but they are far more aware of social histories and the implications of ritual and are quick to grasp the context for much of Mani's work.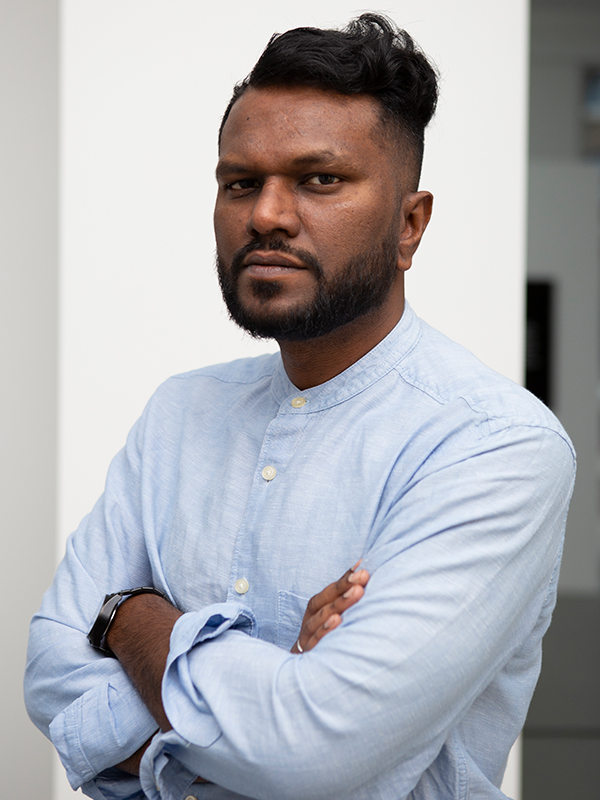 Whether it's the religious make-up of the 376 passengers onboard the Komagatu Maru or the Dalit poets and activists from his performances, Sajan Mani's work can be likened to embarking on a ship without knowing that the journey will change you before you arrive at the destination. Each work comes from personal experience, research, and extensive collaboration. Besides expanding his current project, such as 'Wake up calls for my Ancestors,' Mani is also working on a new project in India. Last year, he was awarded the Prince Claus Mentorship Award for Cultural and Artistic Responses to Environmental Change. With this, he is working on mapping his body and collective histories rooted in a river in Kannur. Later this year, Mani is going to be a part of a group show at Shrine Empire, and will also be showing work at the New Performance Biennale in Finland.