Shezad Dawood & Priya Ahluwalia's Eloquent Artistic Collaboration Wins Hearts At Brussels
9

Aug

'23

11:32 am

by

Urvi Kothari
In today's cross-collaborative era, it has become imperative to push the boundaries of multi-disciplinary practices. Pushing the envelope of a defined canon of artistic practices, British-Pakistani artist Shezad Dawood creates an immersive dystopian world – an intrinsic world-building relationship based on sensorial experiences, movement, sound, art, and imagined virtual reality.
In response to Yusef Lateef's music and drawings, while Dawood's vintage patchwork textiles come to life, designer Priya Ahluwalia's wearable art presents an ensemble of hybrid humans choreographing their way into a 'Night in the Garden of Love'. In conversation with Shezad and Priya, we talk about their shared love for diverse silhouettes, immersive art experiences, the future of wearable art, and much more.
Design Pataki: What was your instinctive response when you first encountered Lateef's novella 'Night in the Garden of Love'?
Shezad Dawood: Déja Vu is an overused cliché, but I definitely felt like there was a deeper truth embodied in the novella that I already knew at some subconscious level and was just waiting to encounter. The relationship between ecology, sound, movement, and new ways of imagining a more enlightened future felt ahead of its time and relevant to some of our most pressing challenges as a global community.
Also Read: Come "Run As Slow As You Can" At This Hyper-Immersive TOILETPAPER Exhibit In Mumbai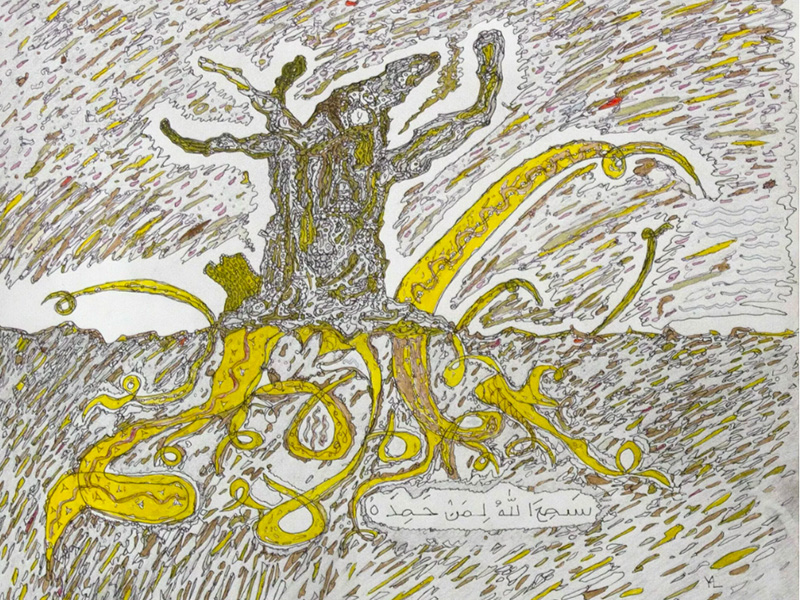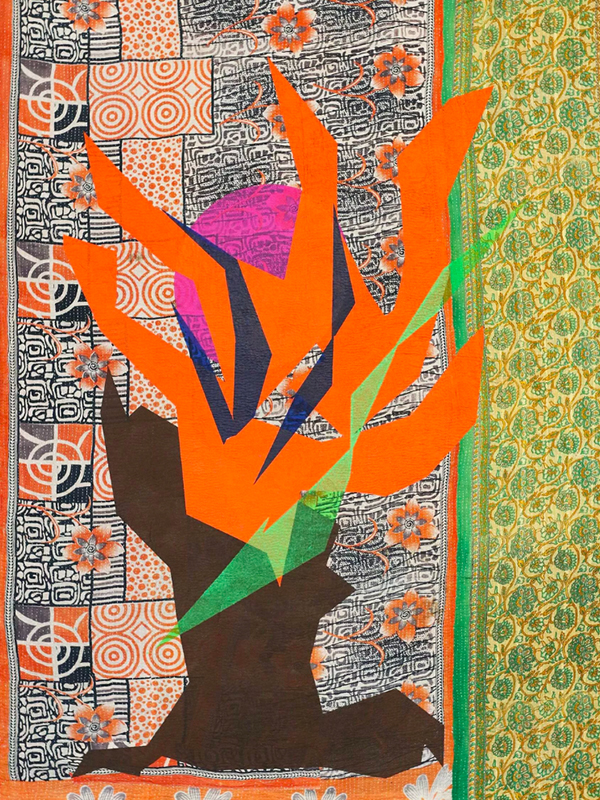 Design Pataki: How have Yusef Lateef's drawings – on the depiction of sound – inspired you to curate this entire collection?
Shezad Dawood: Lateef's drawings move through what appears to be more abstract and geometrical interval drawings, depicting musical scales and notation, to those that feature recognisable imagery such as tree and plant forms. What inspired me from years of speaking to Lateef's widow, collaborators and students was the way he moved from composition to drawing, and the obvious relationship established between them [two mediums].
This relationship was further confirmed by an anecdote of Lateef walking into an exhibition held during his lifetime, where he took out a flute and began playing one of the tree drawings. So this idea of all the drawings bridging the visual and auditory dimensions informed my desire to take audiences on a similar journey to the one I'd been on in terms of understanding the drawings, across the spectrum of perceived abstraction to figuration.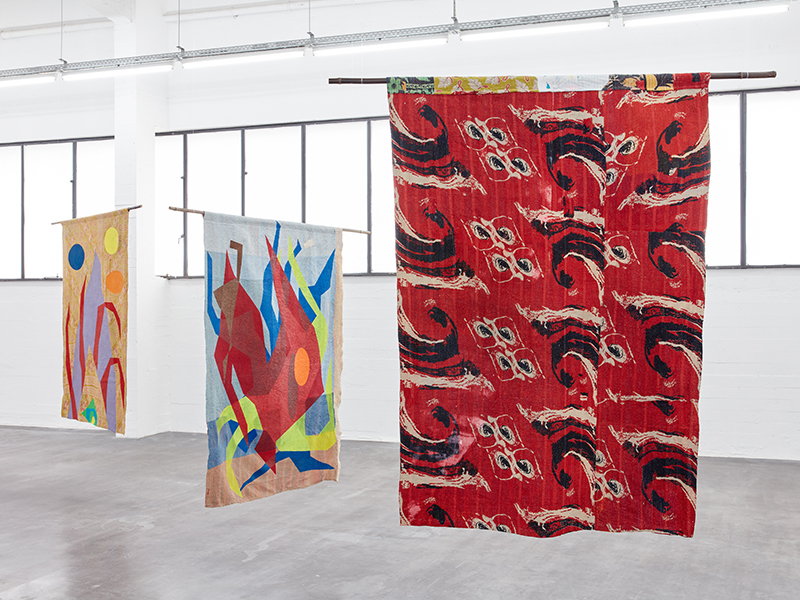 Design Pataki: A podcast mentioned the origin of these textiles stemming from your home province in Sindh, Pakistan from the 1970s.  Would you like to share any personal anecdotes or stories behind the textile collection used for your body of works?
Shezad Dawood: I have been experimenting with many styles of textiles – vintage and contemporary – for a while now, but for this very personal dialogue with Lateef I wanted to return to my use of these specific rallis. What I love about these textiles from the 1970s is that they embody an unusual and specifically non-western idea of the hybridisation of humans and machines. Sindhi weavers started taking machine-printed offcuts from the new and booming textile mills on the outskirts of 1970s Karachi and stitched them using their traditional running stitch in different coloured thread. These were initially for utilitarian purposes, but I always loved their hybridity and assemblage-like quality. Interestingly, in the 1970s buyers from Japan, Nigeria, and the Middle East came to Sindh; so the colour palettes and print patterns were constantly being fused and remixed.
Also read: Sajan Mani On The Politics Of Body And Its Implication In Public Spaces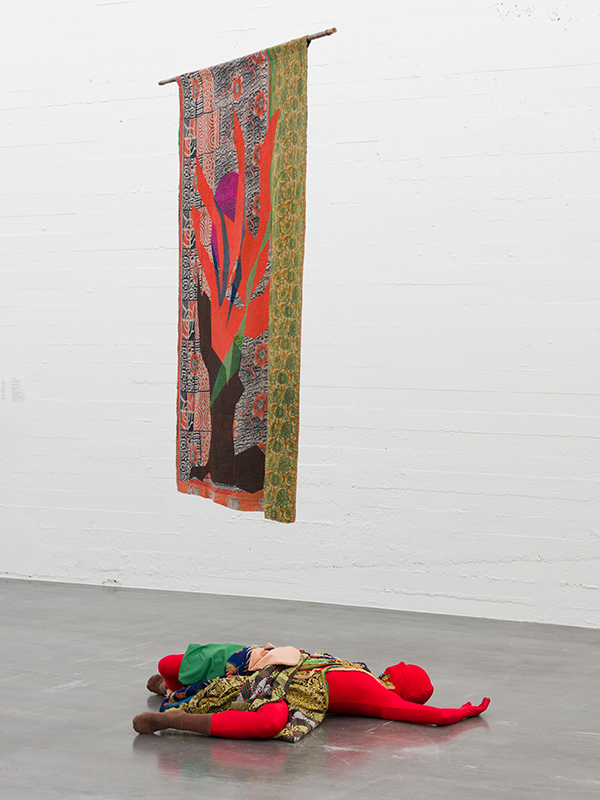 Design Pataki: According to you, how did Priya's costume add to the overall exhibition tonality?
Shezad Dawood: Well, I always see an exhibition as a score, one that is all about music and movement. With Night in the Garden of Love, I always knew I wanted to work with Priya again, based on our shared love of upcycled textiles and dynamic movement.
Priya's costumes were always for me an essential part of the piece, as they bring the piece into the physicality of the body, and back into the exhibition through live dance performances taking place every Sunday [across the exhibit duration]. Most importantly, they allow the audience to imagine themselves transforming into the characters from Lateef's novella. So they have both a physical and an imaginary component.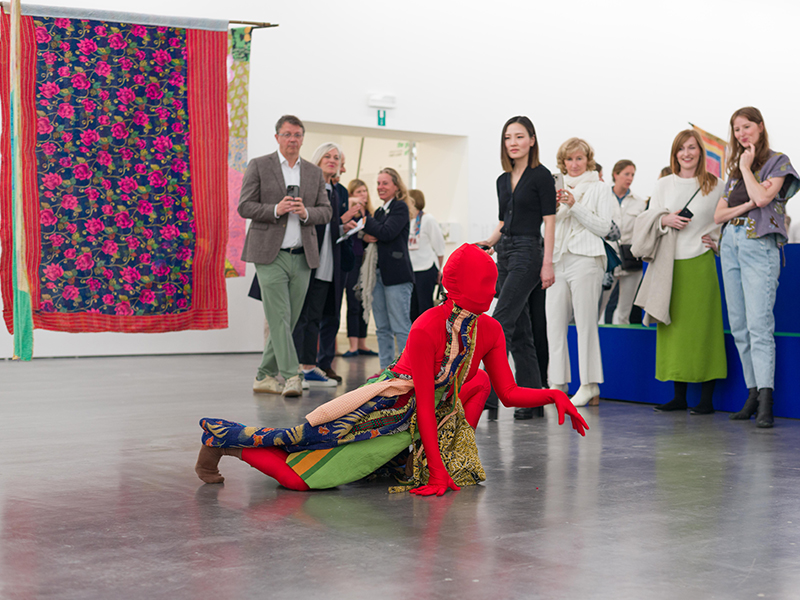 Design Pataki: What was the genesis behind designing the costume aesthetic for this curation?
Priya Ahluwalia: The genesis behind designing this particular costume aesthetic stemmed from working with Shezad to understand his approach to depicting a dystopian reality. I had a compelling vision of a mutant/hybrid human existing within a dystopian reality. Through a thoughtful amalgamation of selective textiles, I sought to portray a fluid form that is coexistent with nature. The fluidity and movement of these draped elements lend an illusion, adding to the enchanting aura of the design. Notably, both costumes incorporate a bodysuit that fully covers the face.
This intentional choice effectively removes the defining features of humans, introducing an element of the hybrid human. In doing so, we aimed to blur the boundaries between the body and its extensions, creating a captivating and thought-provoking visual narrative that leaves a lasting impression on the audience.
Also Read: Coachella Witnesses A Blend Of Robotic And Mythic With Sri-Lankan Born Artist Kumkum Fernando's Sculptures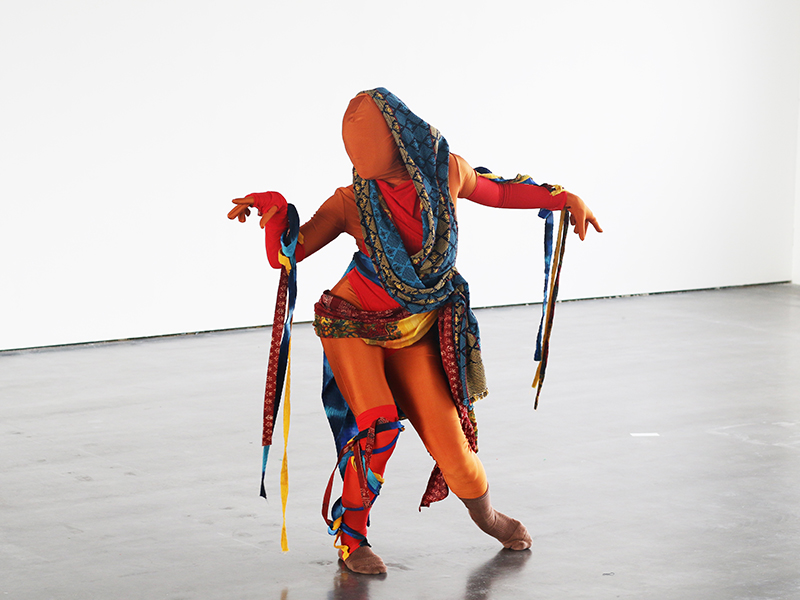 Design Pataki: How do you see the future of wearable art at the confluence of textile art and costume design? Do you see contemporary performance art extending beyond defined canons of art and fashion?
Priya Ahluwalia: The future of wearable art and costume design is promising and dynamic. These two creative realms transport us into different realms and allow us to dream. I hope to continue to explore the tapestry of innovation and imagination as it unfolds. Contemporary performance art serves as a powerful catalyst in this convergence, extending beyond the defined canons of art and fashion.
Breaking barriers and redefining traditional notions, it opens up new avenues for artistic expression and experimentation. Advancements in technology and AI will play a pivotal role in shaping the future of wearable art. I see the incorporation of textile art and costume design remaining intrinsic to wearable art, as textile art plays a foundational role in bringing depth and character to each creation.
Design Pataki: As an appreciator, if you had to describe the 'Night in the Garden of Love' experience in a few words, how would it be read as?
Priya Ahluwalia: The 'Night in the Garden of Love' is a meticulously crafted masterpiece, drawing you into realms of boundless creativity. You find yourself submerged in an immersive, multifaceted, and intriguing wonderland!
The exhibition is on display at WIELS in Brussels till August 13, 2023