This Charming Boutique In Kolkata Is A Love Letter To Old-World Bombay
17

Apr

'23

1:53 pm

by

Nuriyah Johar
Nestled in a leafy residential neighborhood in Kolkata, Bombaim's new store is a striking embodiment of quiet luxury, reinterpreted heritage, and authenticity. The sartorial brand was established by Richa Kanoi – a Bombay-born design enthusiast who moved to Kolkata in 2008 and decided to recreate a piece of a beloved city in her new hometown. Her goal at the time, with pret couture, was to encourage Calcuttan society to dress differently, with the ethos of 'more style and less fashion'. What started, then, as a 1000 sq ft store has now expanded to a sprawling 6000 sq ft space in a new location – a curated home to some of the finest fashion labels in the country.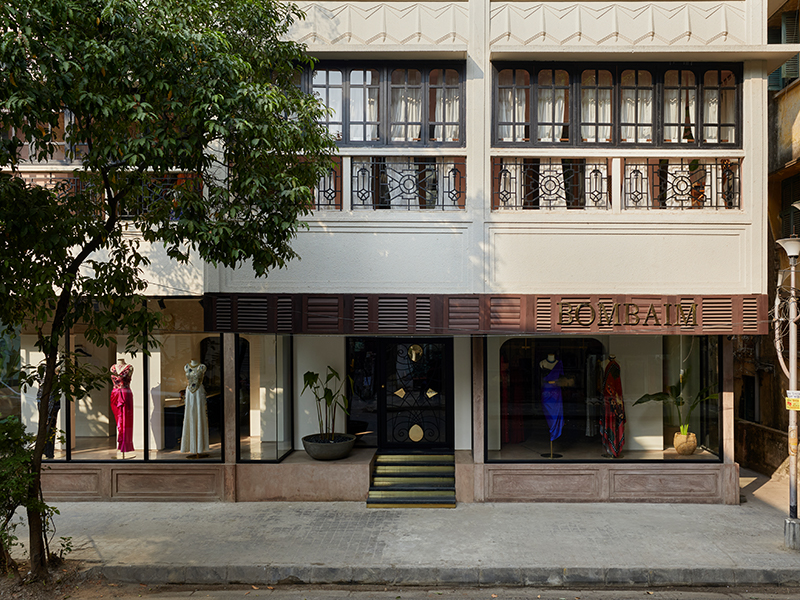 "Design has always been a big part of me. I am fascinated with architecture, interiors, and anything that's well constructed," says Kanoi. "I could have sold anything beautiful – it just so happened to be clothes." She collaborated with Kolkata-based Animesh Nayak, Principal Architect at Open to Sky Architects (whom she had worked with in the past) on the design of her new space – a quaint heritage property with the tangible essence of an old-world home.
Also Read : Tarun Tahiliani And Vinita Chaitanya Transform An Old Colonial Mansion Into A Retail Haven In Bangalore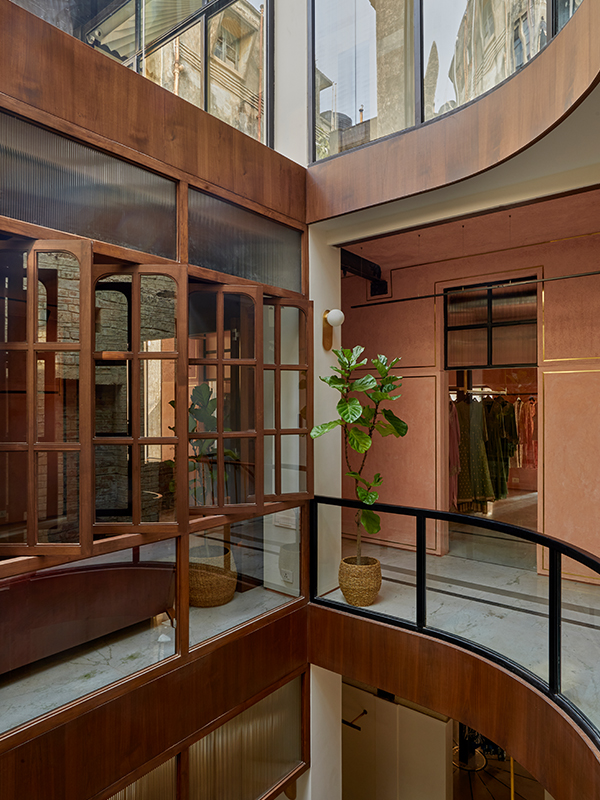 The aim was to retain the authentic design language of the original structure while infusing it with Bombaim's creative sensibilities. "Working on old buildings comes with a set of challenges," says Nayak. "There are no drawings or structural calculations, and the design is a process of discovery and revelation." He goes on to add, "we brought in some level of visual and spatial transparency by selectively removing parts of the existing structure and creating vistas both horizontal and vertical. So at the very outset, when you enter the building, you can see through the entire space."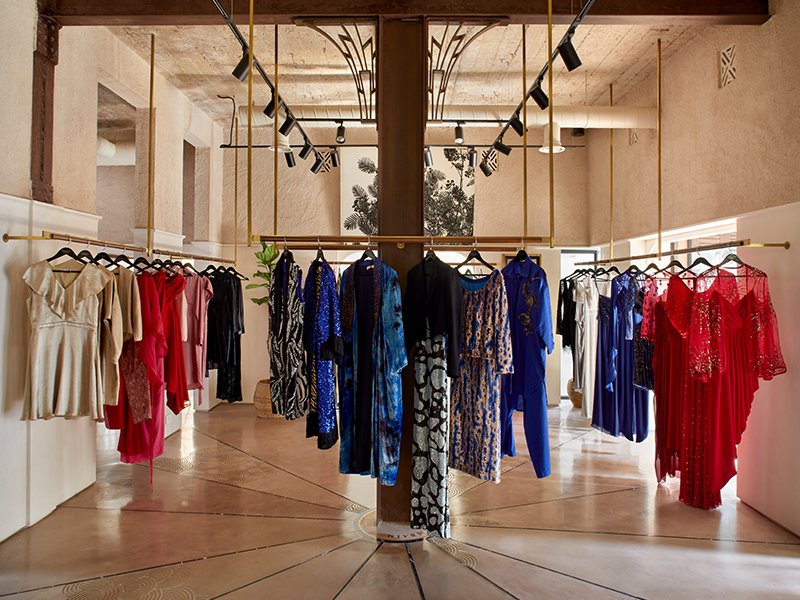 To bring forth the ethos of raw luxury, Nayak decided to leave the facade untouched, complete with the existing Art Deco elements. One enters the store through a statement one-of-a-kind Art Nouveau door that ties into the brand's heritage sensibilities. Bombaim's interiors take inspiration from Kanoi's love for cosmic exploration, stargazing and, of course, the city for which it is named. The former is represented by a gorgeous patterned floor that resembles the sun, visible clearly from every level of the building, along with mystical wall art representing the sky, stars, and waves. Eschewing traditional grey for a pinkish hue, the cement floor and walls bring forth a subtle femininity. Lights from Delhi Brass and Decon used across the store, coupled with Art Deco motifs and fluted glass elements serve as the perfect finishing touches.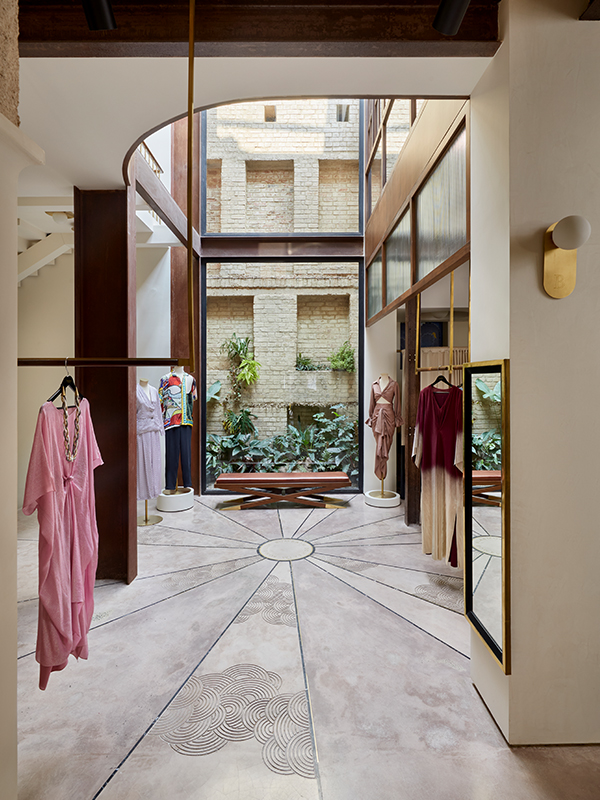 One of the most compelling features of the space is the open-to-sky atrium, fringed with leafy greens. Connecting every level of the store with each other and the sky beyond, this thoughtful addition creates both expanse and intrigue. A classic bench from Camelot lies at the front, allowing visitors to pause for a moment.
Also Read : Gaurav Gupta's Flagship Store In Mumbai Champions Minimalist Futurism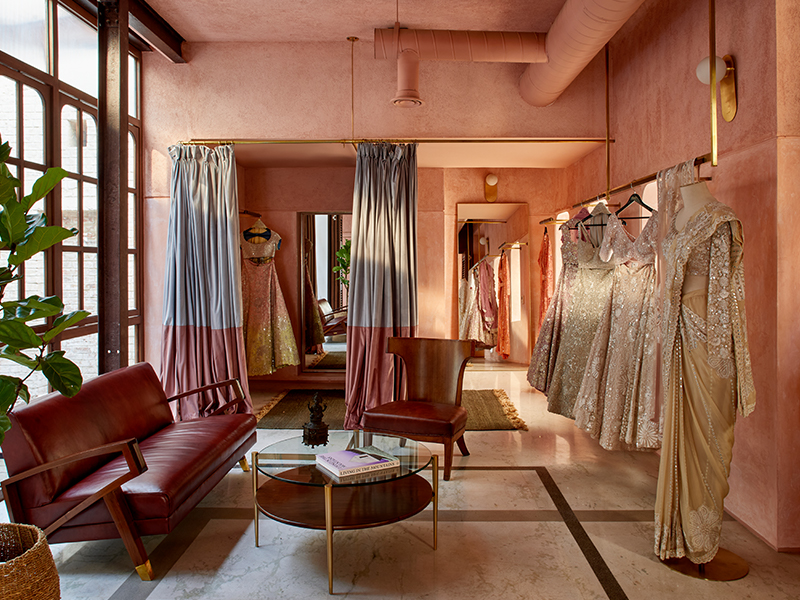 The first level of the store houses bridal wear and wedding outfits; thoughtfully reflected in the interior choices too. A pale shade of pink washes over the space, complemented by a marble floor – an intrinsic element of old Bengali houses. This space leads into an adjoining verandah complete with cane furniture from Cane Concept and soft mul curtains swaying from the wooden windows.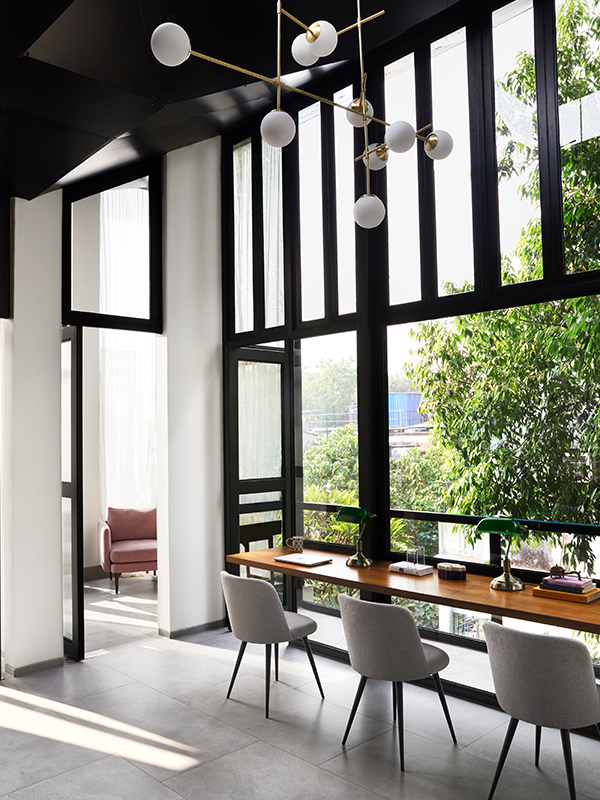 Kanoi's gorgeous sunlit office lies on the second floor, complete with floor-to-ceiling windows that look out onto the verdant street. Another unique extension, a tasteful amphitheater on the terrace serves as a multifunctional space perfect for events and special occasions. Bombaim's new store ultimately offers an immersive experience that blends fashion, design, and culture; one that reinforces the inimitable appeal of physical retail.