Three Contemporary Mumbai Homes That Champion A Neutral Colour Palette
13

Jan

'23

1:49 pm

by

Sneha Shah
Homes with neutral colours and contemporary designs form a compelling storyboard, providing the perfect canvas to experiment with varied decor styles and other finer details. Warm wood tones, cool taupes, creamy beiges and soft greys with pink undertones are inherently welcoming; and when crafted with statement pieces and accessories, create a multidimensional visual appeal. In this piece, we spotlight three homes conceptualised in warm yet discrete colour palettes, proving that neutrals never have to feel clinical!
Maison Neutre by Rohit Bhoite
The seamless layout with captivating spatial qualities is what largely alludes to the crisp design of this 2800 square feet home for a family of four. Tastefully simple, the muted colour palette was conceived from the Italian marble flooring that is a common binding thread of the space. The living areas, far from a conventional formal setup, are divided into two coherent zones comprising versatile seating options. Following the curved architectural language of the walls, the sofa set incorporates rounded edges that lend soft modernity to the space. The richly textured upholstery is from Cottons and Satins, while the carpet from Cocoon Rugs evokes warmth. Modest yet stylish, the walls are enveloped in linen wallpaper from Elemento and the artwork from Defurn adds to the dynamism.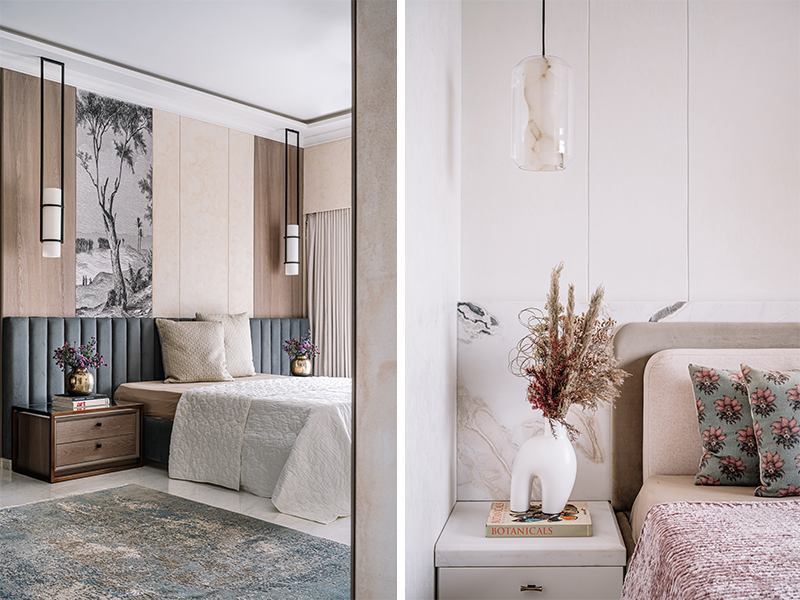 Though the colour scheme flawlessly characterises the apartment, the amalgamation of textures in the bedrooms is unconventionally glam and even eclectic. A clever play of wall panelling in the master bedroom with statement hanging lights adds a dash of drama. Hints of marble in the grandmother's bedroom with whimsical décor aesthetics exude understated luxury, while the son's bedroom emanates a classic Victorian vibe with mouldings on the wall. Tinted mirrors have been used in certain areas for the space to look visually expansive and all the doors have been panelled to their full height for a towering appeal.
Photoshoot styling by Samir Wadekar.
Home In A Skyscraper By Aashni Kumar
For a quintessential Indian family transitioning into three nuclear set-ups, this home is pivoted around three distinct spaces that are tied together with a thread of modernity, minimalism and timelessness; each unit reflecting the respective family's distinctive from an aesthetic and functional standpoint. The design of the first space has been envisioned to create a poetic, harmonious, and fluid environment for a young couple and has been crafted to create a continuous juxtaposition of circular forms, with rigid geometrical details, abstract designs with balanced treatments of dark colours and lighter palettes.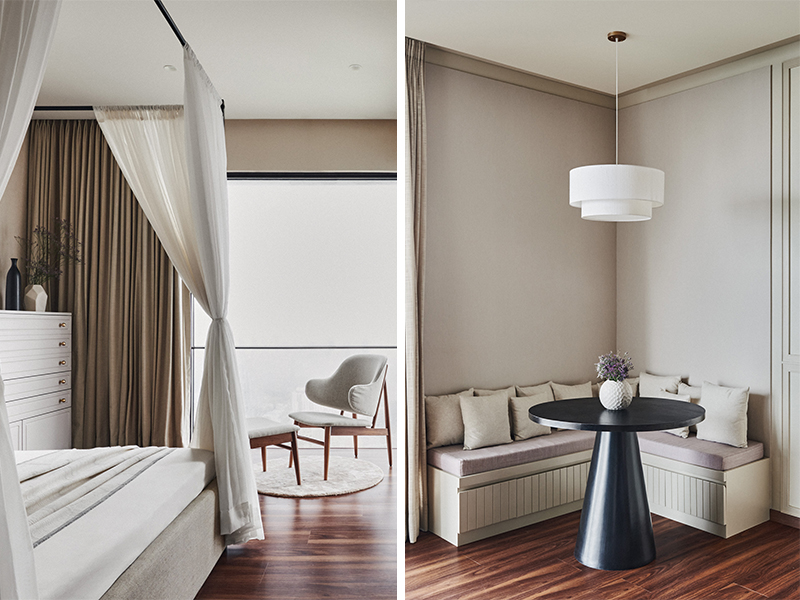 Monotone walls with wall panelling are contrasted with dark wooden flooring and immersed with natural light and hints of green in the living area of the second space. The space has been zoned into a formal living space that gives way to a dining area that acts like a cosy nook, all of which overlooks the city skyline and sets the mood for an elegant home. The Master Bedroom best embodies the project brief for warm and cozy interiors that don't impose. The four-poster bed with linear gridwork on walls and classical details on custom-made bedside tables and chest of drawers are finished in egg-shell white and mushroom beige colours.
The geometric and grid-like moulding details of the wall panelling in the third space are paired well with the circular forms and soft curves of furniture pieces. In the bedroom, both macro and micro details consist of an essence of the old and the new, wherein modern and uniform fluted panels and shutters interact with pared-down vintage elements that are completed with bespoke details.
Also Read: Three Contemporary Workspaces In India That Champion Colour And Texture
Serene Coalesce by Agavi Vora
The brief of this 1250 square feet project was a tranquil home that radiates openness and positivity. The idea was to have a clutter-free layout with an abundance of natural light flooding in. Unseen elegance, modern furniture and interesting artwork humbly demonstrate a 'less is more' approach. The living room is designed keeping functionality in mind with a custom-made sofa sourced from Chesterfield; accentuated by soft furnishings from West Elm and Sarita Handa and a rug from Jaipur Rugs that makes it inviting and cozy.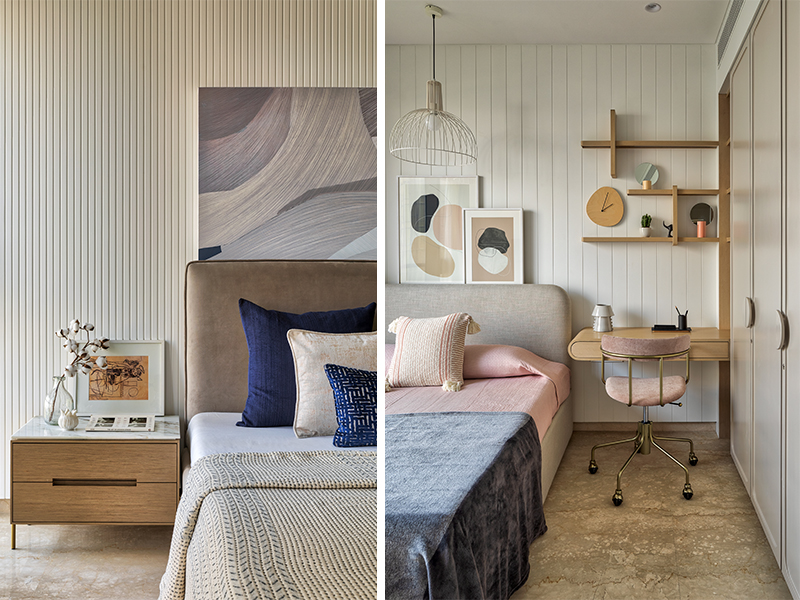 A clever mix of textures and patterns in the bedrooms adds glamour with a number of bespoke furniture pieces custom-made on-site. It is modern and sophisticated while being warm and earthy at the same. The neutral palette in the master bedroom with fluted wall panelling acts as a perfect backdrop allowing beautiful furnishings from West Elm and D'Decor, art from Leslie Pinto and accessories to stand out. The daughter's bedroom is designed to fit the requirements with a splash of pastels and a Scandinavian touch, with soft furnishings from The Pure Concept and art from Calcuttan Gallery. The overall clean integration of materials and colours throughout the house creates a relaxing atmosphere.

Photoshoot styling by Samir Wadekar.
Also Read: Bijoy Jain Marries Sustainable Architecture With Thoughtful Luxury At This Hillside Retreat In Kasauli