3 Eco-Friendly Retreats In India That Redefine Sustainable Luxury
5

Jun

'23

4:04 pm

by

Nuriyah Johar
In an era defined by a rising level of collective environmental consciousness, sustainability has become one of the most significant trends within the hospitality industry. Discerning tourists, particularly among the younger demographics who are gaining financial independence, yearn for a sense of luxury that resonates with their values of social and environmental consciousness. India's answer to this growing sentiment is an extraordinary selection of eco hotels that are revolutionizing the hospitality landscape with their unwavering commitment to environmental preservation. From renewable energy systems to meaningful community engagement, properties like SUJÁN JAWAI, Woods At Sasan, and Samode Safari Lodge are rewriting the rules of luxury travel. For World Environment Day, here's an insight into three captivating luxury hotels in India that exemplify sustainable travel –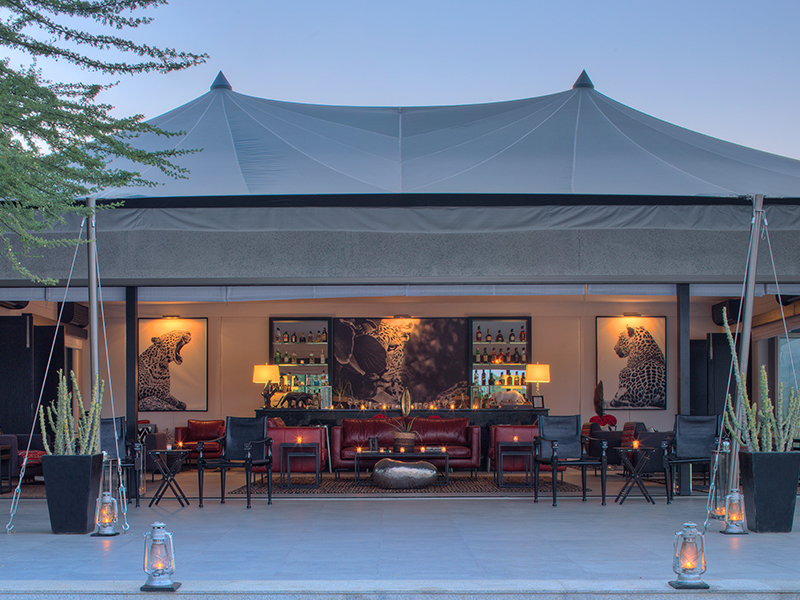 SUJÁN JAWAI, Rajasthan – Wildlife Revival
The exquisite SUJÁN JAWAI is a Relais & Châteaux property that derives its name from the seasonal Jawai river flowing through its remarkable landscape. Positioned between Jodhpur and Udaipur, this luxury camp is a hidden gem that draws inspiration from the dark granite hills enveloping the camp and the vibrant colours of the local Rabari herdsmen who coexist with leopards in this unique habitat.
What truly sets SUJÁN JAWAI apart is its unwavering commitment to conservation. Over the years, their efforts have resulted in the preservation and restoration of over 100 square kilometers of land, ensuring a stable and thriving habitat for wildlife and biodiversity. Their current rewilding program focuses on transforming farmland back into pristine wilderness. At SUJÁN JAWAI, a team of passionate naturalists and skilled trackers meticulously monitor the area throughout the year, maintaining detailed movement logs and notes on animals and birds of the area. They foster strong connections with villagers and local officials, engaging in regular communication on wildlife-related matters. In an unprecedented feat, they conducted the first-ever geological survey of the area, gathering invaluable primary data on the topography and suitability of the habitat for wildlife.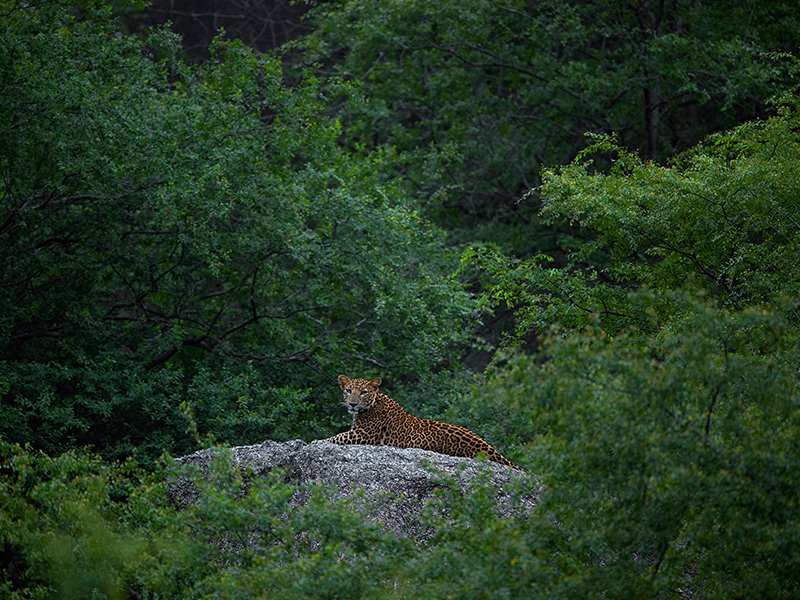 An intensive Camera Trap Programme is also spearheaded by SUJÁN JAWAI, diligently monitoring and documenting the wildlife that thrives on their managed land. This remarkable program has been in action for nearly six years, and with the restoration of agricultural land to its natural state, the frequency and variety of recorded wildlife have witnessed a remarkable increase. The presence of leopards, in particular, has surged by an astounding 50% in the areas under their meticulous management in the past seven years. Over the last two years alone, their dedicated team has amassed an impressive collection of over 4,500 images capturing 18 unique species and 27 individual leopards.
Also Read : 3 State-Of-The-Art Wellness Retreats Designed To Guarantee Rejuvenation, Rest, And Relaxation
Woods At Sasan – Community Collaboration
Nestled in the breathtaking Sasan Gir forest of Gujarat, Woods At Sasan stands as a pioneering luxury well-being retreat in India. It sets itself apart by embracing the concept of biophilia and firmly grounding its practices in sustainability. Sprawled across 16 acres of mango orchards and verdant forests, it offers a sublime escape for those seeking a slow-paced, sustainable, and nature-immersed lifestyle. With a profound respect for the environment, the retreat adopts conscious practices throughout its operations.
The employees at Woods At Sasan, more than 40% of whom are locals, work hand in hand with the neighboring communities, contributing their expertise in various roles such as naturalists, chefs specializing in ethnic culinary experiences, and horticulturists responsible for nurturing the orchard. Their collaboration extends beyond the retreat's premises, as they actively engage with the community through social initiatives, knowledge sharing, and skill development, empowering the local residents. They provide essential healthcare services to underprivileged populations, ensuring that their needs are met with compassion and care. Additionally, they offer free access to a wide range of learning resources and programs for people of all ages, fostering a culture of continuous growth and education.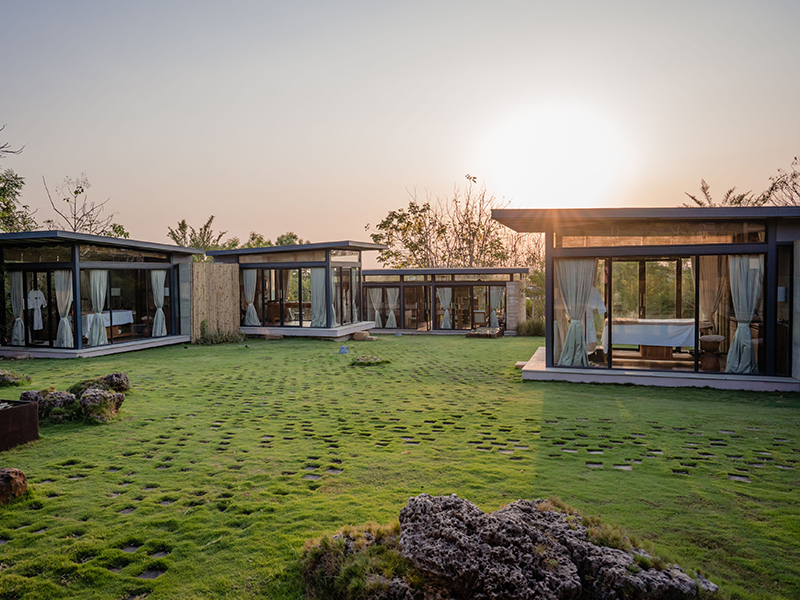 Woods At Sasan's collaborative efforts have led them to cultivate partnerships with over 100 partner and vendor farmers, fostering knowledge sharing and promoting organic farming practices. Together, they have planted over 2,000 trees in the neighboring Chitrod village, strengthening the bond between the community and nature.
Through 24 social programs, they have made a difference in the lives of over 15,000 individuals in six nearby villages, addressing a wide range of social issues. Engaging with self-help groups and children at local schools, they raise awareness about waste management, health and hygiene, and respond to everyday queries, fostering a sense of community and well-being. Woods At Sasan's dedication to sustainability goes beyond their immediate impact. They are committed to ensuring that their efforts continue to make a lasting difference in the lives of both the community and the environment.
Also Read : The Himalayan High Life – 5 Luxury Mountain Retreats To Visit In Summer 2023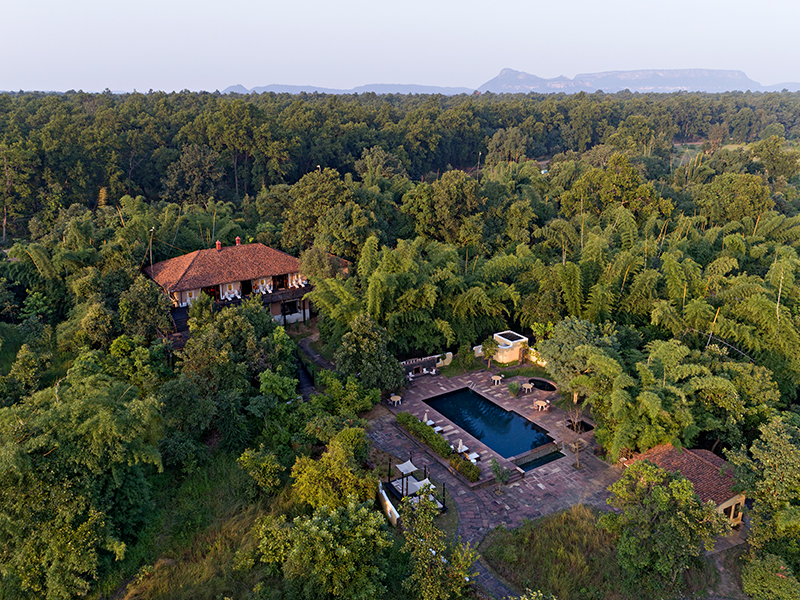 Samode Safari Lodge – Eco Architecture
Nestled within the Bandhavgarh National Park in Madhya Pradesh, Samode Safari Lodge is a collection of private villas where tigers freely roam. Drawing inspiration from the surrounding villages, the lodge's wood-and-mud dwellings blend harmoniously with the forest and prairie landscapes. Serene pathways and bridges gracefully connect the huts, pool, and main house, inviting guests to wander through the enchanting wild gardens.
Deliberately situated in the Mardari region of the area, Samode Safari Lodge offers employment opportunities to villages and forest communities, alleviating the burden on a particular piece of land. The property's architecture follows the vernacular style of the region, incorporating local principles, aesthetics, and materials. Designed and constructed by Pradeep Sachdeva Design Associates, the lodge pays homage to architectural traditions and crafts of the area. Throughout the construction process, utmost care was taken to preserve the natural features of the site, ensuring that no trees were cut.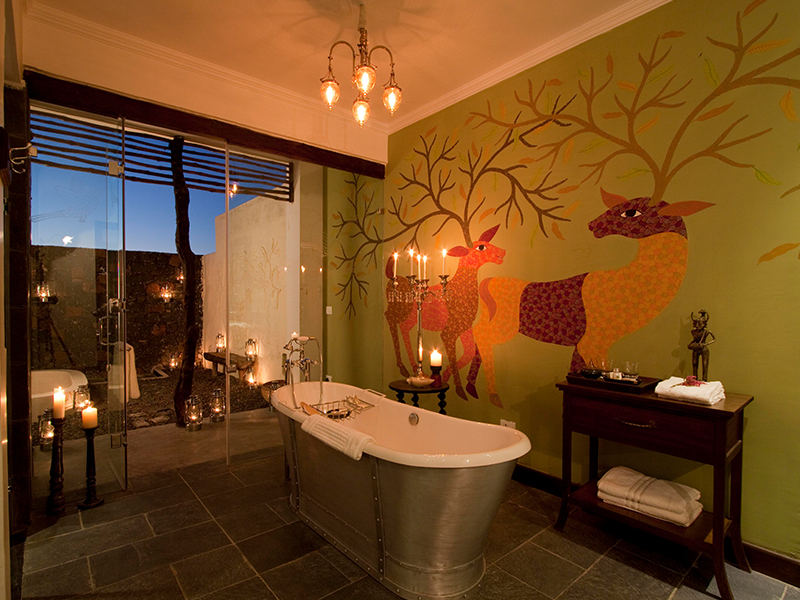 The lodge prioritizes sustainability by utilizing low-energy products, maximizing daylight, and minimizing the use of steel and cement. Timber floors in guest areas are crafted from reclaimed wood, while solar energy powers the hot water systems and swimming pools. Water management is crucial, with rainwater harvesting and greywater reuse in the gardens, contributing to groundwater table replenishment. The building process also generated employment opportunities for the locals, and the lodge continues to hire staff from the surrounding villages.
Samode Safari Lodge upholds its commitment to environmental stewardship with a compost plant, a sewage treatment plant, and a solar power plant. The lodge's dedication to sustainability extends to sourcing materials within a 20-kilometer radius, reducing transportation impacts. With every detail carefully considered, Samode Safari Lodge seamlessly combines luxury, nature, and responsible practices, providing guests with a truly unforgettable experience within the untamed beauty of Bandhavgarh National Park.
Also Read : 3 Rental Villas In Goa That Embrace Heritage, Luxury And Sustainability